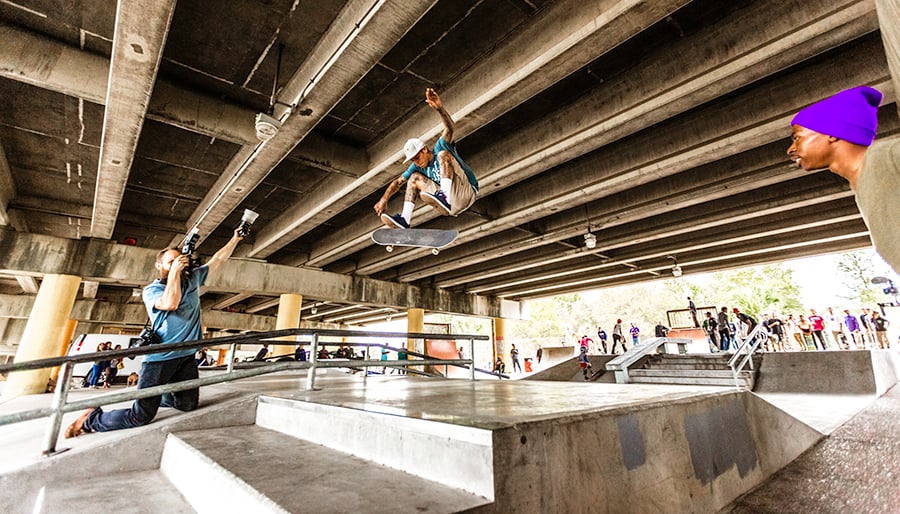 April 22, 2019
In New Orleans, Skateboarding Youth Partner with a Community Design Center to Create a Skate Park Under a Highway Overpass
Built on underused, vacant land, the $450,000, 2,400-square-foot venue is the city's first public skate park.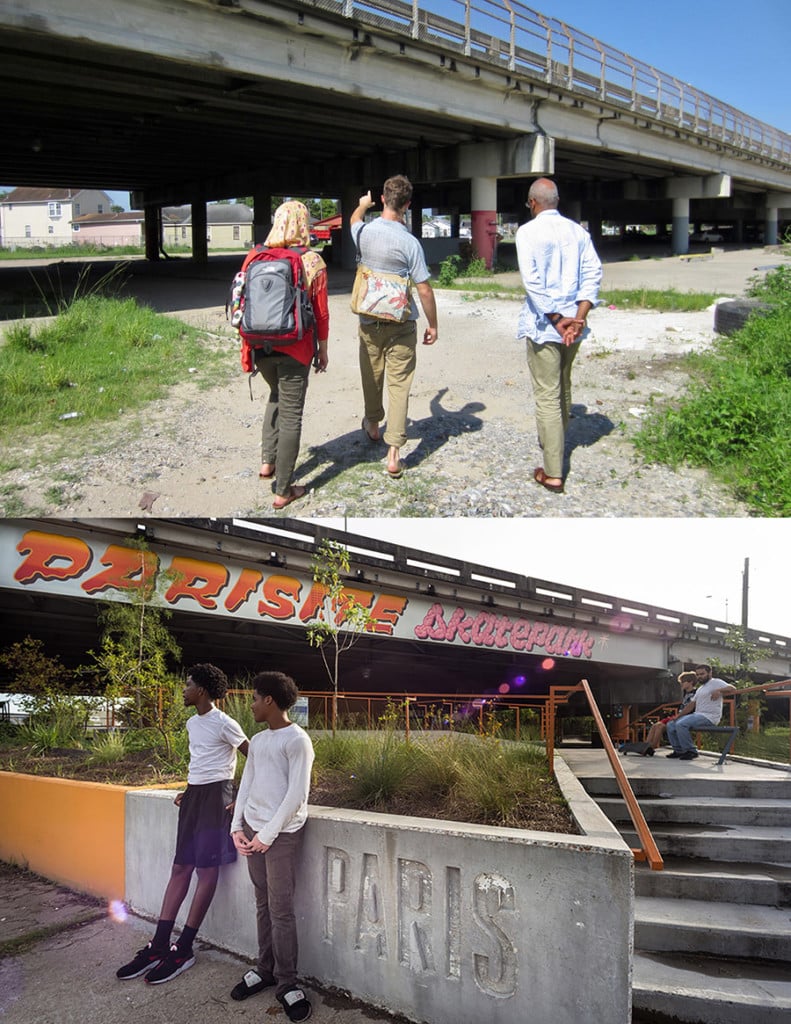 ---
Metropolis has partnered with the Rudy Bruner Award for Urban Excellence (RBA) to showcase the program's five finalists for 2019 Gold and Silver Medals, which will be announced in June. RBA director Anne-Marie Lubenau is the author of this series.
In 2010, a group of young skateboarders, seeking an alternative to the city's uneven streets, initiated a makeshift DIY park using found materials on vacant land near the intersection of New Orleans' Interstate 610 and Paris Avenue. When the popular park was subsequently removed due to safety concerns, the skateboarders reached out to the Albert and Tina Small Center for Collaborative Design at Tulane University School of Architecture for technical assistance and design expertise to help craft a replacement.
In 2014, the Center's staff, faculty, and students from Tulane collaborated with the skaters, public agencies, a structural engineer, and a landscape architect to realize a new skate park on land adjacent to the previous park. Two 14-week-long design-build studios led to the development of a phased master plan for an urban landscape that features surfaces and elements desirable for skaters and non-skaters alike. The design also includes a landscaped edge to manage stormwater runoff and future expansion space.
---
More from Metropolis
---
Opened in 2015 with a ceremonial 40-foot "Reuben cutting" by Mayor Mitch Landrieu, Parisite Skatepark includes a defined entrance at Paris and Pleasure Streets, landscaping, and colorful artwork spanning the highway superstructure above it. A handicap accessible ramp leads to a viewing platform and seating that overlooks the park and surrounding neighborhood. Inside, concrete and wooden ramps offer a variety of skating experiences. Interpretive signage highlights the perimeter rain gardens, which collect and filter runoff from the highway.
Ongoing volunteer-led programming, which includes clean-up and ramp-building days, neighborhood barbecues, and all-girl skate nights, contributes to a sense of community ownership. Reflecting on the project, Tulane Adjunct Associate Professor Doug Harmon observed: "Working in concert with the city through engaged and thoughtful design, urban voids can be capitalized on to transform them from perceived public nuisance to public amenity."
You may also enjoy "In Memphis, Community Leadership Drives the Transformation of an Abandoned Sears Warehouse into a Vertical Urban Village."
Would you like to comment on this article? Send your thoughts to: [email protected]