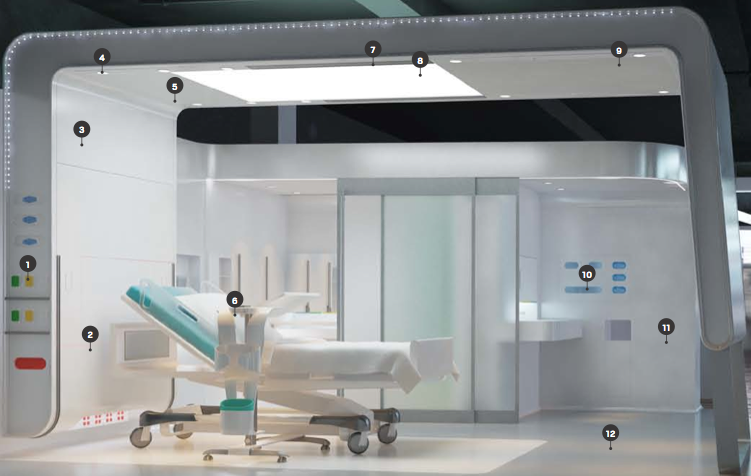 May 10, 2013
This Patient Room of the Future Is Unapologetically Modern
A comprehensive, ongoing research effort, involving architects, designers, health-care professionals, and more than 30 manufacturers, has resulted in Patient Room 2020.
1. Trufig flush headwall gas outlets  2. E&P solid surface headwall system  3. Handicare patient lift nest  4. OSRAM Sylvania LED down light  5. Holosonics focused audio speaker  6. NXT Patient Companion overbed table  7. Price linear diffusers  8. Barrisol "halo" light box with Traxon LED pixelboards  9. Armstrong modular ceiling system  10. E&P infection-control station  11. DuPont Corian wall cladding  12. Dalsouple rubber flooring
Courtesy CG Artist Lin Zhang
---
Most young architects shy away from health care the way a teenager avoids chores. David Ruthven was no different. "As an undergrad at Clemson, I had no interest in designing hospitals," says Ruthven, principal designer of Patient Room 2020—a prototype hospital room on display at DuPont's Corian Design Studio in New York City, and launched this month in concurrence with the International Contemporary Furniture Fair. "I thought they looked ugly, and that they wouldn't be a lot of fun to work on. And I remembered visiting family members in hospitals, and wanting to get out of them as quickly as possible."
---
More from Metropolis
---
But in 2005, Ruthven enrolled (somewhat reluctantly) in Clemson's Architecture + Health graduate program. Soon he was working on a full-scale model of a retooled patient room with Spartanburg Regional Healthcare System in South Carolina. And his sentiments quickly shifted. "The work was complex, full of challenges and contradictions," the New Jersey native recalls. "Most of what I'd done in school was conceptual exercises. Here I was dealing with actual clients, with nurses and doctors and hospital administrators, and ironing out the details in space. More importantly, the work opened my eyes to how design could influence health care in this country."
Conceived during the Spartanburg project, Patient Room 2020 was born (but not officially baptized) in 2009 with the formation of NXT Health, a nonprofit offshoot of Spartanburg Regional that sponsors design collaboration on the future of health care and its environments. "People in health care desperately want to innovate," says Salley Whitman, cofounder and executive director at NXT Health. "The problem is they don't have the time or resources to do it. They're dealing with patients who are sick and dying; there's no safe place to step back and ask what the customer really needs. Like any industry, health care needs a separate R&D department if we're ever going to see true innovation."
The area available in the Corian Design Studio wasn't large enough to accommodate the entire footprint of the original design, so the team decided to develop three critical areas that would adequately fit the space: the Patient Ribbon, the Open Bathroom, and the Caregiver Station. Although the prototype has been tailored to the specific requirements of the studio, its layout is conceived to fit within the confines of a 32-foot-wide structural bay, a common size in modern hospital design.
Courtesy David Ruthven
---
Whitman had been a lead driver in the original 2006 Spartanburg hospital room research project, where Ruthven worked as a Clemson grad student. That collaboration spawned several elements of the current patient room, including the bathroom configuration and nurse workstation. More importantly, the multidisciplinary team developed and refined its research process. It held focus groups and conducted preoccupancy studies before implementing its prototype in an actual hospital. After installation, the team followed up with surveys of nurses and patients. "What most struck me at first was the lack of collaboration in the field," Ruthven recalls. "In health care, you're dealing with technology, caregivers, administrators, and patients. Some architects might want to maintain complete control in design. But I don't think you can do that here."
Ruthven's choice of primary material for the project was Corian. Created by DuPont in the late 1960s for kitchen countertops and cabinetry, the solid surface is used primarily in commercial applications today, with the bulk of those applications in health care. "Corian has unique abilities to be thermoformed and shaped," Ruthven explains. "It's nonporous. And because everything is seamless and sanded, there aren't any places where mold or bacteria can flourish. It's easy for staff to keep clean. All this minimizes the spread of infection. Hospitals are places where people are supposed to heal. They shouldn't have to worry about getting sicker while they're there."
In 2010, the project was renamed Patient Room 2020 when it was submitted for a design award (which it won) from Contract magazine. The following year Ruthven moved back to South Carolina to work full time for NXT Health. In the meantime, Whitman and her NXT Health partner, Tom Jennings, had reached an agreement with DuPont to bring the renderings of Patient Room 2020 to life in the company's Corian Design Studio in New York City.  "Everyone was wildly supportive of the idea," says Susan Homan, marketing manager for DuPont Commercial Surfaces. "We've had dozens of installations since we opened the studio in 2009. But Patient Room 2020 could very well be the most important of them all."
The Patient Companion combines two ubiquitous elements, an overbed table and a touch screen tablet, to form a single piece of mobile furniture that could be utilized in a wide range of health-care settings. The crux of the design is a hybrid tabletop that provides a traditional eating surface on one side, and can be rotated to reveal an integrated tablet on the other. The touch screen empowers patients by providing access to educational content, connections to the community through social networking, and the control of environmental systems, such as temperature, audio, and lighting.
Courtesy CG Artist Lin Zhang
---
The room is a joint research project featuring work and products from 30 companies that Whitman and Ruthven recruited over the past two years. Sponsors were invited to offer their most innovative product or service: OSRAM Sylvania and Traxon, for example, provided lighting products; Rachel Calemmo of Christian Rae Studio offered lighting design expertise; Stephen Cannella with Synapse AV lead integration efforts; Armstrong donated materials and expertise for the ceiling; Hafele chipped in with hardware for cabinets and bathrooms; Skanska handled project management, permitting, and construction estimates; Autodesk supplied software through a nonprofit called Good360. In many cases, Ruthven worked with sponsors to adapt their offerings to the general tenor of the room. Intense Lighting, for example, created a motion-triggered grab bar that lights up; Milliken customized bio-smart fabrics—which kill bacteria on contact—for bed linens and scrubs; Healing Hands even developed a set of futuristic nurse's scrubs. "We didn't want a product dump," Whitman says. "Instead, we invited the sponsors to work with us to showcase how innovative their products could be."
The first impression of Patient Room 2020 is a remarkable lack of clutter. The installation blends ease of use with an equally functional aesthetic. There are few obstructions or protrusions; storage space is contained within the 3.5-inch thickness of its standard walls. The television monitor is embedded in the footwall. A headwall set perpendicular to the rear wall of the room integrates cleaning supplies, trash, a container for sharp objects, and hospital gases—the gas outlets, developed by Trufig, are mounted flush to the unit. Above the bed, an overhead canopy—a Patient Ribbon—incorporates life controls, an HVAC diffuser, lighting, audio controls, and a color halo. "Each part of that ribbon has been rethought to house as much technology as possible," says Christopher Whitelaw, director of research and development at Evans and Paul, a partner in the Corian Design Studio and lead fabricator in Patient Room 2020. "David likes to call it his Swiss Army Knife."
Seamless integration of technology, supplies, and furniture allows patients, their families, and staff to move unfettered through the hospital room space. But Whitelaw argues that the room itself needs to sail smoothly through time if it is to be effective and efficient. "It needs to be easily updateable," says Whitelaw, who holds a degree in architecture from Columbia University. "You need to be able to change devices as technology changes. Or supplies as contracts change." Evans and Paul developed a built-in cabinetry system that stores product in the cabinet door, rather than in the cabinet itself. "This way, if the use of the storage space changes, say from soap to gloves, you're not stuck with a cabinet glued in the wall. If you change your program, all you need to do is change the door."
According to the U.S. Centers for Disease Control and Prevention, "Hand washing is the single most important means of preventing the spread of infection." As a design response, the Caregiver Station features a sensor-triggered, integrated LED light that bathes the sink in color to indicate whether proper hand washing has been achieved (red=no, green=yes). An integrated tablet above the faucet displays efficacy rates by user and staff group, encouraging healthy competition between doctors and nurses to post the best score.
Courtesy CG Artist Lin Zhang
---
One new feature that integrates furniture and technology is the Patient Companion, a combination bed table, tablet, and control center developed by industrial designer Gianluca Camarda. A solid aluminum frame mounted on wheels, the Patient Companion features a hinged, double-sided surface: the first side a solid, easily cleaned surface for eating; the second a touch screen patients can use to access the Internet, conference with caregivers, and consult the hospital directory. "We saw that this item could be a lot more than just a table," says Camarda, an industrial designer from Montreal and a fellow at NXT Health since last May. "It was also a great opportunity to use new interactive technologies, and to give patients a lot more information and control in their care." Other Patient Companion features include a USB port, power-lift controls, a dedicated wastebasket, and an electronic device-charging pad with colored rings to indicate when power is running low.
Many of Ruthven's ideas were modified as they migrated from design to construction over the short life of the project. When preliminary research revealed that patients spend less than one percent of their hospital stay in the bathroom, Ruthven radically reduced that room's dimensions. But the team soon learned that the room was too small for caretakers or family members to accompany patients into. "This led to patients who might have been able to use the bathroom being forced to use commodes or bedpans," Ruthven says. "Which can be very humiliating. It was one of those ideas that looked very good on paper, but not when it was implemented. It was one of the biggest lessons we learned." The current bathroom is still compact, but now features a sliding wall system that can expand the space to enable caretaker or family members to assist patients there."
Aesthetically, Patient Room 2020 is a decisive swerve away from high-end hospital rooms that masquerade as hotel suites or cabins on luxury cruise ships. There are no wooden panels or pastel-colored walls, just white rectilinear surfaces reflecting natural-looking light in wavelengths that evoke healing more than home. "Our room is unapologetically modern," Ruthven says proudly. "It represents what health care is, instead of trying to fake a natural setting. Any architecture is an expression of culture. But in this country there is sometimes a level of denial, an inability to confront things. Maybe it's just my New Jersey upbringing, but I think trying to trick people into thinking they're outside in nature when they're in a hospital is almost patronizing. We're trying to build a space that represents itself for what it is, without it being cold and sterile."