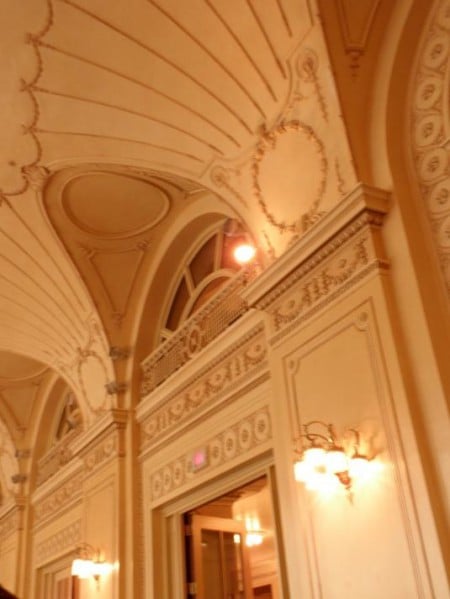 February 9, 2011
Places that Work: The Grainger Ballroom
The Grainger Ballroom, in the Chicago Symphony Orchestra (CSO) building, is a terrific place for listening to music. It's a room where the design works to make the audience comfortable, and this, in turn, allows us to respond emotionally to what we're hearing. The ballroom was designed by Daniel Burnham at the turn of the […]
The Grainger Ballroom, in the Chicago Symphony Orchestra (CSO) building, is a terrific place for listening to music. It's a room where the design works to make the audience comfortable, and this, in turn, allows us to respond emotionally to what we're hearing. The ballroom was designed by Daniel Burnham at the turn of the century and opened 1904. Burnham (1846-1912) is perhaps best known today as an urban planner – he worked on master plans for Chicago and Washington, DC – but he was also one of the leading architects of his time.  SOM renovated the Georgian CSO building in 1998, being careful to maintain Burnham's design elements.
This performance hall is unique in its connection to the outside world through its great arched windows. Unfortunately most concert halls don't have this feature. But here the windows frame the trees in front of the building, bringing nature and sun light into the interior. This connection is crucial to us as creatures that tend to be more relaxed when we are in touch with the world that lives and breathes, sparkles and shines beyond our rooms. Large expanses of glass help us monitor our macro-environment and keep track of time—this reduces stress.
---
More from Metropolis
---
Windows are also important to the design of public spaces because they help keep us from feeling crowded. In the Grainger, their effect is accentuated by the mirrors at either end of the room. These reflective surfaces add to the apparent size of the room while replicating the shapes of the windows.
On a sunny day the ballroom is suffused with a golden light, a highly beneficial design feature.  Research has shown that warm light has psychological benefits. With everyone glowing, we are more likely to be in a good mood and to negotiate solutions to disagreements than in rooms without warm light and sparkle. This is a positive thing. When we feel upbeat, we overcome our wariness of others. Warm light is also mildly energizing.  
The high ceilings and decorative details at the Grainger signal to those present that here they are expected to behave in a formal, decorous way.  These design cues were at work during a recent chamber performance when there was no noticeable whispering or fidgeting under the Austrian crystal chandeliers.
Although no set of design decisions will guarantee a perfect user experience, the Grainger does one thing really well. It supports listeners' emotional involvement with what's being played.  That makes the purchase of a ticket here a better investment than it is in many other venues.
Sally Augustin, PhD, is a principal at Design with Science . She is also the editor of Research Design Connections and the author of Place Advantage: Applied Psychology for Interior Architecture (Wiley, 2009). She can be reached at [email protected] .
Sally Augustin's previous post in this series was about the Thorne Miniature Rooms at the Art Institute of Chicago.