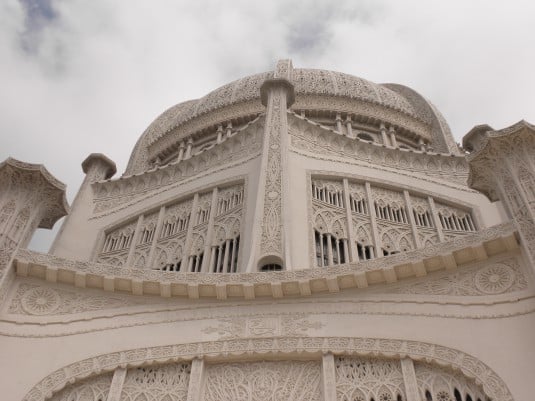 September 12, 2011
Places That Work
The Baha'i House of Worship in Wilmette, Illinois stops you in your tracks. And this makes it a place that works. Its curving form and decorated surfaces force you to notice it. And since most visitors are not familiar with the Baha'i faith, the building can initiate discussions of meanings and practices. My fellow Northwestern […]
The Baha'i House of Worship in Wilmette, Illinois stops you in your tracks. And this makes it a place that works. Its curving form and decorated surfaces force you to notice it. And since most visitors are not familiar with the Baha'i faith, the building can initiate discussions of meanings and practices. My fellow Northwestern graduates and today's students are known to trek up to see "the temple in Wilmette".
Once inside the house of worship, you learn form the signs and handouts about the building's structure, and how its spaces reflect the Baha'i philosophy.  For example, the nine sides of the temple represent the nine major world religions and "the common origin and unity of purpose of all world religions," the cornerstone of the religion.  And the nine-sided building is "covered by a single, majestic dome (symbolizing the unity of all people and religions under God)."
---
More from Metropolis
---
The house of worship, dedicated in 1953, was built over a period of 30 years and is surrounded by well-kept gardens. Louis Bourgeois, the architect, used a steel superstructure and clad it in intricate cast-concrete panels.
The building works, not just because it attracts attention but it also focuses on teaching the tenets of the Baha'i faith. Historically, educating others about their religion has been important to believers. The temple in Wilmette speaks the language unique to the faith that shaped it.
Sally Augustin, PhD, is a principal at Design with Science . She is also the editor of Research Design Connections and the author of Place Advantage: Applied Psychology for Interior Architecture (Wiley, 2009). She can be reached at [email protected]