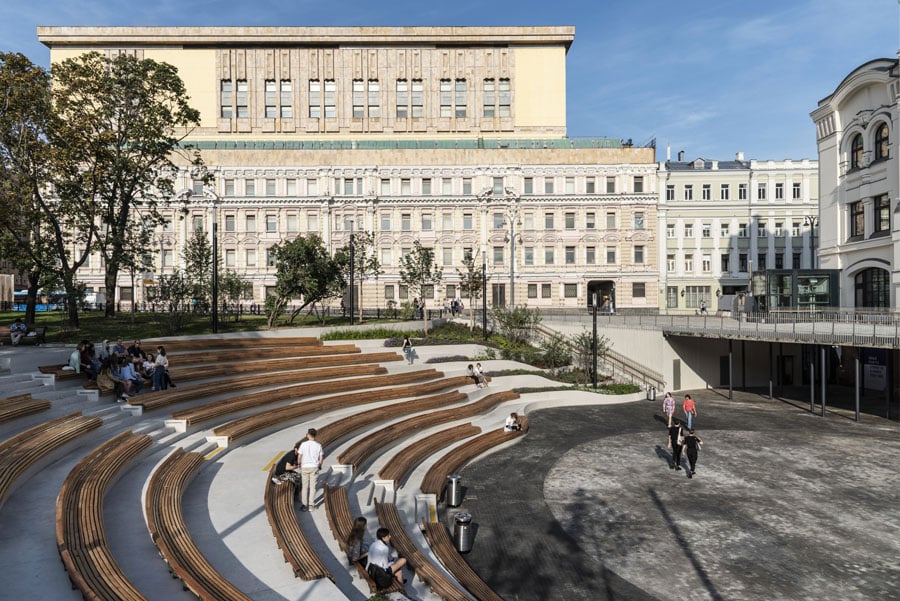 December 5, 2019
Junya Ishigami's New Park Turns Moscow's Polytechnic Museum into a Public Offering
Designed with local firm Wowhaus, the park contains an amphitheater, circulation routes, and new entry points into the museum's porous new basement.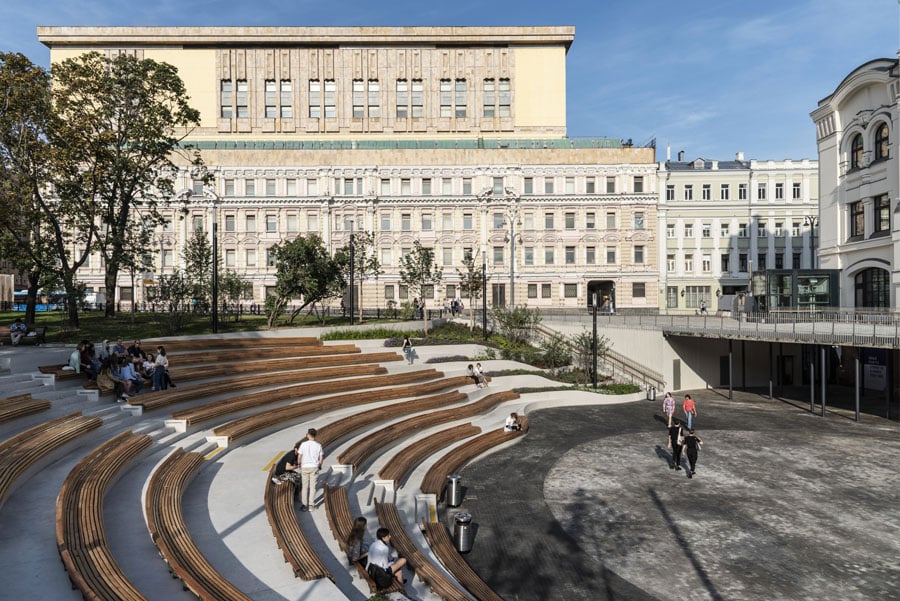 Moscow is no stranger to the transformation of human-adverse areas into parks and public spaces. There is of course DS+R's multi-million Zaryadye Park, or for a more modest exemplar, Snohetta's abandoned parking-lot-turned-skate-park. A new public space, this time around the Polytechnic Museum—one of the oldest science museums in the world—confirms the capital's taste for people-centric planning.
The new intervention, titled Museum Park, lies about half a mile northeast of the Red Square and continues a pedestrian route that links the historic center to the Moskva River banks through Zaryadye Park. Created as an extension of the Polytechnic, Museum Park helps integrate the original 1877 building into urban life by making it more porous and accessible to the city. In 2011, the museum held an international competition to reconstruct its surrounding space. Japanese architect and artist Junya Ishigami came out on top, with a proposal to unearth the museum's basement—freeing it up for a new lobby and temporary exhibition space—and complement the newly exposed, semi-subterranean level with an added hill akin to a meadow.
"Ishigami planned the slopes descending to the museum at a rather gentle angle, planting them with trees and grass. But the terrain borders didn't allow for such wide slopes," explains project architect Mikhail Kozlov, of local architecture bureau Wowhaus, which came in at the design stage of the project. In order for Ishigami's concept to be made feasible, Wowhaus wound up replacing the initial idea of a meadow with that of an open-air amphitheater conceived as the heart of Museum Park. 
---
More from Metropolis
---
"The typology of such an amphitheater is rather well spread," says Wowhaus director Oleg Shapiro. "And we are strongly counting on the fact that a new power place in Moscow will be created before the Polytechnic Museum."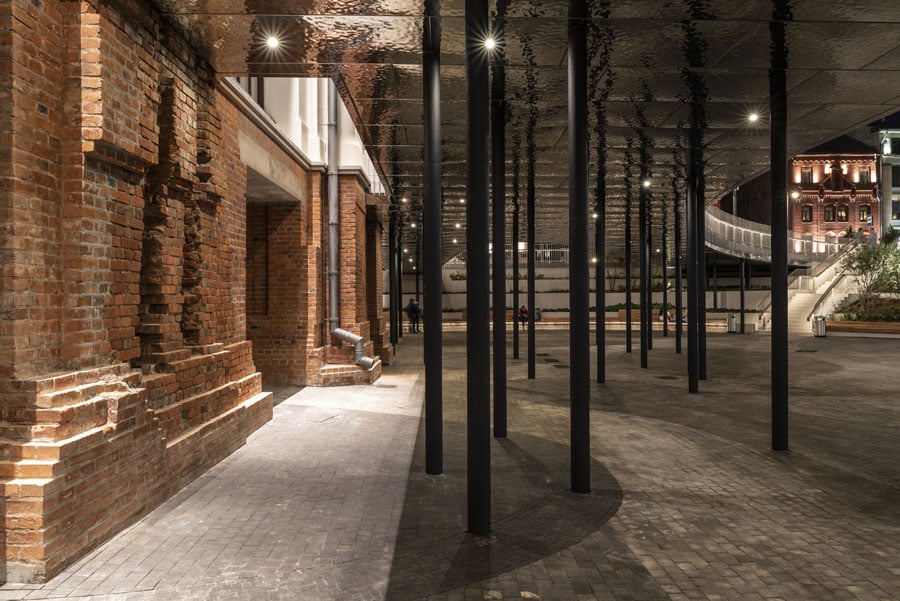 Wowhaus devised this amphitheater to take on many roles. It will host a roster of cultural events, and when the museum reopens in November 2020, after extensive interior renovations, also by Wowhaus, it will provide yet another walking route into the Polytechnic. The new landscape and pedestrian flow will also allow for15 new entry points along the museum's perimeter—compared to only one main entrance in 2011.
Continuing on from the amphitheater, the public space becomes a 16-foot-wide pedestrian zone lined with undulating green terraces and virtually uninterrupted bench seating that encloses the building. The majority of the museum's new entrances are located along this axis, which also forms a new link between the Lubyanka and Kitai-Gorod Metro stations at either end.
Due to its sunken nature, the site was prone to floods and snow build-up, says Shapiro: "We'd hate to hear that we've created a project which, in the rain, turns into a moat with dainty bridges." To prevent that, Wowhaus opted for reinforced storm drains and heated pavement to combat harsh Russian winters. Primed for an all-season performance, Museum Park is ready to fulfill its new role as an extension of the Polytechnic—and a vibrant new space for Muscovites.
You may also enjoy "The University of Monterrey's Newly Landscaped Campus is a Departure for the Car-Centered City."
Would you like to comment on this article? Send your thoughts to: [email protected]