June 27, 2023
Inside Kann, the James Beard Best New Restaurant Winner
"We had so many meetings with the 3D model open, looking at design options with Gregory," recalls Fieldwork principal Cornell Anderson. "It became really hands on." As Gourdet explains it in an opening-date Instagram post last August, "No one thought we would get done on time but the team is mighty and we fought every post-Covid challenge to get here today."
Kann, which was named the James Beard Best New Restaurant winner earlier this month, sets the mood even before one enters, with many palms and potted plants visible outside and inside the building's glowing, glass-walled storefront: The effect is of a kind of tropical portal. A 2023 winner of the International Interior Design Association's Will Ching Design Competition for small firms, the light-filled interior is conceived around an open kitchen with a custom wood-fired, iron hearth, where Gourdet and his staff are showcased like actors on a stage—interacting with customers as they barbecue, grill and smoke beef, octopus, duck and pork. The dining room's design takes inspiration partly from the fine-dining, white-tablecloth establishments where Gourdet trained, specifically New York's Jean-Georges, with its eye-catching gold-leaf-festooned cove ceiling.
"Gregory wanted to bring an elevated restaurant to Portland. To be known globally," says Fieldwork principal Tonia Hein. So Kann too has a gold-toned recessed ceiling, as well as a long gold-colored sheath covering the range hoods. The designers, however, chose the more durable, affordable brass, which nevertheless retains an iridescent quality. "It just kind of glows," Hein says of the material.
Muted Natural Design Elements Showcase the Vibrant Cuisine
The brass stands out all the more against Fieldwork's muted palate of natural wood and light, earthy tones. The design lets the visually pleasing food, blue earthen dinnerware and artwork stand out (especially an abstract Peter Gronquist painting in pink and blue tones, commissioned specifically for Kann). "We did not want anything to compete with how colorful and vibrant the food is," Hein says.
---
More from Metropolis
---
Instead, an array of natural materials help Kann feel very much an Oregon restaurant, and a bit residential, starting with the extensive use of white oak from the dining room flooring, chairs and armoires to the oak-topped chefs' work surfaces chosen instead of stainless steel open. A wall of stacked firewood near the entrance also adds rugged, unpretentious ambiance.
There is scarcely a right angle in the place, from the curving chef's counter to a series of oval pendant lights ganging over a family-style dining table in front and the corner bar in back, meant to evoke the traditional Haitian baskets worn to transport food from the markets.
Instead of white tablecloths, milky-colored tabletops were made using a custom wax-embedded concrete that has a smooth, soap-like finish. The open kitchen's black iron hearth is framed with earth-toned brick that extends to form the backsplash wall. The nearby chef's counter, where diners enjoy a front-row seat for the cooking show, is clad in quartzite with blue and pink veining, for a hint of Caribbean.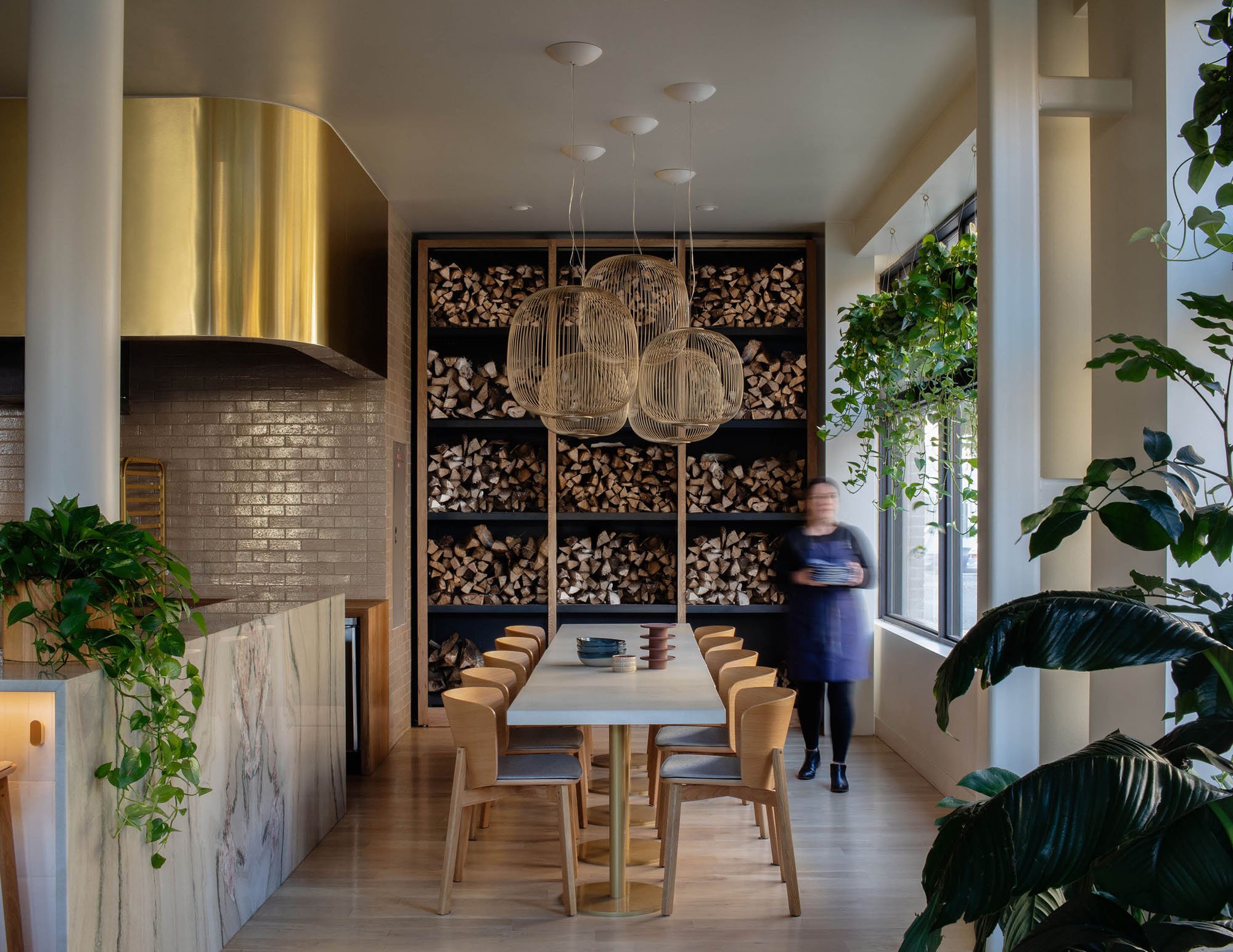 A Moody Downstairs Bar Contrasts the Light-Filled Dining Space
After Kann's design was well underway, Gourdet's team added a sister project: the downstairs bar Sousòl. Here the restaurant's bright, light-filled space gives way to a darker, more atmospheric nighttime space, featuring illuminated bottle shelving, floral patterned wallpaper, and fuchsia velour banquettes lining the wall, as well as a club-level sound system that has already attracted DJs for after-hours gatherings.
After first facing extensive delays and then an accelerated schedule, this was a project of high-intensity and high reward. "I personally needed a project like this," Hein says. "After the pandemic it just brought all of my creativity back again and challenged that in a new way."
A few weeks before Kann and Sousòl's opening when it all hit her, while going over final details with operations director Tia Vanich. "I remember Tia left the table for a moment and I just started to cry," Hein recalls, "just because everything was coming to life and this was what we had all been working so hard for."
Would you like to comment on this article? Send your thoughts to: [email protected]