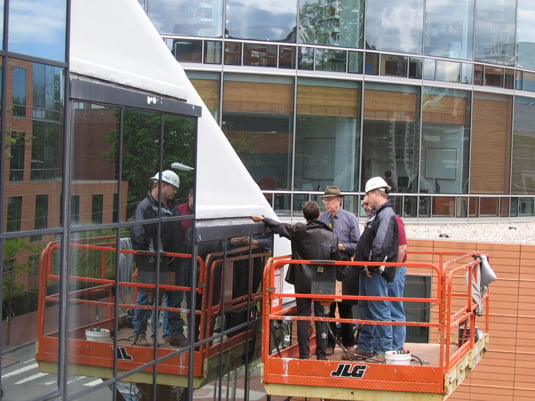 August 23, 2012
To Preserve or Demolish? The Challenge of Owning Modern Buildings
Our last post, The Preservationist Perspective, addressed a key issue we typically face regarding the value of mid-twentieth century modern buildings and their reuse. Here we examine the issue of owners and occupants. To preserve their sizable real estate investments, to enhance the value of their properties, and to ensure that their occupants/tenants continue to […]
Our last post, The Preservationist Perspective, addressed a key issue we typically face regarding the value of mid-twentieth century modern buildings and their reuse. Here we examine the issue of owners and occupants. To preserve their sizable real estate investments, to enhance the value of their properties, and to ensure that their occupants/tenants continue to lease their spaces, owners must maintain and operate their buildings to suit all these demands. This is a growing challenge for many owners and operators of mid-century modern structures. As the call for the demolition and replacement of these buildings heats up, the root animosity towards them may go deeper than aesthetics alone.
Henry Moss, Bruner/Cott principal and preservation expert, discusses the exterior of Gund Hall at Harvard University's Graduate School of Design with the client team.
---
More from Metropolis
---
As buildings age, even if maintained properly, they frequently become less acceptable in our culture of "the new."  Recent history is quick to go out of vogue. Styles change and historic design, even when it's fairly new, is seen as antiquated in form and function. Often we begin to appreciate a particular style only with the passage of time. The same is not true of function. We expect more comfort in our environments today: consistent heating and cooling, better lighting, and convenient access. As occupancy standards become more stringent, building owners face a growing challenge from their tenants who demand such comforts in return for the rent they pay. And, if those occupants dislike "modern" materials, particularly concrete, they may become even more vocal about creature comforts. As building owners face the rising costs of such out-of-the-ordinary maintenance as material failures of glass and concrete, they begin to ask, "Do I continue throwing good money after bad? Do I replace this structure?"
Spalling concrete, a readily apparent indicator of building deterioration, on a Josep Lluis Sert building at the Boston University School of Law.
Courtyard of Josep Lluis Sert's tower at the Boston University School of Law showing deteriorating window frames and colored fenestration panels.
It is critical to assess whether or not a building can be economically replaced. In many cases, demolition followed by new construction could certainly be the simpler choice. But there are some key questions that need to be asked such as, what floor area ratio (FAR) will current zoning support vs. the zoning regulations to which the building originally responded? Today's zoning is frequently more stringent than was the case 50 years ago. Furthermore, most building owners and developers know that it is difficult to build new to the "best and highest use" as we define the term today and they're beginning to realize that their existing building is more of an asset than they previously thought.
This is true of mid-century modern buildings. Largely part of nationwide urban renewal programs when they were constructed, they are reflections of the regulatory approvals governing municipal, state, or federal agencies that can curtail new development. What will the community say in an open forum? Will they be supportive? Will the owner face new requests by public institutions and private groups for increasing "linkage" requirements, in other words more funds to be extracted from the developer as part of the permitting process? Our experience at Bruner/Cott indicates that building renovation may be a better course of action than demolition. It's also an acceptable compromise from the owner's point of view. It can be less costly on a square footage basis and will also have a faster turn-around time.
These advantages will translate into tenant benefits such as lower rents and systems upgrades. Reusing an existing structure significantly reduces construction time and eliminates excavation and foundation costs (though the remaining trades will be somewhat higher in the "rehab" than they would be in all-new construction). Plus, newly renovated building envelopes are tighter—much more resistant to thermal change, which makes them more comfortable—more like a new building with regulated climate control and an absence of drafts. Single glazed windows are easily replaced with double glazed insulating glass and thermally broken window frames. These metal frames—typically aluminum—have a thermal break (a rubber or plastic spacer) between their inside and outside sections so that heat is not conducted through the frame in either direction. This means that new heating, air conditioning, and ventilating systems can be downsized considerably with a more thermally efficient building envelope, increasing comfort while also significantly reducing energy use.
The quicker turnaround saves construction costs and puts the building back on line sooner. From the owner's perspective, all this translates to a higher return on investment. From the tenant's point of view, up-to-date systems mean increased comfort.
Have you had experiences like this in your own work or as an owner, as a tenant? What can you add to the discourse on owner/occupant issues? Our next post will address the advantages of mid-century modern building renovation from the architect's perspective: The Architect as Advocate and Mediator.
Modernist Buildings to Watch: Much to the surprise of the Cambridge, MA architectural community and the New England Chapter of DOCOMOMO, the city of Cambridge has voted to demolish Josep Lluis Sert's Martin Luther King Elementary School across the street from the architect's better known Peabody Terrace Housing complex at Harvard University. Appeals are likely.
Simeon Bruner, RA is a founding principal of Bruner/Cott & Associates, a Cambridge, Massachusetts architecture and planning firm. This is the fourth in a series of Metropolis blogs written by members of Bruner/Cott's restoration team that focus on the challenges and solutions for converting, rehabilitating, or reusing mid-century buildings. Upcoming posts will explore issues associated with this conservation, drawing on the firm's long-term experience working on the repair, enhancement, and continued use of this architecture. Mini-case studies of buildings will include the MIT Stratton Student Center by Eduardo Catalano; Harvard University's Peabody Terrace Apartments and Holyoke Center and its Gund Hall for the Graduate School of Design by John Andrews; and Boston University's School of Law and Law Library by Josep Lluis Sert. Design and technical problems associated with these projects as well as user/owner issues inherent to mid-century modern design will be further explored. See the other posts in the Icon or Eyesore? blog series.