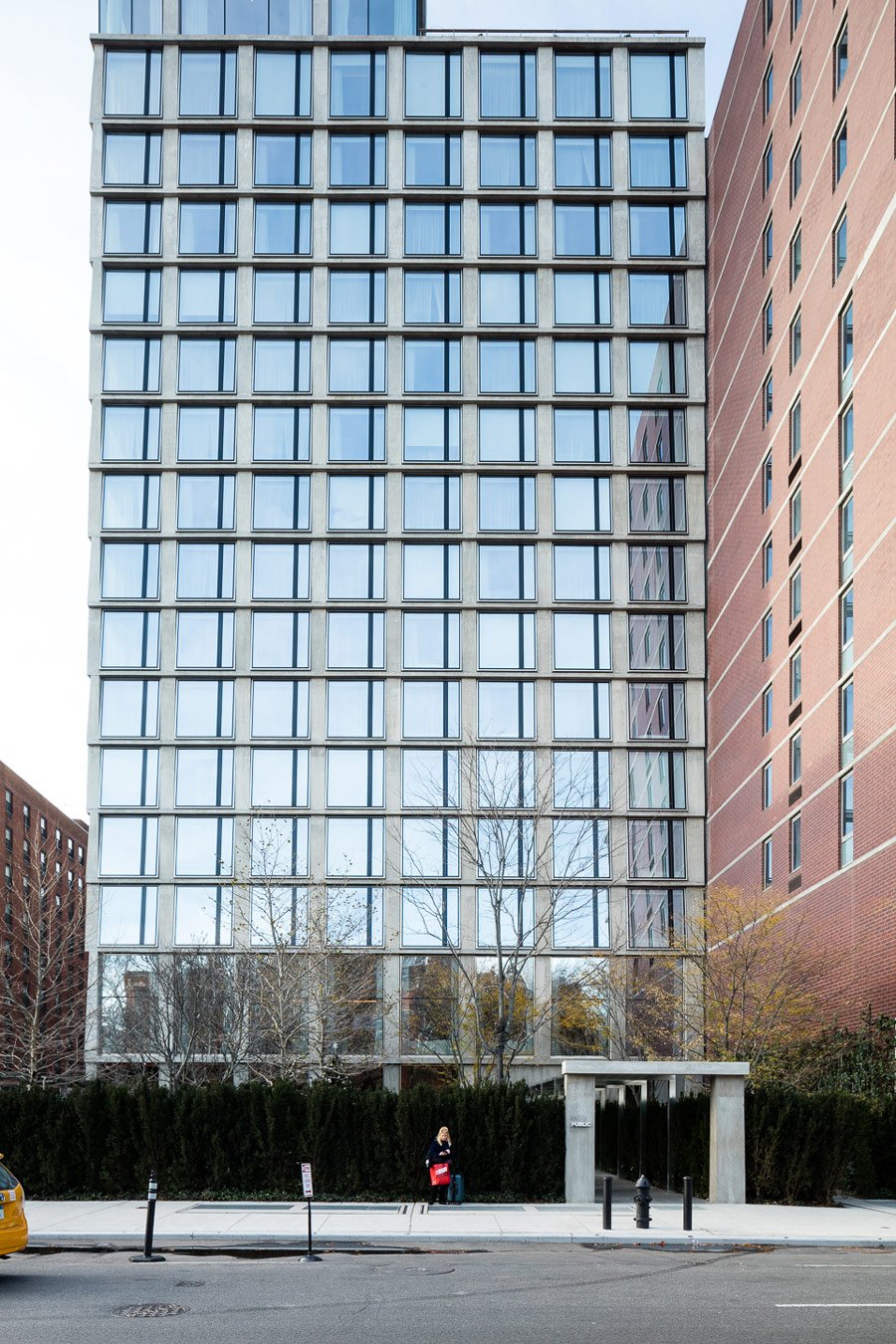 February 12, 2018
With the Public Hotel, Ian Schrager is Reinventing Luxury Hospitality. Again.
Metropolis asks legendary Hotelier Ian Schrager and architect Ascan Mergenthaler of Herzog & de Meueron to break down the details of their new 17-story hotel in New York.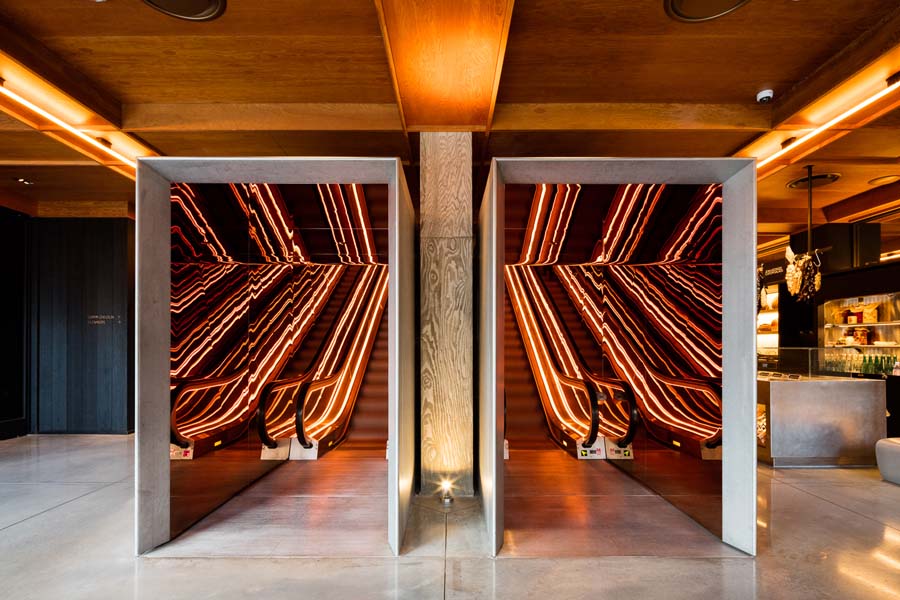 ---
Ian Schrager is an ideas man.
The hospitality mogul's sprawling West Village office embodies his frenetic genius: Renderings and design experiments from his projects are tacked onto the walls, hanging alongside well-wishes from celebrity associates over the years. Schrager has written down and laminated some of his epiphanies about innovation, which he references excitedly as he discusses his latest developments.
There's a lot to be excited about. Nearly 35 years after inventing the boutique hotel with Morgans in New York—and after elevating hotel design through collaborations with all-stars like Philippe Starck, Arata Isozaki, and Julian Schnabel—Schrager is pioneering a new type of hospitality experience. And he's doing it by redefining luxury for today's urban traveler.
---
More from Metropolis
---
The Public, Schrager's 367-unit hotel on New York's Lower East Side, opened last year, when many mainstays in the market were feeling pressure from the swelling presence of Airbnb. By pulling back on certain amenities (bellhop assistance and other services Schrager identifies as remnants of a bygone era), amping up technology (guests check in via iPad kiosk), and designing for density, the hotelier has achieved a luxury experience for a modest $150-per-night starting rate—one competitive with those offered by the on-demand sublet behemoth.
Still, the Public doesn't skimp when it comes to design. Schrager's name is virtually synonymous with razzle-dazzle, the throbbing energy of Studio 54 and Palladium nightlife. Teaming up with Herzog & de Meuron— the Swiss firm decidedly not synonymous with razzle-dazzle but, rather, thoughtful, integrated responses to program and materials—Schrager has crafted an experience that responds to the financial reality of a wide market without resorting to second-rate design. We asked Schrager and Ascan Mergenthaler, senior partner at Herzog & de Meuron, to highlight some of the project's features in their own words.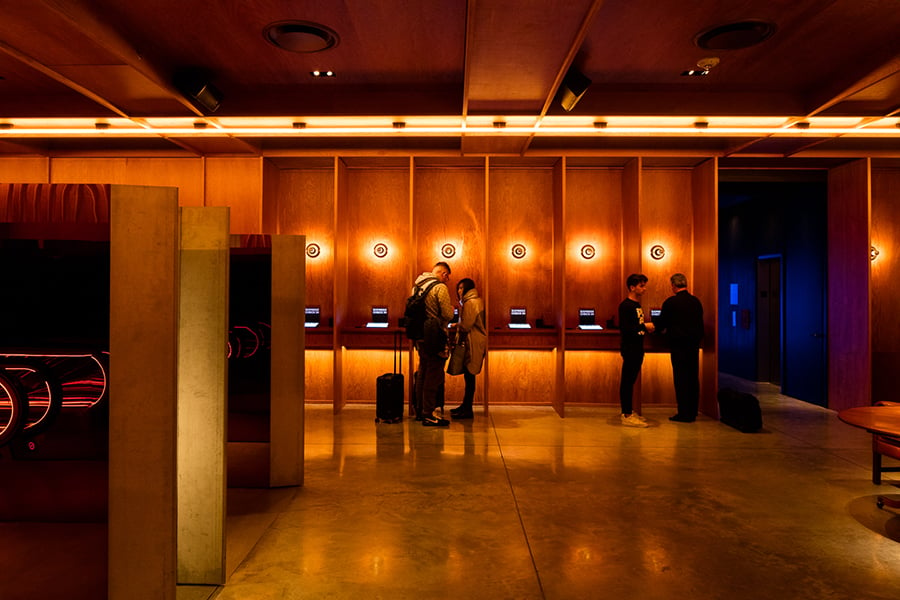 ---
Ascan Mergenthaler: When Ian asked us to work on this, his idea of the Public brand and what it would offer to people was already quite clear. We felt comfortable with it because we liked this aspect of the refined gritty, or tough luxe, or of a certain rawness, but refined. That's something we can very much respond to. If you imagine the building as a model and shake it or turn it upside down, everything that would fall out is basically Ian's selection. Ian has very specific ideas of how this should be and what this should be. When you enter the building and you really look at it carefully, you feel quite clearly what is Ian Schrager and what is Herzog & de Meuron.
Ian Schrager: Technology is the future for hotels, and the industry doesn't understand it yet. If it's done with a wizardry, it enhances the experience. Whatever you can do quickly, efficiently, and maybe get cheaper [with technology], you should do.
AM: Circulation is not just a bare necessity. Circulation is something which should be inspiring and eye-opening, and sometimes even dramatic. Especially in this case, it was absolutely necessary that the check-in be on the second floor—so you have to lure the people not only into the building but also up into it. It was clear that we needed a strong gesture, like a grand staircase in an old Palladian. It's a journey almost. It's not just that you go from A to B—it's a special experience.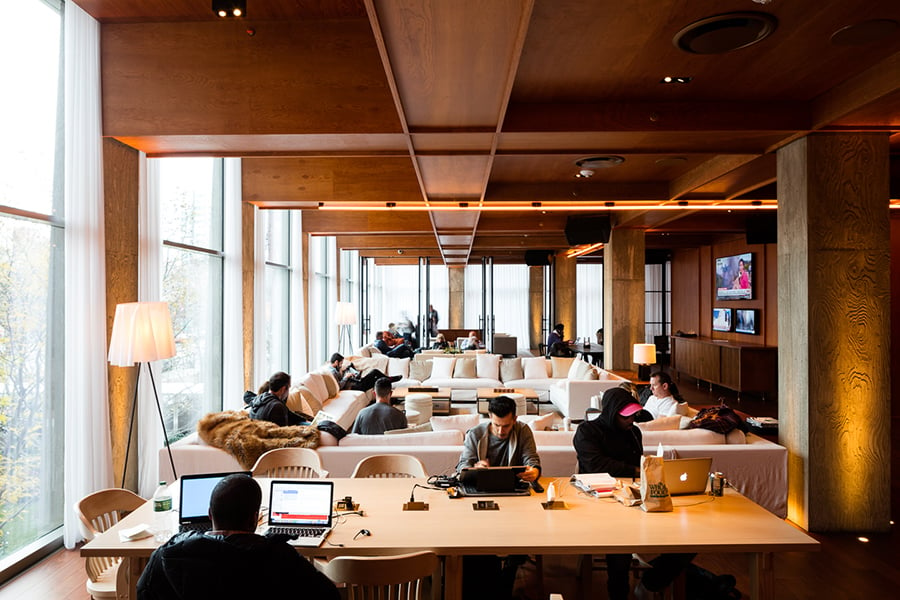 ---
AM: The living room on the second floor is exactly at the level of the tree canopies, and you really feel you're in [a] park, being part of it. This outside-inside relationship, it's a very important one during the day. At night, it can be a bit more introverted.
IS: We wanted all of the public spaces to be attractive, not only because of their design but because of the experience. You could go to any one of them, or you could visit all of them, and they're all different. It's like a resort.
When you mix eclectic things, it's difficult to put a label on it, to put it in a box. And when you can't put it in a box, I've always felt, those things are the most successful.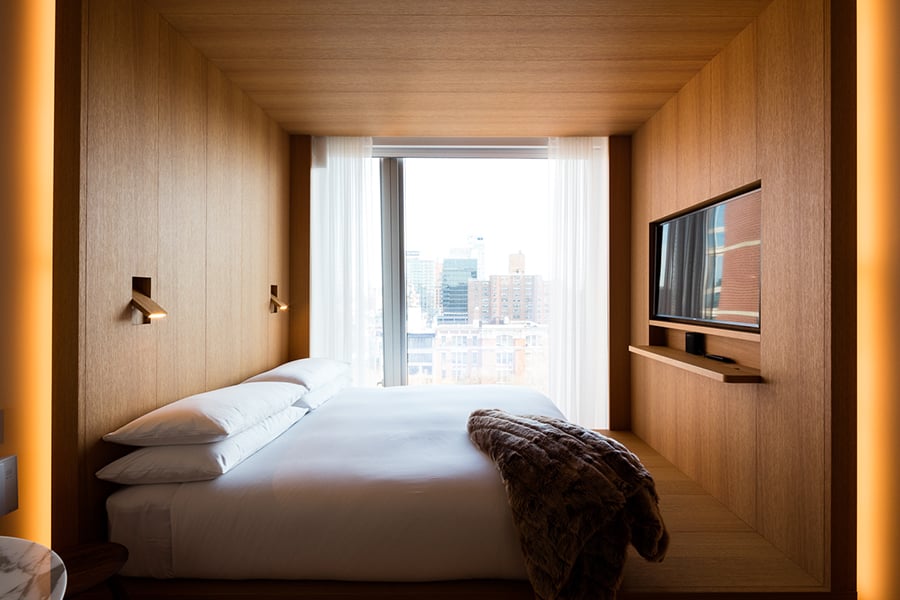 ---
AM: The room is a window, and you live in that window. The bedroom is a wooden capsule. It's where you want to feel most protected, the coziest. You have all these different zones in the room, yet it doesn't feel like a cramped little space. It has a generosity.
These things only work if you also take care of the small details. The bench, for example. It's not a heavy piece of furniture; it's not a sofa; it's more elegant—like a bench in the park. If it had been an upholstered thing, it would immediately suffocate the space. But because it's a wooden frame with a thin [layer of] upholstery, it speaks a different language. Another idea was to explode the bathroom rather than push everything in one tiny room. When you think about old hotel rooms in Europe, the sink is always in the room. That was something interesting to bring back: Design a special sink with a beautiful mirror and a nice hugging timber wall. Suddenly it becomes something beautiful, and not something you need to hide in an enclosed space.
IS: I'm very comfortable doing small rooms. It is a machine, that room, and I think that's the beauty of it. No more three-legged chairs; it just functions in a very efficient way. The inspiration for the bed was Thomas Jefferson's bed at Monticello, between his study and his bedroom.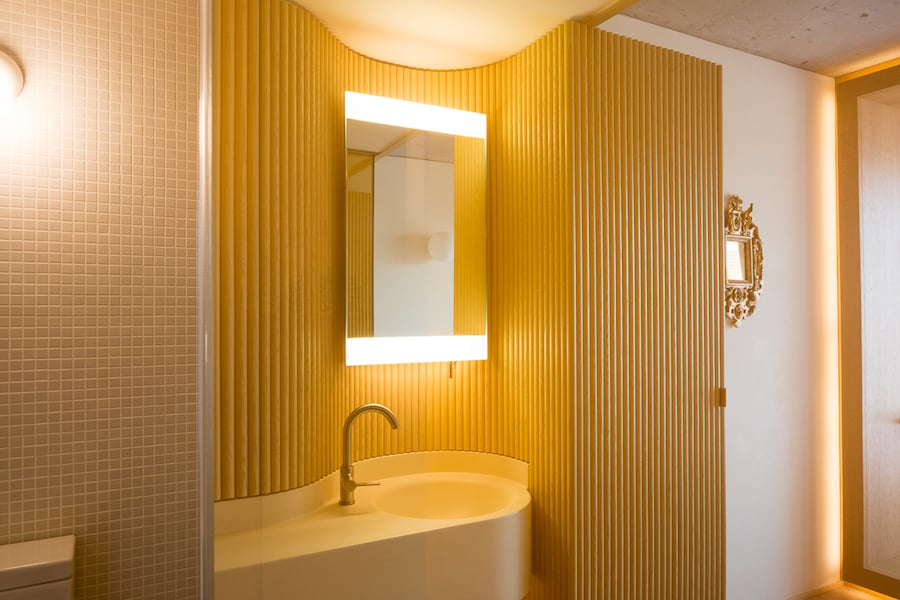 ---
AM: People relate to the three-dimensional quality of the surface treatment of the walls. It's much more surprising and engaging than just a flat wall, and that's why we always try to bring some architectural quality and texture to these surfaces. The scalloped or fluted detail recurs in different scales throughout the hotel. It is in the bedroom in a very small scale. For the fluted walls in the bathroom, [it's in] a medium scale, and again at the espresso bar, for example. We like to reuse the same idea and bring it all into a context so you understand that you are still in the same building. You perceive subconsciously that it is all one organism, but you have different variations of it, in slightly different expressions.
You might also like, "The Ace Hotel Chicago Uses Art to Channel Mies van der Rohe and the Bauhaus."