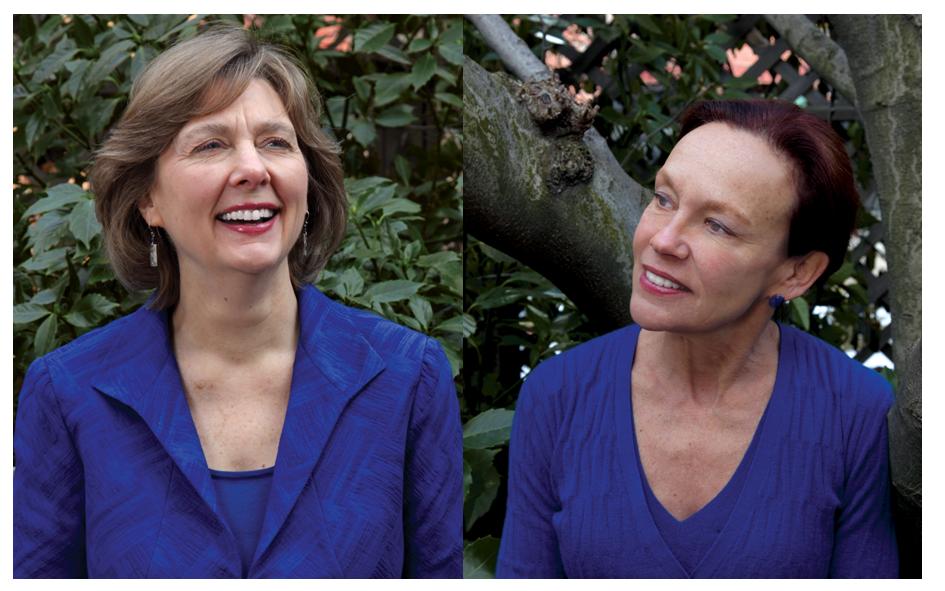 August 15, 2013
Q&A: Landscape Architects Kim Mathews and Signe Nielsen
Landscape architects working in the public realm connect the asphalt jungle to nature
In this season of Architecture's Lean In Moment, I'm asking principals of three successful female-owned firms in architecture, graphic communication, and here landscape architecture, to talk about the work they do, how they connect with their clients (usually in the messy public realm), how they hone their skills and add to their knowledge base—all to provide the essential design services that they set out to do as idealistic young practitioners.
Here the principals of the New York firm, Mathews Nielsen Landscape Architects, Kim Mathews, RLA, ASLA and Signe Nielsen, RLA, FASLA, talk about the evolution of their profession, their commitment to teaching, writing, lecturing, their research-informed work, as well as the new appreciation of design in the public realm. The firm's new Green Team reports here regularly on topics like the importance of soil composition, working within the urban infrastructure, and waterfront remediation and redevelopment in a time of climate change.
---
More from Metropolis
---
Kim Mathews and Signe Nielsen
Susan S. Szenasy: Let's start at the beginning. In 1993 when you formed your partnership, Mathews Nielsen Landscape Architects, you began to carve out a role for yourselves in the public realm. Could each of you talk about why this was important back then, and why it's paramount today?
Kim Mathews: Public projects always need a champion. Today, that champion can often be an enlightened agency or non-profit, but when we started our practice 20 years ago, design excellence was not a term discussed at the negotiation table. Landscape architects needed to prove that excellence could be achieved and maintained in the public realm. The lessons we learned then formed the basis for design guidelines and Best Management Practices (BMPs) adopted in the past 5-10 years. The cycle continues now with a new focus on resiliency and climate change.
Signe Nielsen: My commitment to concentrating on the public realm stems as much from my upbringing and education as it does from observing how important well-conceived public space is in the urban realm. My parents instilled in me the notion of "doing for others;" this was reinforced by my landscape architecture education at City University of New York City College, where the program used New York City as its laboratory for studio projects. It was impossible to ignore the impacts of urban renewal, the "grand planning" of Robert Moses combined with the socio-economic injustices of the preceding generations.
Prior to becoming partners with Kim, I had my own firm from 1979-1993, and during that time, I began to receive commissions for public work. I found that the scale, scope and complexity of urban sites stimulated my creative juices; I enjoy solving the thorny problems of degraded sites and underserved neighborhoods through design explorations. So, while I believe that the intervening years since my education and early career have righted some of the wrongs of the past, there are still a host of issues, some of them barely recognized in the '70s, such as the impacts of industrial contamination, forces of climate change, and shifts in population, which continue to impel me to an even greater engagement in the public realm.
Hudson River Park, Tribeca Section
Courtesy Mathews Nielsen Landscape Architects
SSS: During the 20 years of your maturing practice, what do you consider the major milestones in the evolution of your firm, and its contribution to making cities more humane, reconnecting the natural world to our asphalt jungle? Can you give some examples? 
KM: We have grown from 8 people, to 12 to 15, and now, nearly 25. Each step has been carefully considered because of the opportunities it offers us. The last jump allowed us to take on larger, more complex projects, often as the prime consultant. Of particular interest to me has been our work revealing cultural landscapes, including those long buried.
Two examples are the re-watering of the historic terminus of the Erie Canal (public client/Empire State Development Corporation) and design of a public access and interpretive plan for West Point Foundry Preserve (non-profit client/Scenic Hudson), set to open this fall. Each site is connected by multi-modal access, a move that brings visitors of all ages and abilities to the sites 12 months of the year. At one site, we now see boats and bicycles at a former parking lot, and the other tells the story of a landscape's stunning ecological rebirth and its significant archeological discoveries.
SN: I think it's fair to say that our firm has an admirable legacy of urban waterfront transformations from post-industrial wastelands to places that are restorative for people and natural processes. My first such endeavor was a small pier in Brooklyn Heights called Fulton Landing. I recall the community meetings where the many voices requested to be at the water's edge to enjoy the expansive views and peacefulness of space. I had many other ideas that, in hindsight, would have cluttered the pier and compromised the power of the place. I am grateful to those voices, because they taught me a lesson that I still carry with me: listen to the site. By this, I mean understand the human impacts that have come before, the natural systems that have been interrupted, and how these can be rebalanced and repurposed. Today, I am proud to say, Fulton Landing has been embraced within the much larger Brooklyn Bridge Park.
Over the past 20 years, our firm has gone on to design more than 22 miles of waterfront including the Tribeca section of Hudson River Park, Weehawken and Newport on the New Jersey side, and more recently, multiple waterfronts on the East River. Each of these projects carries different programmatic requirements, but at their core is the underlying design premise to re-engage people with water and restore a healthy ecosystem.
Currently, we are designing Pier 42, an 8-acre wharf along the East River in lower Manhattan. Coming at a time when our city is scrambling to devise new strategies for storm and climate resiliency, we have incorporated this challenge into our design mandate.  Whereas land forms may offer better views, abate highway noise, or absorb contaminated site material, we are now examining the precise elevations and continuity of created topography to provide protection for the upland communities.
Fulton Ferry Landing
Courtesy Mathews Nielsen Landscape Architects
SSS: Were you ever tempted to shift the "feminine" area of domestic landscape architecture? I ask this because for years, it seems that the most interesting work was being done around the single-family house. Did you turn your back on this field out of "feminist" convictions? Now, of course, your practice has become fashionable in the field—lots of talk about the things you've been practicing for decades. Are you heartened by this new trend? 
KM: I have never considered residential design in this way. I think of it being more about scale and intimate relationships. I have always been attracted to larger scale design moves and prefer the process of convincing a room full of people that an idea works instead of a couple across the table. Like many of us practicing in the public realm, we often wish we had the luxury of a residential budget and dedicated maintenance, but in the end, I prefer designing landscapes that reach more people.
Yes, I am very much heartened by the recognition of landscape architecture as a discipline of leaders. I hope it is not just a trend but a way of practice that is now embedded in our society.
SN: When I started my firm before Kim and I were partners, I did many private residential projects. Those commissions were relatively easy to get through word of mouth and offered a level of satisfaction in terms of detailing, material choices, and speed of completion. However, for me, they soon grew uninteresting, and I felt myself stagnating as a designer. I longed for greater social, physical, and biotic challenges. Frankly, I never associated domestic architecture and feminism. As a product of the '60s, I consider myself a committed feminist, but I would rather put my energy into projects that benefit many people rather than a few and sites that can be healed rather than decorated.
West Point Foundry Preserve Rendering
Courtesy Mathews Nielsen Landscape Architects
SSS: Both of you lecture or teach or write, all of which involve you in a public discourse about integrating the natural environment with the built environment. How have these activities broadened your perspectives? Can you give some personal examples?
KM: In April of this year, I lectured at the National Building Museum in Washington, DC. I was asked to address how designers measure success in urban revitalization projects with a focus on the waterfront. The lecture was part of the museum's "Smart Growth" series, which attracts a number designers interested in New Urbanism. That potential audience was a motivating challenge—how to present the beauty of our sometimes gritty, post-industrial waterfront reclamation projects and make sure that everyone understood that these are successful examples of smart growth: they improve livability, put existing communities first, provide shared benefits, and preserve open space. The lecture venue gave me a non-New York City lens with which to examine our work.
SN: Teaching has given me many things. One important lesson that I learned some 35 years ago when I entered my first classroom was that if I can't explain something clearly, then I don't understand it myself. Over the years, I have discovered that teaching, writing, and lecturing present precious opportunities to reflect, synthesize, and advance incipient ideas.
Today, I think that at last, I have the maturity and experience (note I did not say wisdom) to offer useful perspectives on where we have been and where we might want to go as landscape architects in these ever-changing times.
One direction I have taken recently is to focus on urban policy. Changes are needed to our regulatory and political process if we are to embed forward-thinking strategies into urban design. So from the manuals I have co-authored on urban infrastructure and sustainable site design for the NYC Department of Design and Construction to new or modified codes I have written for the Green Codes and Building Resiliency Task Forces, I believe these efforts help advance broader acceptance of innovation within the reality of public decision making.
Pier 42 Partial Deck Plan Rendering
Courtesy Mathews Nielsen Landscape Architects
SSS: Explain the importance of research to you, personally, and to the field of landscape architecture in general. What, in your estimation, are the most pressing problems that need to be solved and that require intense research and evaluation and communication by the profession? 
KM: You will probably hear a similar refrain from Signe and me on this. We are both actively participating in the discussion of resiliency but agree that our work needs to be done in collaboration with experts in related scientific and engineering fields. The views and values being formed now by all design professionals should be science-based with support by designers. This doesn't mean that designers can't think out of the box, but we want to make sure that our ideas float.
Yes, the overall subject of research and evaluation is critical to our profession. In private practice, we need to make the time, but when we don't have that, we should support others that can do this with the rigor required.
Additional pressing issues are the effect of climate change on living landscapes that exist today (flooding, soils, pests/diseases); how we can repurpose those landscapes; and how we can select and monitor new plant species and landscapes.
SN: I have always loved architecture and landscape architecture because these professions embody the notion of Renaissance (wo)man—they are inherently synthetic, requiring one to know a great deal about many things from natural science to physics to human nature—and to orchestrate these into compelling form and space. But, alas, I do not have enough RAM or time to truly grasp what we need to know to design for tomorrow's world.
Research, theoretical and applied, is essential to our professions. We cannot be left behind by a populace that sees us a profession that serves the rarified atmosphere of the wealthy. We need to demonstrate, through research and design, that sustainable seventh-generation thinking is at the core of what we do.
Specifically with regard to solving the most pressing problems, I will limit my potentially infinite list to water. More than 70% of the earth's surface is covered by water; 40% of the world's population lives in coastal communities. We want and need water for survival, transportation, food, energy, and recreation, yet water represents one of the greatest hazards to our existence. As a landscape architect, water has always been both a source of delight and a system to be managed.
It is incumbent on our profession to restore the hydrologic cycle and to plan for extremes of drought and storms proactively rather than reactively. To do this, we need research that will advance us beyond boutique imagery to develop sound design principles.
Erie Canal Harbor Buffalo, NY
Courtesy Mathews Nielsen Landscape Architects