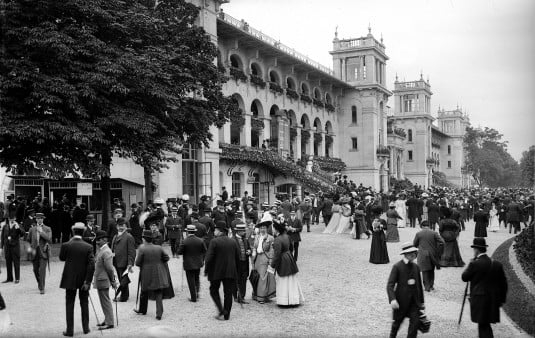 April 19, 2013
A History of Racecourse Architecture
A number of racecourses can boast traditions of continuous use that put any other sport to shame
Sport is among the most insistent reasons for large-scale architecture. Think of the Colosseum or Fenway Park, not to mention a new crop of Olympic venues every two years. Every society builds large-scale venues for sporting entertainment; only the purpose varies. While we've forsaken such diversions as public executions and mock sea battles we continue to build for baseball, football, soccer, or basketball using new specifications. Amidst this larger shift, from the trident and the net to the diamond and the catch, there are occasional continuities. Nowhere is this more evident than in the realm of horseracing and the structures erected for its viewing. This specialty is finally given due attention by Paul Roberts and Isabelle Taylor in their intriguing new book, Racecourse Architecture. The Hippodrome is one of the oldest of sporting forms. And while the Roman-built Leptis Magna may not be hosting the Libyan Triple Crown today, a number of racecourses can boast traditions of continuous use that put any other sport to shame. Chester Racecourse, which operates to this day, held its first races in 1539; the Grand Écuries at Chantilly were completed in 1736; the original York Racecourse Grandstand (they naturally have a larger one now) dates from 1756. Even comparatively youthful racecourses frequently boast architecture older than any extant American sporting venue, not to mention any worldwide soccer venue.
Racecourses continue to exercise a grip on the public imagination. This image might have drifted more in the direction of the corporate and the raffish in recent years but still manages to accommodate both staggering seediness and considerable gentility. HBO's short-lived Luck featured a standard cast of racing degenerates. Joseph Bruno until recently held court over his seeming lifelong fiefdom of the New York Senate from the Saratoga Racecourse. Cary Grant met Ingrid Bergman at the racecourse in Notorious, seeking news of Nazi Claude Rains' doings; Christopher Walken's Max Zorin raced horses at Chantilly in A View to A Kill, which naturally Roger Moore had to investigate. My Fair Lady featured the "Ascot Gavotte": Every duke and peer is here Everyone who should be here is here What a smashing, positively dashing spectacle The Ascot opening day While today's Alan J. Lerner would be unlikely to choose such a topic, Ascot continues to possess a distinct grandeur. And just as unglamorous racing events have not swept away swank ones, undistinguished racing architecture has happily failed to carry away many glorious examples of the form. Horseracing in the contemporary sense began to take form, unsurprisingly, under the aegis of those Stuart monarchs, who tended to possess enthusiasms for the divine right of kings and for fun in equal measure. Enthusiasm may have outstripped talent. James I was described by one historian as "the worst rider in the world" and it is rumored that Parliament once dispatched a group to request his return to government from racing. No wonder his grandson should want to rule without them. Racing mania survived the Glorious Revolution, with the first, Palladian-styled grandstand constructed in 1756 by architect John Carr. Write the authors, "Carr had formulated a new building-type deftly fit for purpose. It provided a space in which to view the races and socialize, and, through its sophisticated architectural vocabulary, enunciated the éclat of the sport and its patrons. While entry to the racecourse was free of charge, a fee was charged to gain admittance to the grandstand, making its commodious environment a foremost status symbol within York society." The model type was set. Others sprang up in a similar model, typically offering a second-story viewing platform and a lower level oriented to sociability. The scale of the Carr grandstand became inadequate over time in a society in which the new middle classes joined the landed aristocracy in racing mania, and raked seating, elaborate loggias, verandas, and balconies, not to mention ladies' luncheon rooms sprouted on ever-larger grandstands. France, importing racing rather later, began on a large scale. Chantilly was perceived as a design totality, pioneering in its course both a simplified pittoresque style in larger design as well as inaugurating a continental tradition of royal viewing platforms — in this case, the Pavillon du Prince, soon copied in Longchamp's Lodge D'Empereur and in other European courses in Baden-Baden, and Vienna's Freudenau.
---
More from Metropolis
---
Longchamp
As usual, we chose a very different course in the U.S. Lacking a landed aristocracy, most racing took root in cities or in nearby summer destinations–in Jerome Park in the Bronx, Morris Park in New Jersey, and in Saratoga Springs. Jerome Park introduced the novelty of the clubhouse, which codified structurally the abiding trend of racecourses offering both common and exclusive facilities. A simple Queen Anne Style soon cropped up in grandstands at Saratoga and Churchill Downs in Louisville, both uniquely elegant to this day. Elsewhere, diverse influences proliferated. British-style courses migrated to Australia, where they were frequently decorated with elaborate cast-iron work. These Australian courses often inspired Indian tracks. South American courses in the 1880s pursued opulent imitations of continental models. Louis Faure-Dujarric's Louis XVI-inspired Hipódromo di Palermo in Buenos Aires is perhaps the most beautiful racecourse in the world, with its Beaux Arts main façade giving way with astonishing grace to a sinuous art nouveau trackside ceiling (since utterly butchered by the addition of a glass screen). The Club Hipico in Rio de Janeiro similarly channels a range of European inspirations with surprising success. And then dread modernism and its handmaid, reinforced concrete appears. It cropped up first haltingly in the fascinating Hipodrome de la Canche in Le Toquet in France, combining a very traditional half-timbered Anglo-Norman facade with a simple concrete cantilevered roof and then full-throatedly in Madrid's modernist Hipódromo la Zarzuela, whose salient feature is simply a roof of repeatedly sloping shell-like curves.
Hipódromo di Palermo
Back in the U.S. racing had suffered a blow (a temporary boon to Tijuana's Agua Caliente Racetrack) by a 1900s wave of laws against bookmaking. The Great Depression weakened this puritan resolve, prompting a wave of very modern racecourses. There's Lester Geisler's Renaissance Revival Hialeah Park, a gaudy and elaborately landscaped slice of South Florida and a crop of Southern California racecourse, most notably Santa Anita and Hollywood Park. These didn't merely feature in movies (Santa Anita in films from A Day at the Races to A Star is Born) they were built by them. Hal Roach was a partner in the construction of the former, Jack Warner was chairman of the latter and shareholders included Walt Disney, Al Jolson, and Bing Crosby. The principal attraction, however, in each case, was the architecture. Gordon B. Kauffman drew upon a range of stylistic influences at Santa Anita, inclining towards streamline moderne in his grandstand and neo-Georgian in his clubhouse, all nestled within thoroughly plotted and lavish landscaping. Stiles Clements designed a delightful sleek work in his Hollywood Park grandstand.

Santa Anita
The history of racecourse construction since, with some exceptions, is principally disappointing. This decline might be traced to the rejection of Wright's proposed redesign for Belmont Park, which featured a series of cables moored to towers bracing a translucent roof. Arthur Froelich's Hipodromo la Rinconada in Caracas is a work of inspired modernism, with a roof the authors describe aptly as "concrete scallops" and a bracing pattern of colors adorning its simple lines. Most others, at least until recent years, proved awful.
Hipodromo la Rinconada
Asian and Middle Eastern construction did offer some interest; here racing facilities began on a scale generally unprecedented, driven by contemporary urban societies and a very contemporary taste for gambling. The Tokyo racecourse holds 200,000 fans (and achieves a measure of grandeur at that). Happy Valley in Hong Kong is perhaps the most urban on earth. John LeCarré described the course in The Honorable Schoolboy (yet another case where, like clockwork, a villain is to be found at the track): "The grass at Happy Valley Racecourse must be the most valuable crop on earth. There was very little of it. A narrow ring ran round the edge of what looked like a London borough recreation ground which sun and feet have beaten into dirt. Eight scuffed football pitches, one rugger pitch, one hockey gave an air of municipal neglect. But the thin green ribbon which surrounded this dingy package in that year alone was likely to attract a cool hundred million sterling through legal betting, and the same amount again in the shade. The place was less a valley than a fire-bowl—glistening white stadium on one side, brown hills the other—while ahead of Jerry and to his left lurked the other Hong Kong: a card-house Manhattan of grey skyscraper slums crammed so tight they seemed to lean on one another in the heat…" Roberts and Taylor note that horses are stabled in adjacent tower blocks and exercised on the roof. Whatever their genesis, racecourses offer an intriguing tour of a building type that had shifted both to accommodate its primary purpose and a range of directly-to-not-at-all related activities. The emergence of automatic totalizers, for one, reoriented new construction to accommodate another new focal point, in addition to the track itself. Otherwise, salons were followed by music pavilions and ladies' tearooms and lately by conference facilities and, in one extreme case, Meydan in Dubai, an IMAX theater and hotel. The racecourse's aim to contain a variety of functions hasn't always, of course, been graceful, whether they were laid out all at once or over, in some cases, centuries, but at times it surely has been. As with any other architectural form, given centuries, we nearly always get some things very right.
Anthony Paletta is a writer living in Brooklyn. He writes the "Spaces" column for the Wall Street Journal and has written otherwise for The Wall Street Journal, The Daily Beast, The Awl, Bookforum, and The Millions on urban policy, cinema, historic preservation, and literature, and Metropolis on Long Island Modernism, Boston city planning, the preservation of Brutalism, and a variety of other topics.