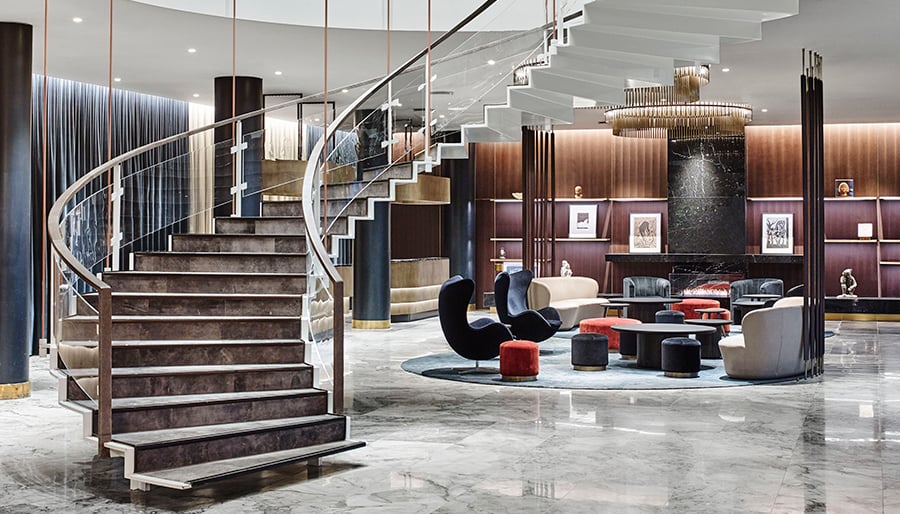 May 7, 2018
Arne Jacobsen–Designed Hotel in Copenhagen Gets a Contemporary Refresh and Restoration
Local firm Space Copenhagen restored aspects of the building's original design while carefully adapting its spaces for the hotel's present-day needs.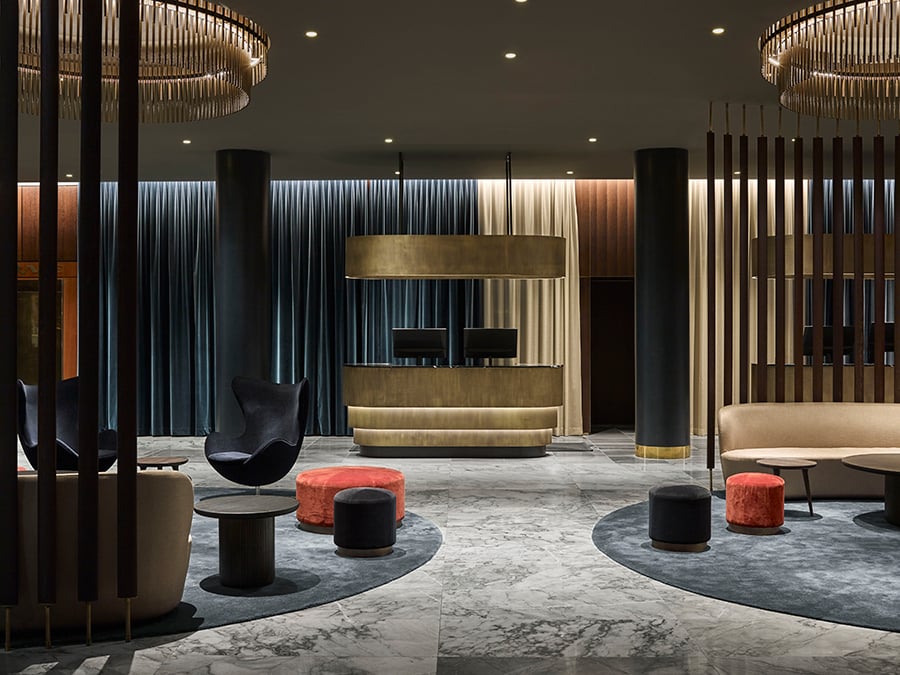 ---
With its Modern architecture, furniture, and even cutlery, the Radisson Collection Royal Hotel in Copenhagen is often described as the "world's first design hotel." Designed by Arne Jacobsen for the airline SAS in 1960, it has recently undergone a full renovation by local practice Space Copenhagen. "It was quite intimidating, because it's a building with such a heritage," says Signe Bindslev Henriksen, the office's cofounder. Drawing on extensive research into the hotel's original design, the designers reintroduced some of Jacobsen's most notable furnishings (the Egg, Swan, and Drop chairs were designed for the hotel), as well as the marble floors, wood and marble paneling, and leather-wrapped handrails of the original interior.
But they were also determined not to be weighed down by Jacobsen's legacy, noting that in any case, the building had been altered so much since the '60s that little of his original vision remained—apart from a dramatic suspended staircase that connects the ground floor to the mezzanine and room 606, which had been preserved in keeping with its original design. Space Copenhagen's intention was not to monumentalize the past, but to make the hotel suitable for the modern traveler.
This mainly meant adapting the public spaces, which had been designed to meet the needs of the airline that commissioned the building. (When it owned the building, for example, SAS provided check-in desks for guests.) "It is now an interweave of different functions, composed in a way that's relevant to travel today: big areas to lounges and small pockets where you can have informal meetings," Henriksen says. A giant lighting feature hangs above the central staircase, and a new chair designed by Space Copenhagen—the Loafer, defined by its semicircular backrest—encourages relaxation.
---
More from Metropolis
---
Ultimately, these decisions were made in the Jacobsen spirit. "He was very forward thinking," Henriksen explains. "He wouldn't just encapsule time in a small pocket of nostalgia."
You may also enjoy "Vancouver's Ste. Marie Designs Interiors That Could Be Film Sets."