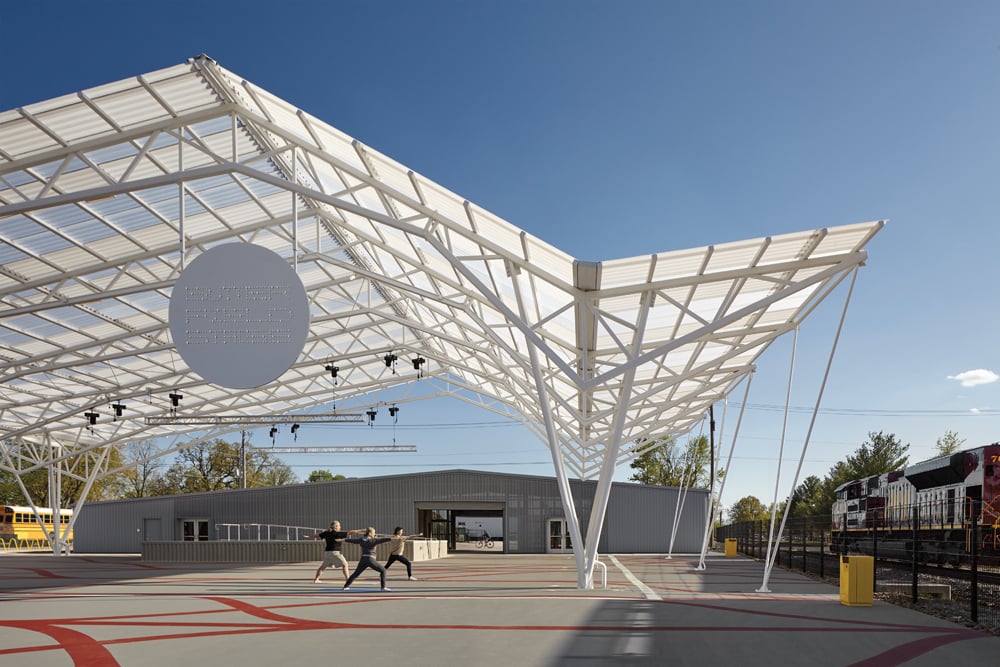 June 1, 2021
Railyard Park Signifies a Small-Town Renaissance in Northwest Arkansas
Partially funded by the Walton Family Foundation's Design Excellence Program, Ross Barney Architects' five-acre project is part of a surprising public space boom in the region.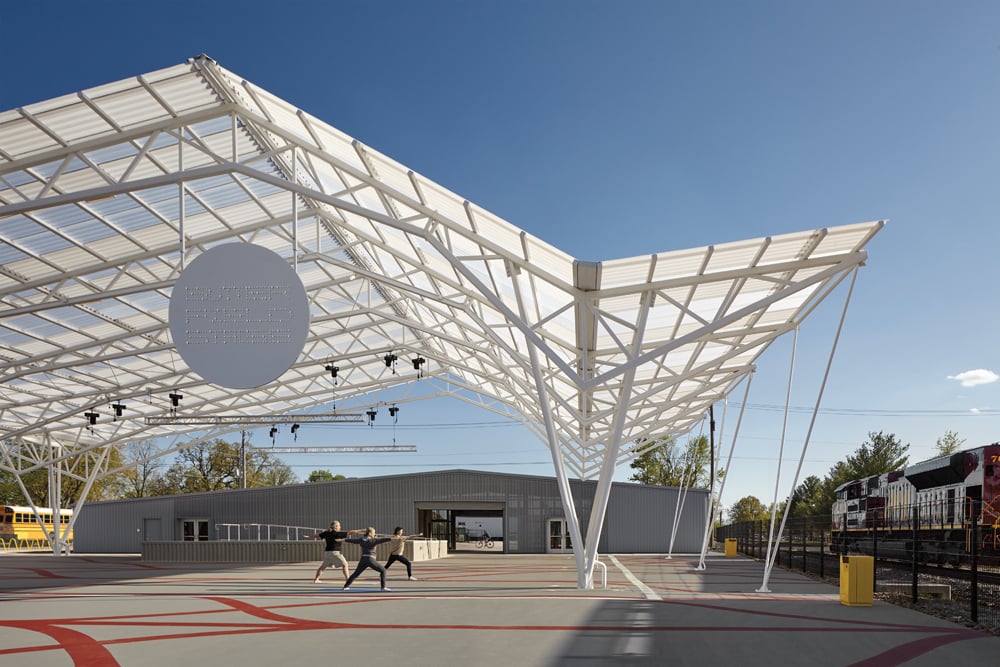 A couple of summers ago, three members of the Chicago-based firm Ross Barney Architects, including founder Carol Ross Barney, set up some chairs, a tent, and a table at the Rogers, Arkansas, farmers market. Tasked with designing a new downtown park along an old stretch of railroad, they were there to understand what people loved about their city and how they'd like to see it evolve.
"We didn't show them any designs," says Ross Barney, who has been using this face-to-face style of stakeholder engagement since overseeing the new design of the Oklahoma City Federal Building, which opened in 2005. "We'd read about the site and knew that, like a lot of downtowns, it was bypassed, kind of a no-man's-land."
Every few hours that summer, a freight train would rattle by what was then Frisco Park, but that wasn't a surprise to most shoppers. The rail line, after all, had been there longer than any of them. The Ross Barney team met longtime locals, retirees, and transplants from across the country, some of whom moved to the area to work at the nearby Walmart headquarters.
---
More from Metropolis
---
The population of Rogers, which was founded as a water stop along the Arkansas & Missouri Railroad in the late 1800s, has grown to approximately 68,000 in the past decade as a bedroom community for Walmart employees. With a third of the population now identifying as Hispanic, the design team also put out fliers in Spanish asking for input. "Over and over, we heard that people wanted a town center, somewhere to listen to live music or bring their kids," Ross Barney says.
The insights the architects garnered from those conversations and surveys informed the design of Railyard, a five-acre project that finishes this summer and includes a large covered area for events, a stage for live music, a play space for kids, and what is now called Frisco Plaza, where the weekly farmers market reopened on May 1.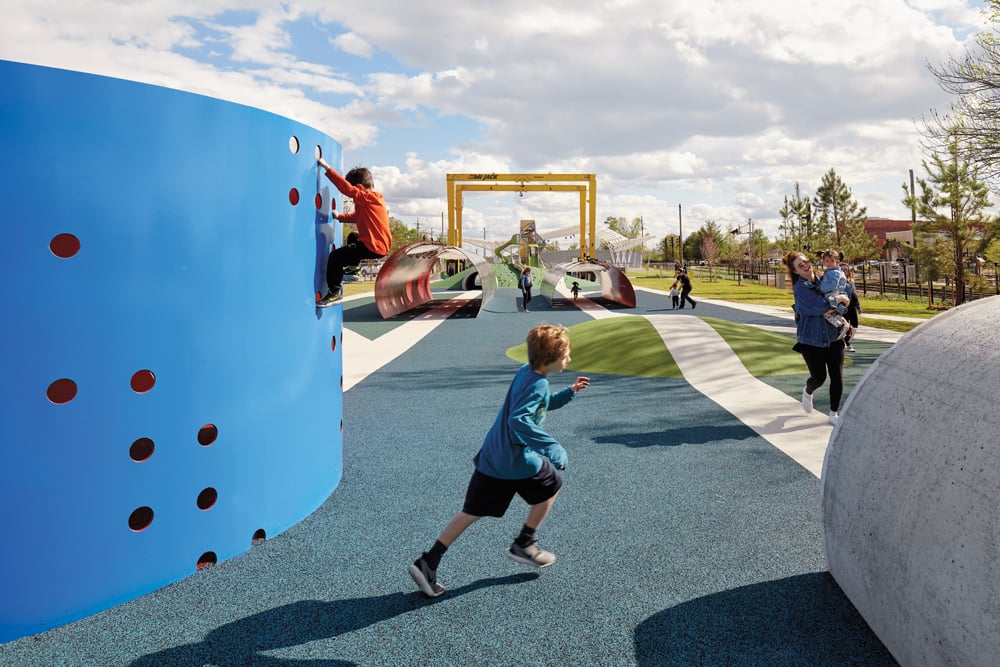 Most of the funding for the $8 million project came from a 2018 bond issue, but more than $400,000 in design costs were covered by a grant from the Walton Family Foundation's Design Excellence Program, which connects architects and design studios from across the country with nonprofits and municipalities in Northwest Arkansas to create placemaking projects that drive community and economic development.
Karen Minkel, program director at the foundation, says there's a ripple effect with these grants. When one community undertakes a new project, such as neighboring Bentonville's Quilt of Parks, it often inspires nearby communities to look at their own public spaces and projects. Vestiges of the site's past, such as a Mi-Jack crane, dot the play space, which is a primary program. Officials from Rogers and the WFF are plain about their mission to restore the town's former vibrancy through investment including projects by high-profile designers.
Rogers has received three of the 15 grants awarded so far from the organization established by the family members of Walmart founder Sam Walton, whose first store opened in downtown Rogers in 1962. The first grant helped pay for the restoration of the Rogers Historical Museum, which is housed in the Hailey Ford building, a renovated Art Deco car dealership. The most recent Walton Family Foundation dollars helped fund New York–based WXY Architecture + Urban Design's transformation of a downtown alley into a pedestrian and art space for people to gather and shop.
The Railyard park grant is helping Rogers to still feel like "a quaint little town," says the city's director of community development, John McCurdy, but at the same time become a more modern and economically viable version of itself. The improvements have already brought new life to downtown Rogers, says McCurdy, who grew up in the city when it was a sleepy Ozark mountain town.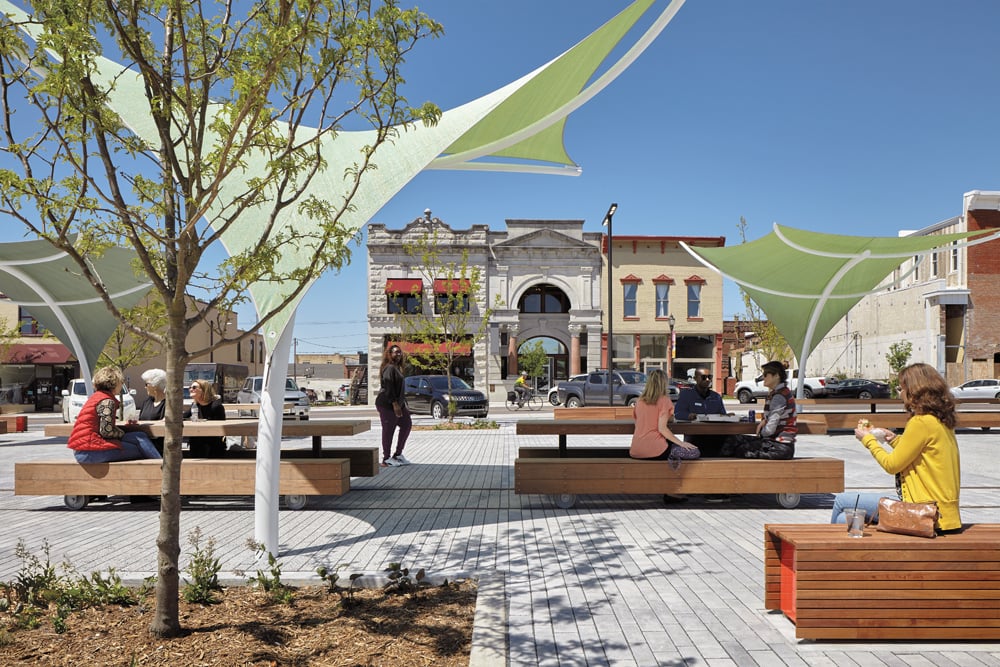 Rogers exists because of the railroad, McCurdy continues, and each element of Railyard's design harks back to something historical and significant about the region. The water stops that used to fill the tanks of the steam trains have been reimagined as a water feature for kids and a place to showcase new permanent artworks by three international artists. And Ross Barney included a brightly painted yellow Mi-Jack crane, a relic from the days when the plaza was a depot.
The design team also transformed an old store into a 1,000-person music venue. The Butterfield Stage, named after the stagecoach line that went through town "before Rogers was Rogers," says McCurdy, will host a summer concert series.
Picnic tables have been placed on rails so people can push them together to make larger tables, "an expression of community coming together in a ritual that people do every day," Minkel says.
The four-city region of Northwest Arkansas—which encompasses Rogers, Springdale, Fayetteville, and Bentonville— has a population close to half a million people, but each of the small towns– turned–small cities has been carving out its own identity during what has undeniably been a boom time for the region.
A decade ago, Walton's daughter, Alice, opened Crystal Bridges Museum of American Art in Bentonville, which instantly became an international art destination. (The Moshe Safdie–designed museum recently announced it would be increasing in size by 50 percent.) Within a few years, Bentonville created a revitalized downtown that draws thousands of tourists a year.
In recent years, the cities have built out the Razorback Regional Greenway, a 36-mile off-road, shared-use trail network from Bentonville to Fayetteville that has made the region a top destination for mountain bikers. A gem of the network is the newly renovated bike park that draws hundreds of cyclists to downtown Rogers each week.
But elevating the design of Northwest Arkansas's public spaces isn't just a tourism play, Minkel says. "We have a vision for this region to be one of the most vibrant and inclusive communities in the country," she adds. "When you have groups of people who have different perspectives and experiences gathered in one space, design becomes a tool for inclusion."
McCurdy has already hired two fulltime employees to be part of Rogers's new arts and culture division, which is planning music, culinary, and wellness events in the park. The farmers market is already selling fresh produce and local products to shoppers, and Railyard park's summer concert series is underway, with outdoor movie nights scheduled in July and August.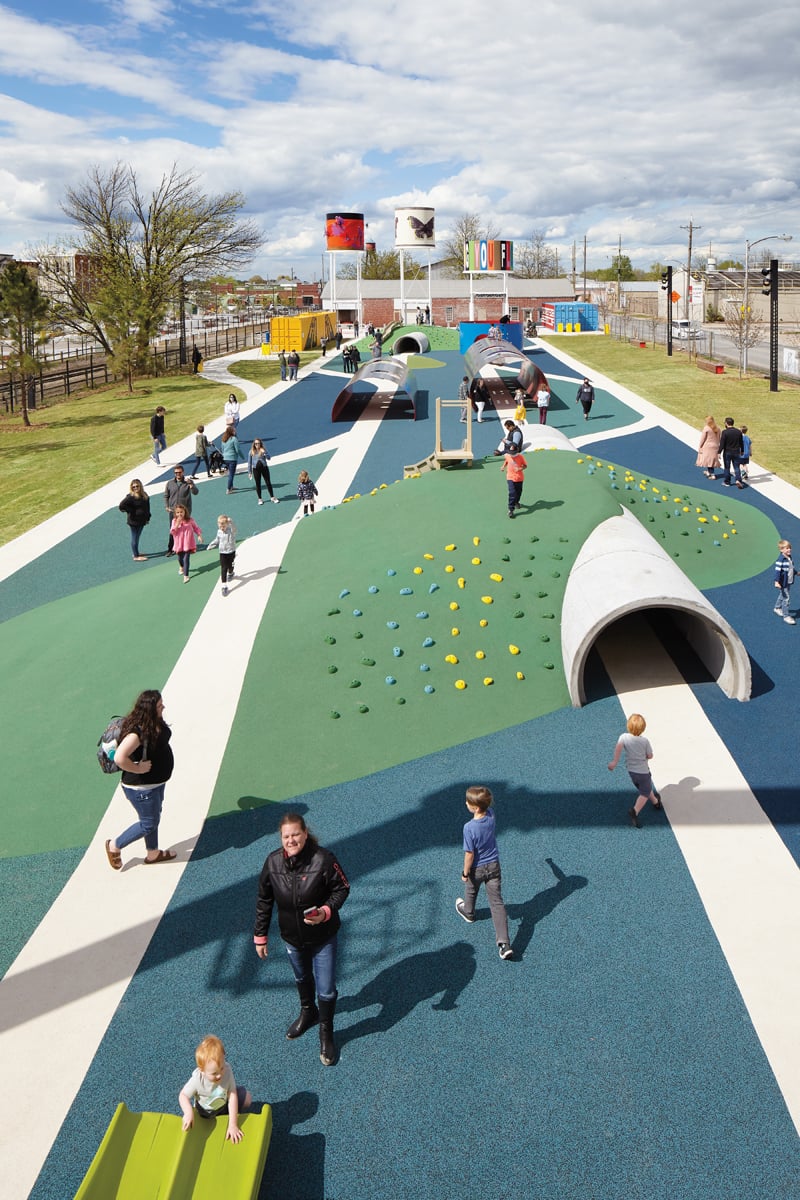 The city's beloved car show and its longtime celebration Frisco Festival will return to Railyard this summer, and Santa will arrive on the train this winter, as he has since the early days of Rogers. Ross Barney says that these annual events, plus the new ones that Railyard will inspire, are an example of how a collaboration can honor a city's heritage and character while giving it space to expand and evolve.
"I think that's what people mean when they say 'authentic,' " she says. "It's paying homage to the past and not forgetting where you came from, not losing your roots."
Ross Barney notes the irony of the Walton Family Foundation's investment in these kinds of projects. "Walmart was an element of why how we live in cities has changed," she says. "The exodus from hardline stores was aided by big boxes." Now, Ross Barney says, the company is investing in revitalization projects that catalyze economic growth in these downtowns.
As construction wraps on Railyard, McCurdy says real estate along the main street through downtown has grown to about 70 percent occupancy, with more businesses coming in every month. Onyx Coffee Lab is already pulling espressos in a historic building on the north edge of Railyard, and ham supplier Smithfield just opened an office across from the park.
"It won't be Bentonville, but we're building beachfront property," he says.
You may also enjoy "Arthur Erickson's Decades-Old Vision for Vancouver's Robson Square Is Finally Realized"
Would you like to comment on this article? Send your thoughts to: [email protected]
---
Register here for Metropolis's Think Tank Thursdays and hear what leading firms across North America are thinking and working on today.