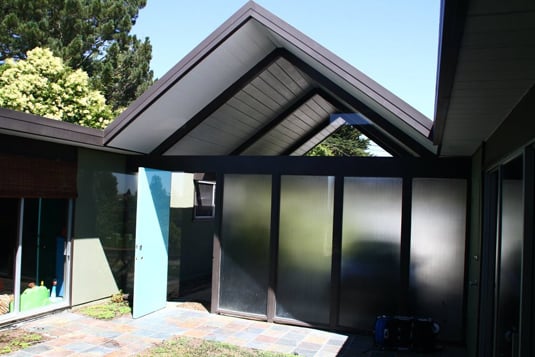 August 25, 2012
How a Realtor Fell in Love With Eichler Houses and Made a Film About Them
Courtesy Chris Wehling I first noticed Eichlers in Sunnyvale while driving around looking at homes. When I came upon them and felt like I had landed on the moon. They were the most interesting houses that I had ever seen! And I didn't know anything about them. I immediately drove back to my real estate […]
I first noticed Eichlers in Sunnyvale while driving around looking at homes. When I came upon them and felt like I had landed on the moon. They were the most interesting houses that I had ever seen! And I didn't know anything about them. I immediately drove back to my real estate office and asked people what these houses were, getting mixed responses: "Oh, those homes are crap!" or "What is an Eichler?" It bothered me that realtors didn't know what I was talking about. So I started to research Eichler.
Turns out that there were 11,000 Eichlers in the Bay Area waiting for me to look at and meet the people who live in them. I started researching and hunting but could not find much about Joseph Eichler, his family, or his history. Then I came upon a book by a friend recommended, Eichler: Modernism Rebuilds the American Dream. It became my constant resource. I learned that there is a small, tight knit group of Eichler enthusiasts, a sort of a "cult" group of people that all know one other. I also learned that I had to do something special to get "in" with people living in their Eichler community for the last 30 some years.
I also realized that these Eichler communities were self-sufficient. The neighbors know everything about each other. They meet at block parties almost every week. One owner told me, "We all have spare keys to each other's homes and take care of each other." This sounded strange yet wonderful to me. I can't think of any neighborhood that I have ever lived in that is this way. Fascinating is one way to put it.
---
More from Metropolis
---
Courtesy Chris Wehling
I started calling the names listed in any Eichler publication, book, magazine, and blog. I learned that these homes are a form of modern art and convey a sense of midcentury modernist architectural expression. They are the epitome of California living with its culture of inside-outside. I learned many amazing things about Joseph Eichler himself. He was a tough little guy who never backed down and did what he wanted to do to optimize the housing industry in the postwar years. He was also the first developer to allow African Americans, Asians, and Hispanics purchase his homes.
There are three areas of Eichlers in Southern California, 29 of them in Northern California and 3 homes in New York, in Chestnut Ridge. I found Ned Eichler, Joseph's son, living in Tiburon, CA. He told me many great stories about his father on my visits to his home. Ned said that Joe Eichler was so passionate about the homes he built that he would even mix paints for them in his garage. One day when he was driving around a neighborhood of Eichlers, he saw that someone use the "wrong" colors, not his colors!  He banged on the door and is remembered as saying, "You have to change that back to the way I had it."  The owner was upset and apparently said, "This is my house. I can paint it whatever color I want!" To which Joe replied, "No it's not! It's my house! Now paint it back!"
That made me laugh. There are so many other stories to tell. And so I produced a film, People in Glass Houses: The Legacy of Joseph Eichler, that tells his story. You can view it on my website soon where I will be hosting it free to whoever wants to watch it.
Courtesy Chris Wehling
And watch for screening dates of People in Glass Houses: The Legacy of Joseph Eichler, in the following areas:
Lucas Calley Community Center, September 21st, 6-8 PM – lvha.net
San Francisco Modern, Zinc Details Store, September 21st, 6:00 PM – zincdetails.com
Menlo Park Library, September 29th, 11:00 AM, Menlo Park City Counsel Chambers
Architects Insitute of America San Mateo County, October 17th, Time TBD – aiasmc.org
Foster City Planning Department, October 4th – fostercity.org
Tucson Modernism Week, November 9, 10, and 11th – atomictucson.com
Neutra House, Thursday November 15th
Burlingame Historical Society, February TBD
Modern Bunglow Socal, TBD
Orange CA Public Library, TBD
Neighborhood screenings are happening all over the Bay Area as well.
Courtesy Chris Wehling
---
Monique Lombardelli is a realtor and midcentury modern specialist; she studied broadcasting in college. During her research on Eichler, as she got to know homeowners and other enthusiasts, she put together a plan to hire a director, crew, scriptwriter, animator, and a marketing team to produce an educational film. She lives in a Frank Lloyd Wright house where Eichler came up with the idea to mass produce modern homes.