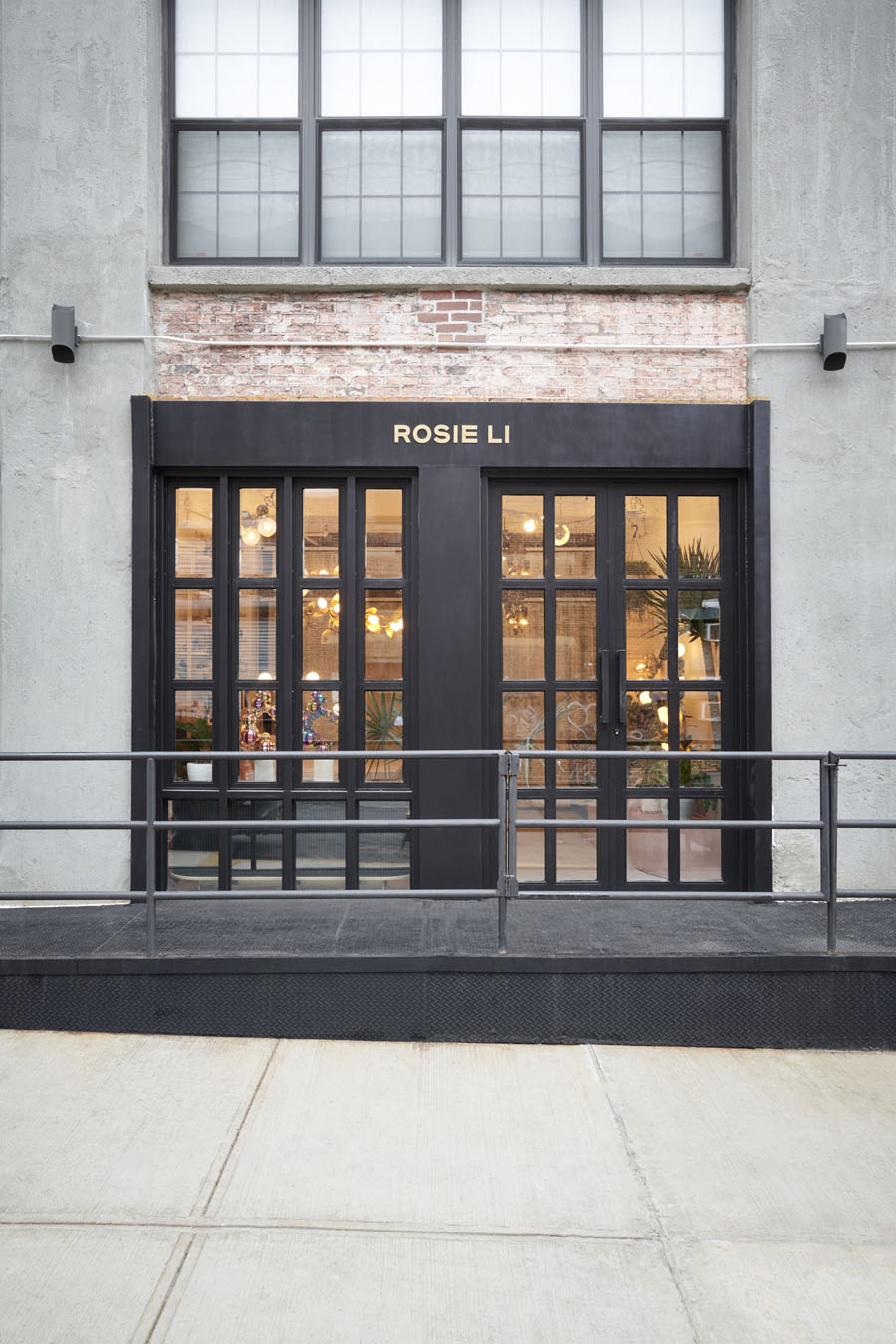 January 12, 2021
Rosie Li's Brooklyn Lighting Studio Gains a Playful Exhibition Space
Designed in collaboration with Office of Tangible Space, the flexible showroom displays the lighting designer's fixtures, which she develops and produces in-house.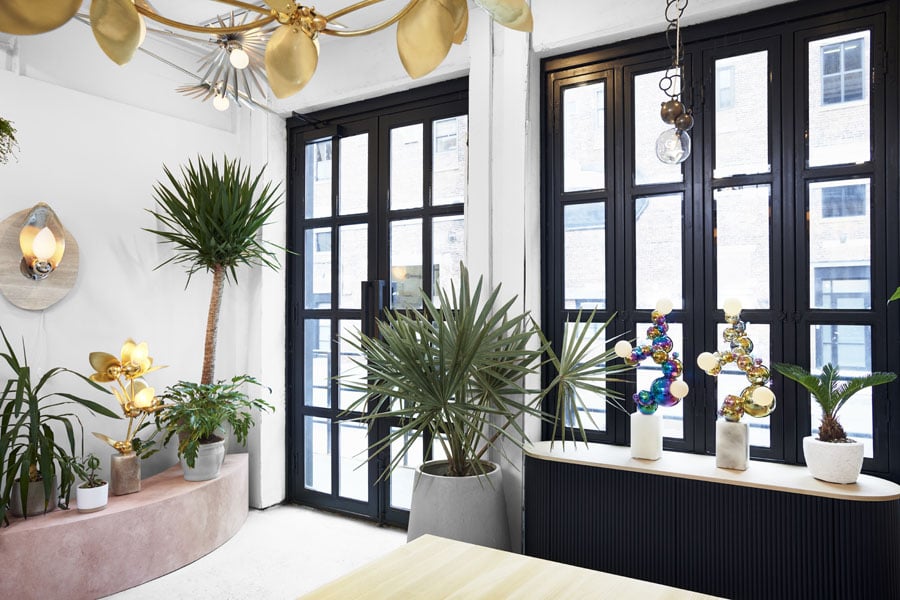 ---
Since forming her eponymous studio in 2015 with engineer Philip Watkins, Brooklyn-based lighting designer Rosie Li has learned firsthand how important it is to maintain flexibility in a working studio. "We design, develop, and produce all of our fixtures in-house," she says, noting that when she decided to open her first showroom, she knew it needed to "keep pace" with what happens behind the scenes in her machine shop.
After moving twice within the same creative loft building near Brooklyn Navy Yard, Li took over her current street-level space in March 2019. Making use of the studio's storefront potential, last month Li partnered with design firm and long-term collaborator Office of Tangible Space to transform the front of her studio into a playful, light-filled exhibition space. "It was completely raw, we had to renovate it from the ground up," Li says. "The concept started as a peaceful setting to view our lighting, but I also wanted a space that would encourage design collaboration as we work with clients and the A&D community."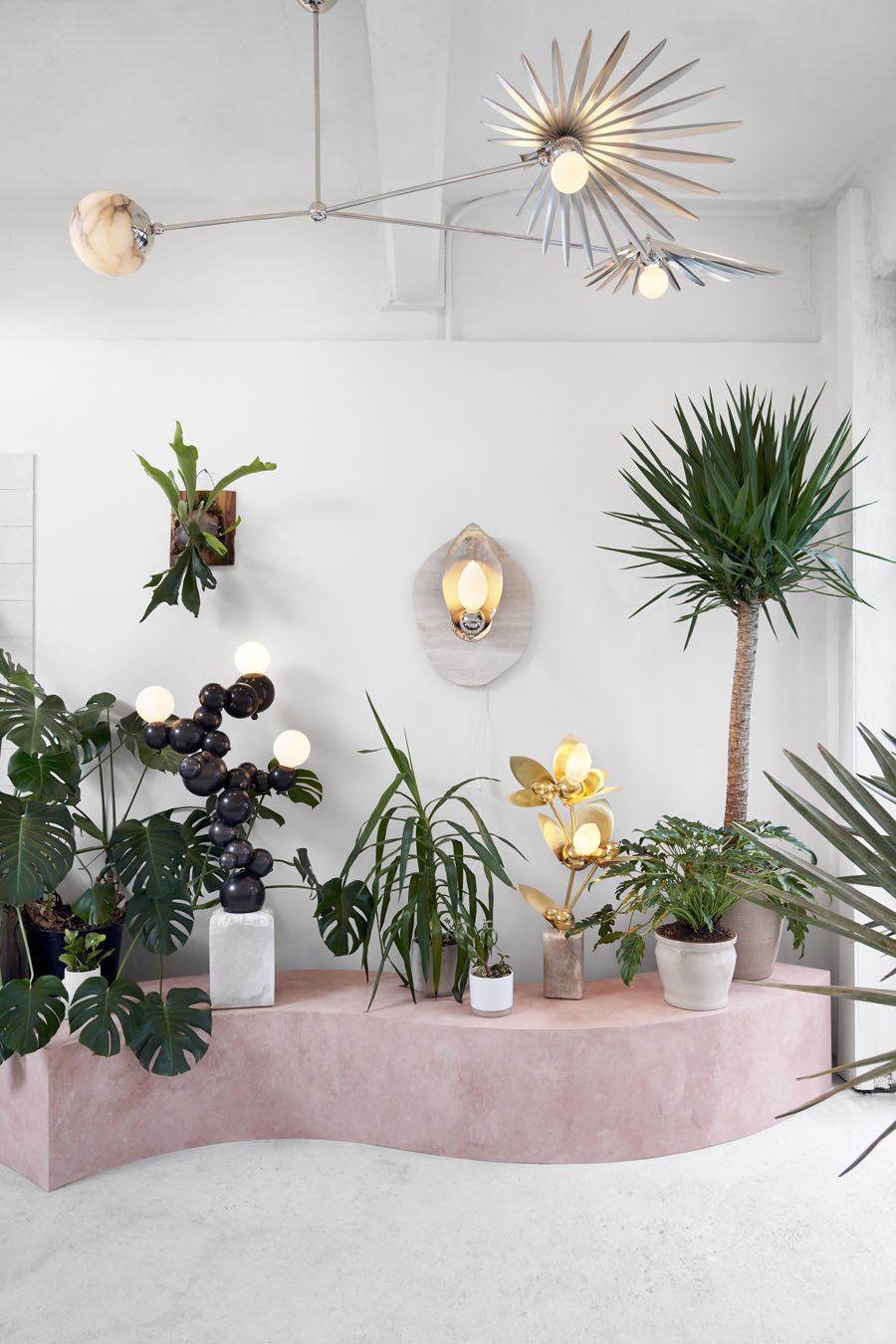 ---
When guests walk into the showroom, they are greeted by a large palm-frond inspired Inez Chandelier. Above a 10-foot-long table designed by Max Lamb for Hem—which Li notes is perfect for spreading out drawings and finish samples to show to clients and collaborators—hangs two new prototypes. She says, "Having these prototypes installed in the space helps me form a deeper understanding of the design as I get to experience my own work from every angle." Behind the table, a floor-to-ceiling shelf further showcases material experiments and samples.
---
More from Metropolis
---
Li's fixtures often draw on the complex forms and systems found in nature, so it makes sense that they cohabitate with nature itself—the floral forms of Li's Laurel Leaf sconce and table lamp live atop a curved, custom-made bench designed by Brooklyn's GLAM Studio alongside potted palms, oversize monstera plants, and fiddle leaf figs. In the opposite corner, an amorphous panel painting designed in collaboration with Caroline Watkins depicts a desert landscape that softly reflects the pale pinks and wood-tones throughout the space. To the right, a kitchenette features a cabinet from Reform finished with a custom-honed marble countertop above which hangs the designer's Ginkgo Blossom chandelier.
---
Michael Yarinsky of Office of Tangible Space points out that Li's work blurs the line between product and sculpture and that their design for the showroom was to highlight this relationship while still providing the functions of office, studio, kitchen, and gathering space. He says, "The pieces in the space help frame Rosie's work within the context of a larger design market—modern but not minimalist, high end materials yet warm and approachable, geometric but simultaneously organic."
The studio is divided into three sections: showroom, assembly area, and machine shop with a custom-printed curtain by Wallpaper Projects serving as a divider. "Having a metal shop allows us to work nimbly when developing prototypes," Li says. "We pull back the curtain, if you will, to show the ways we work with our hands." She wants clients to experience for themselves the craftsmanship that goes into each piece. "Seeing how it all comes together—from raw part to assembled fixture—fosters a greater appreciation for the meticulous care and attention we put into making our fixtures."
---
The showroom is currently open by appointment only at 36 Waverly Avenue in Brooklyn's Fort Greene neighborhood.
You may also enjoy "Two Studios Explore Light Fixtures that Deliver a Primal Glow"
Would you like to comment on this article? Send your thoughts to: [email protected]
---
Register here for Metropolis's Think Tank Thursdays and hear what leading firms across North America are thinking and working on today.