September 21, 2018
Can London's Revamped Royal Opera House Become a Public Amenity?
The famed cultural institution, opening to the public today after a six-year renovation by Stanton Williams, is betting big on audience engagement.
In recent years, a wave of refurbishments, expansions, and adaptations has swept through London's major cultural institutions, ranging from the National Theatre's NT Futures project by Haworth Tompkins in 2015, to David Chipperfield's work at the Royal Academy this spring. Though these projects vary in scale and scope, they are united in their tacit aim to re-engage with the public they serve. Stop by the main foyer of the National Theatre, the Design Museum's Sackler library, or the V&A's study spaces on any given weekday afternoon and you will find a blue-lit sea of laptops.
There is, of course, a simple "bums on seats" logic to this: drawing more people through your doors will ostensibly increase ticket sales. But it's also indicative of a broader cultural evolution. Students, freelancers, aspiring playwrights, actors, and other participants in the booming gig economy are flocking to these spaces, while the places originally built for them to work—namely libraries— decline in number.
The completion of Stanton Williams' "Open Up" renovation project at London's Royal Opera House, which opens to the public today, is no exception. "This is a big change in culture for the opera house," explains project architect Rawden Pettitt, who has overseen the project since Stanton Williams' competition entry in 2012.
---
More from Metropolis
---
Six years and—miraculously— 960 uninterrupted performances later, this cultural shift is evident in a number of architectural moves to expand the opera house's "public offer—something not just for ticket holders," according to Pettitt.
The main focus of the project has been on the Bow Street entrance on the east side of the complex. Where previously a blank wall divided street life from the operatics inside, today a curtain wall reveals a new double-height atrium below ground-level and an expanded ground floor entrance foyer. Glimpsed from the Covent Garden entrance, the large window creates views through the building and provides some spatial clarity to what is a rather complex constellation of buildings, ranging from Edward Middleton Barry's 1858 structures through Dixon Jones BDP's reconstruction in the 1990s.
The entrance foyer includes a cafe and reconfigurable groups of  tables. A box office is conspicuously absent – roaming ticket vendors will occupy the space instead. A curved glass balustrade leads visitors round and down to the lower-floor Linbury Atrium, a double-height flexible space that will be used for events or educational workshops as well as a foyer for visitors to the Linbury Theatre, a secondary performance space.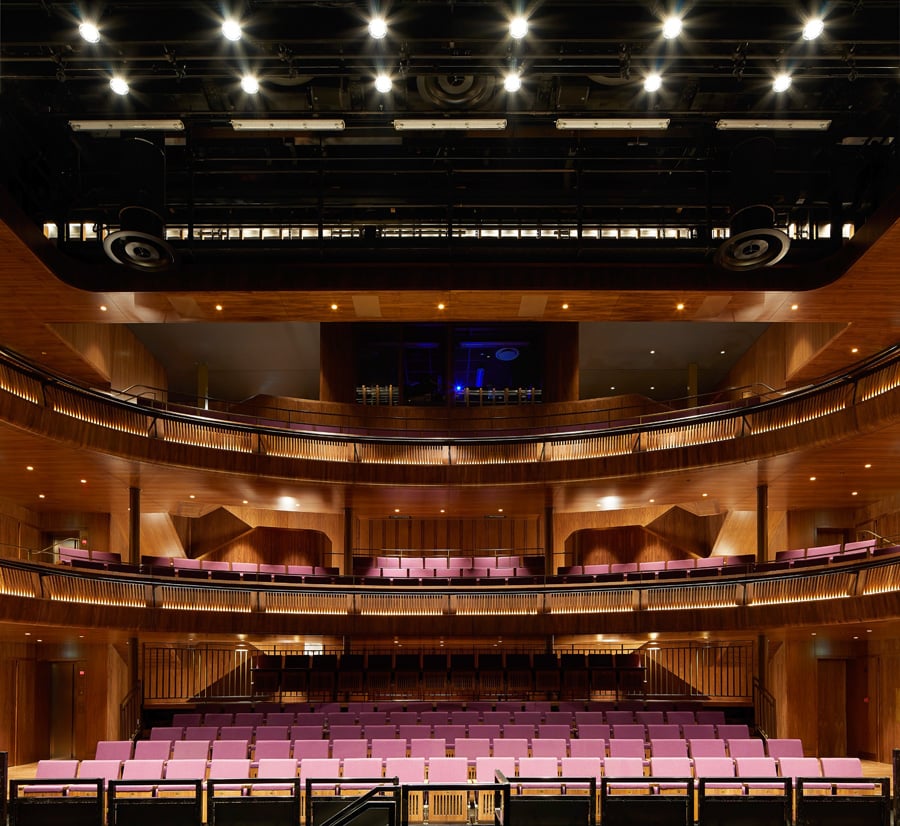 Stanton Williams' work on this theater space is a highlight of their work at the opera house. Formerly a plain rehearsal space and studio theater with stepped proscenium seating, the new performance hall is an intricate marvel. An American walnut, Jacobean seating structure floats in the space like a single piece of furniture with narrow staircases as well as wheelchair access that give it an intimate, den-like feel. This, a more informal space that will host international ballet, opera, and experimental performances, will also offer 25 percent of its tickets at £25 (about $32), which is the closest the Opera House gets to being affordable.
This is indicative of a disjunction between the institution's aim to draw in a wider public and its lack of much to offer that public. Stanton Williams' work certainly opens up the space of the Opera House, but it retains an air of formality – predominantly through a material palette of stone, walnut and bronze – that may prevent it from becoming an intimate or comfortable place for non-ticket holders (wayward freelancers or A-level students, included) to hang out.
The responsibility for this will thus fall on the public program of the institution, with promises of free performances in the new foyers and atria. "We've made the spaces," says firm partner Alan Stanton, "now it's for the opera house to animate them."
You might also like, "Kengo Kuma's Shiplike V&A Dundee Lands in Scotland."