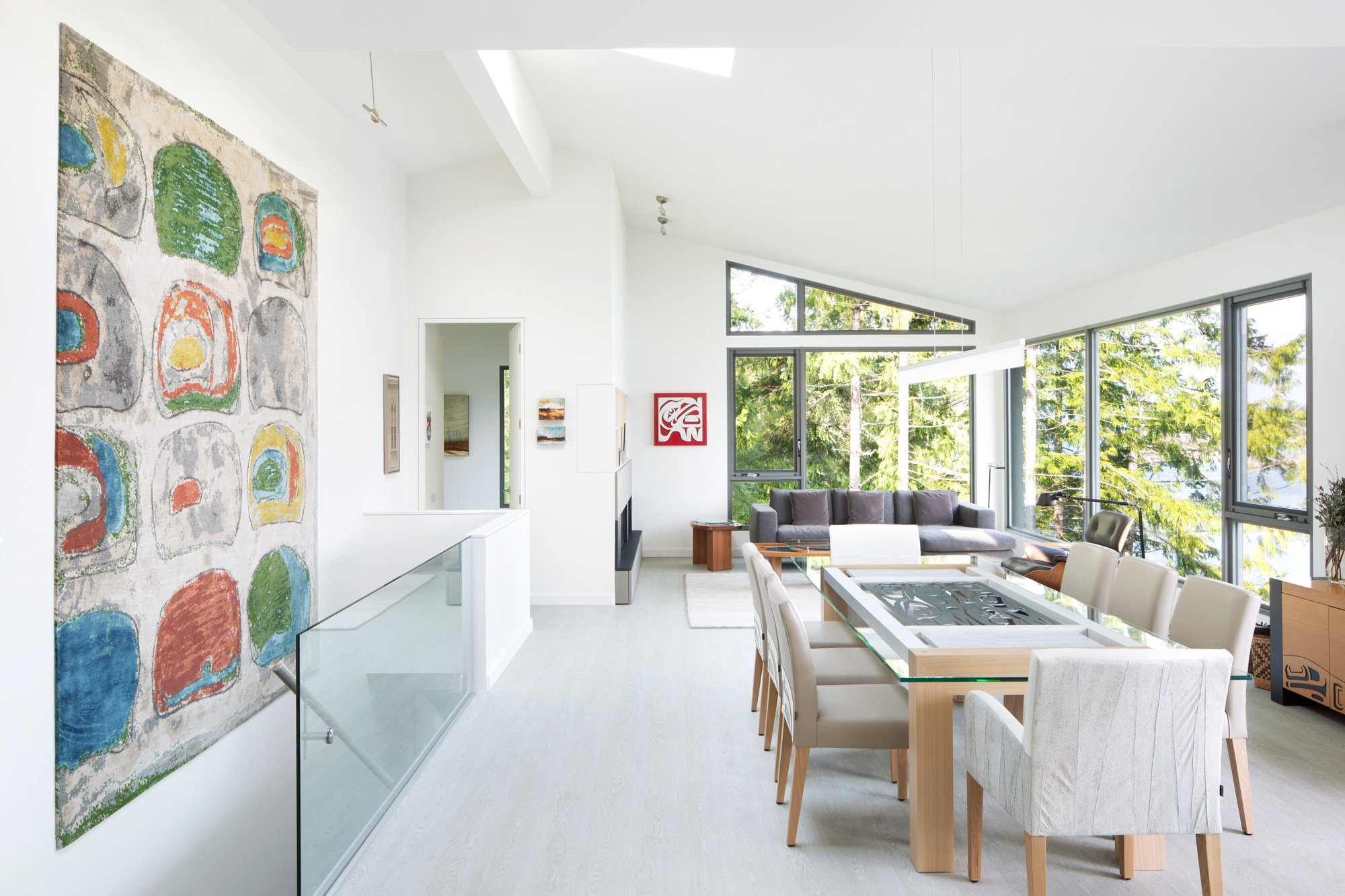 March 24, 2021
Sabina Hill's Coastal Retreat Fuses Clean Modernism with a "Sense of Place"
The artist-designer's guest rooms are a built manifestation of the surrounding environment and collaborations with local indigenous artists.
There's a narcotic beauty at Pender Harbour on British Columbia's idyllic Sunshine Coast—surrounded by Pacific waters and old growth forests—that's hard to match. But somehow, in her newly opened guest rooms, local artist/architect/designer Sabina Hill manages to capture its essence in aesthetic form. Mesmeric views are reflected in the three exquisitely designed suites' interiors, artworks, and accessories.
Conceived as a kind of rural gesamtkunstwerk "living gallery" that fuses art, nature, and interdisciplinary design, Hill's hideaway offers the perfect pandemic retreat.
Hill designed three deluxe suites and adorned them with her signature First Nations–inspired artwork and furniture, imbuing the space with a relaxed yet refined Pacific Northwest Coast style. A minimal palette of soft grays and whites absorbs the deep blues and greens of the surrounding environment. The sea and forest wash over guests as they overlook the waterfront, encircled by mature firs and cedars.
---
More from Metropolis
---
The fusion of aesthetic and natural beauty also creates the ideal environment in which to contemplate and live with Hill's creations, which seamlessly translate the visual language of the Pacific coast into museum-quality contemporary art, furniture, installations, and textiles. Consider her striking Thunderbird chair and ottoman that combine traditional Coast Salish carvings by artist Andy Everson in walnut with hand sewn Italian leather and diamond tufted detailing. Or her stainless-steel candle rings with eagle and raven carvings that, when lit from within, become talismanic accessories.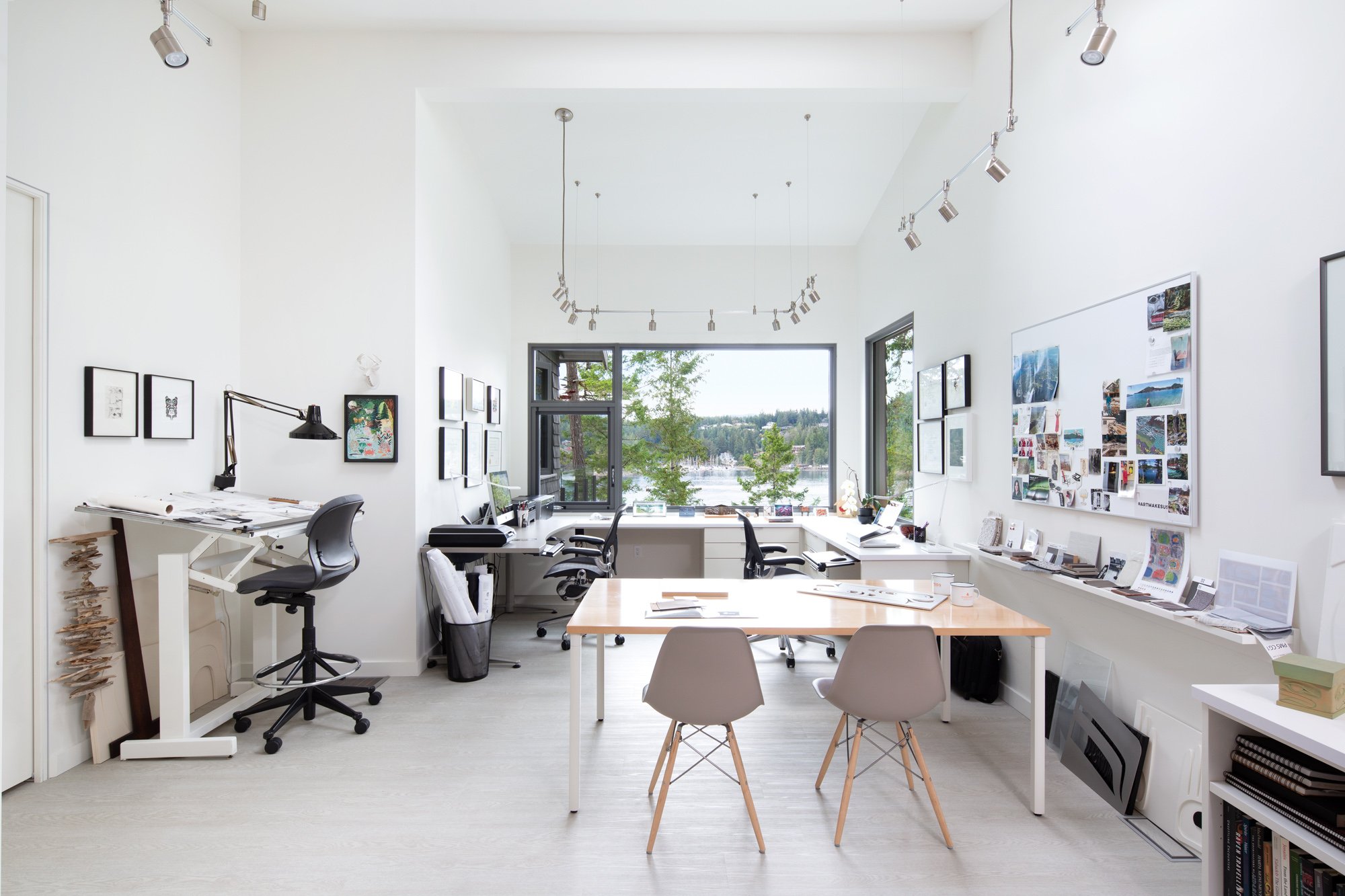 The fact that the Sunshine Coast is home to the highest per capita number of artists, artisans, and craftspeople in Canada, combined with its relaxed pace and abundant beauty, first drew Hill and her partner here from Vancouver—a 40-minute ferry ride away—in 2018.
"We wanted to create a kind of refuge," says Hill, who spent childhood summers on Vancouver Island at her grandparents' renowned Yellow Point Lodge. And so they have.
Their home, sited on a steeply graded acre of waterfront property, was a true labor of love. Hill designed the house and its interiors, along with its accessories, furniture, and artwork—which are also for sale. The guest suites emerged organically as separate apartments in the same complex, where potential clients could live with her artwork whilst deciding on commissions.
Hill, who collaborates with Coast Salish artists to create contemporary indigenous inspired work, was first exposed to First Nations culture in remote Tahsis, British Columbia, as a child. "I remember being captivated by my parents' collection of Nuchatlaht baskets," she says. The baskets' vibrant colors and motifs, prominently displayed in her home, "are constant reminders of the power of creativity." Today, Hill's work spans the gamut from wall units featuring totemic animal spirits carved in relief by Steve Smith, to larger works like her site-specific monumental triptych of whale and salmon motifs rendered in stainless steel and bronze aluminum, a collaboration with Mark Preston for a bank in downtown Vancouver.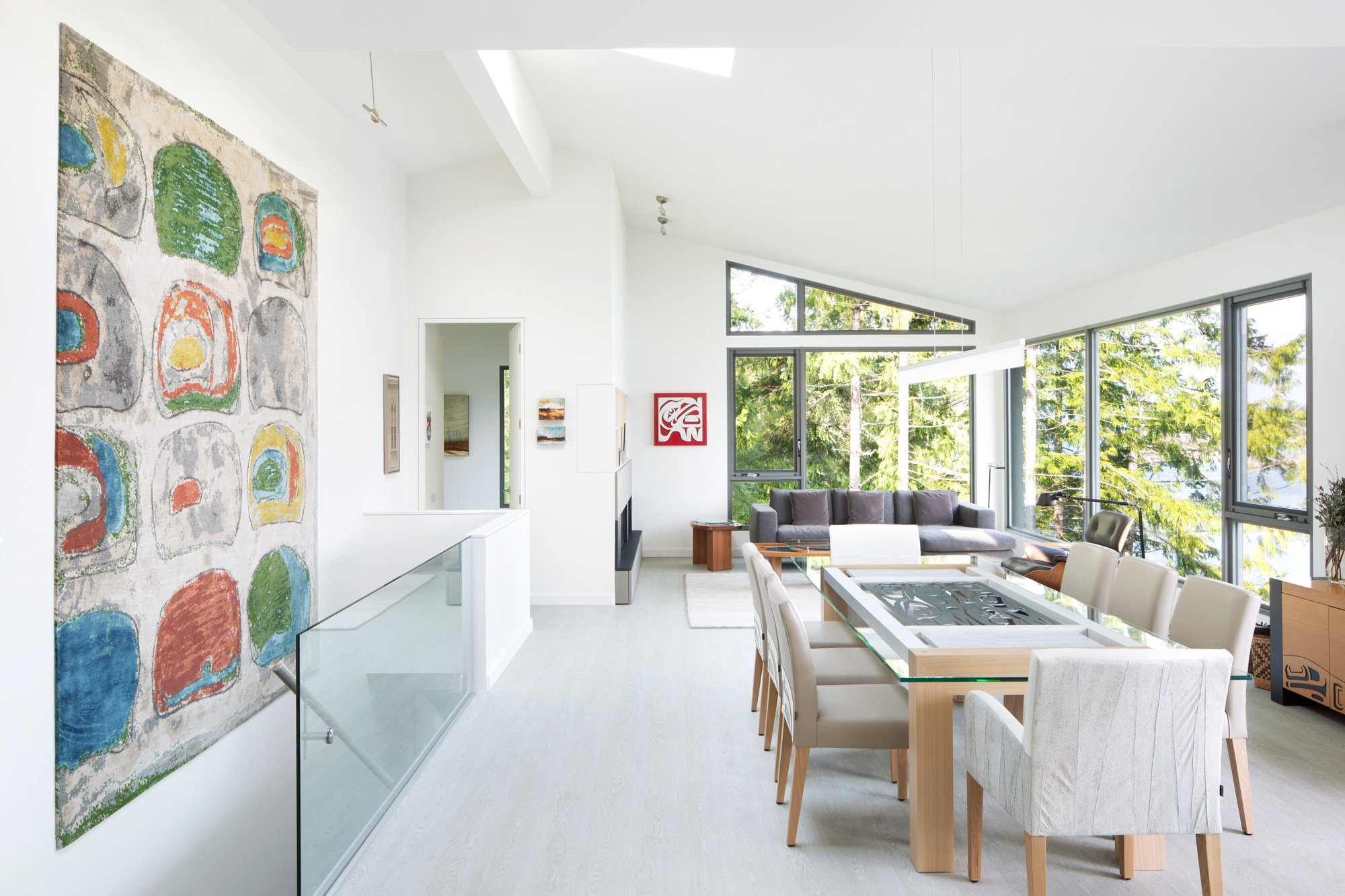 Hill's work, which is collected internationally, is equally inspired by iconic West Coast architects like Arthur Erickson and Ron Thom whose clean, modern lines are evoked in the architecture of her home and suites. She is also influenced by painters like Emily Carr and Jack Shadbolt, who, like Hill, were also "settlers" with a unique take on Pacific Northwest indigeneity. Hill's fusion of modern abstraction and First Nations tradition has been celebrated by the likes of the late Dr. George MacDonald (former president of the Bill Reid Foundation, named for the renowned Haida artist) as, "demonstrating the next phase in the development of Northwest Coast art and design."
Hill, who has degrees in both environmental studies and architecture and studied sculpture and printmaking, says her work, like that of the architects and artists that shaped and preceded it, is inspired by "a sense of place."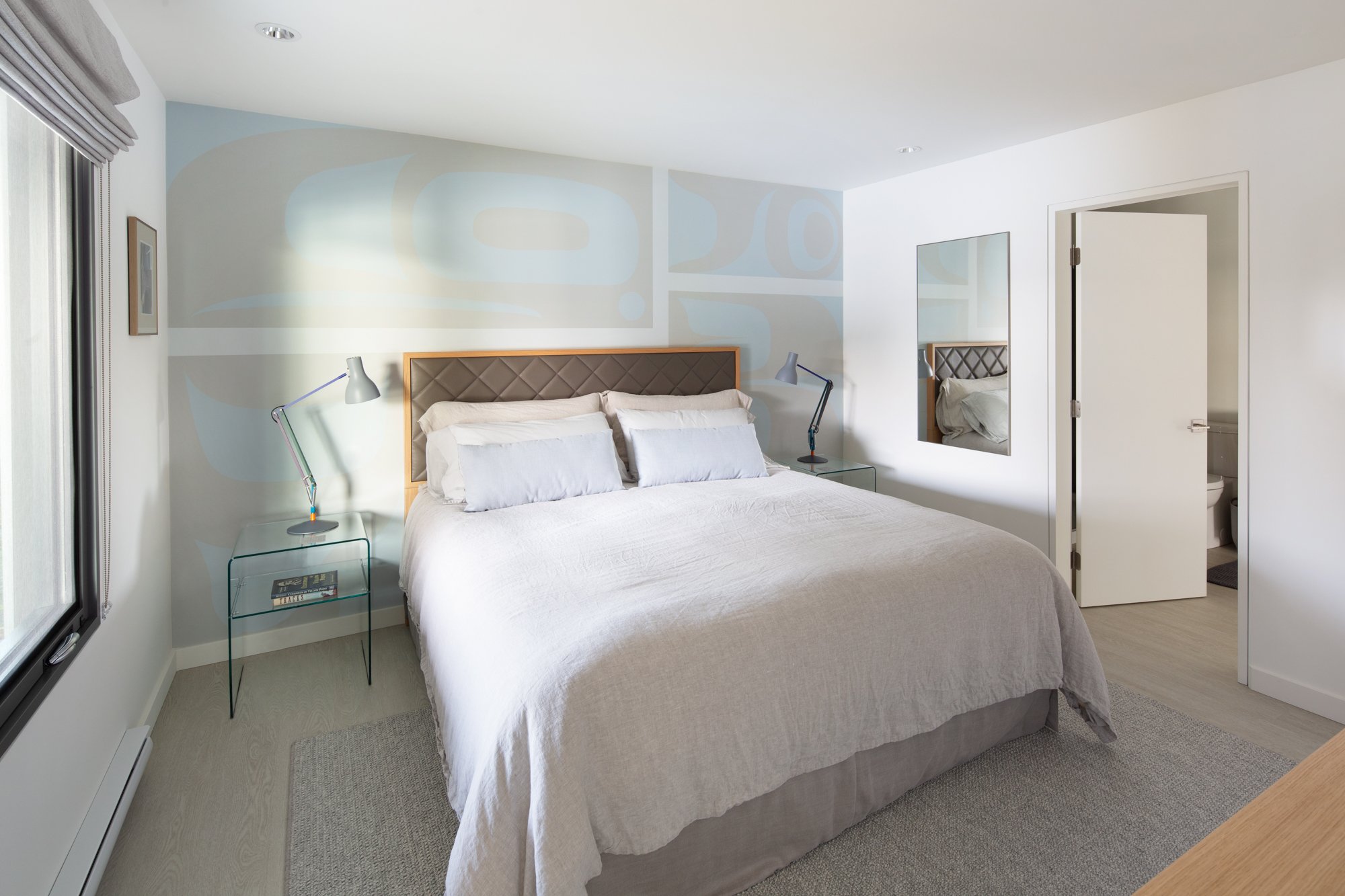 "My work is about bringing the ceremonial into daily life," she says, "and celebrating the convergence of two distinct design cultures."
The enchanting experience of her in situ gallery, sited within the larger natural gallery of Pender Harbour, can be your refuge too. Choose from the Sea Forest Suite, which is connected to a private beach and has framed views of the forest and ocean complemented by pieces like the Prow coffee table, created with Andy Everson in the form of a traditional dug-out canoe and featuring upholstered tanned salmon leather legs, glass tabletop, and stainless-steel standoffs; the Thunderbird Room, a riff on Hill's chair design of the same name and showcasing a floor-to-ceiling mural of this supernatural flanked by a diamond tufted leather headboard; or the Frog Room, with a hand-sewn felt diptych inspired by this "spirit helper" who traverses the natural and supernatural worlds.
Indeed, Hill's getaway lends a whole new meaning to bringing the outside in.
You may also enjoy "In Its Retail Spaces, Shelter Collective Elevates the Object"
Would you like to comment on this article? Send your thoughts to: [email protected]
---
Register here for Metropolis's Think Tank Thursdays and hear what leading firms across North America are thinking and working on today.