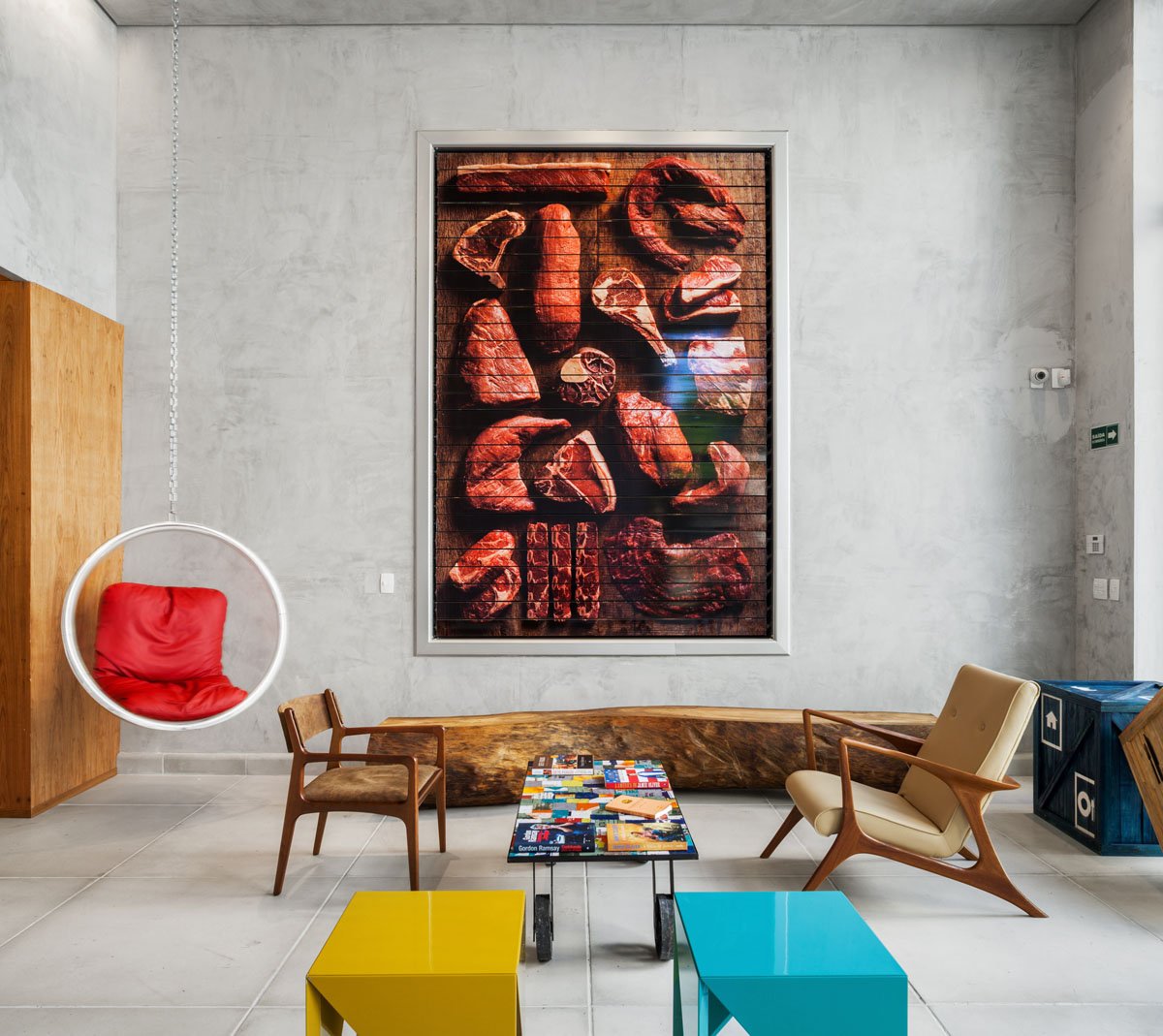 February 17, 2015
São Paulo's Temple to Meat Is Also a Design Treat
A butcher shop in São Paulo redefines the experience of buying meat by channeling sophistication and a gallery-like ambiance.
In conceiving the flagship store for the FEED brand, FGMF Arquitetos, and Projeto de Perto envisioned a space that was fun and contemporary, evident in the décor of the entry hall.
All photos courtesy Rafaela Netto
---
A traditional butcher shop is rarely associated with sleek, elegant interiors, nor considered a welcoming space where you're inclined to linger. Yet, in this spirit, the Brazilian FGMF Arquitetos and Projeto de Perto studio set out to create an "un-butchery" butcher shop that kept meat selling as its focus but ventured into new territory. FEED, the resulting shop in São Paulo's Itaim Bibi district, puts meat on a pedestal, inviting visitors to experience it in a variety of unexpected ways.
The high-quality fare on offer at FEED is anything but hidden from sight. Setting a reverent tone immediately, a parlor-like entry hall features an enormous shifting panel that rotates through images of artistically styled cuts of meat. Customers can also pull up one of several armchairs and marvel at the various cuts carefully displayed in custom-designed fridges. Nearby, a glass divider provides a peek into a more traditional butcher space, where you can observe meat carvers at work.
---
More from Metropolis
---
A view of the store as seen from the entry hall. Color accents strategically placed throughout the store offset the stark, muted tones often found in butcheries. On the shelving, culinary utensils, spices, and cookbooks appear more like works of art than products for sale.
---
When devising the design concept for FEED, FGMF considered many other examples of nontraditional butchers. But all they saw were gimmicky theme-based designs, rather than a chic, sophisticated take on purveying meat that focused on more than just the product. Envisioning a high-end concept that redefined the experience of buying meat, the architects took a more curatorial approach, creating a space that FGMF architect Fernando Forte describes as "a bit surprising—mixing a shop, gallery, and butcher."
The refrigerated display cabinets showcase the myriad cuts of meat available at FEED.
Natural light pervades the expanse, entering from the large front window and the skylit ceiling at the back. To evoke a minimalist aesthetic, the architects opted for muted wall tones, while raw materials, such as wood, distinguish the small display tables throughout the butchery. An enormous fig tree is a conspicuous yet welcome presence at the rear of the store—accommodated by the generous double-ceilinged pergola—overlooking a semi-industrial cooking space that hosts tastings and cooking classes. Also bringing nature indoors, a lush green wall replaces the usual clinical atmosphere of a butcher with one that is markedly more pleasant.
Complementing its butchery, FEED also sells culinary accessories, books, sauces, seasonings, and wine. The offerings are so comprehensive, in fact, that FGMF architect Rodrigo Marcondes Ferraz cheekily suggests its appeal could be universal: "We believe that we created the first butcher shop in Brazil where a vegetarian wouldn't mind going and even hanging out for a while."
Ample seating allows for moments of contemplation.
An outdoor grill offers a chance to sample the meats.