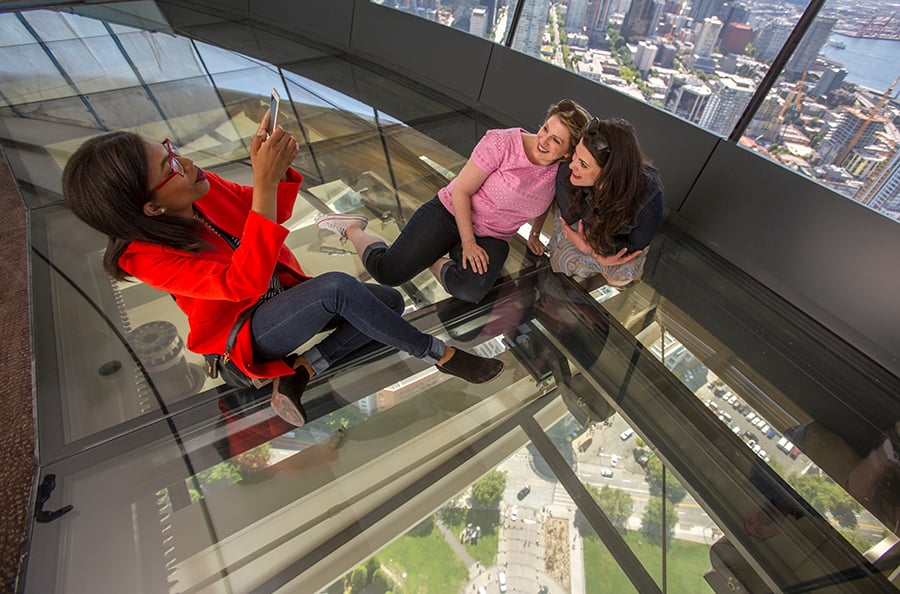 August 6, 2018
Seattle Space Needle Reopens After Dizzying Redesign by Olson Kundig
The upgrades include over 176 tons of new glass that give visitors unparalleled panoramas of Seattle and its surroundings.
---
When the 605-foot-tall Space Needle opened for Seattle's 1962 world's fair, the structure was advertised as a Space Age wonder: Its legs were painted "Astronaut White," its roof "Galaxy Gold," and its steel-frame halo "Re-entry Red." (Its structure also featured a more dubiously-extraterrestrial hue, "Orbital Olive.") While the likes of Space-X and Blue Origin have long since captured the public's interstellar imagination, the Needle is back in the news thanks to a major architectural upgrade that includes the world's first and only rotating glass floor.
The renovation, which was announced June 2017, aimed to fundamentally reinvent the visitor experience while upgrading the Needle's mechanical systems (such as its elevators and floor-rotating motors). Alan Maskin, design principal at Olson Kundig, told Condé Nast Traveler that "we were asked to really think big about what a visitor experience to the Space Needle could be." Put simply, the project uses glass to create a more open, breathtaking space throughout its upper and lower observation levels.
Visitors still enter the three-level saucer (the "Tophouse") from its upper level. However, upon exiting the elevators, they're now greeted by floor-to-ceiling glass that has replaced low-level interior walls. Further beyond, an outdoor steel cage has been replaced with 11-foot-by-17-foot glass panels, each 2.5 inches thick. New stairs—also largely glass—and a new ADA-compliant lift take visitors to the lower level, where an also-new glass-floored oculus that provides views to the Needle's structure and elevator counterweights.
---
More from Metropolis
---
---
The lower level (dubbed "The Loupe") also highlights its mechanical systems: the glass flooring showcases the turntable and gears that slowly rotate its floor. But visitors will probably be drawn to the accompanying 500-foot views straight down. Ten layers of glass stand between visitors and the plunge: six layers in the rotating portion (including a non-structural "scuff" layer that can quickly replaced if damaged) and four outer layers beneath that. Those four layers are stationary an include a frit pattern that reads as transparent from above but opaque from below, thereby preserving the Needle's outward appearance to observers.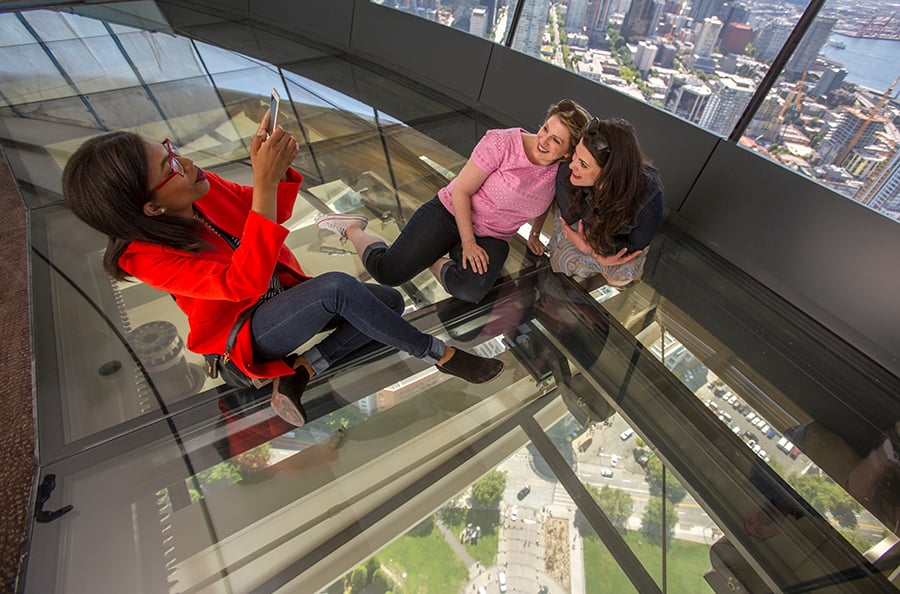 ---
With so much glass playing center stage, it's no surprise that the project included a large team of experts, including facade specialists Front, engineering firms Arup, Fives Lund, and Magnusson Klemencic Associates, along with a slew of construction companies. Front told The Architect's Newspaper that the project uses almost "every typical glass type" used in construction, including laminated, heat-tempered, chemically-tempered, heat-strengthened, and annealed. All in all, the renovation included 176 tons of glass and 20,000 square feet of glass surfacing.
"The Space Needle has always been a treasured place where we can observe the contrast between the changing city of Seattle juxtaposed against the natural resources that surround it," said Maskin in a press release. "Our design 'widens the lens' of that human perspective."
You may also enjoy "This Skyscraper's Innovative Structure is Changing the Game for Earthquake Design."