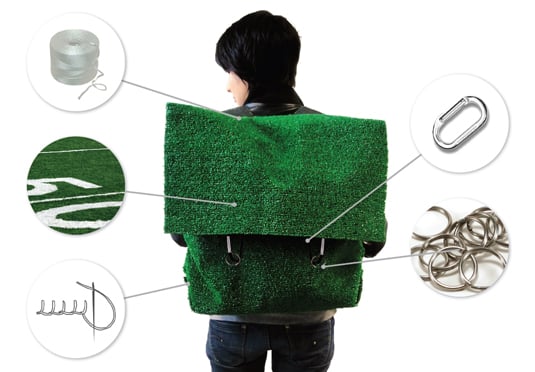 April 23, 2012
Seattle Undergrads Challenge Design Students Everywhere
As a child growing up in the damp Pacific Northwest, I assumed that playing in mud was a part of going outdoors. Whether I hiked up trails or played flag-football at the playing field, slippery conditions were a part of the game, and we all expected to come home a muddy mess. Then, towards the […]
As a child growing up in the damp Pacific Northwest, I assumed that playing in mud was a part of going outdoors. Whether I hiked up trails or played flag-football at the playing field, slippery conditions were a part of the game, and we all expected to come home a muddy mess. Then, towards the end of my adolescence, many playfields and schoolyards started to sprout synthetic, grass-like turf. In those days, I didn't think about the way design was changing open green spaces. I only thought about how the new material on the ground let me play in all kinds of weather. Artificial turf is now something we expect on our playing fields; it's a standard "amenity" here in the Northwest.
---
More from Metropolis
---
I am now a junior design student at Cornish College of the Arts in downtown Seattle. These days I'm in studio far more often than in the outdoors, but my love for nature is still intact. And I know that plastic on the ground is probably not the healthiest thing for the planet or for children. Artificial turf carries pathogens and has to be disinfected with strong chemicals; it doesn't decay, and it clogs landfill when it's replaced for sometimes the most minor of reasons.
Design students like me are so absorbed in what we're doing that social or community issues—issues outside our own work—don't usually make much of an impression. But when I found out about a recent college-wide competition, The Turf Project, created by Natalia Ilyin, a visiting professor in the Design Department here, I was immediately on-board.
Early this semester, Natalia challenged the entire Cornish community to design a marketable product that would fill a pressing social need, re-using an entire college football field of artificial turf. We had a week to design something. One week is not a long time when you're in school.
One football field contains the equivalent of some 1.3 million plastic bags. When the artificial turf is replaced, it usually goes right into landfill. I saw this as an opportunity to design something useful, and to increase awareness in my own community that this familiar material is not sustainable. Using design to raise awareness made me feel that I was able to give something back to my community, to the people who were trying to make my life better by installing artificial turf in the first place.
Other students who joined in the charrette addressed social needs in projects ranging from personal to regional, national to global. The possibilities of transforming this huge amount of wasted plastic into a product or range of products was as limited as our imaginations and our will to better our world. The charrette was successful. It brought an awareness of how design thinking combined with reuse projects can make a real difference.
I want to challenge everyone in school today, or out of school, to consider doing TheTurf Project or something like it. A product like artificial turf, which you'd think there would be no hope for, can be transformed into products that can really better the lives of our communities and all people around the world. What can you do?
Tate Stiles is a junior in design at the Cornish College of the Arts in Seattle.