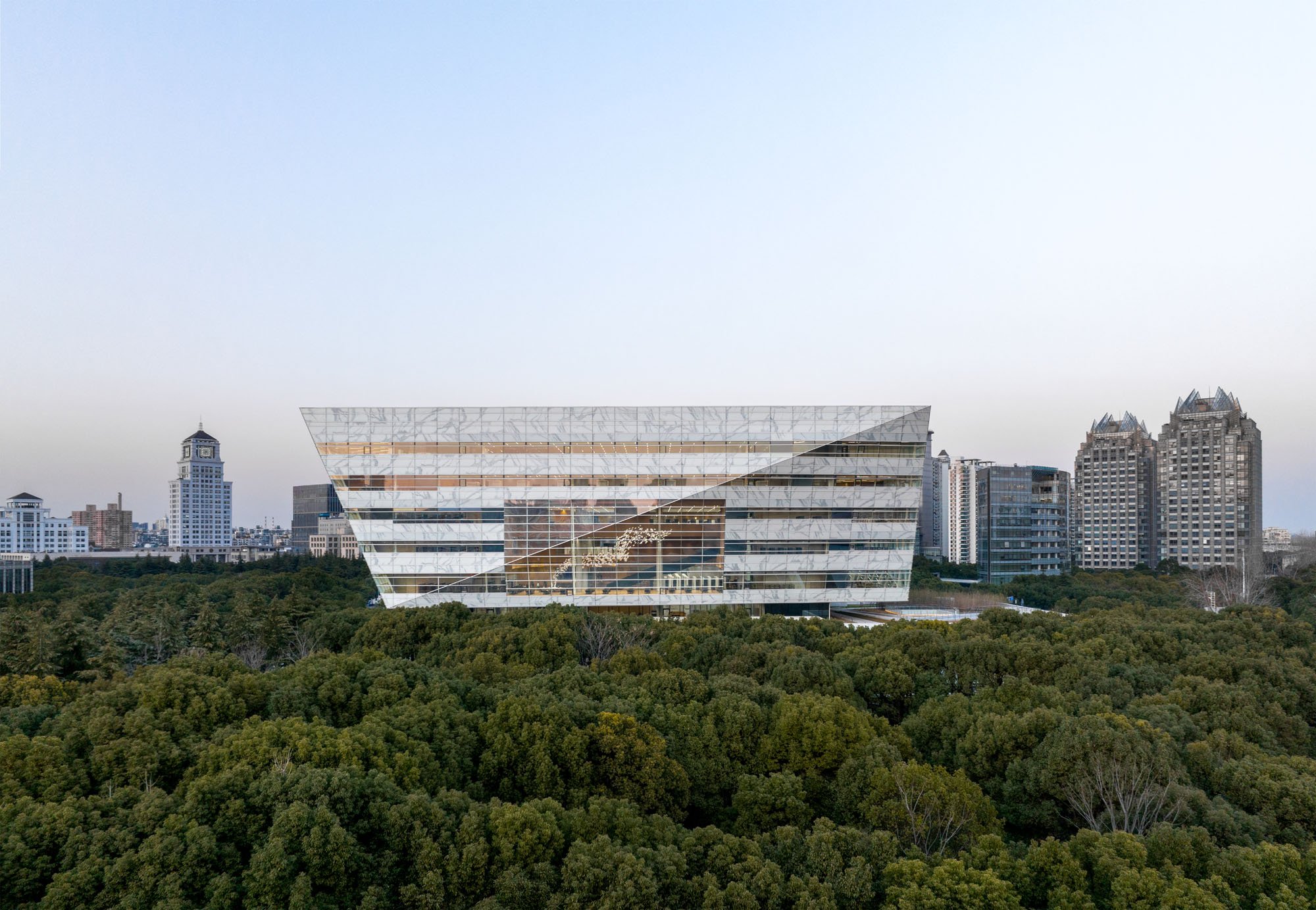 November 30, 2022
Shanghai's Newest Library Takes Conceptual Cues from Chinese Scholar's Rocks
In September, the Shanghai library—which, with over 56 million catalogued items is the world's third largest—opened its eastern branch to the public. Unlike the main library, which is designed to house the system's collections, and is mostly inaccessible to the public, the Shanghai Library East dedicates over 80 percent of its 1.2 million-square-foot interior to community activity and still has space for 4.8 million books.
"We wanted it to be something that was pure and simple and had clarity," Chris Hardie, the design director of Schmidt Hammer Lassen's Shanghai studio, says about the building that stands next to Century Park and resembles a scholar's rock.
Scholar's rocks emerged during the Tang Dynasty (618–907 A.D.). Typically, these assemblages of porous limestone Taihu stones would occupy pride of place in a Chinese garden, and were viewed as a microcosm of the universe. Members of the elite would meet around these large, extraordinarily formed specimens to debate issues and share knowledge.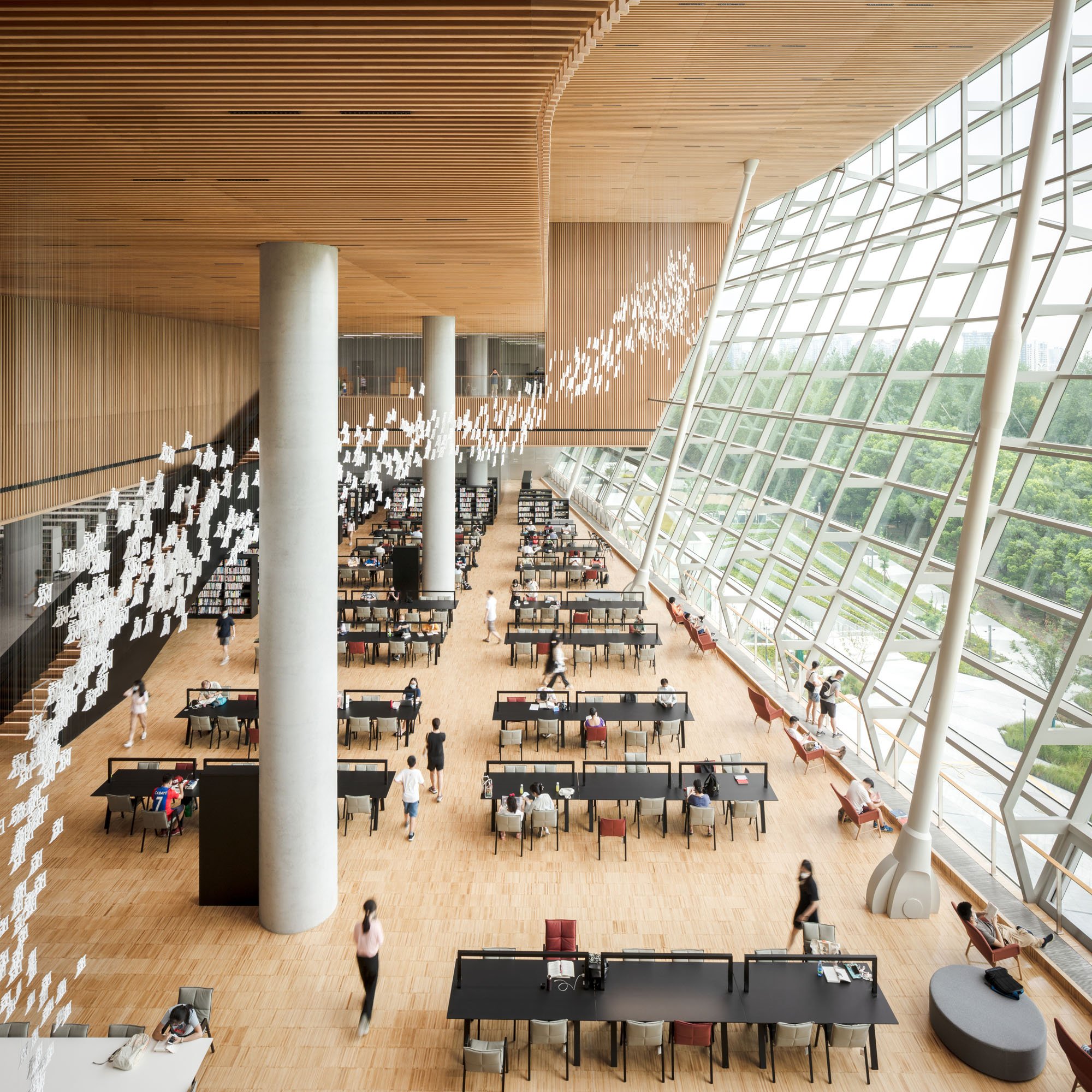 The Shanghai Library East's main volume rests on a central atrium which connects all the floors, accompanied by a 1,200-seat theater, exhibition and events space, and a children's library. Its exterior is clad with a facade of clear, insulated, and fritted glass arranged in horizontal bands. Half of the glass panels are tilted to create solar shading.
As it was impossible to source marble sustainably, SHL commissioned a photographer to take pictures of 15 different marble patterns to print them onto the glass panels digitally. The four reading rooms are carved out of the facade; two face the city, while the other two connect to the park through triple-height windows.
---
More from Metropolis
---
Hardie likens the building's interior to the layers of a rock that form one body over time: Visitors can connect with the library's atmosphere and immerse themselves in the warm ambiance of bamboo-lined rooms and oak and terrazzo floors as they enter the vast, daylight-filled atrium.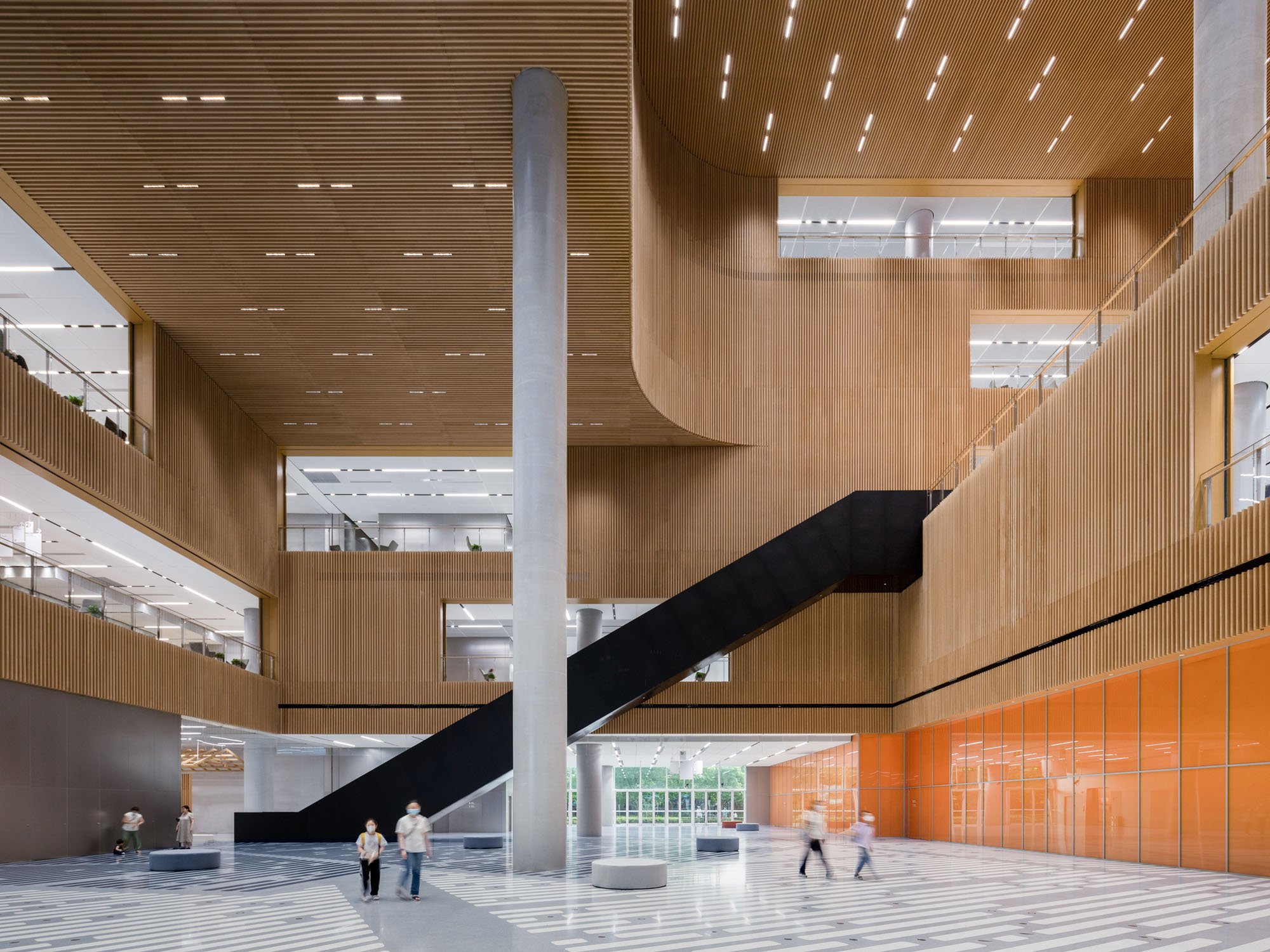 Overhead, the floors flow, stack and interlock, minimizing visual barriers to the library's seven levels. "It's like a Taihu stone; it has a lot of these openings," Hardie says.
Shanghai Library East is on track to receive China Three-Star certification, the highest national green building evaluation label award. Comparing it with the LEED system, Hardie estimates that China Three Star sits slightly above a LEED Gold certificate.
"However, you could argue that China Three Star is much higher than LEED as one cannot obtain it until you have one year of operation," he added, introducing the library's main sustainability features.
For low-energy, thermal comfort that suits both the visitors and the books, natural ventilation works in tandem with displacement ventilation facilitated by a radiant floor system combined with conditioned air supplied at a low level.
Currently 10,000 solar panels on the roof meet about a quarter of the library's electrical needs, but that percentage could grow, Schmidt Hammer Lassen put the infrastructure in place for 40,000 panels, enough to meet all of the new library's energy needs.
Since first opening this fall, Shanghai Library East has already established itself as a place that belongs to the community, confirms Hardie. On a recent visit he observed a patron with a book by his side and his shoes taken off having nodded off in front of the view. "He was totally at home, and that's what you want," says the architect.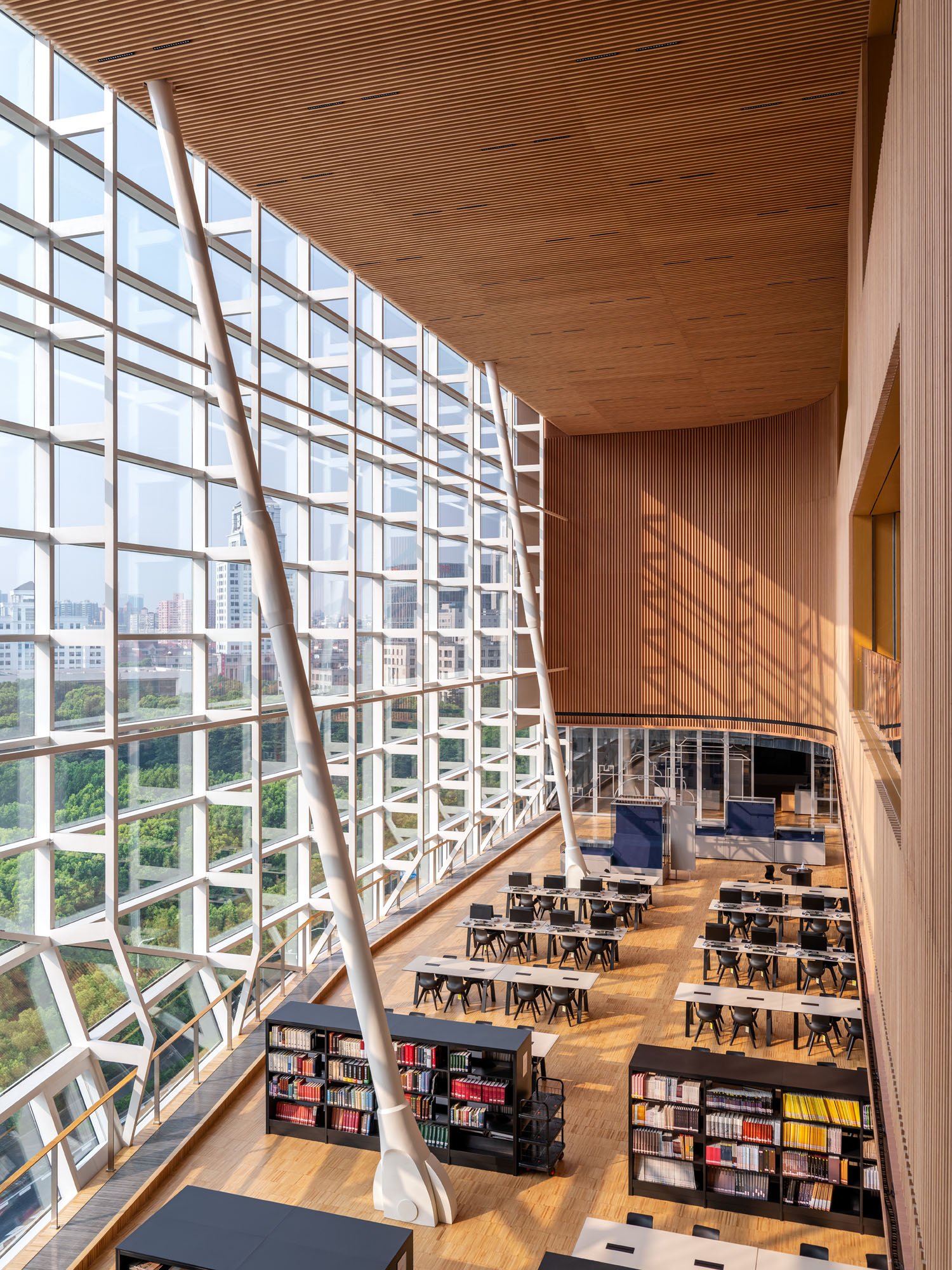 Would you like to comment on this article? Send your thoughts to: [email protected]