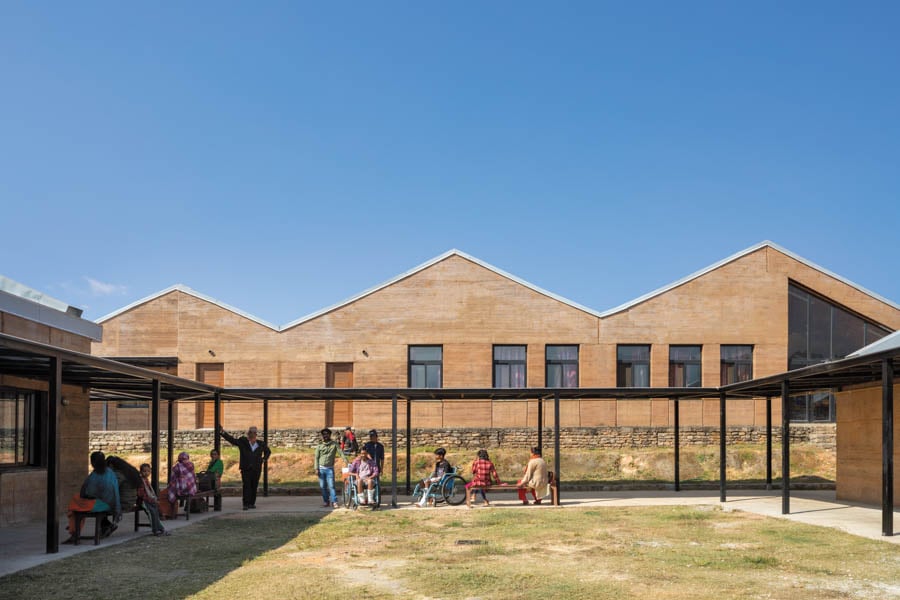 April 7, 2020
Sustainability is a Nonnegotiable at Sharon Davis's Bayalpata Regional Hospital
The health-care center, a partnership between the government of Nepal and nonprofit Possible Health, serves an estimated 100,000 visitors a year.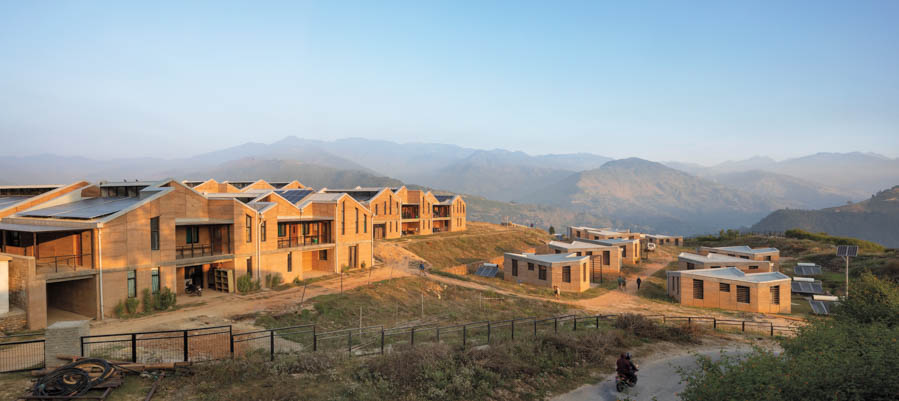 In Nepal's rural Achham District, on a hilltop surrounded by terraced slopes of the Seti River Valley, gabled rooflines echo the nearby peaks of the Himalayan foothills. But the group of red-hued buildings resemble their region's geology for another reason: These 17 low-rise structures, which form Bayalpata Regional Hospital, are constructed of stone rubble and rammed earth sourced within a mile and a half of the site.
The 70-bed hospital, a partnership between the government of Nepal and nonprofit Possible Health, serves an estimated 100,000 visitors a year, many of whom walk the single access road for as long as six days to receive care. Site is a critical actor in all architecture, but particularly so here: In 2015, construction on the seven-and-a-half-acre campus ground to a halt for six months when a series of earthquakes and border closings—the result of geopolitical tensions between India and Nepal—kept materials from getting to the site. For the architecture firm Sharon Davis Design of New York City, such challenges underscored how crucial sustainability and resilience were to this project's success. "It's not an optional add-on," says Tyler Survant, a project director at Sharon Davis Design, of the sustainable design. "These buildings really needed to perform in that very remote context."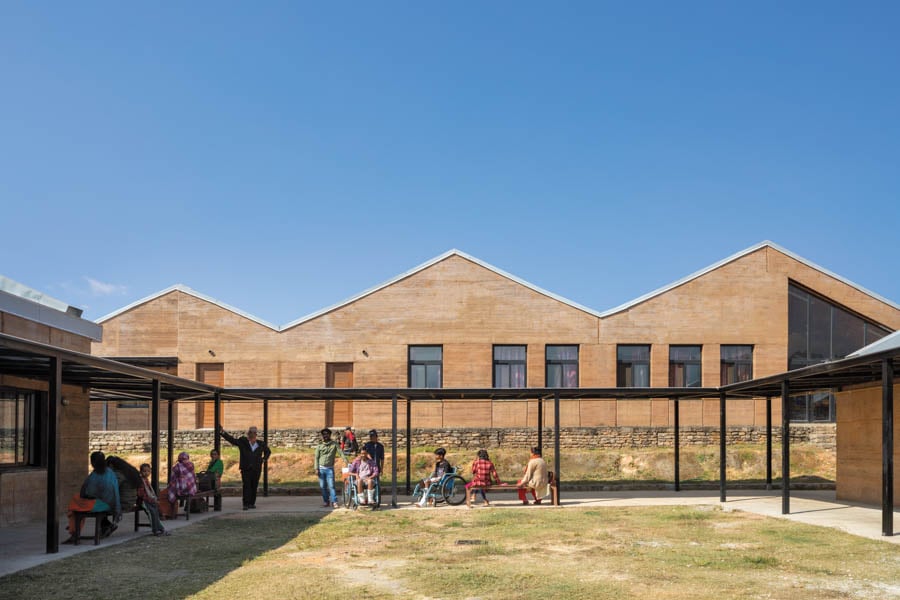 From the jump, Sharon Davis Design (working with Office of Structural Design and a local engineering firm) knew the 45,000-square-foot facility would have to generate its own energy. This it now does in surplus, thanks to a combination of passive design and a 100-kilowatt solar array integrated into the buildings' gabled roofs. Rather than design a conventional multistory building, the team arrived at a complex of individual one- and two-story structures organized around two courtyards, which promote passive ventilation through cross-breezes and daylight penetration into shallow (less than 50-foot) floor plans. All buildings are heated and cooled passively, with the exception of the operating and lab spaces.
---
More from Metropolis
---
Within this context, rammed earth, with its high thermal mass to support passive design and reliance on locally trained labor, was a logical choice. Each of the five medical buildings uses a composite structure of cement- and steel-reinforced rammed earth, which supports lateral loads, and integrated concrete columns: "It's not only providing enclosure, but it's acting structurally within that whole system," says Survant.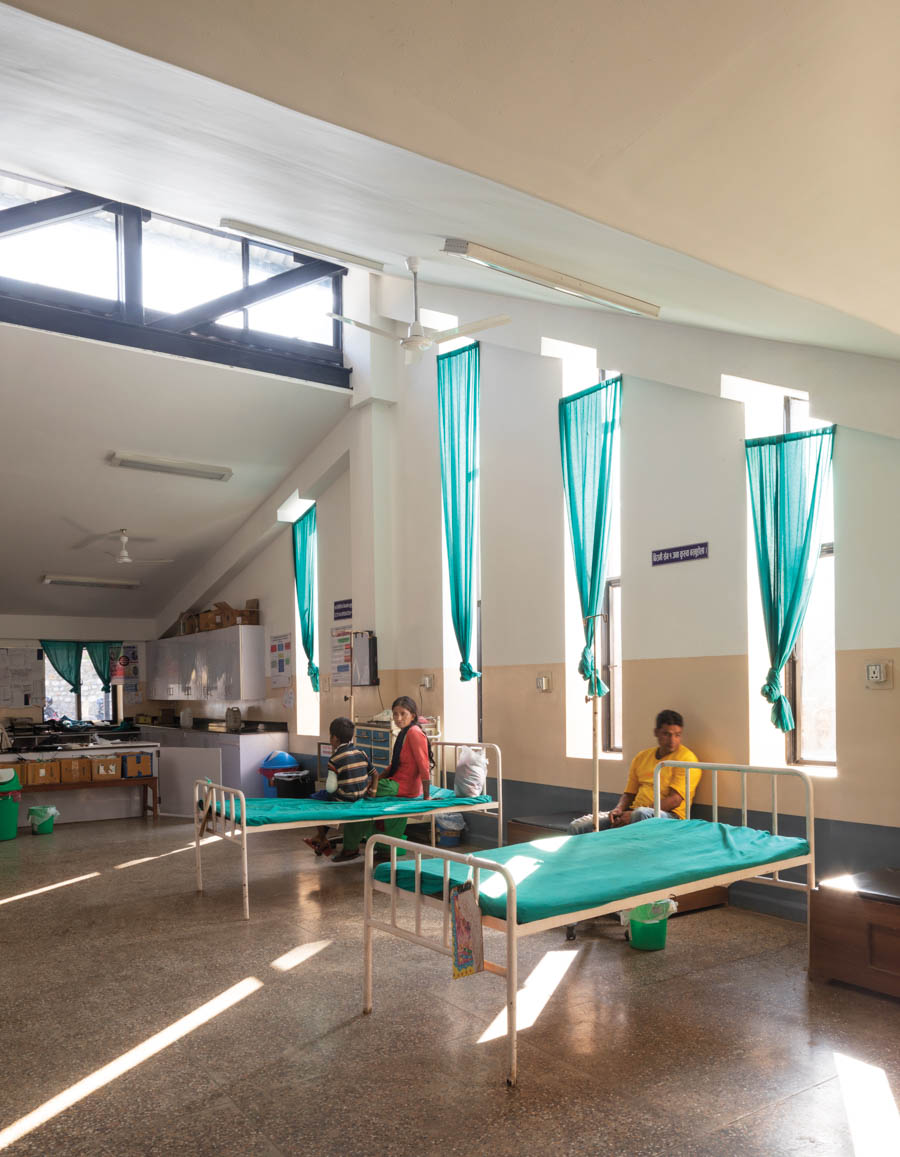 The two courtyards provide much needed waiting areas for patients; each day, as many as 500 show up unannounced owing to the region's lack of telephones. "When we first arrived…it was very chaotic for the doctors trying to find patients," explains Sharon Davis, whose eponymous firm was named a Metropolis Game Changer in 2013. Alternating the buildings with voids was "a very simple way of trying to organize people," she adds. The courtyards also act as a buffer between the more public-facing programs, like outpatient care and a pharmacy, oriented toward the southern entrance, and the more private ones toward the north, like the surgery and maternity ward.
Inside the buildings, south-facing clerestory windows bring in daylight, contributing to solar gain in winter and cross-ventilation in summer. Narrow windows—their width determined by the rammed-earth construction unit—admit periodic views and additional sunlight. Local sal hardwood, red-gold in color, lends a softness and natural dimension to the cleanlined gabled ceilings above and to finishes that complement simple white walls, such as built-in sal furniture in the 60-seat canteen. Where the rammed-earth walls are left exposed indoors, there is a beautiful unity between the cast formwork lines and sal wood finishes.
Details like this help humanize the hospital experience for its users. For many, Bayalpata is the only accessible and affordable—indeed, completely free—healthcare provider. The hospital, which has increased its patient capacity eightfold over its predecessor, is now home to the region's only dedicated maternal health spaces and two full-time surgeons. The number of maternity beds has increased from four to 11, and there is also a newborn care unit and space for family planning services. Bikash Gauchan, a Possible Health physician at Bayalpata Hospital, takes particular pride in this new ward. "It has allowed us to provide dignified maternity services by maintaining privacy and confidentiality," he says.
Overall, the varied, smaller-scale massing and earthen walls help fold Bayalpata Hospital into the community it serves, presenting a scale that feels more domestic than institutional. Indeed, for the medical team, the hospital is home: Staffers and their families live on-site, as commuting so far would be impractical. Ten single-family houses and an eight-bedroom dormitory, also of rammed earth, are arranged in an arc downhill from the hospital. (Siting hospital buildings uphill was critical in this terrain, which is prone to monsoon-driven erosion; a system of trenches and bioswales helps divert water when it rains.)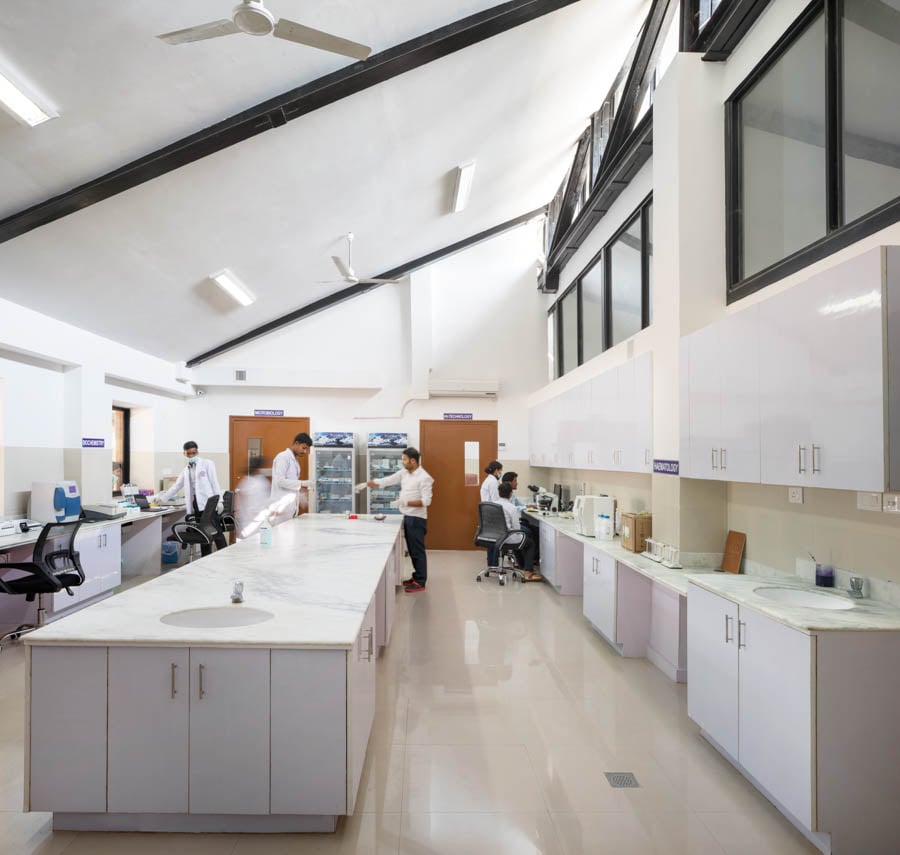 In other words, "it's not just a hospital," says Survant. "The unique thing that Possible Health is bringing with this public-private partnership is to provide free medical care with the higher standards and staffing required. We're just happy that we were able to support that."
You may also enjoy "A Big-Box Store Finds New Life as a Healthcare Clinic."
Would you like to comment on this article? Send your thoughts to: [email protected]