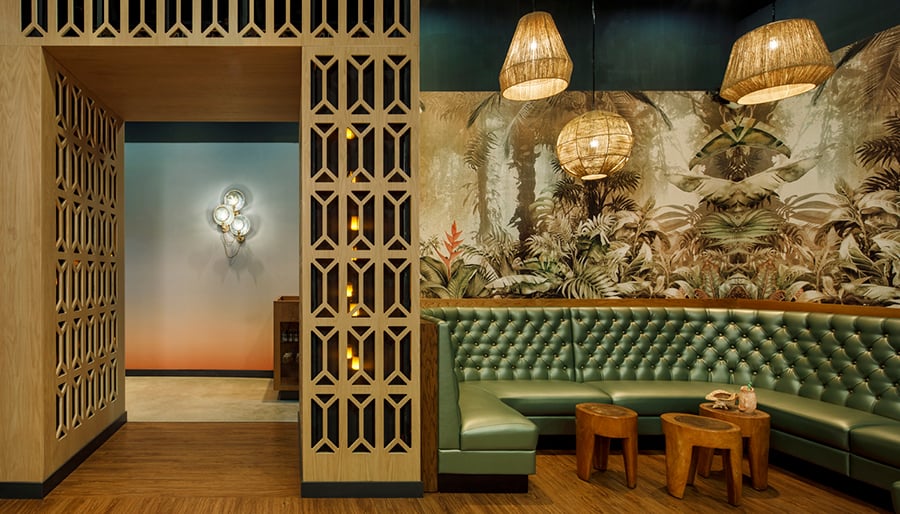 August 21, 2019
Hacin + Associates Reinvents the Tiki Bar—in the Heart of New England
Shore Leave, a new watering hole in Boston's South End, reimagines the kitschy mainstay through its clever approach to sequence, material, and lighting.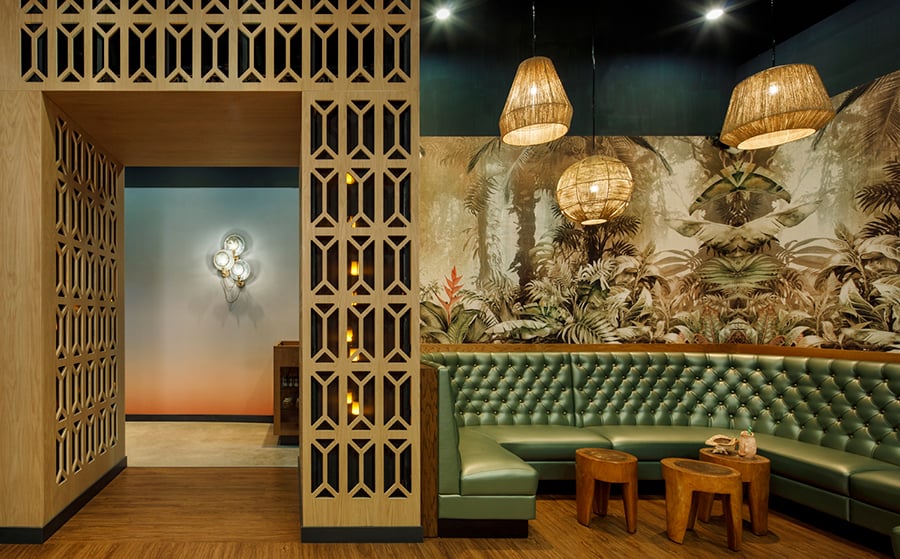 From the pre–Revolutionary War era onward, Boston can claim centuries of a distinct architecture and design heritage. American tiki culture? Not so much. But that might change, given the recent opening of Shore Leave, a Mai Tai– and Zombie-infused bar on the city's South End.
Sometimes dismissed as overly sweet, heavily garnished relics of cocktail kitsch, tiki drinks are complex and well-balanced creations when executed properly. And in Boston, the genre has been cultivating a following of local cocktail enthusiasts, who've regularly turned out for beverage director Ryan Lotz's special-occasion tiki nights at Bar Mezzana, near the newly opened bar. Lotz saw an opportunity to more permanently honor the tradition, teaming up with chefs and restaurateurs Heather and Colin Lynch and Jefferson Macklin to open Shore Leave this past November.
High-concept venues being minefields of cliches and heavy-handedness, Shore Leave posed a new challenge for its designers, Hacin + Associates. "We're modern architects here," explains David Hacin, president of the Boston firm. "How do we go about working on this project without falling into Disney-esque themes or cultural appropriation?" Given the lack of a relatively organic setting, such as Palm Springs or Hawaii, the designers turned to Lotz's sophisticated, quasi-academic approach, ultimately integrating aspects of that philosophy into Shore Leave's features.
---
More from Metropolis
---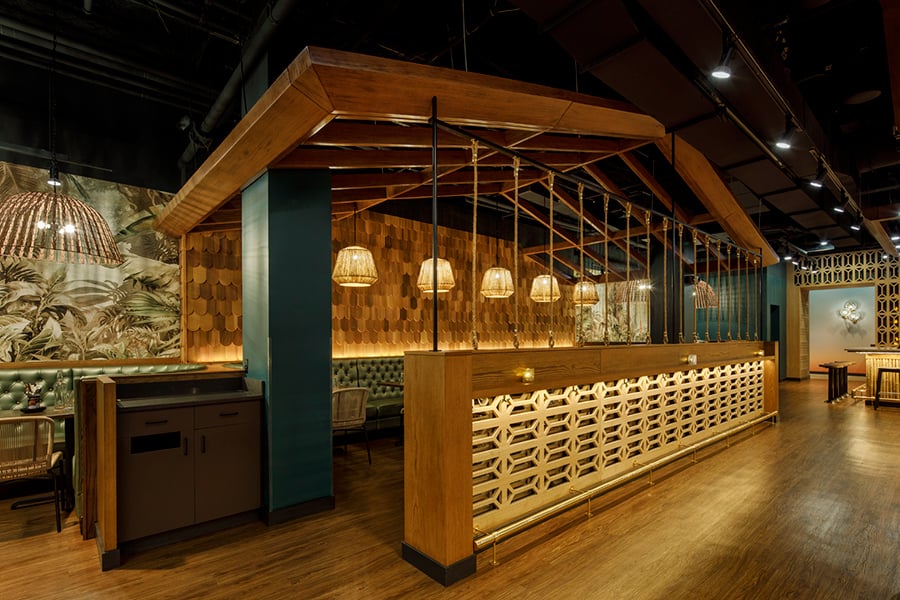 With a 20-foot-below-grade space to work within—conveniently, just across the street from Bar Mezzana—the architects played logistical obstacles to their advantage, for Shore Leave and No Relation, a nine-seat sushi bar in the same spatial envelope, which completed in January. "It being in a basement, we could really control the atmosphere here 24/7," says associate Matthew Arnold. "It was an opportunity to create an immersive, stage-set experience." A steep staircase descent provides a dramatic entrance into the bar, where lighting, a sequence of deepening colors, and intensely patterned wallpaper set the scene of a coastal getaway blanketed under a seductive night sky. (Hacin even insisted on incorporating a coat room so the sight of heavy outerwear wouldn't kill the illusion.) In keeping with tiki tradition, Shore Leave's material palette skews tropical: unpainted, scalloped-edge wood shingles, jute lamps and pendants, and bamboo applied to the bar front and banquette partition.
"We wanted to balance authentic materials that are true to the concept with what's practically going to work," says project interior designer Dorothy Deák. The lighting is moody and playful, like the bulbs that pierce latticework to produce a flickering, starlit effect. Ceilings run relatively high, so the architects designed a series of flat and pitched interior roofs to divide the room, including one semi-discrete private dining area. Tufted banquettes are roomy and comfortable.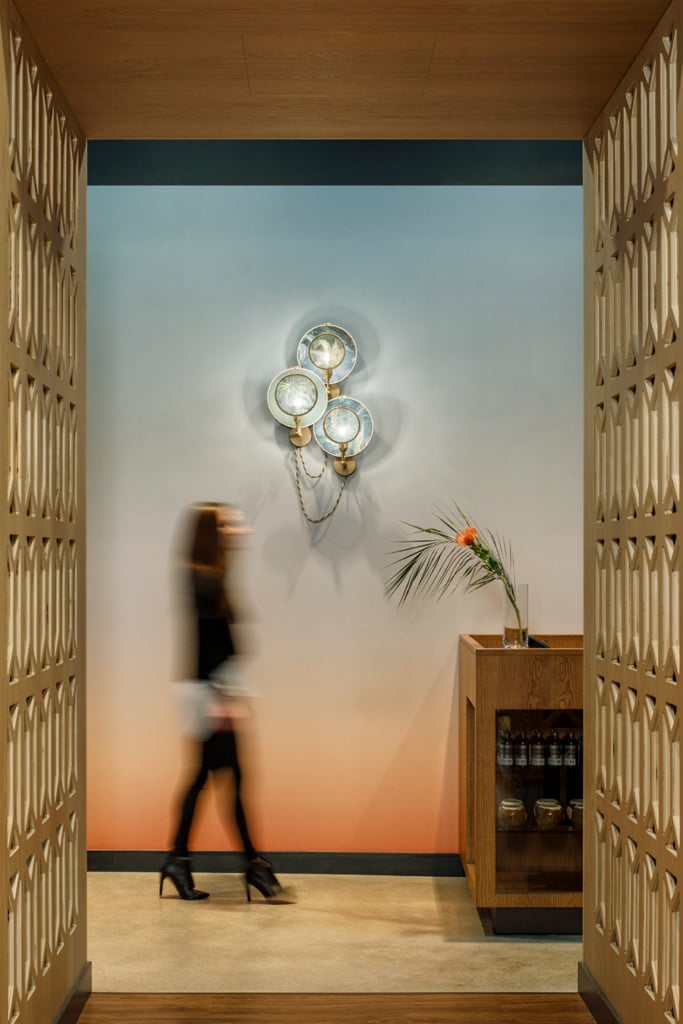 Hacin points to Shore Leave's CNC-cut MDF features as an example of his team's creative approach to the theme. In what he calls a "happy accident," the architects handily substituted breezeblocks—synonymous with the architecture of midcentury California, where tiki was born—with a geometrically patterned partition wall, which Hacin feels is "more interpretive, more contemporary, and less literal." Plus, he says, using wood is more in the spirit of New England.
Tucked at the end of a rear corridor is No Relation, the jewel box omakase-style sushi bar measuring just over 200 square feet, where chef Colin Lynch offers two nightly seatings. There, in what Deák calls "a total contrast to Shore Leave," Japanese influences prevail in a setting that's "light, woody, and minimal, but a little bit of rock n' roll feeling, so it's not austere and serious," she says.
The designers experienced their scheme's transportive effects firsthand soon after Shore Leave opened for business. "When we left, there was snow on the ground," Arnold recalls. "It was proven fact that this was a true escape."
You may also enjoy "Bucharest's MARe Museum Is a Ghostly Shadow of Its Nation's Dark History."
Would you like to comment on this article? Send your thoughts to: [email protected]