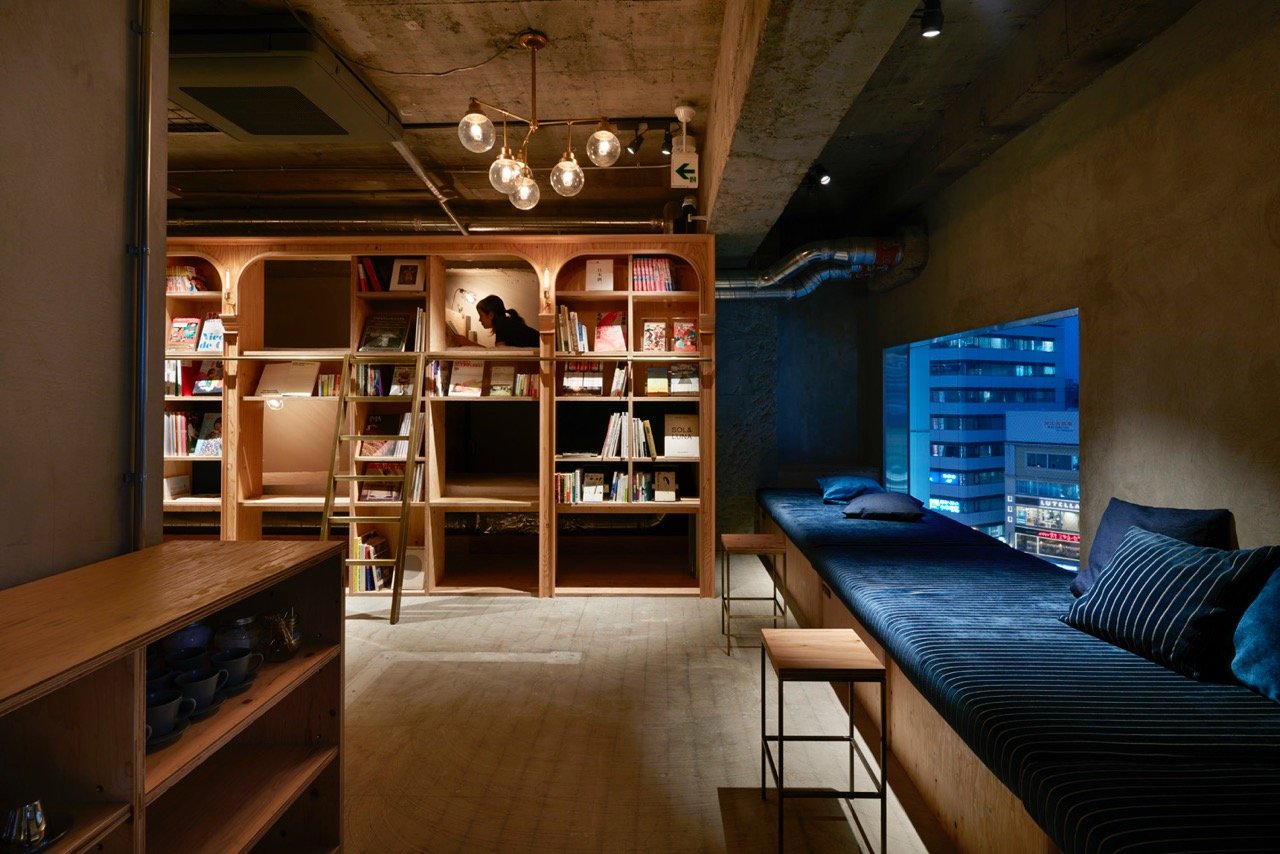 March 4, 2016
Sleeping in the Stacks: Tokyo Hostel Doubles as a Library
A new Tokyo hostel conceals capsule-sized bedrooms behind a wall of books.
Books form the basis of a new Tokyo hostel.
All photography courtesy Suppose Design Office
The lower exchange rate of the Japanese yen against the U.S. dollar last year put Tokyo on the itinerary of backpackers doing the "Asian tour," and new budget options are sprouting in the city to cater to the influx. Take real estate agency R-Store's new hostel in front of Ikebukuro train station.
A developer famous for adding new value to hitherto unpopular properties, R-Store commissioned the architectural firm Suppose Design Office, a book publisher, a graphic designer, and a Web designer to brand a small 30-bed dormitory that was inspired by the process of falling asleep and, according to Suppose Design Office's principal, Makoto Tanijiri, is "less about sleep itself and more about how to induce sleep." Books, as everybody knows, usually do the trick.
---
More from Metropolis
---
A 46-foot-wide plywood bookshelf is filled with free Japanese and English-language volumes, creating the environment of an open-shelf library "where books unconsciously make people quiet," Tanijiri explains. Guests are invited to pick up a book, relax in the lounge, or retreat into one of the 18 capsule-style cells or 12 small cabins located directly behind the bookshelf. Suppose Design Office, which has made a name for itself by looking at ordinary things with fresh eyes, has produced an interesting tension between the publicness of a lounge and the privateness of a bed.
"The result might look unusual at first sight," Tanijiri says, "but it perfectly functions as accommodation. We just added books."
Designed by Suppose Design Office, the hostel contains 30 "rooms" encased in a large bookcase.
Guests wanting a breather from their capsule-sized accommodations can grab a book and lounge in the adjacent common area.
According to the project's chief architect, Makoto Tanijiri, the hostel is "less about sleep itself and more about how to induce sleep."