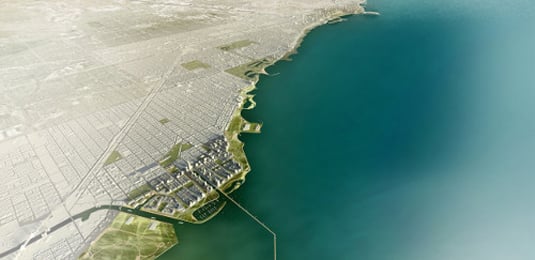 January 14, 2013
SOM's Great Lakes Century Project Wins New Accolades
The first dramatic foray into the revival of the Great Lakes region wins AIA award.
Last week the American Institute of Architects gave SOM's "Great Lakes Century – a 100-year Vision" its 2013 Institute Honor Award for Regional and Urban Design. Coincidentally, we named the project and the brilliant team behind it, lead by Phil Enquist, one of six Metropolis 2013 Game Changers, now in our January issue. I first heard of the Enquist team's ambitious plan in 2008, just as our world was receding into the financial turmoil that decimated the architecture profession and extinguished many a dream. Yet here was a small group of architects daring to dream, and enthusiastically telling me about their massive undertaking, as we gathered in the firm's Chicago office, high in the city's historic Santa Fe Building. Designed in 1904 by the legendary Daniel Burnham, whose spirit is palpable in the office's sunlit atrium, but more importantly, it infuses the Great Lakes project. His words propelled the SOM team forward: "Make no little plans; they have no magic to stir men's blood and probably themselves will not be realized. Make big plans; aim high in hope and work."
As time passed, I heard Enquist talk about the project on panels, caught up with him at various functions and, at one of these, I asked him to convince his team to blog for us about how they were progressing with their design, as well as their advocacy for a massive regional revival that pulls together the U.S. and its neighbor to the north, Canada. Then news arrived of SOM's work on Lakeside, a massive redevelopment of the south side of the Chicago waterfront once occupied and polluted by U.S. Steel and now informed by the most current thinking about green design known for its sensitivity to resources, place, and people. This sounds like the first dramatic foray into the region's revival, putting in to use clean technologies and infrastructure.
---
More from Metropolis
---
Lakeside, Courtesy SOM/ McCaffery Interests
Lakeside made me realize that the U.S. could still make big plans, but now in collaboration with its neighbor. As Enquist told Steven Litt, the author of the Metropolis story, "It is frustrating to go to China and see a national infrastructure investment that takes your breath away. We've got to have a revved-up view of the future." And that's exactly what Burnham's distant voice provides for those willing to hear him. This newly optimistic outlook can identify big projects like Lakeside, tracts of abused land and resources that need the attention ambitious designers, developers, and politicos who can imagine great, healthy cities rising from the detritus of the Industrial Revolution. Where better to start than in a region that contains a fifth of the world's fresh water, the legendary the Great Lakes that have, for generations, captivated the world's interest? As the AIA jurors said, the project is "a call for larger scale action and vision. These are the issues that architects, planners, and urban designers should be focusing on." Who would disagree with that?