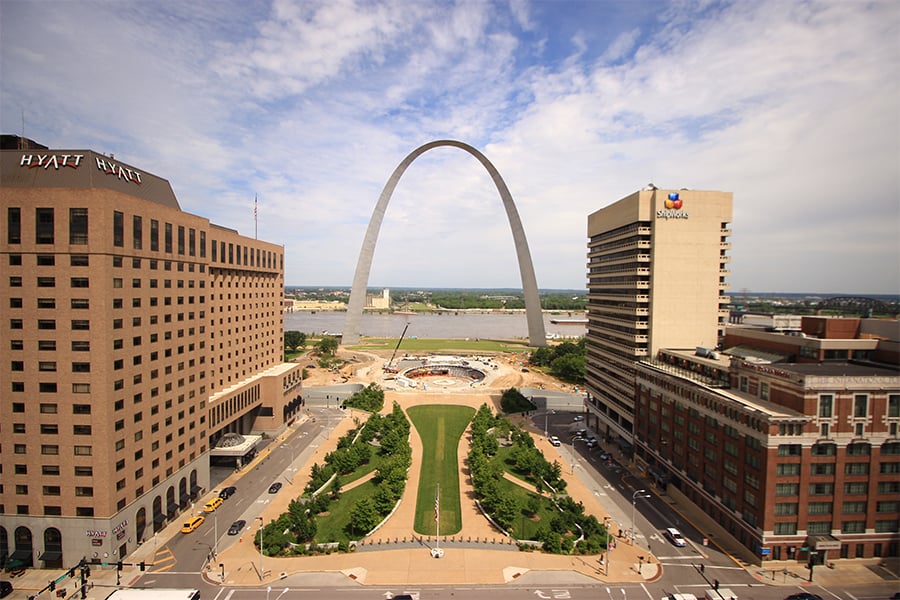 February 6, 2018
St. Louis Arch Renovations Aim to Revitalize an Eero Saarinen and Dan Kiley Landscape
The St. Louis Arch redesign was 70 years in the making; now Eero Saarinen and Dan Kiley's project will make a fresh debut this July.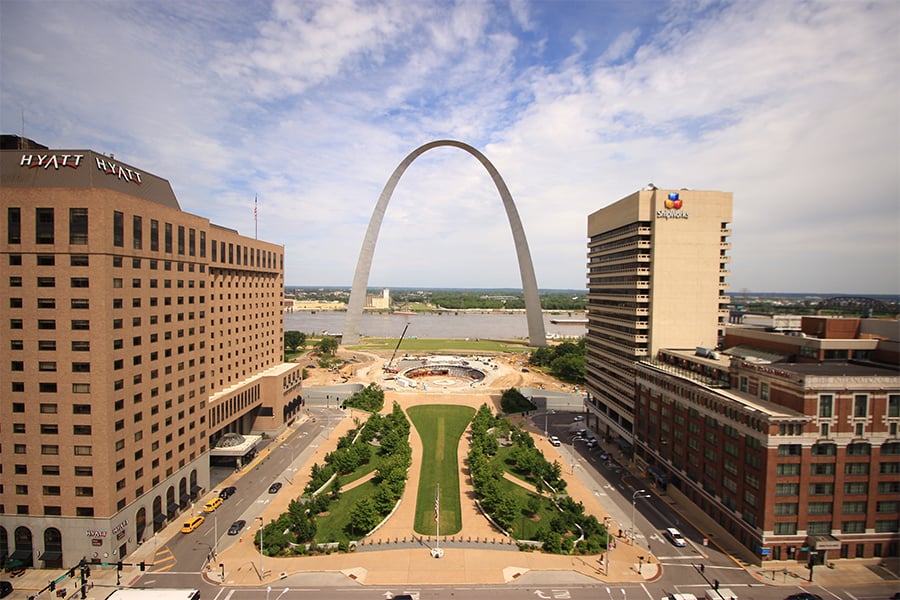 The Jefferson National Expansion Memorial, home to the St. Louis Gateway Arch, has a long, protracted history. The original proposal for the memorial and grounds was conceived in 1947 by architect Eero Saarinen and landscape architect Dan Kiley, but funding for the scheme didn't become available for another decade. Saarinen died in 1961, two years before construction began on the Arch. Meanwhile, the National Park Service (NPS) finalized the master plan with Kiley and later, in the early 1970s, took complete control of the project. The memorial was formally completed in 1983.
A Renovation of the St. Louis Arch 70 Years in the Making
But the project suffered on its lengthy road to completion, says Gullivar Shepard of Michael Van Valkenburgh Associates (MVVA). "All the federal legislation and design intent in that time had gotten a little confused. We recognize that the parks service is built for change and to preserve, but this whole project was about radical change."
The Brooklyn-based firm is leading a $221-million renovation of the memorial, which will add significant site improvements as well as a 46,000-square-foot museum expansion (helmed by New York Firm Cooper Robertson) with new interactive exhibits. Shepard sees as part of his mandate to recover the diminished aspects of Saarinen and Kiley's plan, while also optimizing the way visitors move in and throughout the site. "We're finally taking this 70-year project and actually fulfilling this as a planning anchor and a core at which a vibrant downtown is being built," he says.
---
More from Metropolis
---
It's an admirable goal that has drawn incredible support from the public and private sectors. "[People] got engaged here, they celebrated every 4th of July here," says Eric Moraczewski, executive director of the nonprofit Gateway Arch Park Foundation. "When you have that emotional tie to the community, and there is a chance to refresh and fulfill the vision of Eero Saarinen, people want to be a part of that opportunity."
---
A Landscape Defined by People's Experiences
When MVVA was awarded the project in 2010, it proposed 14 different "decision points," each a contingent part of a larger landscape development. One of the decision points, while seemingly minor, was the installation of light poles. Saarinen, Shepard explains, "designed a light pole for the park that was never implemented, and the parks department installed something very different that wasn't the original intent. Through serendipity we actually connected with the original pole company, Louis Poulsen, who helped design the poles [we now have]."
The latest additions include eleven acres of parkland, 5.4 miles of pedestrian paths, a grassy amphitheater, and shaded lawns. The most dramatic feature is a new land bridge that connects the adjacent Old Courthouse to the arch and the riverfront in one continuous greenway. (Previously, two caged pedestrian bridges spanning Interstate 44 connected the Old Courthouse and downtown St. Louis to the memorial.) "The impact of this is immediate," says Shepard. "This really is a landscape defined by people's experiences as they move from an urban environment into a park. The green edge wasn't our limit—we moved highways, elevated waterfronts."
The park's grand opening is July 4th, 2018, a date that both Sheppard and Moraczewski feel is fitting for an achievement of this magnitude. "What's been really beautiful about this partnership is the ability of all of [us] to work through challenges," says Moraczewski, "whether it's unforeseen conditions or historic weather occurrences, we've worked through those together." Shepard is equally as excited to see what the future holds. "The park takes on a life of its own, and that's what I expect to continue going forward."
You may also enjoy "VIDEO: Why the AT&T Building Matters."