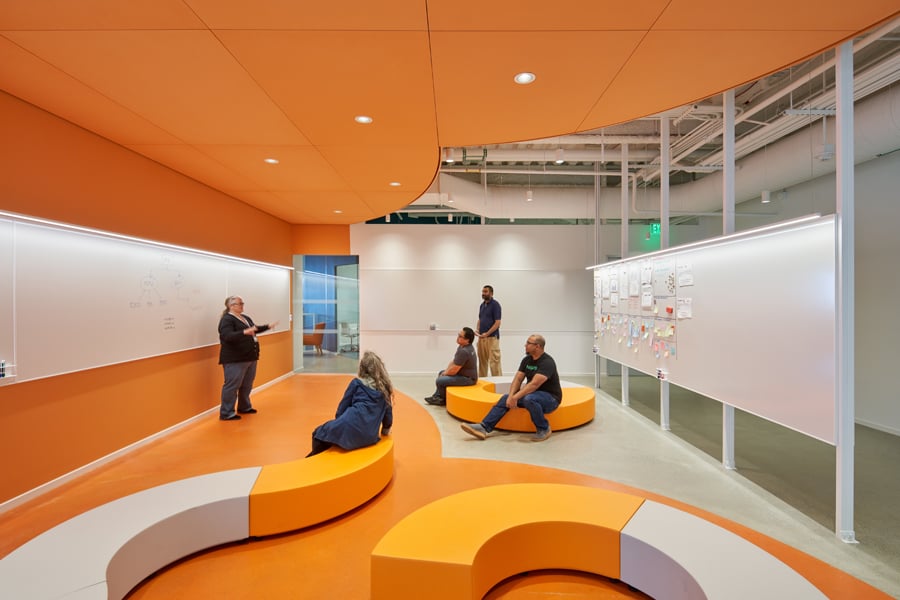 March 2, 2020
Stanford Embraces a Data-Driven Campus in Redwood City
An innovative outpost designed by Clive Wilkinson Architects brings the historic school into the 21st century.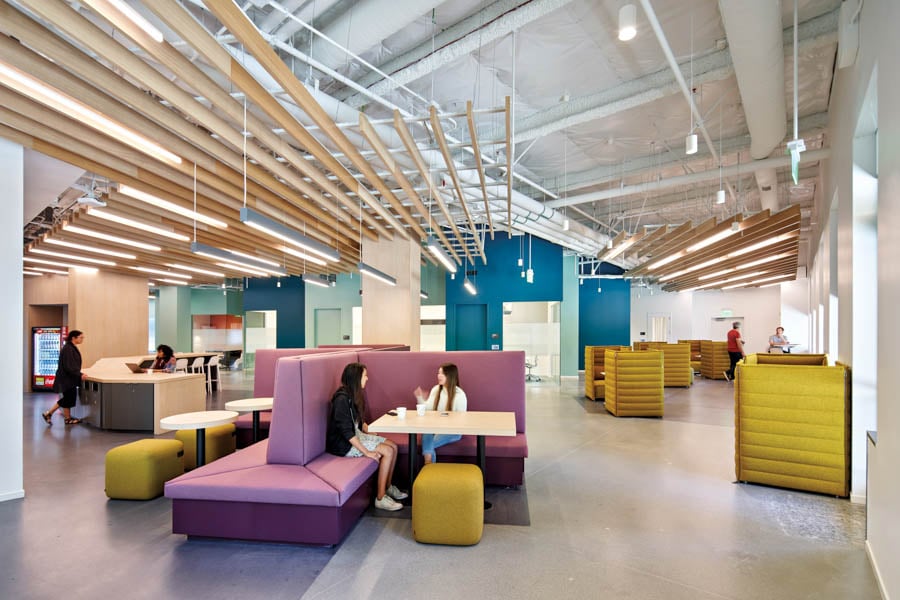 Harnessing institutional history to modernize how a client both looks and works, Los Angeles–based Clive Wilkinson Architects (CWA) recently completed the interior architecture for Stanford Redwood City. It is the first phase of a 35-acre development master-planned by ZGF for Stanford University, its first new location outside the main Frederick Law Olmsted–designed Palo Alto campus. Comprising four main office buildings, the campus—which spans more than half a million square feet—was intended to broadcast Stanford's capacity for innovation alongside its eclectic history.
The new buildings incorporate the limestone and terra-cotta seen elsewhere at the university. But in researching the context, four landmarks from Olmsted's original master plan compelled fresh color and material choices, says primary designer Humberto Arreola, listing the red barns and golden hills of what was originally farmland; the Arboretum; the Cactus Garden; and the iconic oval motif, a symbol of the school's educational mission.
To aid in the design process, CWA built a 6,000-square-foot kit-of-parts pilot space in Stanford Research Park, which served as the basis of a 20-week experiment that gathered 685 exit surveys from more than 70 departments. Employees cycled through every two weeks, monitored by occupancy sensors that made it clear, for example, that a 12-person conference room was rarely being used by more than six people at a time.
---
More from Metropolis
---
This data led the designers to introduce more diverse, collaborative spaces. "Why go to an office today when you have the tools to work anywhere?" asks Clive Wilkinson. "The consensus has become that it's a social reason." Uniting departmental diasporas on the new site allowed the team to create one shared, mixed-use "plaza" floor in each building, and to focus on mapping out workstation "neighborhoods" to promote a new unity. For Danielle Shaffner, project manager at CWA, the design moved employees from a homogeneous workplace of meeting rooms and cubicles into a more variegated program that expands the options for where—and how—people work.
You may also enjoy "Cesar Pelli's Only Building in the U.K. Is Now Home to a Coworking Space."
Would you like to comment on this article? Send your thoughts to: [email protected]