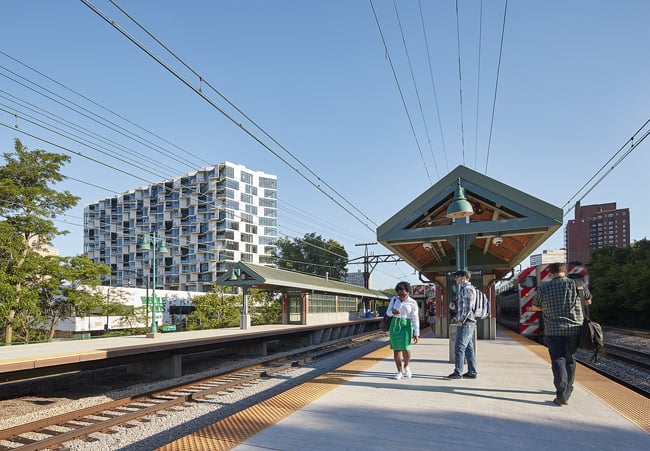 October 25, 2016
Studio Gang's Latest Residential Tower Fosters Neighborliness
A new residential tower by Studio Gang fosters neighborly interaction through imaginative architectural form.
Courtesy Tom Harris
As a building type, the high-rise embodies both technical sophistication and something of the architect's own ego. Yet few architects make their name as creators of consistently good ones; Mies van der Rohe may have been the last. Jeanne Gang, another adoptive Chicagoan, promises to pick up where he left off. For a noncorporate, non-megafirm, her namesake 87-person Studio Gang has the unique distinction of being defined by its high-rise designs. She announced her presence to the world with her Aqua Tower, in the northeast end of Chicago's Loop. In the next few years, Gang is due to follow Aqua up with the Vista Tower, a terraced skyscraper that will be the city's third tallest. Work will also begin soon on her writhing Folsom Bay Tower in San Francisco.
But shimmering high-rises like these are more likely to be splashed across chamber-of-commerce branding campaigns than anything else. After all, luxury skyscrapers aren't exactly tools to bail cities out of acute problems like housing shortages. As Gang reasons, "There's only going to be an elite percentage of people that can live in those supertall buildings."
---
More from Metropolis
---
To get a better picture of tall-building typologies that can offer more in Chicago, you have to look down—in terms of height and on a map—to City Hyde Park on the South Side. This 180-unit, 14-story rental-apartment building in the Hyde Park neighborhood cost a relatively modest $82 million. Its neighborly scale and unremarkable budget are likely to tell you more about the broad future of urban living than any cloud piercer uptown. "This is how we have to do housing to house everyone," Gang says of tall residential buildings like this. "They are the DNA of the city."
City Hyde Park has its own DNA as well. Working with Chicago graphic design firm Thirst, Studio Gang developed a branding motif of diamonds, parallelograms, and triangles drawn from the geometry of the building, and it's seen everywhere—on tote bags in the leasing office, on the lobby doors, and on lobby end tables next to where Gang sits on a hot, hazy August morning. She's plugging back into work, gradually, after a vacation camping in the Great Smoky Mountains. "I can't text," she grimaces. From the lobby, warmed by white oak-wood panels, she boards an elevator to the top floor, exits, and walks toward the building's signature feature and the source of these graphic riffs.
The south facade is a swarm of cantilevered balconies. The canted, criss-crossing platforms are meant to pull people out of their domestic solitude and encourage socializing. It's the result of long-running research on what Gang calls "exosocial" high-rises. Inside, there are the same subway tile and stainless steel appliances you'd find in any new upscale residential building. But the views beyond connect the social life of the place as few others do. From the living room, you can see about a half dozen neighbors' balconies and units. Out on the balcony, there are perhaps a dozen—close enough to toss over a corkscrew or lower a bottle of wine. Look down, and there's an acres-large sedum green roof over the retail and parking podium.
Courtesy Steve Hall © Hedrich Blessing
Gang sees this network of terraces as a way to build community among residents: to see, to be seen, to make friends. That this notion begins with views into private apartments and not quasi-public, fenced-in "streets in the sky"–style galleries (a common feature of many now-demolished Chicago public housing towers, where drug dealers would terrorize residents) means there will be plenty of opportunities for exhibitionism. The desire for this sort of thing was reiterated to Gang by the Aqua Tower's languidly curving balconies. Once while eating at a restaurant across the street, she witnessed a man in his underwear posing on his balcony through the course of her entire meal. At City Hyde Park, she says, "If you want to go stand naked in this corner, you could be seen if you wanted to. It gives people a chance to be outside their house and be at home at the same time."
This sense of being outside is enhanced by the impressive floor-to-ceiling windows. Standing at the intersection of panes of glass, which are angled at about 120 degrees, is like being on the prow of a ship. Some units offer nearly 270-degree wraparound views. It's not just a picture of the landscape; it places you in the landscape. And the views are more representative of Chicago than what downtown skyscrapers offer. To
the north, it's the Loop's island of high-rises. There's the neo-Gothic tracery of the University of Chicago to the south, Lake Michigan to the east, and a bird's-eye view of Hyde Park's gracious collection of red-brick domiciles with terracotta detailing. A Metra commuter rail station seems close enough to touch. "The angling of the windows gives you a near-panoramic view that is quite lovely," says Frances Ferguson, a University of Chicago professor who moved in in June. "The train tracks look especially beautiful." Two-bedroom units rent for around $2,000, while the largest three-bedrooms go up to nearly $5,000, attracting white-collar professionals and academics like Ferguson. (The building also contains 36 subsidized housing units.)
Beyond the vertical web of hang-out nodes, there are behind-the-scenes building performance experiments as well. During the entire meteoric rise of her career, Gang has had to fend off accusations of architectural waste only once: criticisms that without thermal breaks to halt the transfer of energy, Aqua's continuous-pour concrete balconies let heat radiate into the building. No one has produced any data to prove this is an issue, Gang says, but she's looking to City Hyde Park to settle it. Some balconies there have wedges of Styrofoam between the inner facade and the floor plates to block the transfer of heat. Thermocouples will collect temperature data through the end of the year.
This balcony system, like Gang's best work, hints at an architecture where engineering and structure are almost exclusively the jumping-off points for formal exploration. It's an idea that was largely incubated in Chicago's midcentury Modernist cradle, a structural gestalt and ethos swept aside by Derrida, flush economies since flushed, Frank Gehry's airplane design software, and arbitrary building-as-symbol one-liners. In Gang's hands, the strategy still has potency, while new techonologies have made it ripe for further exploration. "It's a whole territory ready to be more celebrated, more understood, more exploited," she says. But there are a few problems. The building's substantial podium is decorated with a pixelated composition meant to resemble Hyde Park's tree canopy. It's a knee-jerk sop to context that just doesn't amount to much. The rest of the plinth (containing a Whole Foods and other retailers) is blank and overbearing, a thudding denouement to all of Gang's stunning articulations above. Its low-lying south face is almost totally blank, and the best you can say about it is that it's mostly hidden by an adjacent gas station.
Courtesy Hedrich Blessing
Even so, City Hyde Park retains a hip, European social housing vibe, more akin to a residential block on the outskirts of Madrid designed by a fashionable group of thirty-somethings than any workaday developer-led apartment house. And that makes it an intriguing fit for Hyde Park, where it's neighborhood's the only large contemporary residential tower. Still largely defined by University of Chicago cofounder William Rainey Harper's arch-traditionalist (even for 1892) neo-Gothic architecture, Hyde Park has an insular, intensely studious atmosphere to it, like a place you have to be invited into. Relatively remote, Hyde Park began as a streetcar suburb, and Gang says some of this sleepy, provincial nature has persisted. "It feels weirdly suburban," she says.
Through the mid-20th century, urban renewal policies encouraged the neighborhood to evolve into something like a suburban-style bedroom community; messy, Jane Jacobs–approved diversity gave way to built monoculture. Not for nothing is some of the most notable Modern architecture from this era fortresslike town homes by I.M. Pei and Harry Weese.
Hyde Park's Modern architecture legacy might not be widely known, but it's part of a wider spectrum of architectural experiments that makes City Hyde Park feel a bit more at home. From Frank Lloyd Wright's Robie House to Helmut Jahn's University of Chicago buildings, and the Tod Williams and Billie Tsien–designed Obama presidential library, which will take root nearby, Hyde Park has long been a space for quirky experiments in the shadow of historicist authority. "We wanted to be part of that legacy," says Peter Cassel, director of community development at MAC Properties, City Hyde Park's developer-owned management company. "We wanted what we built to fit into that fabric."
City Hyde Park has a chance at making its neighborhood more of a heterogeneous, social place. But the types of interaction Gang's building offers aren't just for rowdy summer nights and early morning yoga. It might start there, but Gang believes familiarity breeds empathy and empathy builds great cities. "If the social fabric starts to degrade and we don't care about each other," she says, "how do we continue to be connected?"
Courtesy Hedrich Blessing
Courtesy Tom Harris
Courtesy Hedrich Blessing
Courtesy Hedrich Blessing