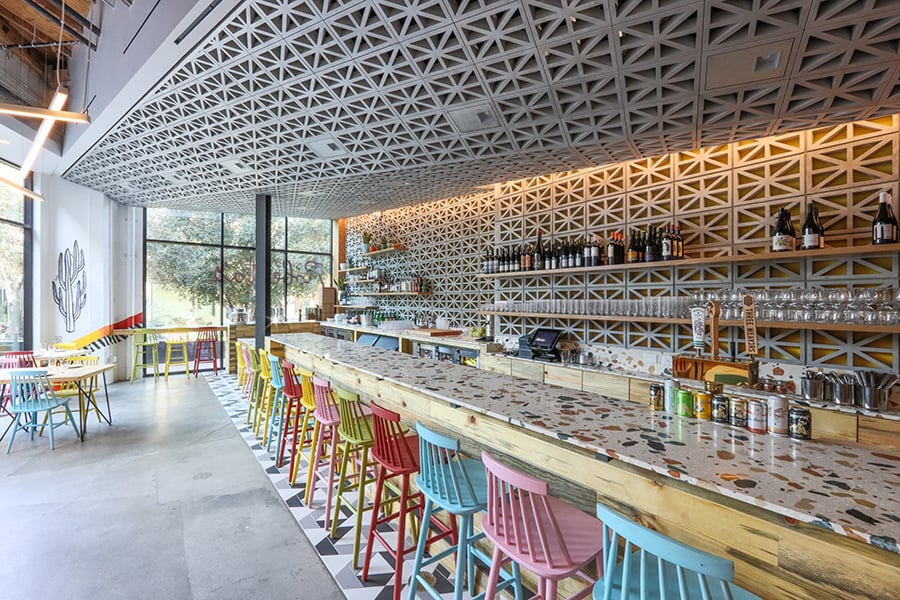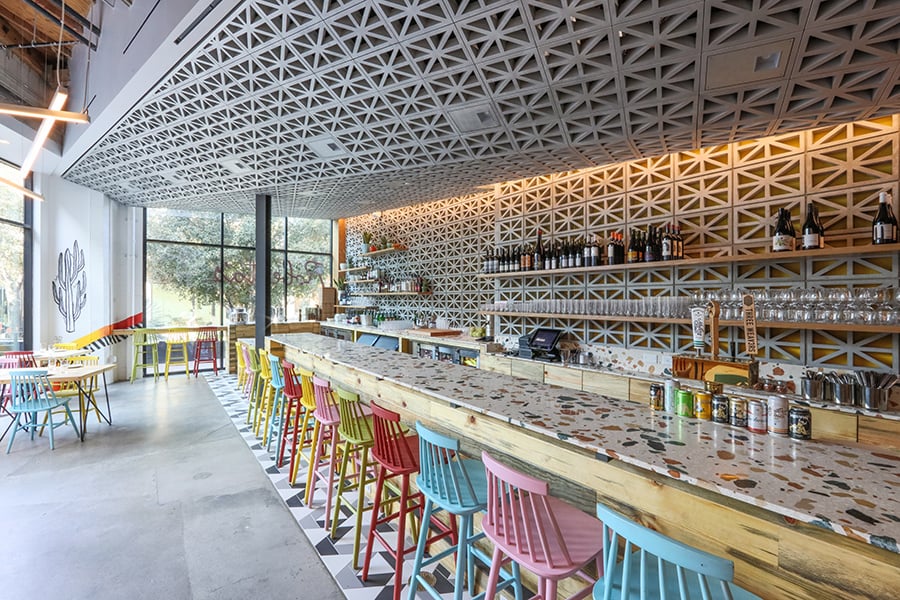 February 5, 2019
A Slice of New York with a California Twist: Studio Jesse James Designs Roberta's Pizza in Los Angeles
Roberta's, a pizza pilgrimage destination in Brooklyn's Bushwick neighborhood, wanted a fresh, locally-attuned look for its Culver City outpost.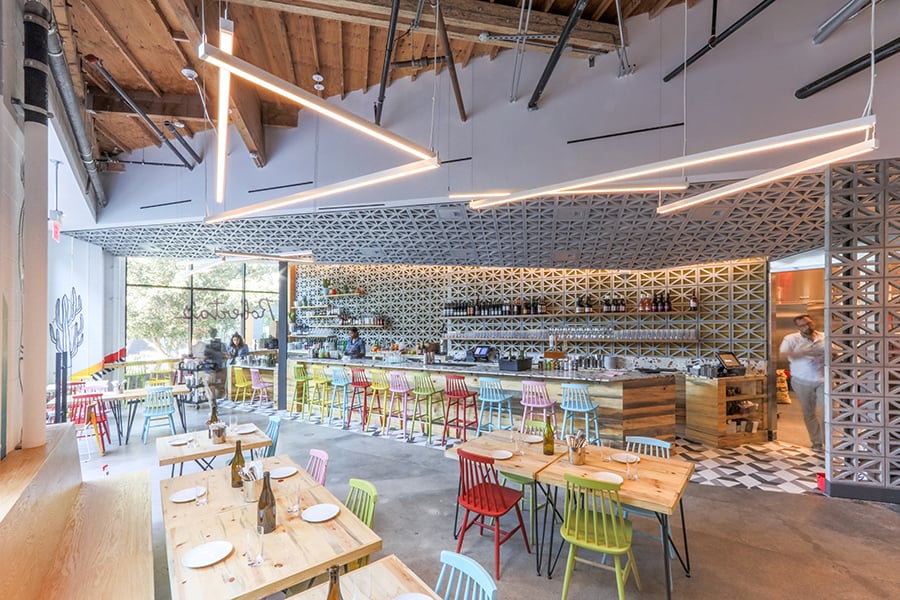 ---
After a series of pop-ups intended to see if the L.A. market was receptive, Brooklyn-based Roberta's Pizza co-owners Carlo Mirarchi and Brandon Hoy decided it was time to properly bring their cult-status food out to Platform, Culver City's hip, fashion-focused boutique retail center.
The task of merging the casual, urban vibe of Roberta's (a pizza pilgrimage destination in Bushwick since 2008) with a lighter California sensibility fell to architect Jessica Voigt of Lexington, Kentucky–based Studio Jesse James. Voigt was design lead on Platform itself back when she was on staff at Culver City–based Abramson Teiger Architects; she even worked on Hayden, another restaurant located within Platform. Those connections made it easy for the studio's team to work closely with the property owners in addition to the Roberta's Pizza team.
"They told us they did not want to recreate Bushwick," she recalls of her early conversations with restaurateur Hoy and chef Mirarchi, who also have two Manhattan locations. Given they would be "moving into an established complex," they wanted something attuned to Platform and its target demographic. While Roberta's isn't a by-the-slice type operation, the designers nonetheless used the pizza slice as inspiration; they incorporated triangular motifs throughout, from the Wow Design concrete tile floor pattern to table legs.
---
More from Metropolis
---
---
Geometric concrete breezeblocks became the dominant visual component, which the owners of Roberta's had fallen for in Miami, of all places. But the material and concept still felt right for the West Coast. "If you're going to do breezeblocks, then we're really going to do it," Voigt says. "We just sort of ran with it." For the expansive wall in the counter and bar area, concrete blocks, formed into what Voigt describes as a "Union Jack"–like shape, were hand-poured and custom made at a facility near Joshua Tree. Then the self-supporting ceiling extension above the counter turned out to be a formidable challenge.
Following a series of back and forth conversations with the city, Voigt wound up devising a complex solution to avoid the prohibitive challenges of installing hefty concrete blocks on the ceiling. Instead of whole concrete breezeblocks, the studio devised an aluminum-resin composite that could simulate the appearance of concrete. To make installation easy, they divided the typical breezeblock shape into a kit-of-parts that could be hand-glued in place. From a distance it's hard to immediately tell that the ceiling blocks are composed of "two different materials. If you study it, one has more of a metal look, but one has more of a concrete look," Voigt explains. And the Italian wood-burning pizza ovens in the visible kitchen (near the area designated for to-go orders) make for "a huge prominent feature," naturally.
The overall gray palette enables the food to "really pop," Voigt continues. The same goes for the colorfully-painted, blue-stained knotty wood indoor chairs. She also had her heart set on the aggregate terrazzo countertop surface from Italy that evokes sauce, cheese, and the other casual, soulful culinary elements of a pizzeria. The space is enlivened with abstract and figurative murals by L.A. artists Jillian Evelyn, Jason Woodside, and Jaroslav Vladislavovich.
While this iteration of Roberta's, along with its broader cultural context, has attracted recent criticism, Voigt notes that Platform has "created this interesting place to go to—not to eat, but to just hang out … It's really popping around there, and Roberta's is an anchor."
You may also enjoy "Sumptuous Textures and a Rich Material Palette Define Portland's New Woodlark Hotel."