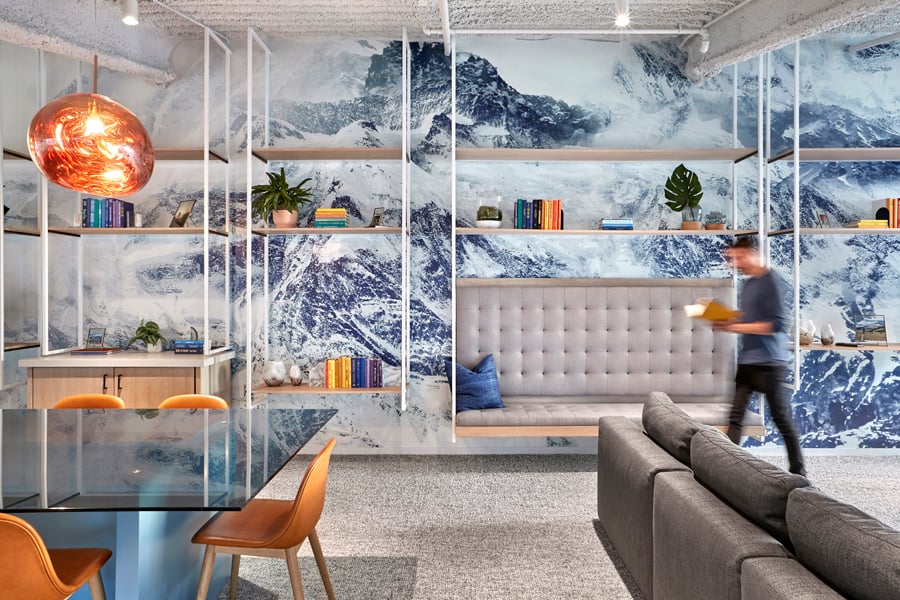 June 11, 2019
Inside Slack's New San Francisco HQ
Studio O+A crafts the ultimate workplace for Slack by channeling life on the Pacific Crest Trail.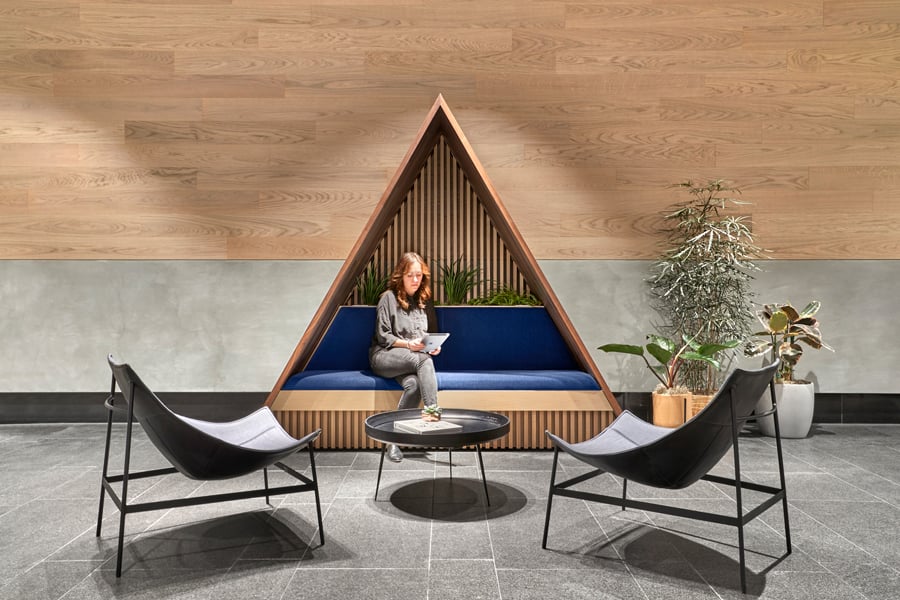 ---
Standing in Slack's new headquarters on Howard Street in San Francisco, this much is clear: The company has made a rapid ascent above the timberline of tech success. But while many start-ups might have their eyes fixed on the summit, Slack seems to be enjoying the view on the way up. Offering cloud-based team collaboration software, the enterprise—the product of a failed game design start-up, which leveraged the fumes of its investors' money to turn its own intranet into a communications app—is now en route to a public offering. The app is used by Michelin-starred restaurants and beer clubs, police departments and tenants fighting mass evictions, NASA's Jet Propulsion Laboratory, and at least one of the Howard Street building's architects, who uses it to communicate with his dog walker. In less than five years, the company has earned a valuation of more than $7 billion. "We may have failed," Stewart Butterfield, the CEO and cofounder of Slack, once said. "But we were incredibly productive."
One result of this digital success has been some good old analog design: Slack has commissioned international architecture and interiors from marquee offices, including Snøhetta in New York, Suppose Design Office in Tokyo, and the San Francisco–based firm Studio O+A, which completed the new HQ late last year. Like the offices of software powerhouse Salesforce across the street, Slack's ten floors of interiors riff on the outdoors. But in Slack's case, the result is less an exercise in branding than an articulation of a teamwork ethos based on trail etiquette. These values also happen to lie at the heart of the Slack app, which is all about finding ways for groups to work together, even when members aren't in the same room. Appropriately, Butterfield's given name is Dharma, from a Sanskrit term meaning "the path" or "the way." Raised in a willfully electricity-free home in rural Canada, Butterfield is a lifelong off-grid wilderness hiker whose penchant for the outdoors has imbued Slack's office culture with habits of collaborative self-reliance. This hiking etiquette–turned–office philosophy became the inspiration for O+A's design, which, floor by floor, evokes the varied landscapes found along the 2,650 miles of the Pacific Crest Trail.
---
The shifts in terrain between each level form a gradient of landscapes defined by color, material, texture, plant species, artisanal finishes, and subtle but space-defining lighting schemes. Circulation ascends into the foothills from the A-frame seating "cabins" of the lobby over the warmly lit deserts of the lower floors (2–3), up the cooler-toned mountains, through waterfalls and streams and forests (4–7), into a volcanic crater (8) and the icier white light of the glacier and summit floors (9 and 10). As staffers travel from one level to another, changes in biome announce themselves on the walls of the elevator vestibules, which feature chalky strata, mineral textures, and pelagic hues interpreted in custom plasterwork. Throughout, craft stands in for art and does it justice.
---
More from Metropolis
---
The building's interiors represent a considerable maturing of the tech industry. "There is no foosball, no primary colors, no slides, no gimmicks," says O+A principal and cofounder Primo Orpilla. Each floor features a field of open-plan workstations—seats are assigned—juxtaposed with smaller "on the trail" vignettes: The second-floor Rocky Desert hosts an IT help desk and a lounge, rendered in baked earth colors, planted with live cacti, blond-wood seating platforms, and terra-cotta breeze-blocks that evoke Baja sand. The seventh floor channels the sylvan Pacific Northwest with "fairy ring" seating—designed to recall the ringed formations of mushrooms on the forest floor—and lush green walls. On level 5, a custom paint job mimics dawn mist creeping over the surface of an alpine lake.
Those who explore will be rewarded for their efforts, as the designers have installed "scenic surprises" along the trail. On the second floor, there's the Sunset Lounge, where circadian lighting shifts throughout the day; on another, a dichroic glass–lined corridor that recalls the aurora borealis. "You don't just walk along the trail and see the same thing over and over again," says Dan Kretchmer, director of projects at O+A. (Kretchmer himself is an outdoorsman, having guided backpacking trips as a teen.)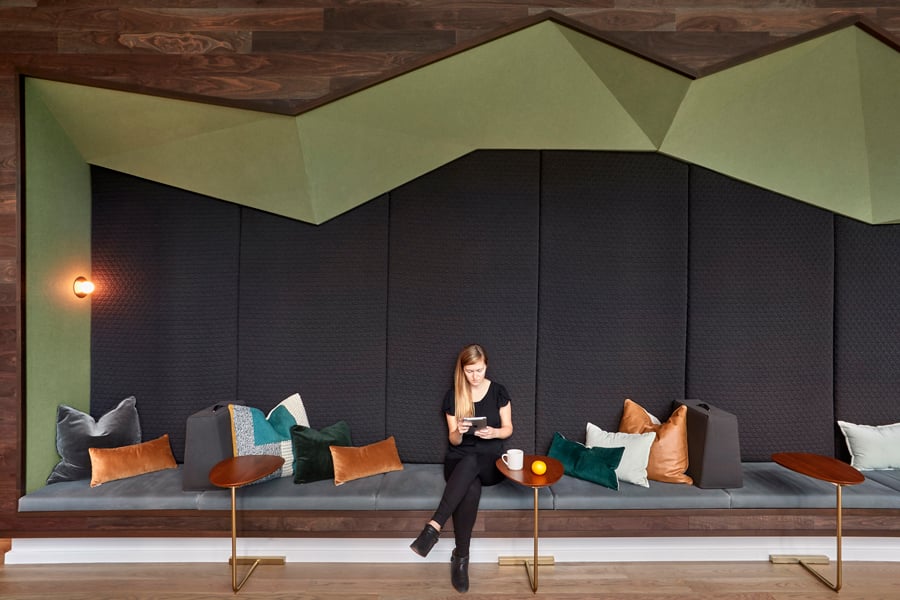 ---
But beyond visual complexity, the design strategy of the office promotes freedom within community. Throughout the building, the design of which cost roughly $340 per square foot, O+A has interwoven privacy with transparency, introversion with extroversion, with degrees in between. Solo and communal workspaces of all shapes and sizes run rampant: Inside the forest level's "fairy rings," real birch tree trunks or nylon backpack straps encircle round, sunken benches, while on the Glacier floor, a faceted alcove sinks into the wall to provide a bivouac for one. Armchairs placed along the windows behind one of the residential-looking kitchens allow sitters to be alone among others, and are positioned for generous views of the city. There are small nooks and spacious conference rooms, and brainstorming playpens that double as social areas. Many of them, like a coffee bar and a fireside tea lounge, take their cues from retail and hospitality.
An outdoorsman's belief in serendipity—that taking the long way around or the indirect route can present new opportunities—also plays into the design. Partly because staffers are moving into the building in phases, but also because the plan is deliberately irregular, some areas feel sparsely occupied in spite of the 1,100 people already settled in. "The plan, by design, is a circuitous one," explains senior O+A designer Dani Gelfand, who points out that one of Butterfield's goals was to pique users' curiosity. To that end, seating areas resemble rocky outcroppings, prompting employees to take detours rather than the most direct path. A warren of rooms and social spaces nestle around the building's core, connected by meandering hallways, many of which feature hidden art installations or hideaway seating dens. "Central to this idea," she says, "was the notion of promoting casual collisions and forcing employees to take a different route from A to B."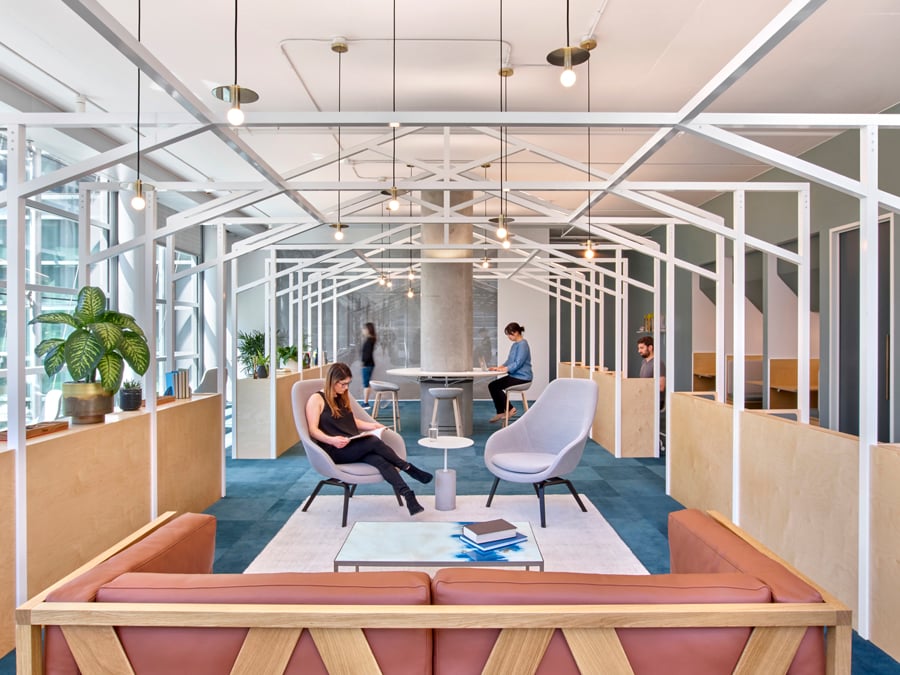 ---
Of course, workplaces like Slack's are effective only when coupled with staff policies that support flexible use of the space. Accordingly, employees are encouraged to reserve meeting or work space on other floors. To control noise without micromanaging colleagues, employees take calls and have conversations toward the center of the floor plate, directing chatter away from quiet zones. These types of policies provide the focus, freedom of movement, and diversity of experience that keep employees engaged as they work so they get the job done and go home.
Across the HQ, the plethora of terrain types translate naturally into a variety of work postures: Caves, tree canopies, and overlooks, for example, serve as nooks, shelters, and elevated platforms. But this variety has also allowed O+A, organically, to privilege experience and people over predictability and efficiency. "Because the building meanders like a trail, it is big and diverse enough that employees take a long time to discover all its nooks and crannies," says Orpilla. "How do you make people feel important, but also part of something bigger than themselves? No space in this building feels secondary. I want to explore every corner of it."
You may also enjoy "From the Metropolis Archives: Designing the First "Googleplex" Office."
Would you like to comment on this article? Send your thoughts to: [email protected]