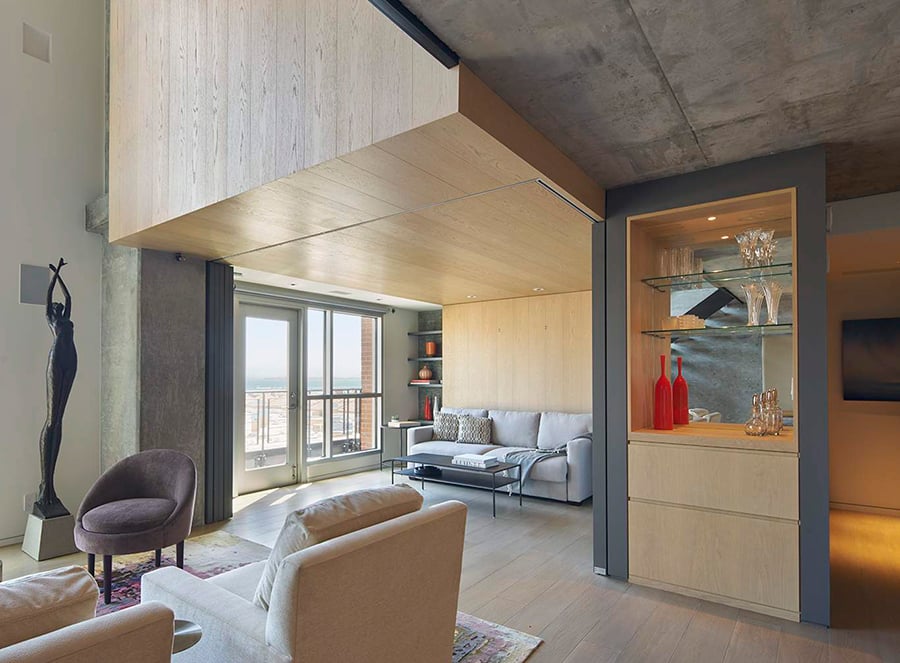 May 15, 2019
Studio VARA Revitalizes a Spacious Apartment in San Francisco's SoMa Neighborhood
The apartment, which looks out to the Bay Bridge, features ample exposed concrete, white oak accents, and a luxe travertine bathroom.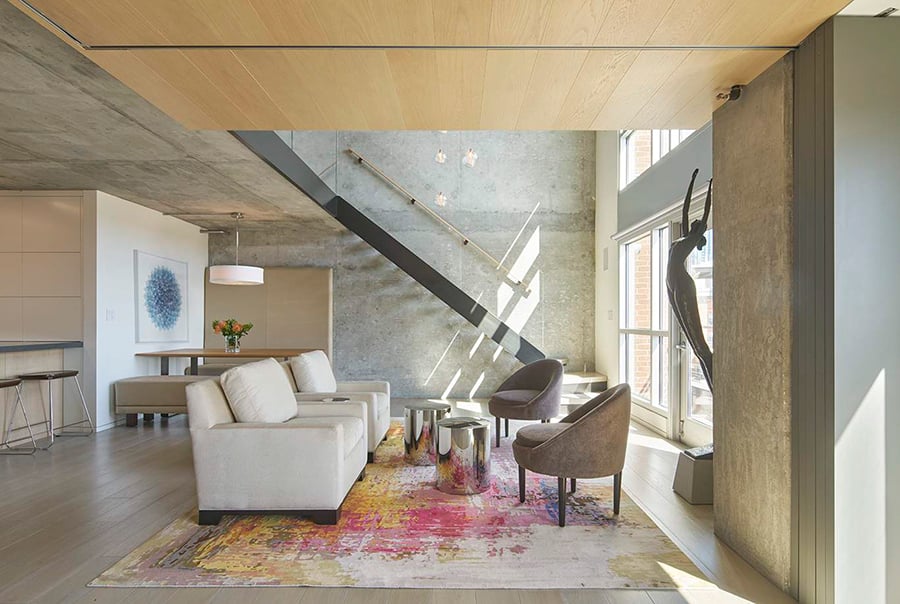 ---
While the San Francisco–Oakland Bay Bridge is a familiar, if not weary, sight for the 300,000 commuters who cross it daily, one couple's intimate relationship with the bridge arises from the sweeping views from their loft in San Francisco's SoMa district. Prior to its renovation in 2017, the 1,700-square-foot loft suffered from a cramped, uninspired interior. Local firm Studio VARA collaborated closely with the repeat-clients (who own multiple properties in northern California) to help the pied-à-terre realize its full potential. The designers transformed the unit's small, white rooms into an open floor plan with a sophisticated material palette of concrete, blackened steel, and white oak.
During the renovation, the loft was stripped of unnecessary drywall and soffits, exposing the underlying concrete. A number of clever spatial solutions—such as a kitchen island and media shelving unit—create distinct areas without compromising the open layout. Movable wall panels can turn an alcove of the living room into a guest bedroom. According to the former studio director, Brett Moyer, conceiving a sliding partition without putting tracks in the floor was the biggest challenge. After an extensive search for the right kind of hardware, the design team's solution was to mount the six gunmetal gray panels from the ceiling, which could be seamlessly accordioned away while not in use.
---
A minimal stair cuts diagonally through the space and serves as a focal point for the room. Moyer describes the loft's previous staircase, with its closed risers and heavy steel mesh guardrails, as an "eyesore." In the new lighter, thinner, and more sculptural design, Moyer sees some "similarities between the architecture and the engineering of the bridge and the stairs."
---
More from Metropolis
---
While the Bay Bridge may have subtly influenced the apartment's design, the steel-and-concrete structure directly informed certain decisions, especially pertaining to lighting. Studio VARA worked closely with a lighting designer to achieve a luminosity that was not so bright so as to cast a glare on the windows that could interfere with the view of Leo Villareall's light installation on the bridge's western span. Every evening, the couple watches as 25,000 LED lights create a variety of undulating patterns across the bridge's vertical cables, at times mimicking the headlights of traffic or the glistening surface of the water below.
You may also enjoy "Outside Puerto Escondido in Oaxaca, Mexico, an Eco-Resort Balances Design and Nature."
Would you like to comment on this article? Send your thoughts to: [email protected]