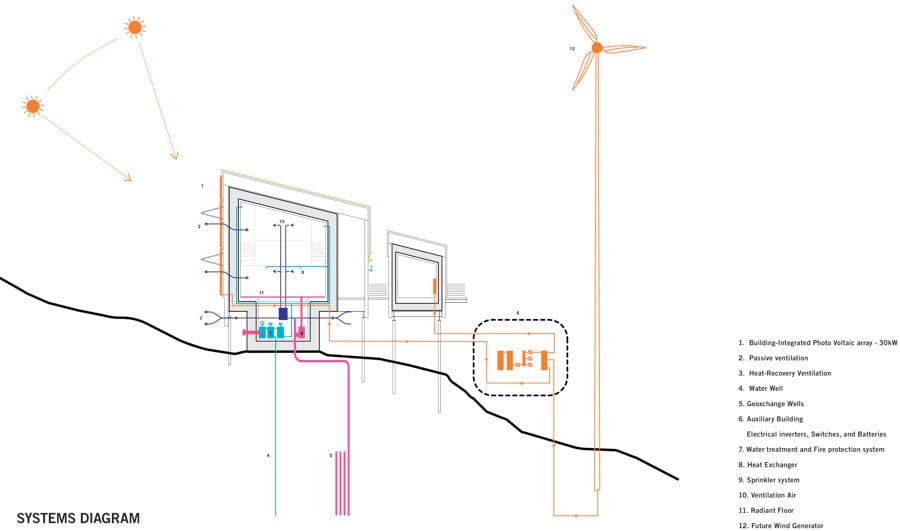 October 29, 2020
An Off-Grid Retreat Has Lofty Sustainability Goals
Using Passive House principles, Perkins and Will prototypes a secluded alpine home high in the mountains of British Columbia.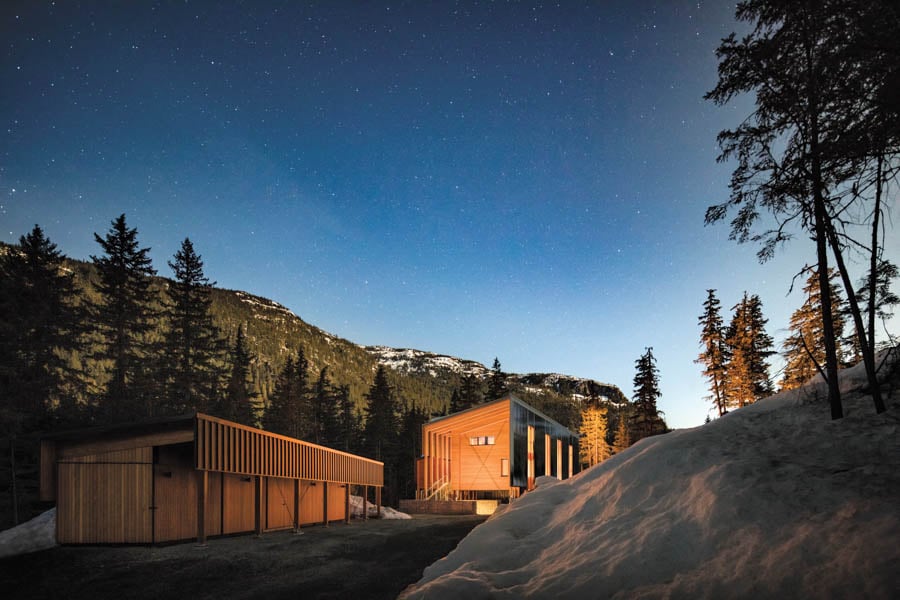 British Columbia's scenic Sea to Sky Highway is an outdoorsman's paradise, winding its way northward through mountain passes and valleys thick with evergreens before depositing visitors at Whistler Blackcomb, a resort famous for its twin peaks, powdery slopes, and lively après-ski scene.
Fourteen miles farther, a nondescript dirt logging road hugs the Soo River and takes you even deeper into the wilderness. It is here on an isolated parcel of land that Perkins and Will has created a retreat. The elegant timber residence, called SoLo (a riff on its location), may have all the trappings of an upscale winter lodge—cozy wood finishes, sweeping views out onto nature, and a detached sauna to boot—but a glamping outpost it is not: It operates entirely off the grid without the need for fossil fuels. The idea, according to architect Alysia Baldwin, who led the project out of Perkins and Will's Vancouver office, was to build a case study in energy performance and sustainable development, "to prove that you can go above and beyond and do better with the buildings we build." Call it a cabin with a conscience.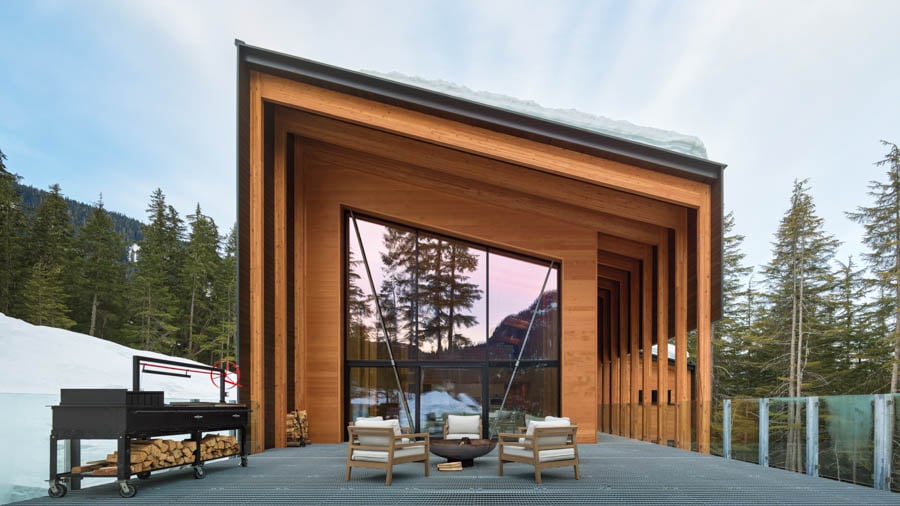 The concept for this secluded sanctuary grew out of a proposal for a project nearly 80 times its size and two hours away. Perkins and Will had been tapped by Delta Land Development, a real estate firm in Vancouver, to design a zero-emissions mixed-use tower that, at 40 stories, would be the world's tallest mixed-timber building. Until that project got the go-ahead from city officials, Delta wanted to develop a smaller-scale proof of concept. The developers reasoned that if they could achieve an off-the-grid building in the middle of the forest, they could scale the concept virtually anywhere.
---
More from Metropolis
---
But designing a high-performance building in Soo Valley—where snowfall can pile over six feet and temperatures can plummet to –20 degrees Fahrenheit—was no easy task. What's more, the site's circuitous gravel roads and unpredictable weather patterns contributed to a narrow on-site construction window. "The remote location was definitely a challenge," says Baldwin. "And it basically drove all the design decisions we made."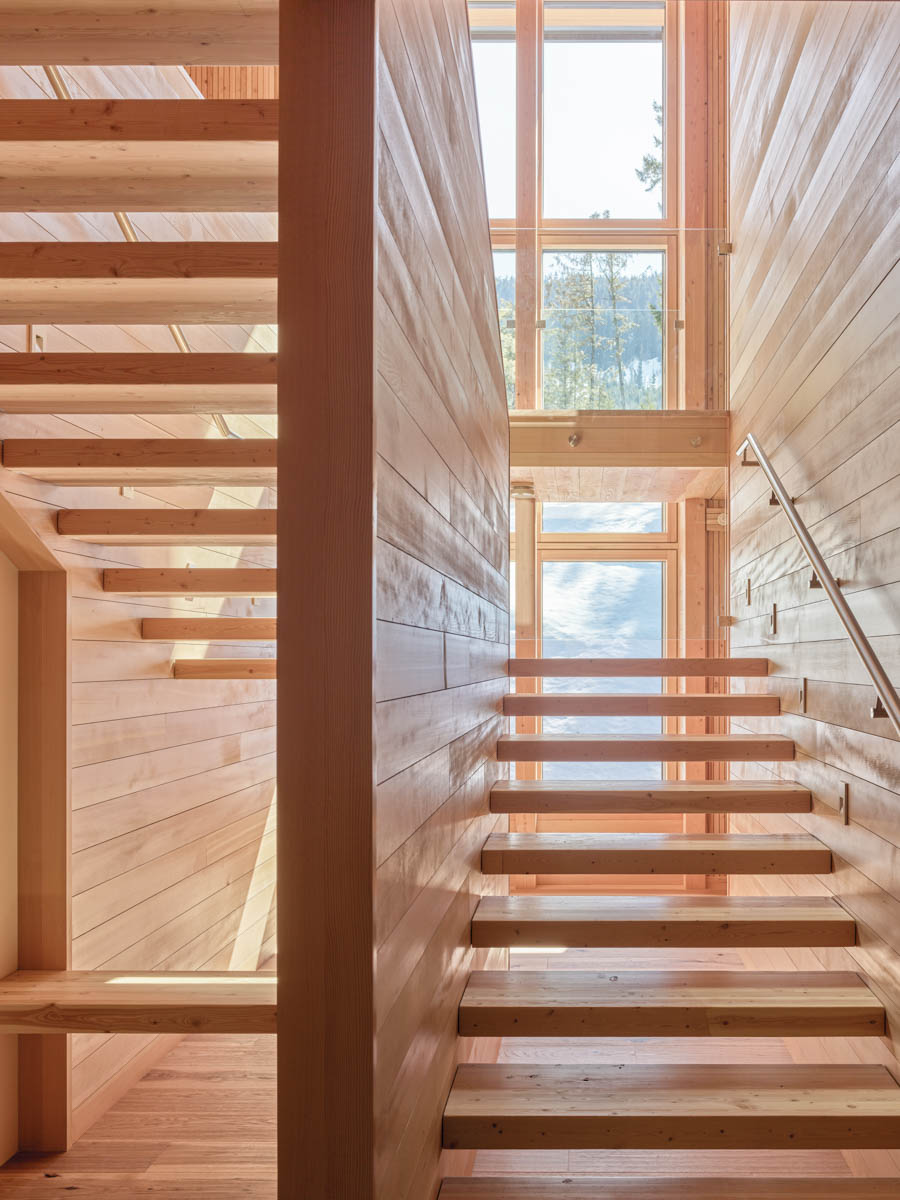 To compress the construction schedule and adhere to stringent Passive House principles set forth by extensive energy modeling (airtightness chief among them), the architects worked with a local fabricator to build all of SoLo's elements off-site and then ship the flat-packed components for assembly on the property. The architects carefully located the 4,090-square-foot structure—shaped like an extruded trapezoid—on a wooded knoll on the approximately 225-acre property to offer flood protection, provide privacy and views, and maximize the sunlight hitting the building's photovoltaic (PV) panels, the structure's primary source of renewable energy. "The south wall is working very hard," Baldwin says. "It's got large windows to maximize our solar gain, but it's also acting as our PV wall."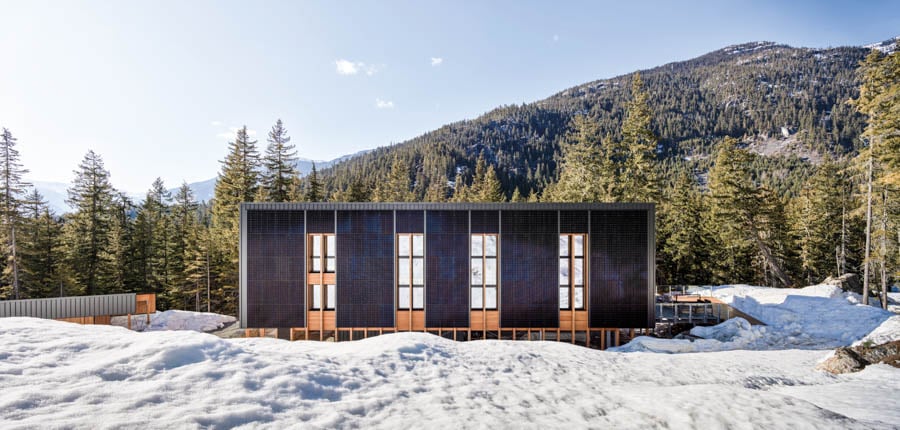 To help the building operate completely off the grid, a battery stores 96 kilowatt-hours of energy from the PV array (about three days' use) to tap into when the sun isn't shining. If power goes out completely, the house has a hydrogen fuel cell for backup. Heat, meanwhile, is drawn from a ground-source pump, and water comes from a well dug on the site. According to the architects, SoLo sequesters nearly 200 tons of carbon dioxide—the equivalent of taking 40 cars off the road for a year.
Delta hopes that in addition to serving as a prototype for future projects, SoLo can be an educational tool to help school groups and families understand how they can reduce their impact on the environment. The dream? To build a series of SoLos as an alpine community united in environmental stewardship. To further show it is committed to the area, the developer contacted artists from the Lil'wat and Squamish First Nations, whose traditional territories surround SoLo. Now two large-scale artworks flank the dining table, one from each nation. "It represents the coming together of community," says Baldwin, "and building on a commitment to serving as a place for gathering, education, and learning."
You may also enjoy "In Rotterdam, MVRDV Recasts the Archive as Museum"
Would you like to comment on this article? Send your thoughts to: [email protected]
---
Register here for Metropolis's Think Tank Thursdays 
and hear what leading firms across North America are thinking and working on today