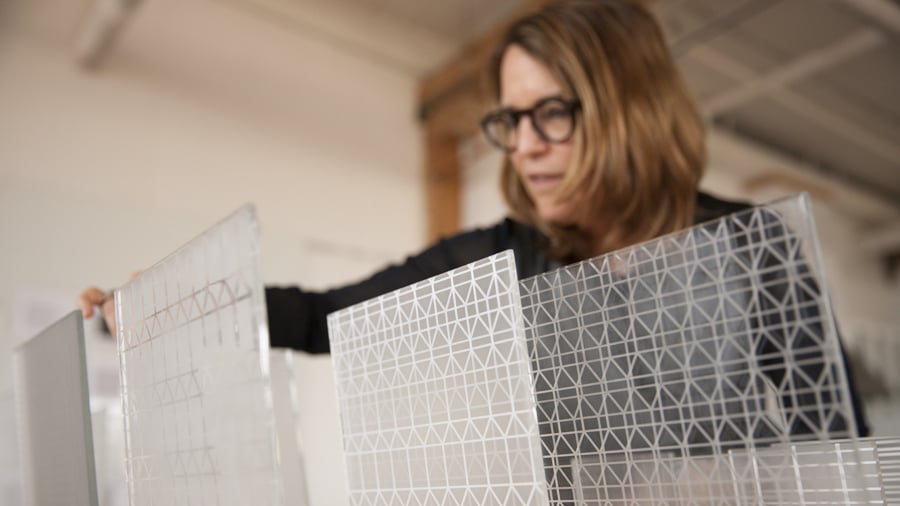 June 2, 2017
Suzanne Tick Ventures Into Glass for Skyline Collection
The Transcend collection, which debuts at NeoCon this month, provides a mind-boggling palette of privacy solutions.
Architecture is an endless source of inspiration for textile designer Suzanne Tick, and she has brought that sensibility to a number of her projects, be they flooring for Tarkett or upholstery for Luum Textiles. "I go by every building skeleton and take a picture, and think, 'That's going to be the next weave structure,'" she says.
So when glass manufacturer Skyline Design approached her to create its latest collection, Tick saw it as an opportunity to make a statement with an architectural material. Too often she has found interior glass to be bland or, worse, merely decorative, she says. "We wanted to emulate the exterior of the building and bring it inside."
The result was the Transcend collection, which debuts at NeoCon this month. The line includes six patterns—three geometric and three textural—that take full advantage of Skyline's etching and printing capabilities to fade in and out or offer different areas of transparency and opacity. The fully customizable designs can also be combined with one another on transparent, translucent, or back-painted glass, providing a mind-boggling palette of privacy solutions. And, in a new extension of Skyline's capabilities, the etched patterns can also be used on exterior glass—creating possibilities for seamless transition from outside to in, and from public areas to private zones.
---
More from Metropolis
---
Tick's mission is to get designers to talk about privacy and openness earlier in the design process, and not leave glass as an afterthought. "There's so many variables," she says. "If you don't have the dialogue, then they don't know what they don't know."
If you liked this, you may also enjoy learning about Scholten Baijing's innovative new glass as well.