September 20, 2017
Tezuka Architects Win 2017 Moriyama RAIC International Prize
The firm won the $100,000 award for its Fuji Kindergarten, which is specially designed for autistic children, in Tokyo, Japan.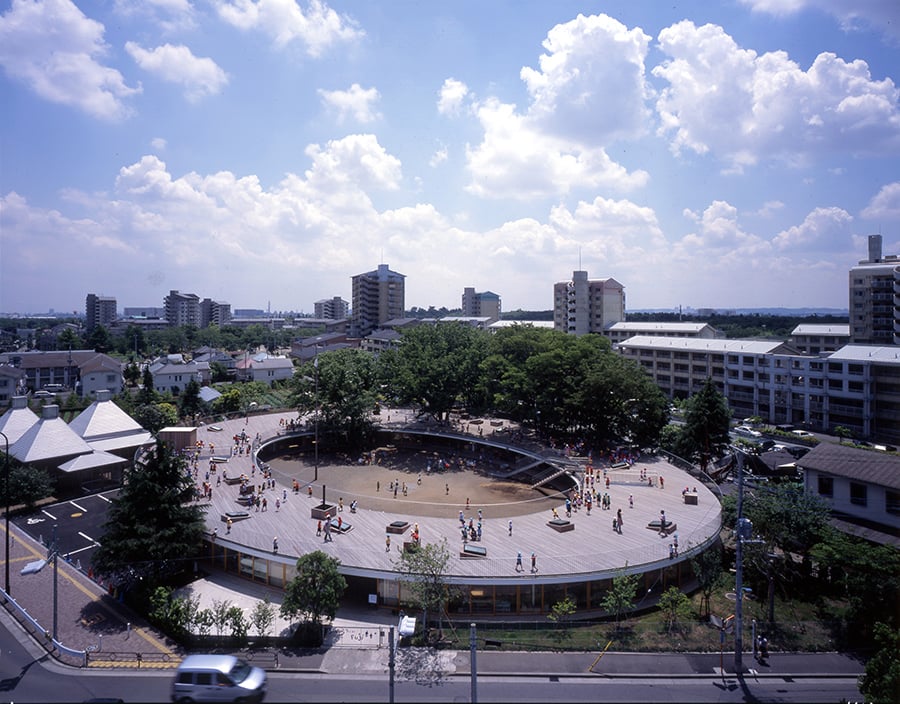 Yesterday the Royal Architectural Institute of Canada (RAIC) announced that Takaharu Tezuka of Tokyo-based Tezuka Architects has taken home this year's Moriyama RAIC International Prize for his Fuji Kindergarten, which also located in Tokyo, Japan.
The Prize was established in 2014 by Canadian architect Raymond Moriyama, the RAIC Foundation, and the RAIC, and it honors a single architectural project "that is judged to be transformative within its societal context and reflects Moriyama's conviction that great architecture transforms society by promoting social justice and humanistic values of respect and inclusiveness." The award is given every two years and is open to all submissions; a seven-member jury (composed primarily of architects) selected Tezuka Architects' Fuji Kindergarten in Tokyo from a pool of 17 projects.
The 15,276-square-foot building features three Zelkova trees (pre-existing to the site) that poke through the structure's floor and ceiling plates; the one-story school is topped by an extensive roof deck. Additionally, thanks to extensive sliding glass doors, the classrooms are nearly totally open to the interior courtyard for two-thirds of the year.
---
More from Metropolis
---
This openness (in the classrooms and roof deck) was especially motivated by an unconventional reason: among the school's 600 students, more than 30 have autism. The building's openness exposes the students to a baseline of white noise from the surrounding city, a factor which greatly alleviates the symptoms of the autistic students. "Typical building regulations say that you need to have a box in a classroom where an autistic child can hide. But inside a box they cannot hear any noise, and this is when symptoms begin to show," say the architects in a press release. (The firm cites one unnamed scientist who advocates for certain levels of white noise—20 kilohertz and up—to combat autism symptoms.) "It is not natural to be in complete silence. I suspect that the design of modern, quiet school buildings could be the cause of many autistic symptoms in children," Tezuka Architects adds.
"What perhaps sets the Fuji Kindergarten apart is the sheer joy that is palpable in this architecture," says Barry Johns, jury chair and a trustee of the RAIC Foundation, in a press release. "It is one of those rare buildings—comprised of a geometric plan, a single section, a roof, and a tree—that in their utter simplicity and unfettered logic magically transcend the normal experience of learning." The jury added that: "The space by Tezuka Architects took a new look at kindergartens…. There is no hierarchy to the place; the teachers and the kids all have an equal status architecturally, which is a direct result of the form and the way the whole building opens up. It is an egalitarian, comfortable, and physically stimulating place for children."
The school, which opened in 2007 and teaches in a Montessori method, doesn't need to keep toys on the roof. "The rooftop itself becomes the play equipment," say the architects. The project also features a skylight in each classroom and a system of modular furniture blocks designed by Tezuka Architects." In its press release, the jury concluded that: "Simple and clear, delightful and original—a seamless marriage of form and function. The limitless structure of the space liberates the child's imagination, enabling average runs of five kilometers a day."
You may also enjoy "Community Colleges Are the Next Frontier for Bold Architecture."