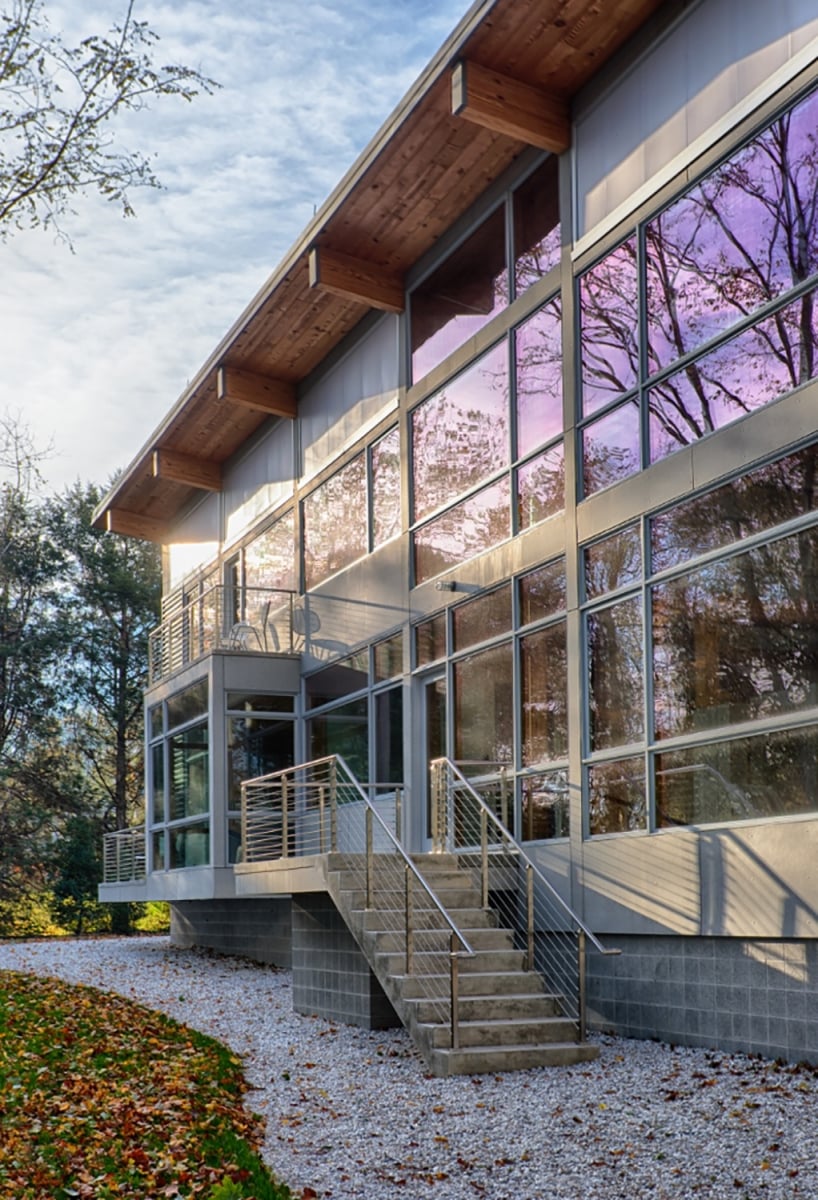 February 16, 2016
The Alvhem House Brings Scandinavian Charm to the Chesapeake Bay
With its wall of windows and panoramic views of the Corsica River, Alvhem—which translates to "river home" in Swedish—lives up to its name.
The Alvhem House blends contemporary touches with traditional Swede-inspired wooden elements.
---
Centreville, Maryland is more than 4,000 miles away from the Swedish countryside. Yet, the recently completed Alvhem House adds a bit of Scandinavian charm to the Old Line State.
Perched atop a two-acre bluff overlooking the Corsica River, the home blends contemporary touches like sandblasted concrete with traditional Swede-inspired wooden elements. "The owners had a pretty clear vision," says Greg Torchio, principal of Torchio Architects, who built the 4,500 square-foot, three-bedroom abode. "They wanted the feel of a modern Swedish farmhouse to reflect the owner's heritage."
This ancestry is evident throughout, especially in the house's wood frame, made from southern pine glue-laminated timbers. It also adds "visual warmth" to the space, Torchio says. Another northern touch is the single-slope shed roof that draws one's gaze toward the great glass expanse that frames the river ahead.
---
More from Metropolis
---
The home's broad wall of windows frames panoramic views of the Corsica River.
"The clear glass window accentuates the entry access and allows for a view from the upper-level balcony," says Torchio, who opted to use pine windows by Marvin Windows & Doors for better insulation. "We had first considered aluminum windows because they would give an industrial look to contrast with the timber frame. But they just didn't provide the necessary U-factor needed for that big of an expanse of glass."
The home breaks from the traditional with the inclusion of a stone moat. The landscaping feature was the idea of the homeowners who, says Torchio, wanted a moat to "surround the house and separate it from the more naturalistic site." The use of aluminum and cement-fiber siding on the house's exterior, as well as the stainless-steel cable railings along the balcony and stairs, lend a modern sensibility that contrasts with the rustic interior.
The aluminum cladding on the exterior is contrasted by the warm pine interior.
Others have taken notice of how the home navigates both styles with great skill. The Chesapeake Bay chapter of the American Institute of Architects noted that the design's "classic parti [was] executed with great finesse, attention to scale, and sympathy to the site," when it awarded Torchio Architects a Merit Award for the Alvhem House. "You arrive on the site and move through a series of scaled experiences: the motor coach, the domestically scaled entrance, and thence to the airy opening outward to the water," remarked the three-person jury.
Mainly used for weekends and vacations whenever its owners need a respite from neighboring Washington, D.C., Alvhem—"river home" in Swedish—lives up to its name.