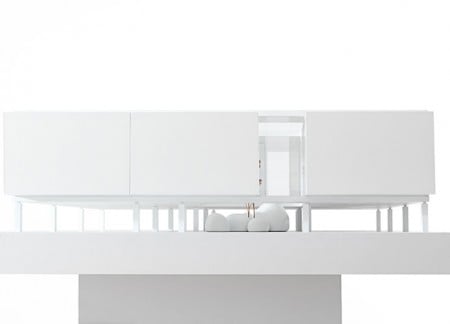 August 15, 2008
The Granddaddy of Prefab?
An exhibit on George Maciunas casts attention on a historical experiment in housing.
As pre-fab mania sweeps through New York, Maya Stendhal Gallery's George Maciunas: Prefabricated Building System offers yet another angle to the current dialogue on the social role of manufactured housing. In the 1950's, George Maciunas (1931-1978) began drafting ideas for a prefabricated mass housing system that would fuse economy, workability, adaptability, and durability with modernist concepts of spatial beauty. The system could be built without heavy machinery, using untrained labor and would change shape and size allowing for residential, institutional, or industrial inhabitance. The durable materials of heavy density fiberboard and extruded aluminum could withstand natural disasters.
This system was never built.
---
More from Metropolis
---
Images of Maciunas' architectural model
Although Maciunas developed theories on mass housing systems for more than fifteen years, his only completed project was a written critique titled The Grand Frauds of Architecture: Mies van der Rohe, Eero Saarinen, Gordon Bunshaft, Frank Lloyd Wright. Criticizing the modernist heroes for not practicing what they preached, the text (written in 1964) offered Maciunas' own beliefs as an alternative.
George Maciunas (pictured above) was an elusive character. Artist, graphic designer, and founder of the international Fluxus movement, he was known for fusing work, idea, and art into everyday life.

Maciunas' strong opinions often overshadowed his viable architectural theories, obscuring their ability to reach the general public.
Image: Ed Clark/Time Life Pictures
Prefab was a concept explored by most modernist architects, yet the few projects to reach the public (Sears, Roebuck & Co. or Levitt and Sons for example), were never at the forefront of great architectural history. In the 21st century however, exhibitions like Home Delivery or blogs like Marmol Radziner illustrate that prefab has a new caché, posing as a cool, innovative, and environmentally friendly solution to housing. Nevertheless, manufactured housing remains unaffordable and thus unrealistic for the general public. (For a great read on affordable housing, get your hands on Witold Rybczynski's article in the most recent Wilson's Quarterly) .
The purpose behind George Maciunas: Prefabricated Building is to critically test Maciunas' system by creating a 3-D model (realized by architect Scott Weinkle) and digital video. Both illustrate that the system is a sound methodological plan rooted in utility. The exhibit demonstrates that Maciunas deserves a place in any dialogue on manufactured housing-a discussion that has yet to construct a real solution to social and environmental needs of humanity.
George Maciunas: Prefabricated Building at New York's Maya Stendhal Gallery is on view until August 23rd, 2008.