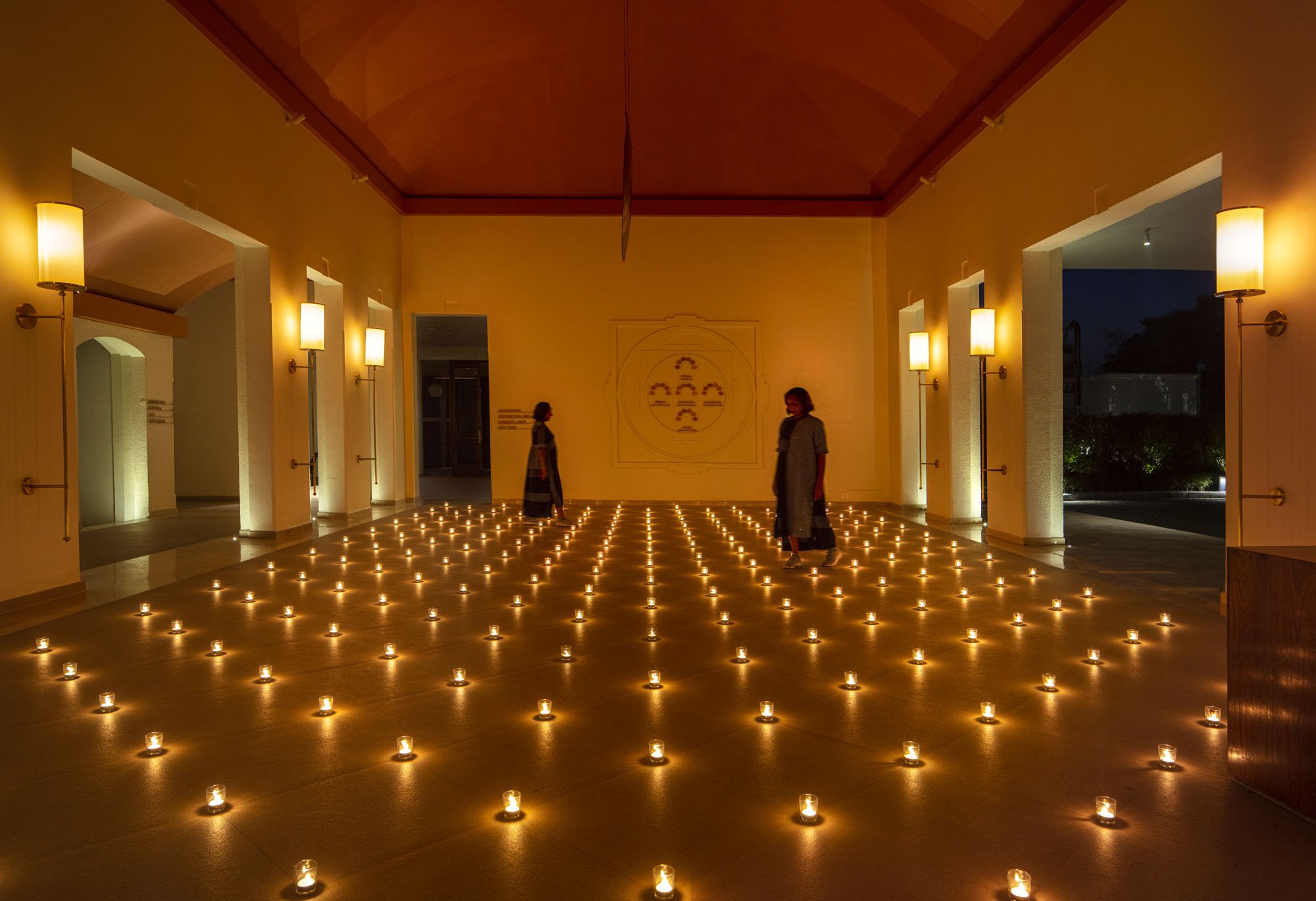 July 3, 2023
The Hotel at Bodhgaya is Designed with Buddhist Tenets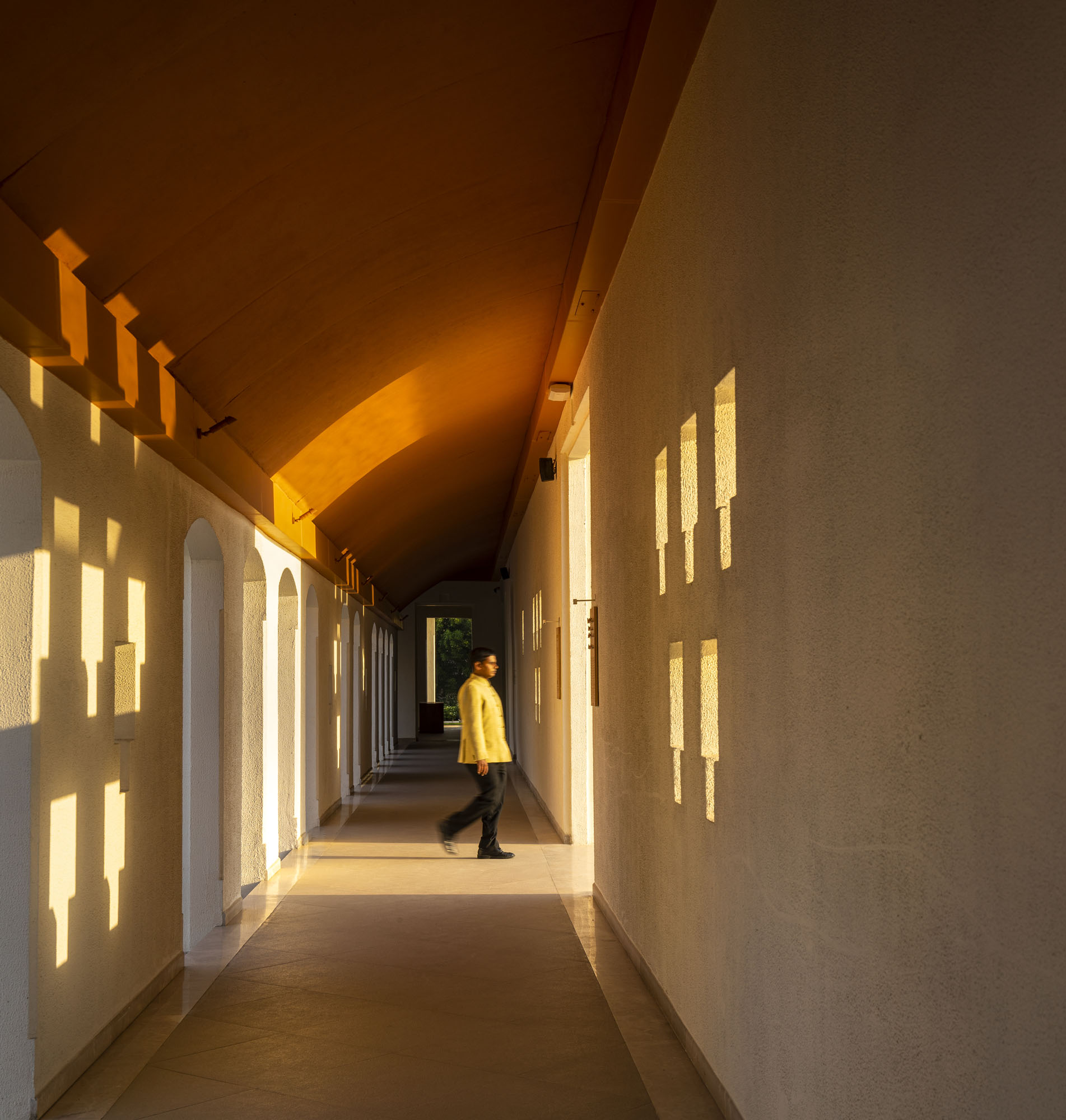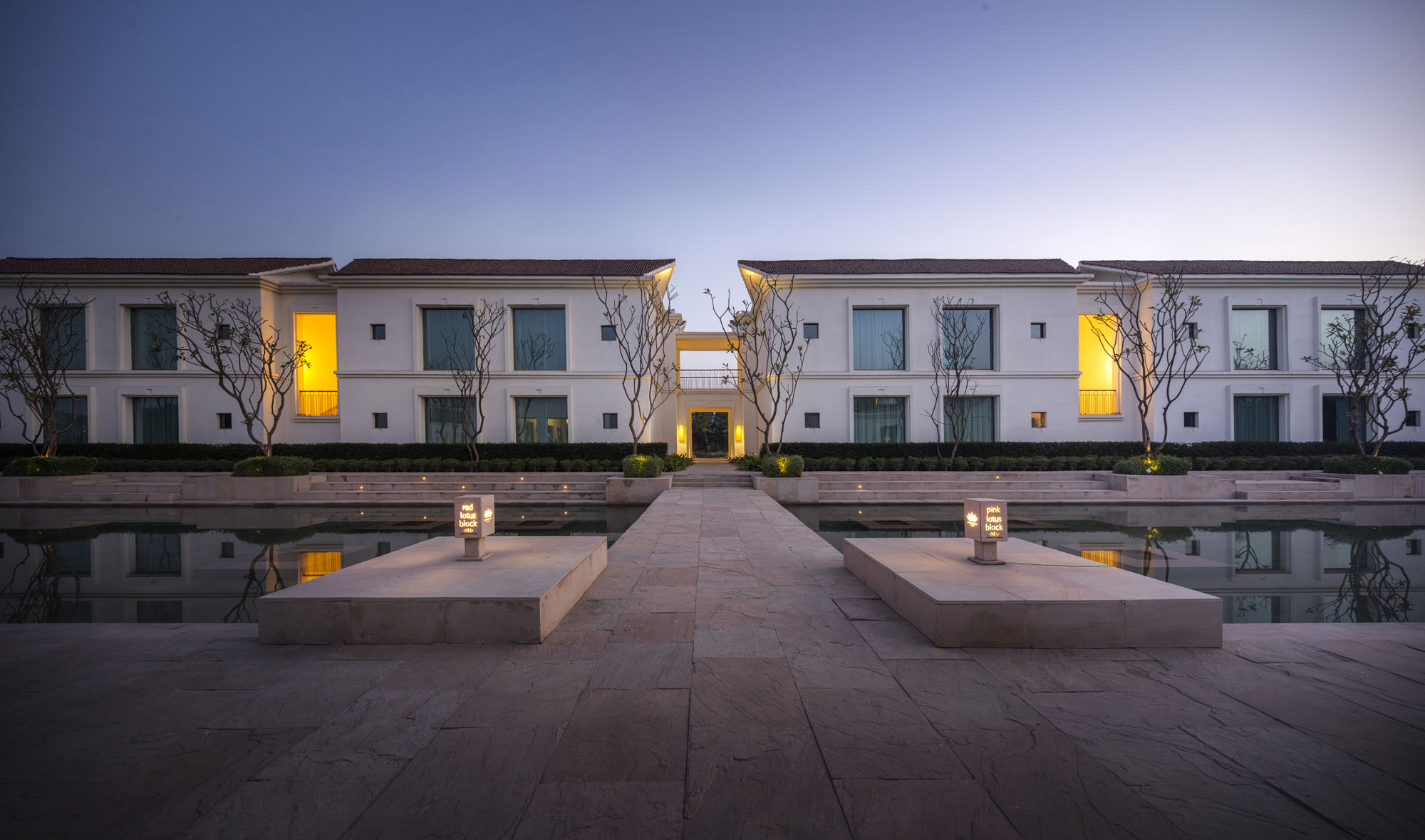 Site Specific
The 78-room hotel consists of two buildings adjacent to a variety of water features and vegetation spread across nearly five acres. Vehicular traffic is restricted to the periphery to maintain an unencumbered, walkable campus. A public-facing area is arranged around a long central courtyard forming the physical and social heart of the hotel. Surrounding the court, the building features reception spaces, banqueting facilities, a restaurant, and a generous wellness center with a gym, spa, and pool. A linear series of "waterbodies", edged by ghat-like steps—a ceremonial stairway to a river—are oriented east-west to delineate the public spaces from residential spaces where guest rooms and suites stacked two-story high along the southern perimeter.
Serenity is achieved through simplicity and a sense of place. With each program a series of layers from outdoor, transitional, and indoor space allow for gentle passage and allude to the concept of pilgrimage. While thresholds may serve as portals, viewing places become elements to frame a variety of vistas, the most important being that of the Banyan tree situated at the end of the courtyard at the heart of the site—another nod to Buddhist enlightenment.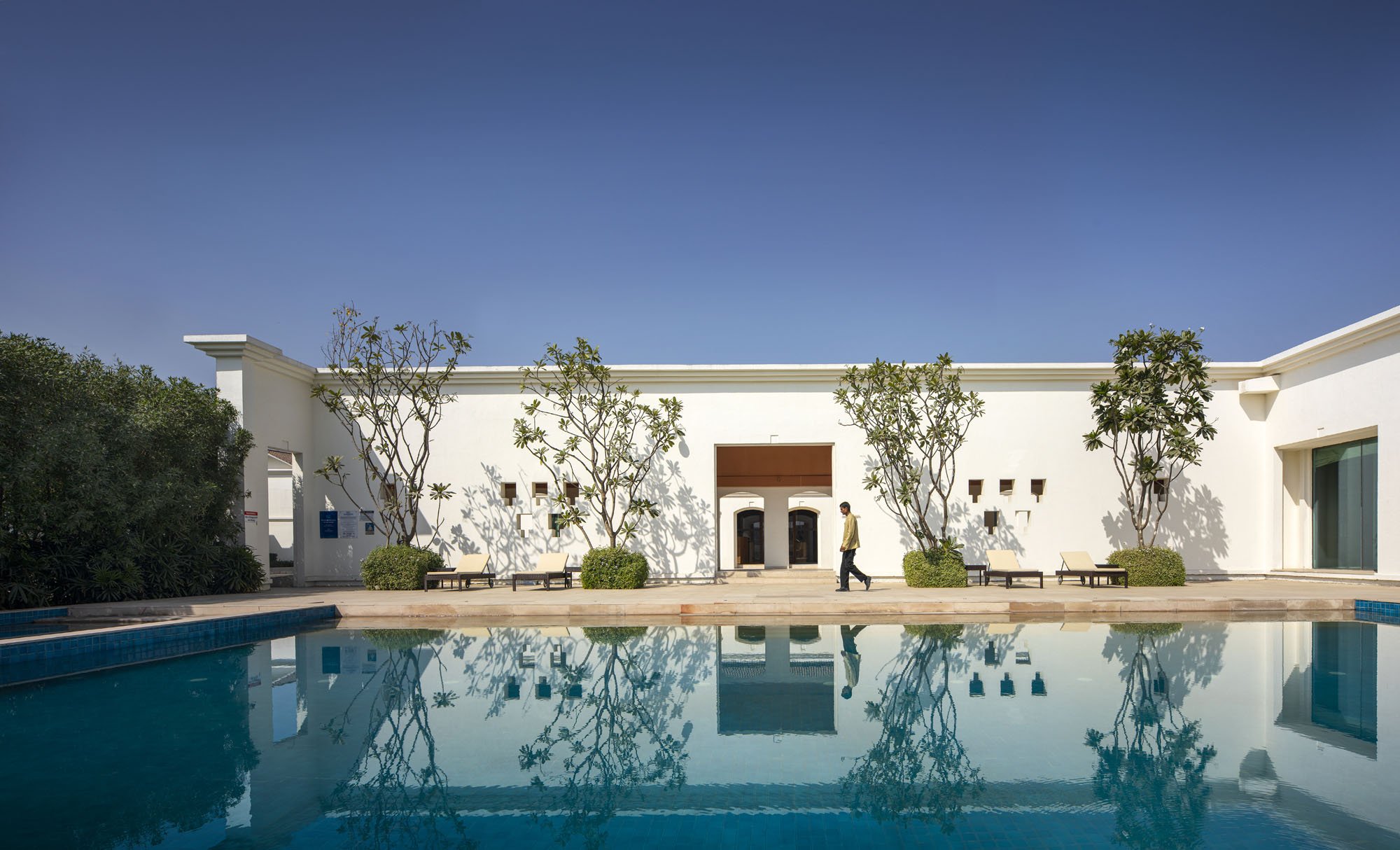 Sacred Geometries
Context and construction make a perfect union to position this establishment among sacred spaces trading resort culture for the ambiance of a hallowed institution. Architectural elements at the human scale reference tradition, elicit emotion, and inform wayfinding to choreograph a hospitality experience not unlike a pilgrimage. Traditional features of Buddhist architecture including vaults, corbelled arches, and stepped jambs are re-envisioned as contemporary devices applied to all spaces across the complex regardless of program. And in contrast to grand spatial gestures often celebrated in western religious institutions, the Hotel at Bodhgaya is far more modest in height and volume. The building embraces its inhabitant through intimate proportions used in the courtyards, verandas, and fenestration.
---
More from Metropolis
---
Further, symbology is applied as an architectural device imbuing the five public spaces—reception, cafe, banquet, lounge, and wellness—with the five wisdoms represented in the icon of Vajradhatu Mandala: fearlessness, the wisdom of dharma, giving and sharing, unity with oneself, and oneness with the earth. The mandala associates each wisdom with a mudra, or symbolic hand gesture, and specific colors, seasons, elements, and symbols translated into interior design schemes.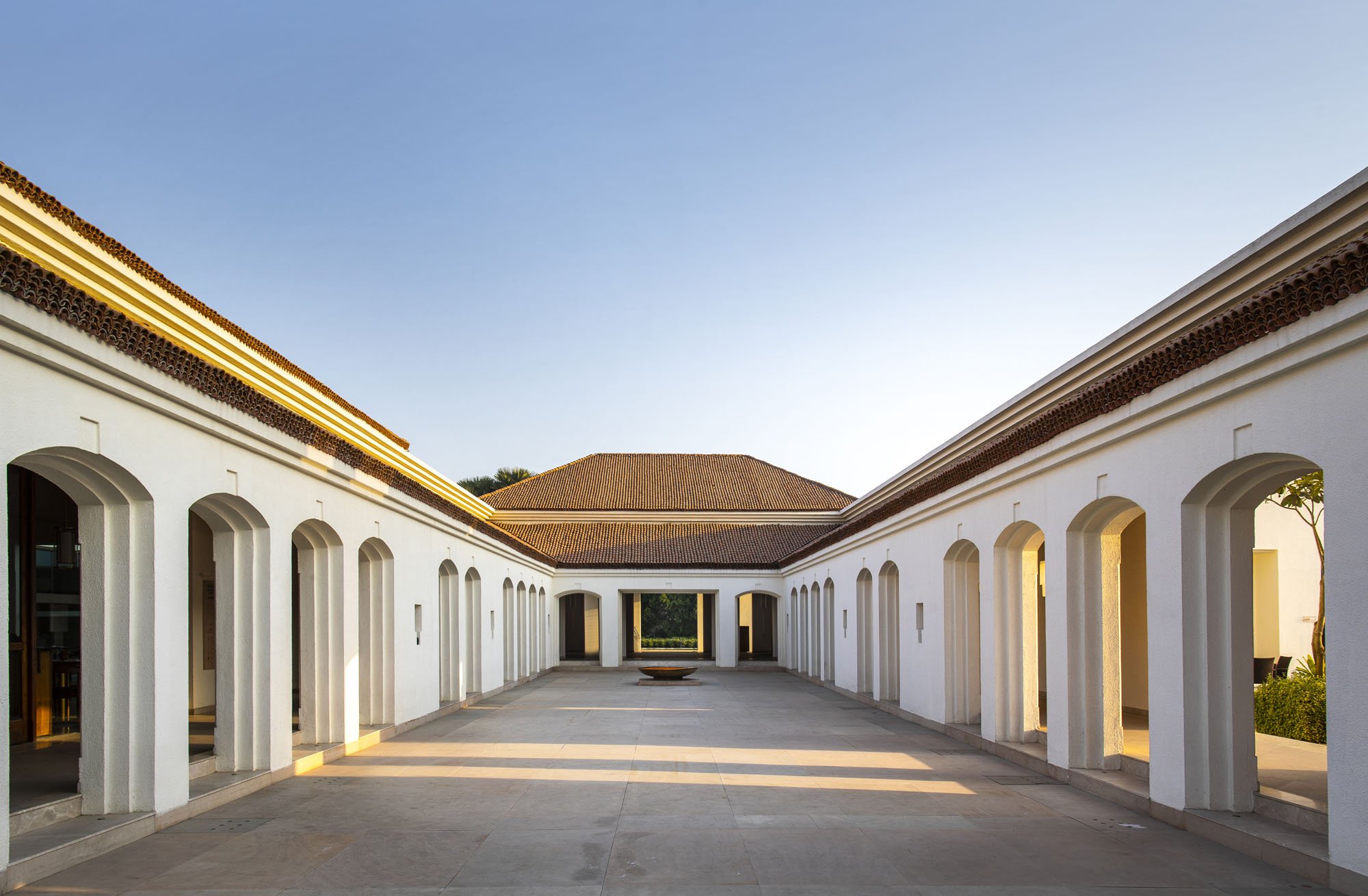 Communing with Nature
An embodiment of this ethos continues in ways with which the architecture and nature commune through passive design strategies and a robust water management system. The raised site—which utilizes several interventions to combat susceptibility to flooding and slow percolation rate as well as drought—sits atop a network of rainwater harvesting pipes, pits, irrigation tanks, and bioswales that mitigate potential obstacles to the hotel's operations while respecting a coveted resource.
Air-conditioning loads are also significantly reduced as circulation, courtyards, and the lobby—comprising 30 percent of the total space—facilitate natural ventilation. The residential blocks are oriented to minimize heat gain while aerated concrete blocks, double-glazed windows, and a double roof systems conspire to create well-insulated envelopes.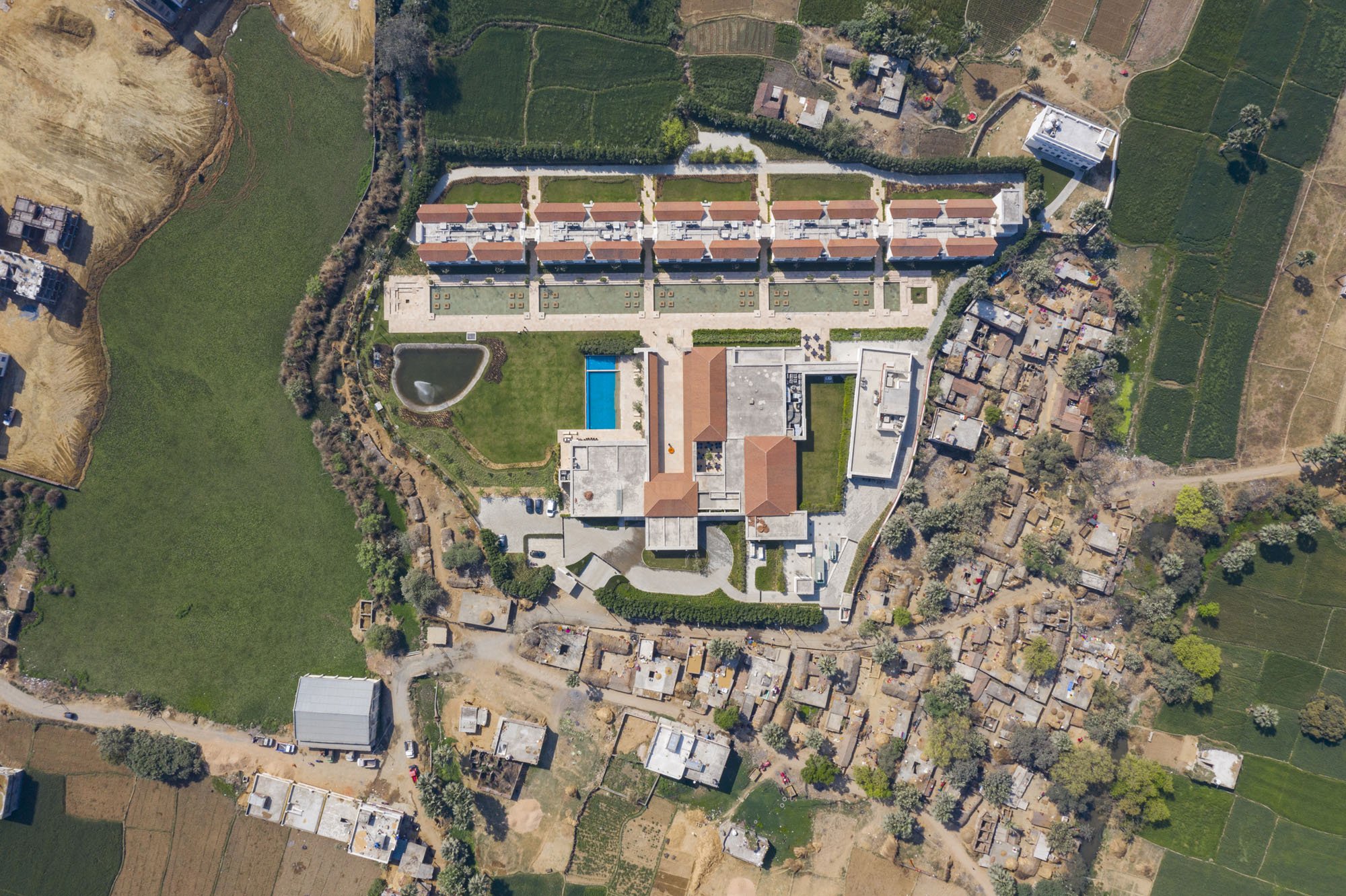 Collaborating with Community
Developing and employing some of these solutions called for immense collaboration at both global and local levels. The "country tiles" that finish the double roof systems required the architects to collaborate with 26 local families in 12 villages to manufacture the final materials. "The opportunity of choice is perhaps the crux of today's globalized economies. The choice to be open to all possibilities—the local and the crafted as well as the mechanized and the global—each has its place," writes lead designers Shimul Javeri Kadri, Vaishali Mangalvedhekar, and Roshni Kshirsagar in a collaborative statement. "We were committed to their earthy, crafted visual appeal and the possibility that they would support a local economy. Despite all the odds, the beautiful earthy honesty of the tile has graced our project providing us with an appropriate, locally crafted solution."
Would you like to comment on this article? Send your thoughts to: [email protected]