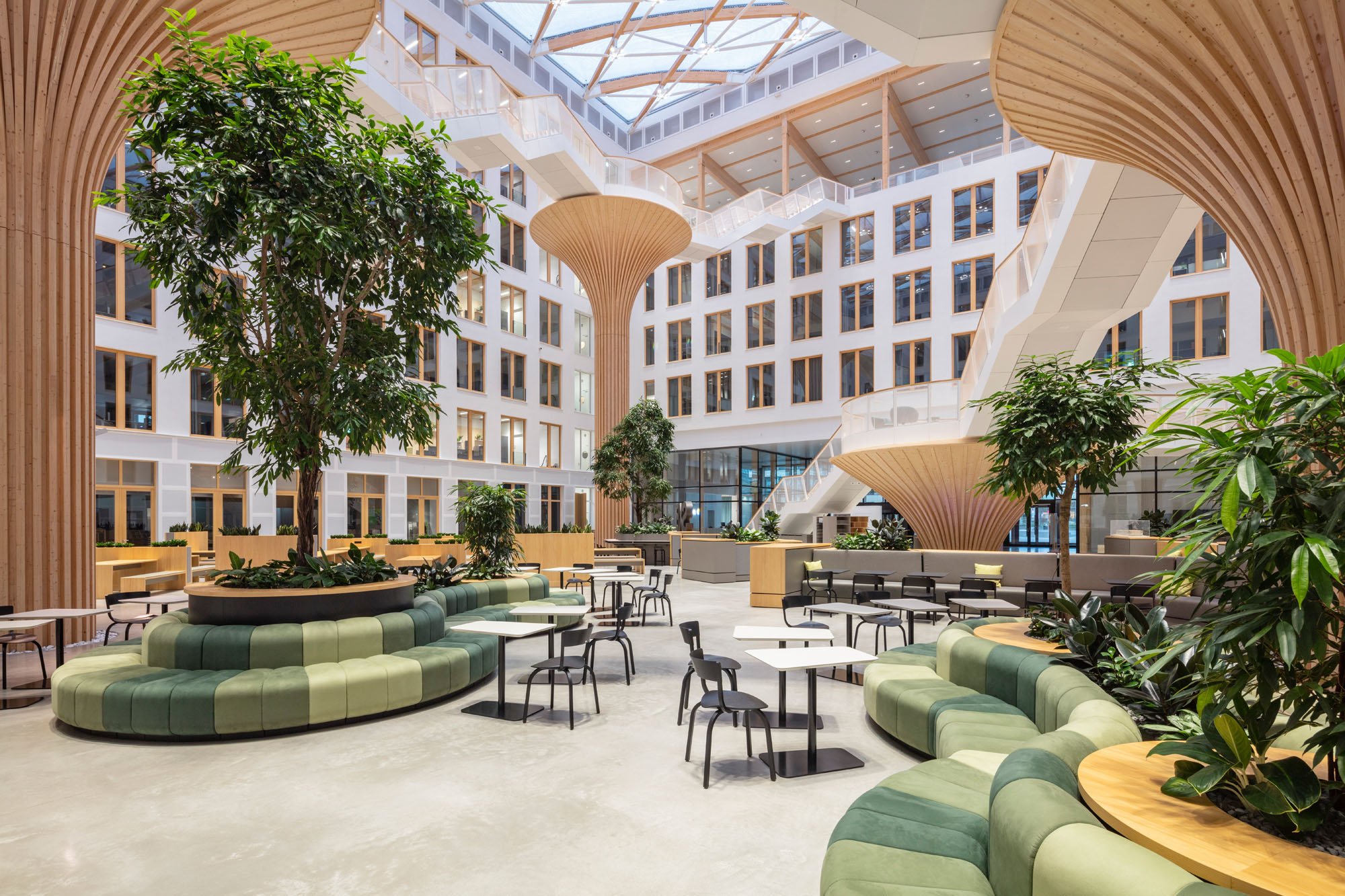 January 18, 2023
This Berlin Office Was Germany's Most Sustainable Building in 2022
What does it take to build the most sustainable building in Germany? Berlin-based TCHOBAN VOSS Architekten focused on designing the EDGE Suedkreuz, an office complex near the city's Südkreuz train station, to be as lightweight as possible, recouping carbon savings as a knock-on effect of the structure's lightness. The structure uses a modular wood-hybrid system that consists of timber-concrete composite slabs, glulam columns in the facade and precast reinforced concrete beams and columns inside the building.
"Our focus was on reducing the weight and thus the CO2 footprint as much as possible," says Sergei Tchoban, the founder of TCHOBAN VOSS Architekten, who points to hybrid Germany's traditional half-timbered houses as precedent. These structures began appearing during the 14th century and get stability and structure from vertical and horizontal timber elements braced by diagonal struts; the gaps between are filled with a wooden mesh plastered with clay or masonry.
By working with a modular timber system developed by CREE Buildings, a firm specializing in wood-hybrid construction based in Dornbirn, Austria, the EDGE Suedkreuz Berlin building's weight was reduced by almost 50 percent, allowing the floor slab to use 30 percent less concrete.
Conceived as an open ecosystem with architectural elements inspired by nature and using about 4,500 cubic yards of FSC-certified spruce, the 345,000-square-foot EDGE consists of two freestanding, seven-story buildings: the larger Carré (216,000 square feet), a structure with an irregular trapezoidal footprint, and the smaller Solitaire (129,000 square feet).
---
More from Metropolis
---
Both buildings feature flexible, modular floor plans and a conspicuous lack of load-bearing interior walls on all levels that can be adapted to a range of tenant requirements. Inside, the Carré's 85-foot-high atrium features four large columns that mimic a tree's trunk and canopy. These "trees" support a network of staircases and upper-level walkways, leading to recreation and communication platforms at various heights, up to 50 feet above the ground, giving office workers the feeling of being in a treehouse.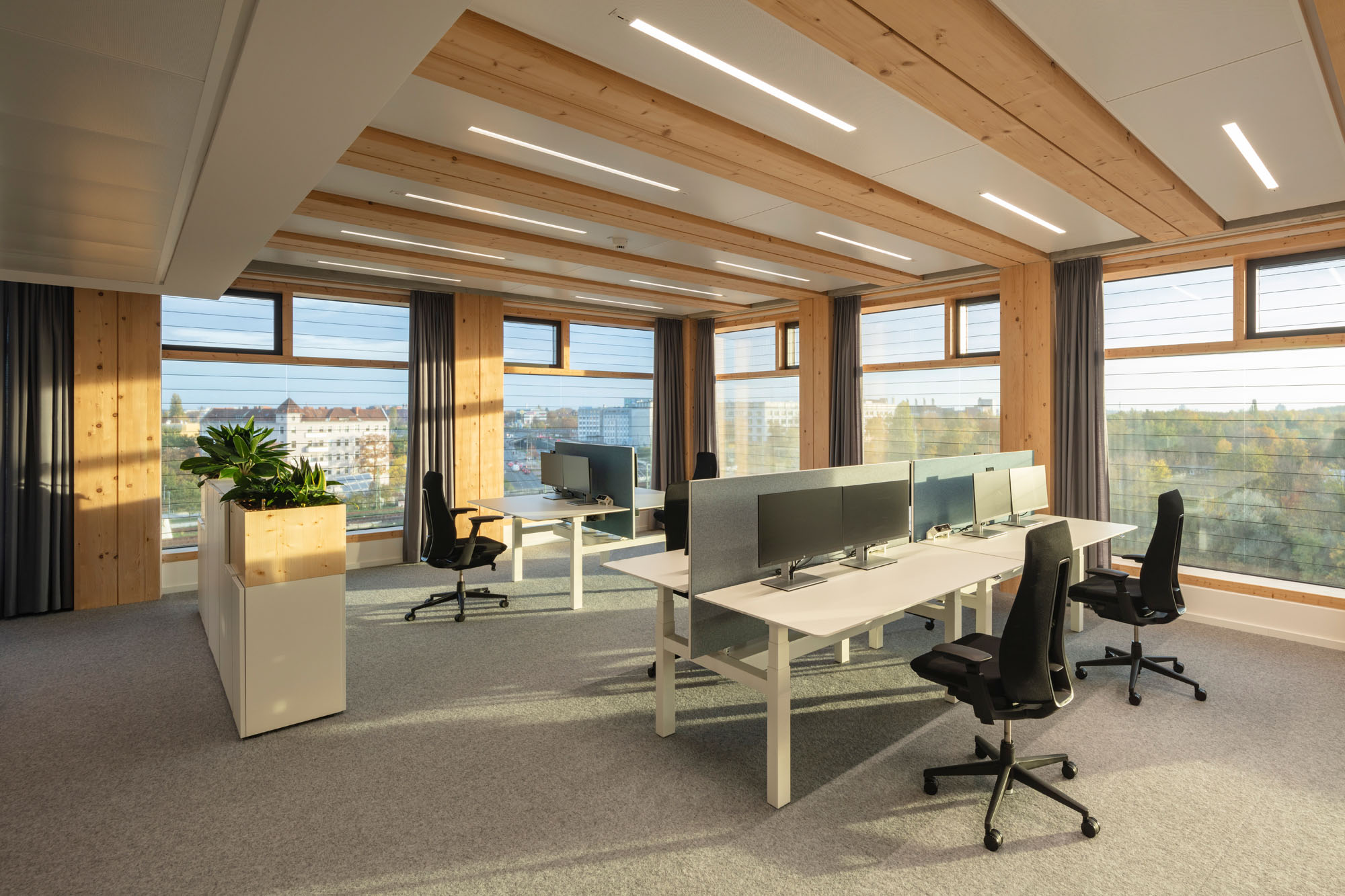 "It's about creating a pragmatic model with high aesthetic, but also a feel-good factor," Tchoban says. But make no mistake, the building's sustainable success is the result of careful engineering and advanced building technology.
For example, the Carré's roof is constructed from timber, steel and lightweight ETFE cushions that regulate temperature and filter daylight into the atrium and the surrounding offices, creating a comfortable working environment. Meanwhile, the sustainable facade elements of the two buildings weigh only 6.1 pounds per square foot and are recyclable. Moreover, the facades actually absorb CO2 from the air due to a thinly ground cement top layer.
With 95.4 percent fulfillment, the timber-hybrid project achieved a German Sustainable Building Council (DGNB) Platinum rating, making it the most sustainable building in Germany. In the ecology and social aspects subject area, EDGE Suedkreuz Berlin achieved top scores of 97.3 and 95 percent, respectively. The life cycle assessment carried out as part of the DGNB certification found that compared to a DGNB reference building, overall, the office complex reduced embodied carbon by more than 50 percent. It was also the first project in Germany to have 100 percent of its building materials recorded in the MADASTER material database, which serves as a material passport that aims to make it easier to reuse or recycle the building's components when it is taken out of service.
While EDGE Suedkreuz Berlin was Tchoban's first timber-hybrid building, the architect confirms: "It won't be the last one."
Would you like to comment on this article? Send your thoughts to: [email protected]