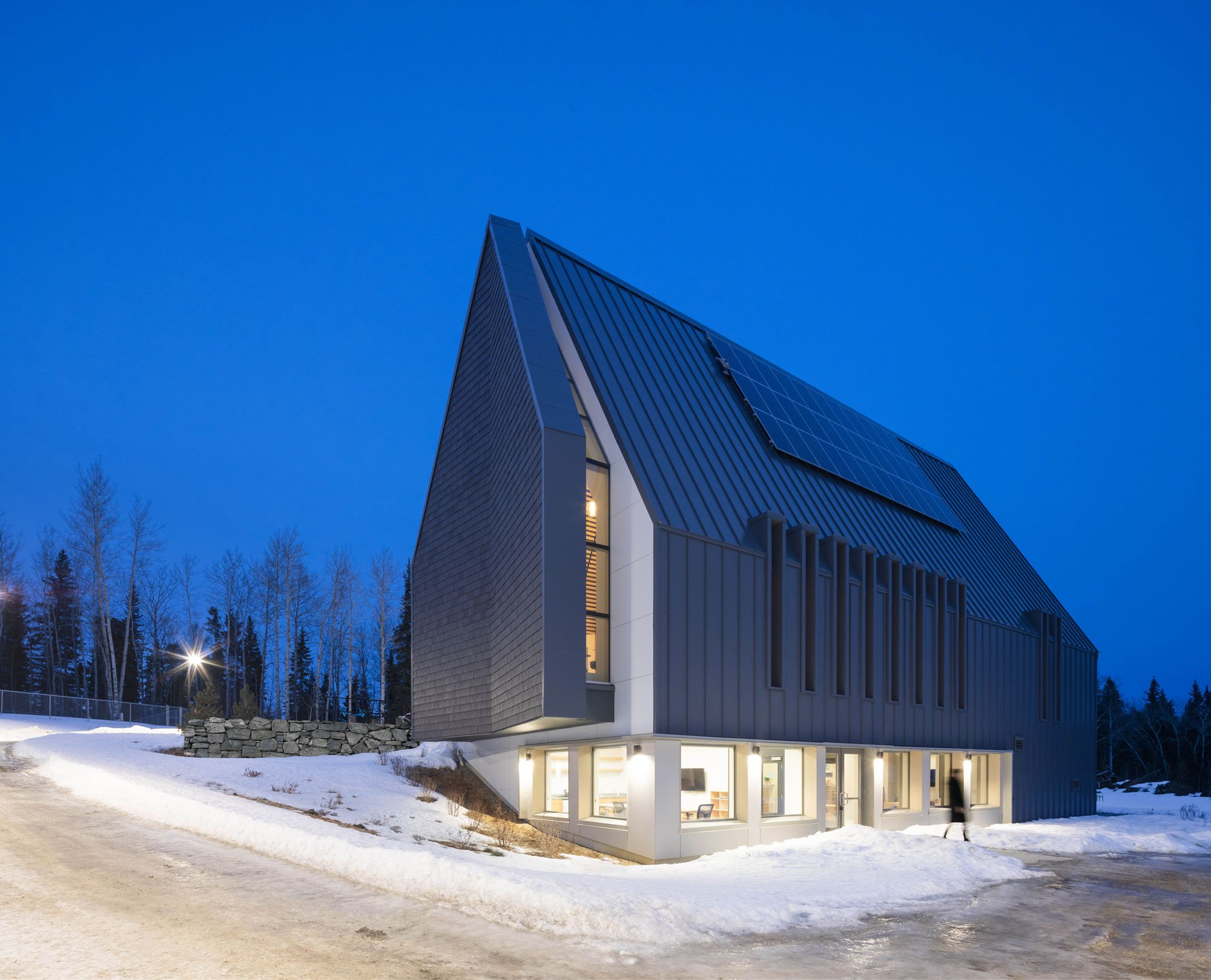 February 10, 2023
This First Nations Cultural Center Is a Symbol of Community and Sustainability
Iredale Architecture's Peter Hildebrand has a long history of working with Canada's First Nations, having designed several award-winning buildings that have merged the latest in sustainable construction practices with heritage-inspired aesthetics. But it's the firm's latest project, the Doig River Cultural Centre that may be its most accomplished yet. The 6,000-square-foot center in Rose Prairie, British Columbia, is one of the northern most Phius-certified Passive House projects and the first certified First Nations community building in the country, providing highly impactful community services within an eco-friendly structure.
Placed on a sloped plot amid aspen and birch trees, the sleek building was assembled using a combination of conventional and prefab techniques. It features a sanctuary used for everything from spiritual meetings to dances, a mezzanine, daycare and elders' lounge. Plus, the site's grade allows for entry on both levels, eliminating the need for a ramp for wheelchair access.
While developer clients primarily focus on a building's performance, "indigenous clients are looking for a coherent vision, a narrative and response to their culture," says Hildebrand.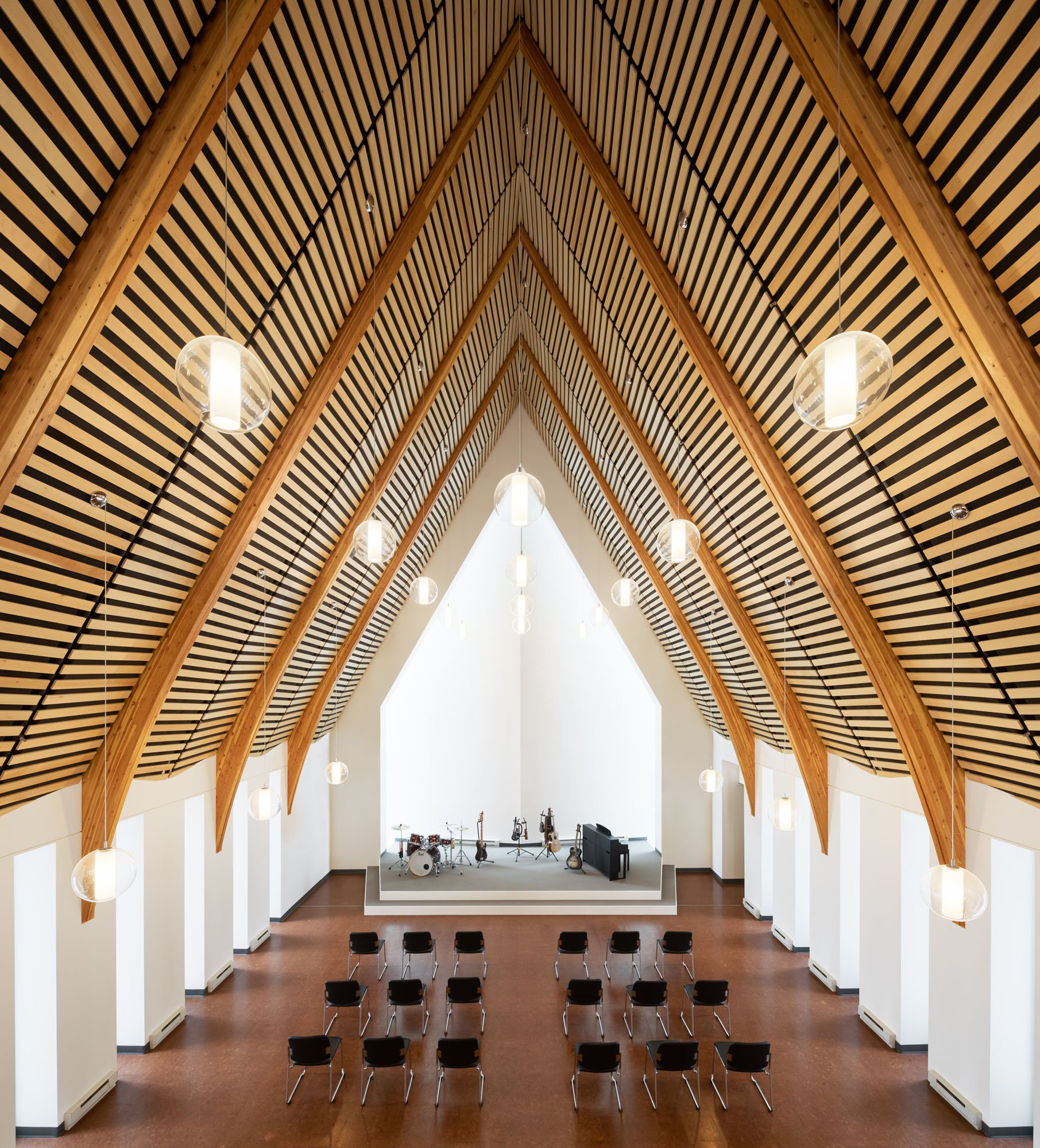 The approach? "We looked at what indigenous architecture might have evolved into without colonial interruption. We have teepees and longhouses, but in terms of architectural vocabulary, there isn't a lot we can draw on," he says. Furthermore, community endorsement of the design and its usage was a major consideration. "If you do it right, it's really rewarding," he adds.
---
More from Metropolis
---
While the building was initially planned as a church, it quickly morphed into an all-encompassing, modern community building, taking architectural cues from similar climates like the minimalist designs of Scandinavia, "plus the integration of indigenous flair," says the architect.
Passive House–certified buildings use anywhere from 40 to 90 percent less energy than conventionally built structures. To achieve Phius certification, the center was put together like a puzzle with fully recyclable cladding crafted from post-industrial polymers, a metal seamed roof, large, high-performance windows, solar power, and three-foot thick walls. The center's air-tight envelope, which even impressed the team's engineers with its performance upon testing, provides a comfortable interior and minimizes heat loss. Inside, wood slats with acoustical paneling warm up the sanctuary, which includes an awe-inspiring 45-foot ceiling, theater lighting, and baseboard heaters.
While the center's design may seem simple, achieving such a high level of precision and performance was a challenge given the site's remote location (the closest city, Fort St. John, is a one-hour drive). Hildebrand points out that this exacerbated supply chain and labor issues, while harsh winters halted construction on numerous occasions. Despite the setbacks, the Doig River Cultural Centre has accomplished what it set out to do, provide a unifying communal space for its people and showcase that even in the harsh climate of the Far North, passive house buildings can provide a comfortable refuge.
Would you like to comment on this article? Send your thoughts to: [email protected]