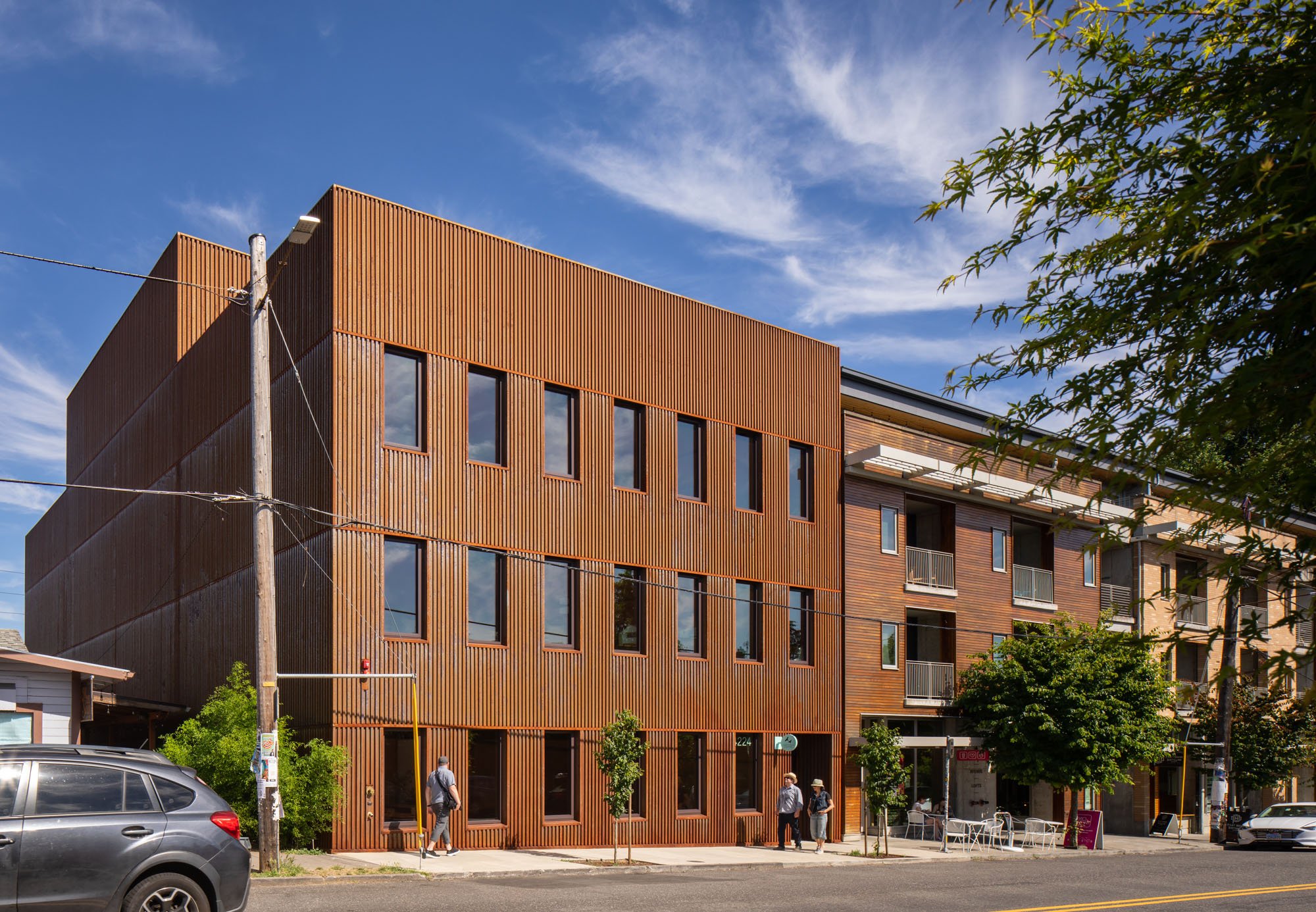 April 6, 2023
This Mass Timber Office Tower Was Assembled Like a Giant IKEA Set
Designed by Waechter Architecture, Oregon's first all-wood building is a three-story multi-tasker. On the third floor of the U-shaped, 9,555-square-foot structure is architect Ben Waechter's residence. Directly below are offices for his 12-person firm. On the ground level are a coffee shop, maker space, public space, and bike storage.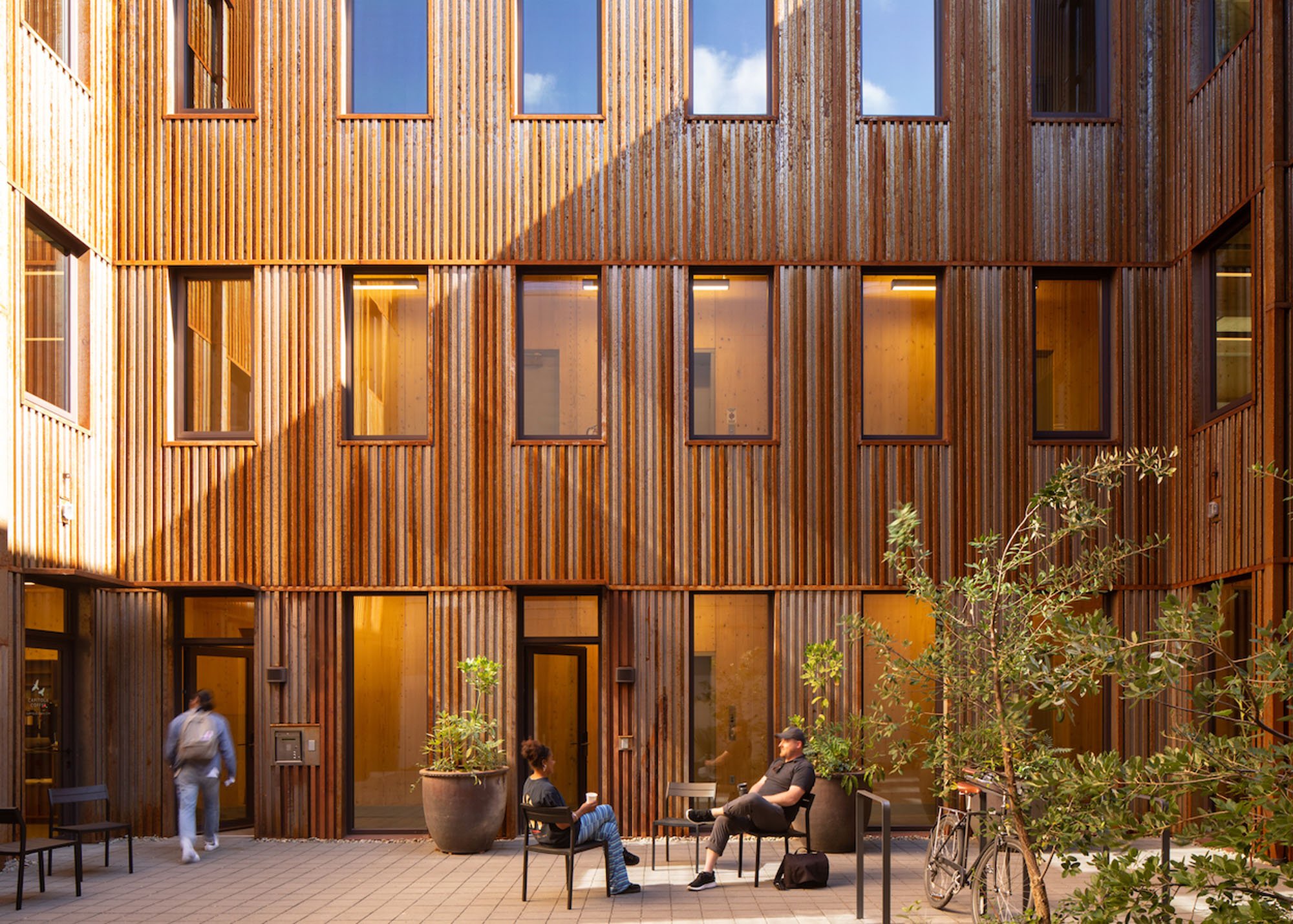 Welcome to Mississippi Street
The building is centered on a courtyard where 20 café tables with chairs spill out from the lively coffee shop. All areas are accessed from Mississippi Street through a gated portal into the courtyard.
In recent years, Mississippi Street has become the namesake for an up-and-coming district that's home to microbreweries, recycling centers, and residences. "There's a quirkiness, a hip feel, and good food and restaurants," says Sebastian Popp, technical director at KLH USA, the Portland arm of the Austria-based firm that provided cross laminate timber and glulam beams for the structure.
All Wood Everything
"Our big challenge was to do everything out of CLT—floors and walls and stairwells, all premanufactured in the factory," Waechter says.
CLT floor panels carry the weight and span between the glulam beams, which are supported by CLT walls. "Mass timber does all the work," says Anne Monnier, principal of KPFF Structural Engineers. "It's a gravity system for load-bearing, and a seismic system with CLT floor and wall panels—a support system with no columns." KPFF was responsible for assuring the design and analysis of the load-bearing and wind/seismic system were in compliance with the region's business codes. Since CLT shear walls are not yet a code-recognized seismic system, the CLT shear-wall design followed statewide alternate methods intended for limited use in small buildings. "It took many conversations with the local building department to allow the system to be used for a full, three-story building," Monnier says.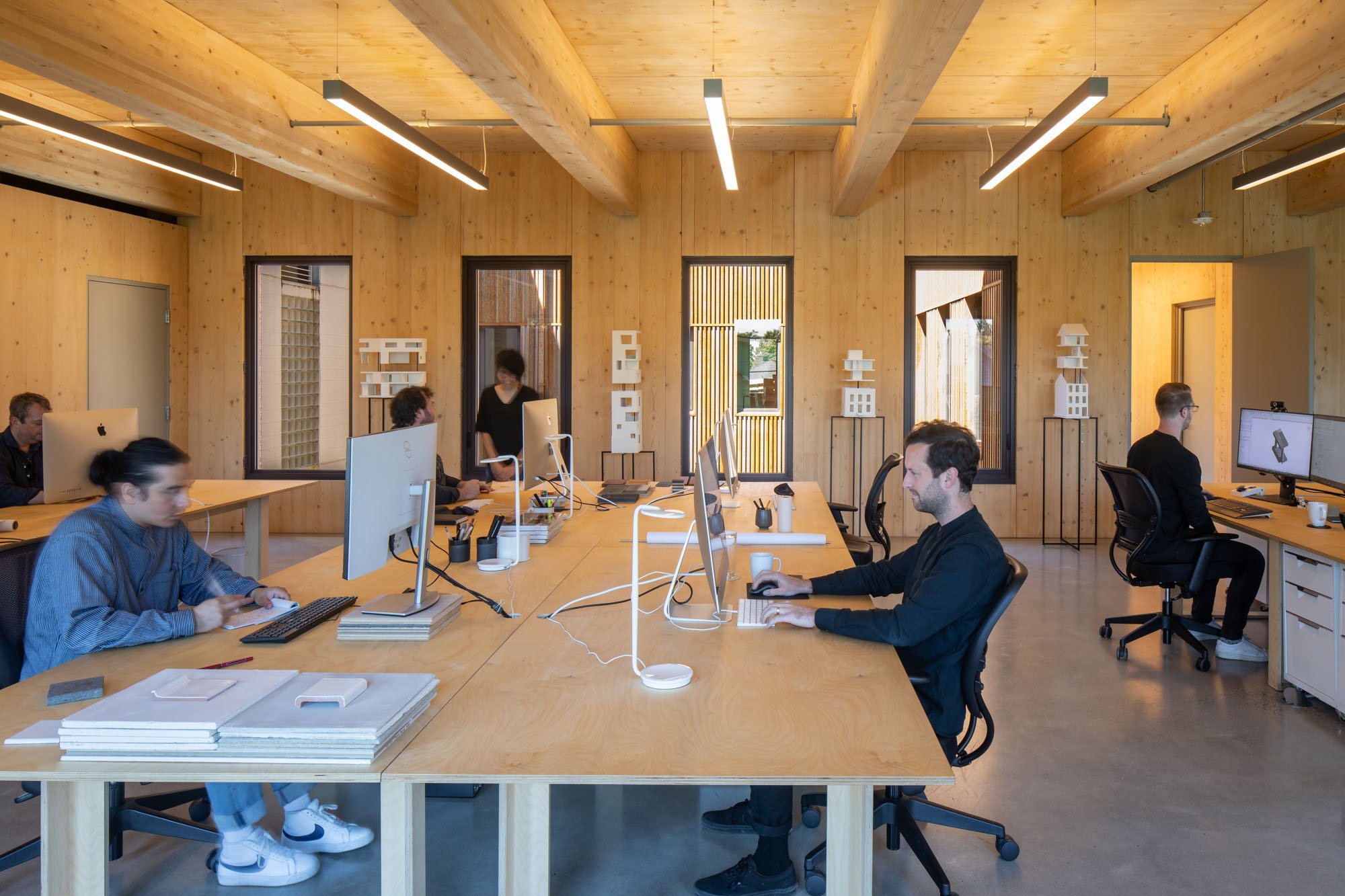 A Prefabricated Kit of Parts
Every panel and beam was produced in Austria, then shipped to the U.S. and brought by train to Portland. "They were labeled and delivered just-in-time to the site when they were needed," Popp says. "You can compare it to IKEA furniture, but these are bigger boards on a bigger scale—pre-cut, pre-packed, and pre-planned."
---
More from Metropolis
---
It was essentially a kit of parts from a factory in Austria, using spruce harvested from KLH's sustainable sources. "You have a choice between spruce, spruce, and spruce," Popp quips.
Before construction, contractors laid two 30-feet-wide, 45-feet-tall panels out on huge sawhorses to waterproof and insulate them. Then a crane tilted the two panels into place; a second crane was erected in the courtyard to assemble the rest. "We like the timber-wall construction because it's six inches of wall and exterior cladding with rock wool— there are three things instead of 10 [like you'd have with a conventional wall]," Waechter says.
Making the Floorplan Flexible
The exterior is sheathed in a weathering-steel jacket. The ground level is a four-inch-thick concrete slab-on-grade. On the second and third floors, four-inch-thick concrete slabs contain radiant tubing and power conduits. "It's an all-electric building, with radiant heating and cooling," Waechter says. "That means no ductwork running around the primary spaces."
It's composed of six primary rooms, stacked in three tiers on each side of the courtyard. "There's flexibility inherent with the open spaces," says Alexis Coir, project architect at Waechter. "That's another way we think about sustainability—the idea that a building could expand for different reasons."
The courtyard is used for informal meetings and special events, including music performances, happy hours, presentations, and workshops. Inside, public space connects the community to architecture. "We've hosted community groups, and a series of presentations and talks on mass timber," she says. "We've set it up as a gallery also—it's a space to come together.
An Ongoing Experiment
The firm received a USDA/US Forest Service Wood Innovations Program grant to study the building's performance. "We intuitively knew that an all mass-timber approach is a powerful strategy to simultaneously achieve primitive simplicity and modern performance," Waechter says.
The grant allowed the firm to reflect on, test, and share what they've built. It also allowed them to hone in on what works and what doesn't, giving them—and ultimately, the broader community—more tools to build simple, but high-performing buildings.
"It's archetypal—a precedent," Waechter says. "We're documenting all the details and systems for the grant."
So it may be the first of its kind in Oregon, but it's unlikely to be the last.
Would you like to comment on this article? Send your thoughts to: [email protected]