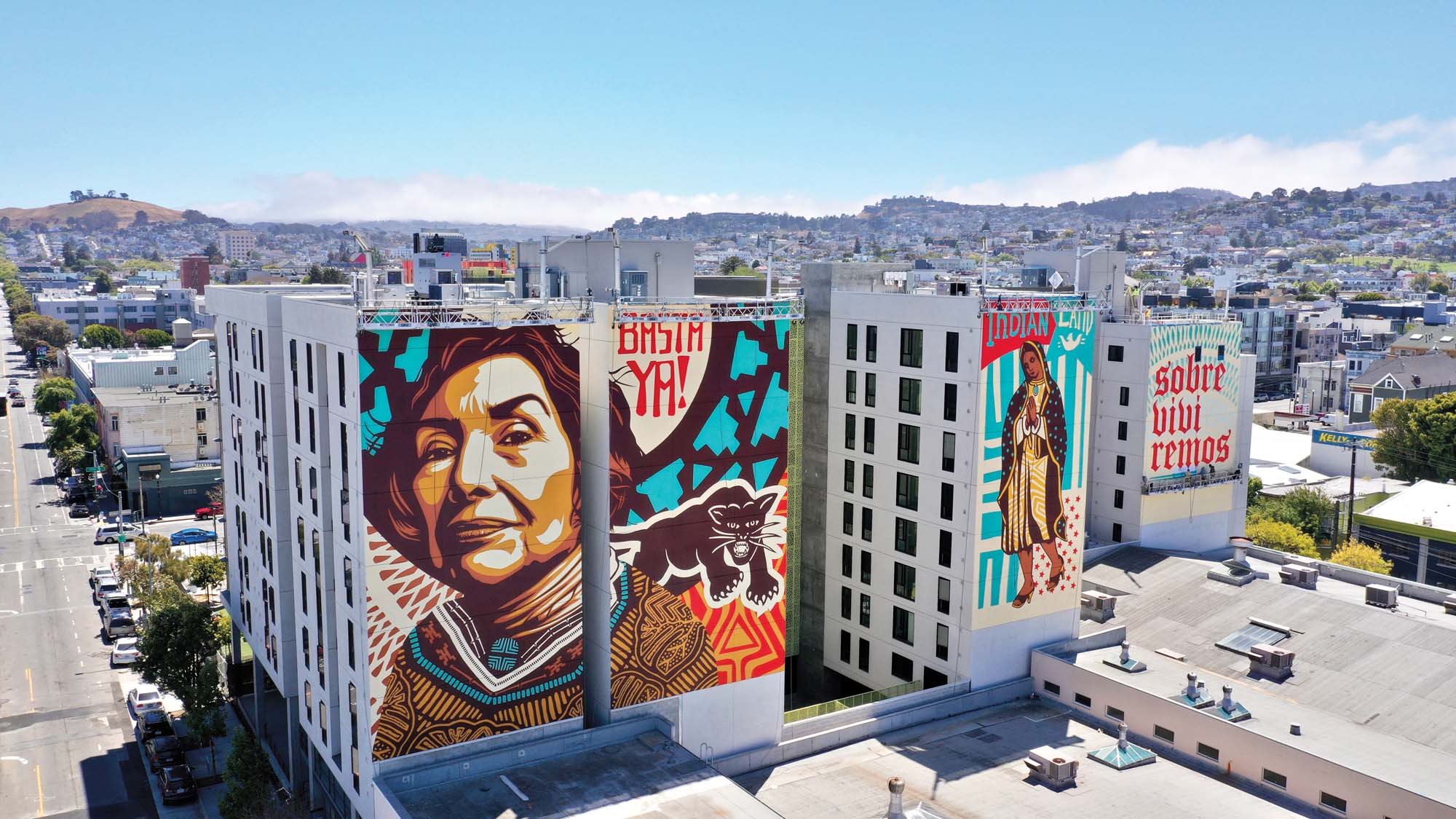 October 25, 2023
This San Francisco Affordable Housing Development Is on a Mission
Where there once were two parking lots in San Francisco's Mission District, there is a nine-story, 127-unit affordable housing development overlooking a lively public park. The two look as though they were designed together, but in fact, In Chan Kaajal Park was fully designed before Casa Adelante 2060 Folsom went out for proposals. The city's housing department had assumed that the new housing would have a blank party wall facing the park, with a narrow fire easement between the two, but Mithun, the firm responsible for the housing component, made sure that the complex took full advantage of its sunny southern exposure and park views. The firm designed a wide paseo and successfully lobbied the park designers to include two gates into the park from the walkway. 
Beyond the obvious linkages, the design creates more subtle connections. A number of community nonprofit organizations occupy the building's ground-level spaces along the paseo, and the building also provides the city's first all-gender public restroom for park visitors.
Perhaps the most distinctive characteristic of the exterior is a large mural on the north facade by local muralist Jessica Sabogal, created as an homage to artist and activist Yolanda López, highlighting the historical struggle for social justice in the Bay Area. The chartreuse hue that accents the building's exterior was color-matched to the spring buds of the silk floss trees growing in the park, and the light filtering into the building's open-air corridors through perforated metal screens mimics the dappled light coming through a tree canopy. The building's private courtyard is planted with native sycamore trees, which are the tallest trees that would have grown in the historical marshlands. "They are a representation of what was here before," says project architect Mary Telling at Mithun.
In addition to embracing the outdoors, the building works hard to be a model of sustainability. The city's first all-electric multifamily housing development, Casa Adelante 2060 Folsom is also extremely energy efficient. With a rooftop solar array that supplies enough power for the common areas, the building has a net EUI (energy use intensity) of 14.9 kBTU/sf/year, outperforming its Architecture 2030 design target. According to Mithun's Anne Torney, "It's an amazing piece of cultural infrastructure for combating climate change and advancing social and racial equity."
Would you like to comment on this article? Send your thoughts to: [email protected]
---
More from Metropolis
---