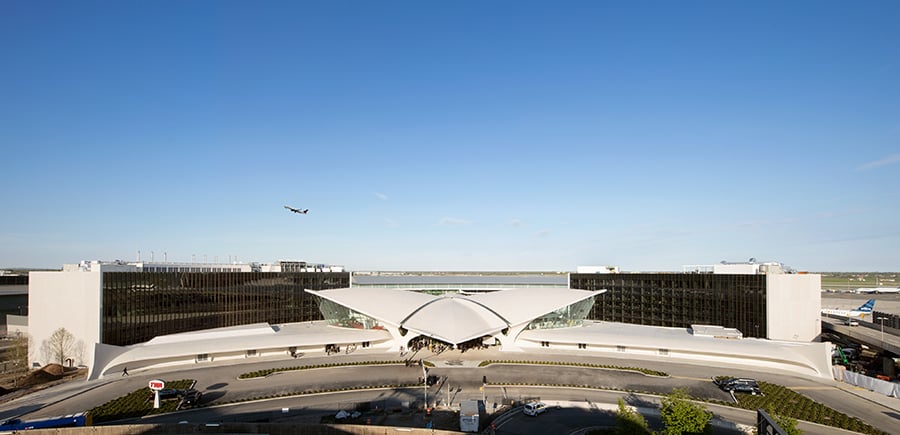 May 28, 2019
The TWA Hotel's Interiors Aim to Recapture Midcentury Glam
The newly unveiled hotel pays homage to Eero Saarinen's original vision for the 1962 TWA Flight Center while providing plenty of enticing food, drink, and relaxation options.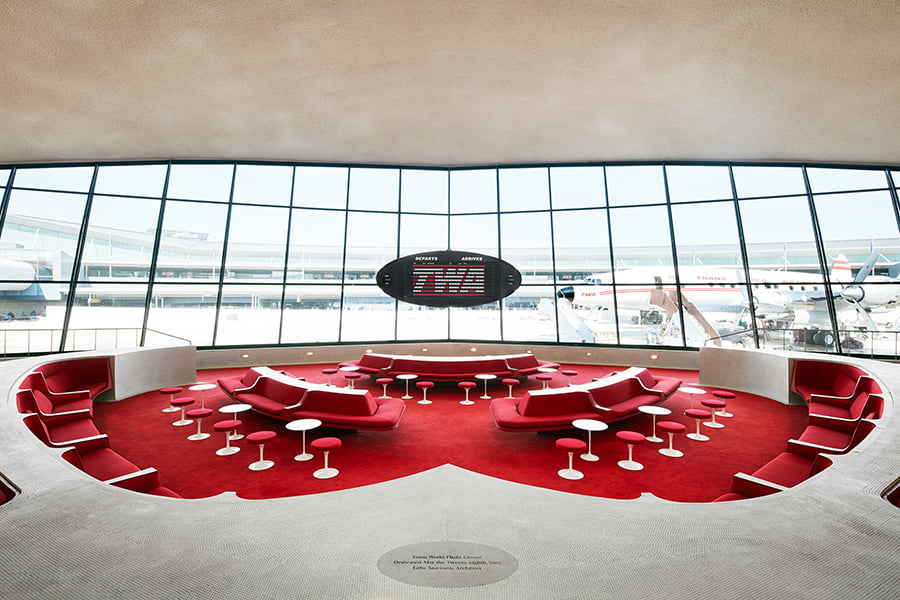 ---
It's nearly impossible to entice New Yorkers to voluntarily visit an airport, let alone for the sole purpose of experiencing a touch of glamour, but JFK's newly opened TWA Hotel is already the season's buzziest destination. Empty since the collapse of the airline in 2001, Eero Saarinen's 1962 TWA Flight Center has emerged as a midcentury Modern time capsule. The recent design pays homage to Saarinen's original vision while introducing contemporary touches, including Warby Parker and Shinola outposts,  the 200-seat renovation of chef Jean-Georges Vongerichten's preexisting Lisbon and Paris Café (a Raymond Loewy design updated by New York–based Thomas Juul-Hansen), and a global-themed food court in the terminal's former Departures Hall. An adjacent 512-room hotel, convention center, and banquet hall have been added. And just outside the hotel is the much anticipated "Connie," a decommissioned Lockheed Constellation L-1649A Starliner plane transformed into a 125-seat cocktail bar. (The 1958 cockpit has been left intact and a conveyor belt ferries drinks from bar to cabin.) It seems that JFK's flashiest hotel is not just a dreamy escape from the heightened drama of the modern airport experience, but a chance for everyone—from weary travelers to design buffs—to immerse themselves in the golden age of aviation.
Spearheaded (in terms of both design and preservation) by New York–based Beyer Blinder Belle (BBB), the firm behind the restoration of Grand Central and Lincoln Center, the renovation includes interiors by Stonehill Taylor and architecture by Lubrano Ciavarra Architects (both also based in New York). Design studio Pentagram has also resurrected the former TWA branding, which now appears on toiletries and a range of vintage-inspired gift shop items.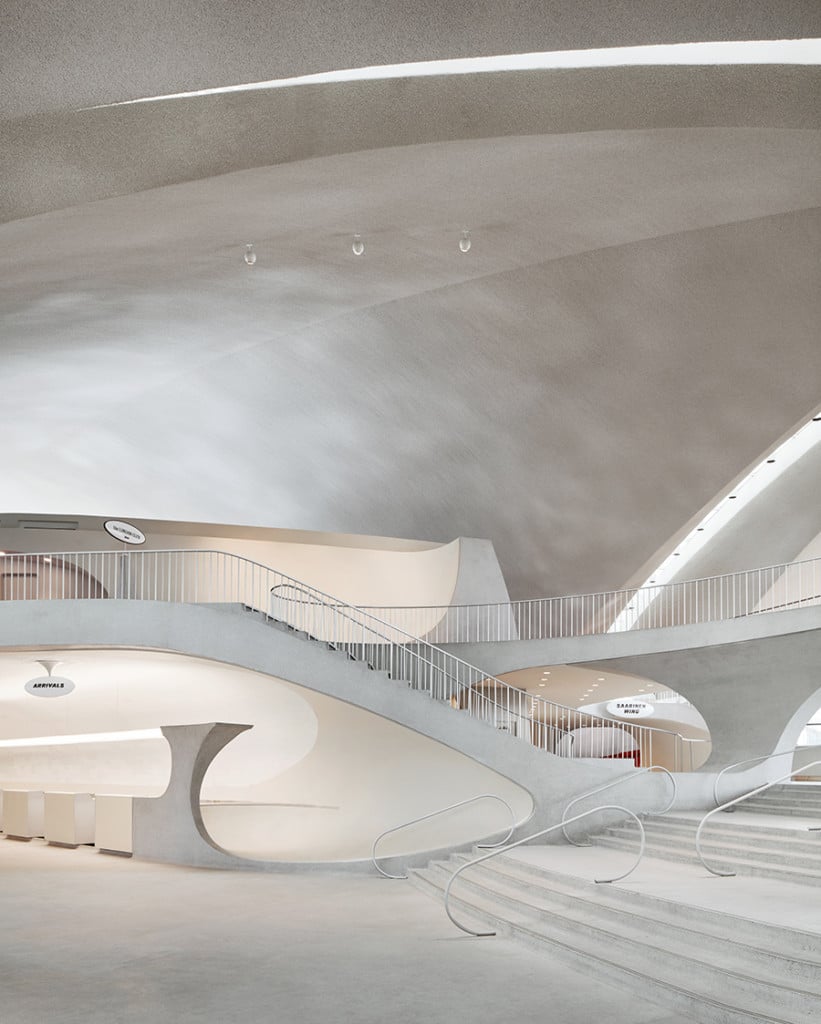 ---
Entering the sun-soaked main lobby is like walking onto the set of Mad Men: the last functioning Solari board—an oval Jetson-like analog sign displaying flight arrivals and departures—greets visitors at the door. (This board isn't historic, but rather was supplied by the original Italian manufacturer.) Under foot, ceramic penny-tiled floors lead to the plush Sunken Lounge & Ambassador Club where airport-themed drinks can be sampled among chic furniture and carpeting in TWA's signature chili red. Vintage TWA travel posters line the walls of both this center and the hotel, as well stairs, hallways, and individual rooms. Preexisting departure-arrival passenger tubes, seen in Catch Me If You Can, serve as connectors to the hotel and conference center. Other aspects of the decor were inspired by Saarinen's relationships with design luminaries Charles Eames and Warren Platner, among others, according to press materials. The design team inserted furniture pieces from the center's original designs or purchased at estate sales.
---
More from Metropolis
---
The seven-story hotel's guest rooms are located in two new, glossy volumes that flank the historic structure; they feature thick, acoustically-insulating glass curtain walls designed by FABBRICA. The two wings include 86 presidential full and junior suites and 426 double and king rooms, many overlooking the historic Flight Center. Typical rooms feature custom brass metalwork, white terrazzo flooring inspired by Saarinen's Dulles Airport, walnut tambour panels recalling 1960s cabinetry, Saarinen-designed womb chairs and tulip tables, retro martini bars, vanities that hark to Philip Johnson designs, and upholstery inspired by vintage Knoll fabrics, all set against floor-to-ceiling windows. A subterranean conference center houses 45 meeting rooms and a 7,000-square-foot banquet hall—designed by New York studio INC Architecture & Design—that features stoic double-height airplane hangar doors.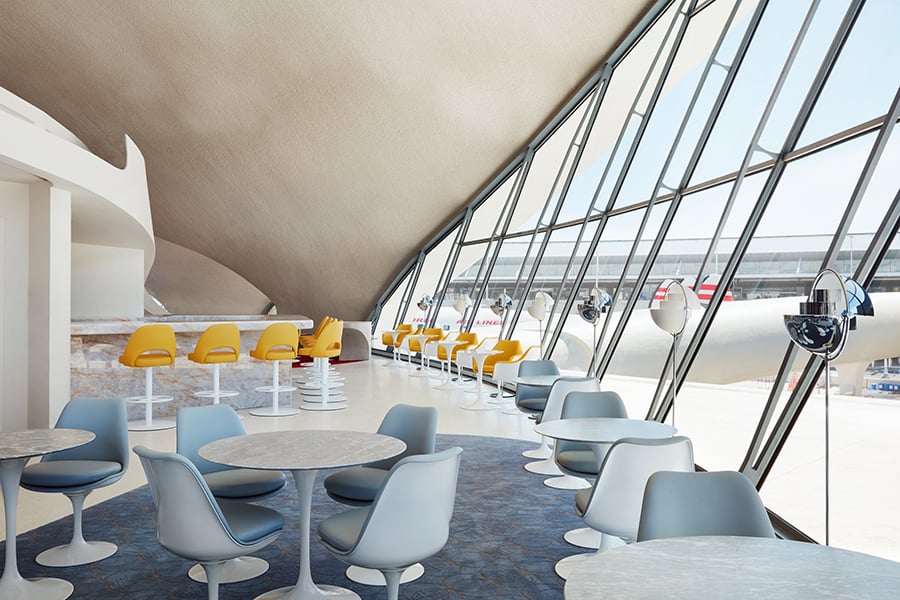 ---
"We looked to Saarinen's palette of material and design language, but also to other icons from the early 1960s, like Florence Knoll," explains Michael Suomi, principal and vice president of interior design at Stonehill Taylor. "We pulled from that era, but also knew we had to create something that appealed to the modern-day traveler." As one example, the rotary phones found in each room have been outfitted for modern digital calling.
"There is a tremendous feeling of both energy and intimacy in Saarinen's Flight Center," says Lea Ciavarra of Lubrano Ciavarra Architects. "The new hotel buildings offer additional vantage points from which Saarinen's masterpiece can be truly appreciated."
Only time will tell if the hotel stands up to the hype, but for now, the TWA Hotel offers a rare opportunity for design lovers to dine, sleep, and relax in a striking, historic space just steps from one of the nation's largest and busiest airports.
*This post previously misidentified a marble fountain near the original Ambassador Lounge as being by Isamu Noguchi. The article has been edited and updated as of July 1, 2019. 
You may also enjoy "How the Vineyard-Style Concert Hall Took Over the World (and Changed How We Hear Music)."
Would you like to comment on this article? Send your thoughts to: [email protected]