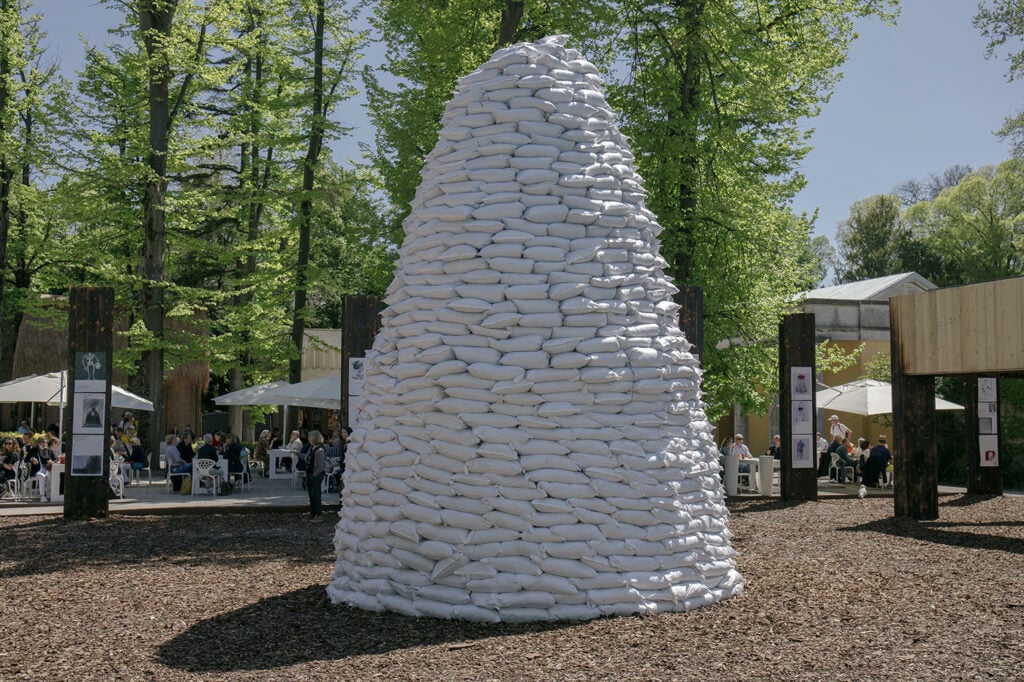 May 16, 2022
Ukraine is Top of Mind at the Venice Art Biennale
The president of Ukraine, Volodymyr Zelenskyy, even showed up in Venice via video link at the opening of the PinchukArtCentre's This is Ukraine: Defending Freedom exhibit, featuring art addressing the war by both Ukrainian and international artists at the Scuola Grande della Misericordia. "There are no tyrannies that would not try to limit art because they can see the power of art," Zelenskyy told visitors. "Art can tell the world things that cannot be shared otherwise."
The curators of the biennale are clearly using their pulpit to broadcast the horrors of Russia's invasion, which has been ongoing since February 24. The most prominent example of their cultural campaign is Piazza Ucraina, an installation at the center of the Giardini della Biennale, the sprawling cultural fairground where countries from around the globe exhibit their most accomplished contemporary artists.
Piazza, organized by Ukrainian curators Borys Filonenko, Lizaveta German, and Maria Lanko, and designed by Ukrainian architect Dana Kosmina, includes a hulking frame of charred beams with no roof, a large pile of sandbags, and a series of pillars plastered with paper copies of paintings, graphics, collage, and other art media, many produced under bombing that were unable to be transported from the Ukraine. Realized with the help of the Ukrainian Emergency Art Fund (UEAF), its artworks—by Ukrainian artists including Danil Nemyrovski, Viter Stepoviy, and Vladyslav Krasnoshchokportray—portray painful, disorienting images: soldiers firing weapons from underneath playground equipment, a Russian tank being used to transport a stolen washing machine, and a group of children, several wide-eyed with fear, lying cheek by jowl in a bomb shelter.
---
More from Metropolis
---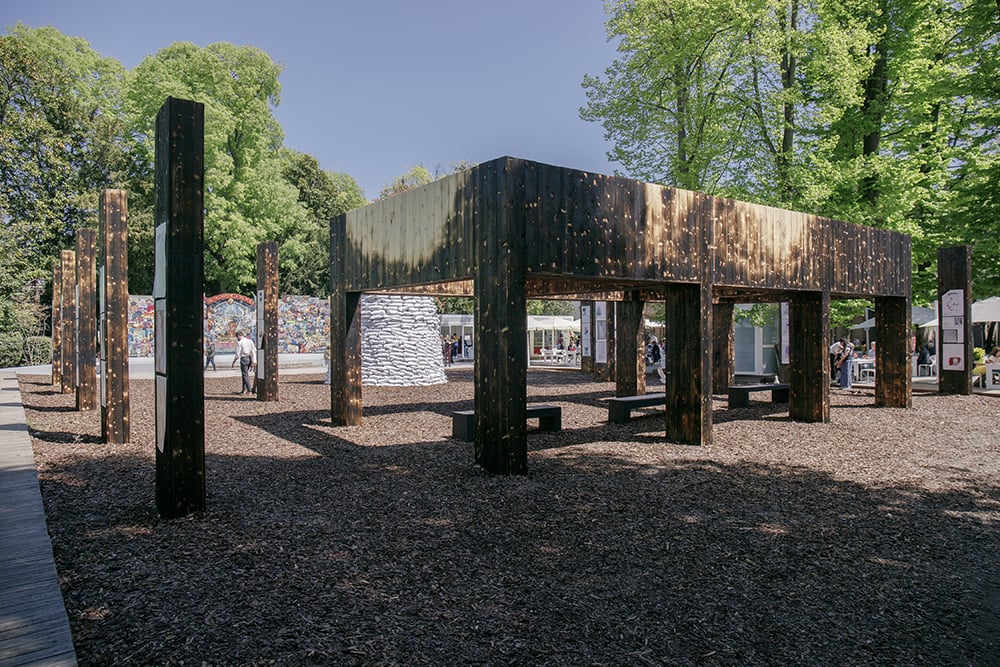 Unlike many works of contemporary art at this year's biennale, there is generally little ambiguity to the pictural images on display. "Because of the enormous danger, time became so short and the days uncertain," says Kosmina, "and it is important to be the most truthful possible with yourself." Other aspects of the installation are also quite literal: The sandbag pile calls attention to the many Ukrainian monuments covered to protect them from being destroyed by shelling. "The central element is to save our heritage," adds Kosmina.
In a written statement, Cecilia Alemani, Curator of the 2022 Art Exhibition, refers to the piazza as a place "where art can serve as a tool to challenge the very notion of national identity and politics." She draws a contrast with the "historical pavilions that were built on the very ideal of nation-state, shaped by twentieth century geopolitical dynamics and colonial expansions."
The Giardini's pavilions— many by titans of twentieth century architecture like Alvar Aalto, Gerrit Rietveld and Josef Hoffman—serve as potent symbols of national aspirations. One of the largest is the Russian Pavilion, a masterpiece of Russian eclecticism designed in 1914 by prominent architect Alexei Shchusev, which with its classical statuary and its columns looks grandiose and imperial and makes one wonder whether the concept of empire is baked into Russia's cultural psyche.Because Ukraine is a relatively new nation (1991), it does not have a permanent pavilion, which makes Piazza Ucraina all the more powerful and subversive.
One of the strongest aspects of the installation was the imposing charred wood frame skeleton that speaks to Ukraine's lack of a permanent pavilion and to how, although entire cities in Ukraine are being pulverized, the Russian invasion is only solidifying opposition. Says Kosmina, "The skeleton is of a type of wood that if you burn it, it only becomes stronger."
Would you like to comment on this article? Send your thoughts to: [email protected]