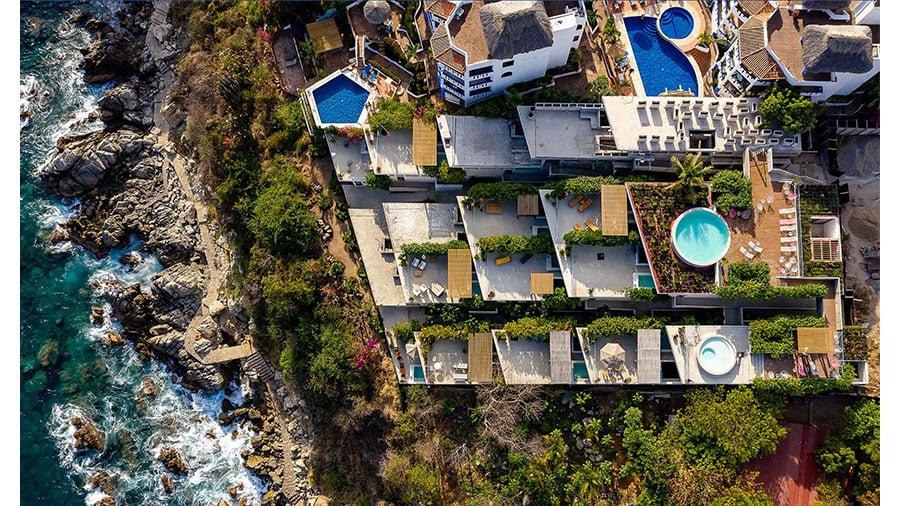 June 15, 2020
At Villas La Escondida, the Ocean Is Meant to Steal the Show
Architect Francisco Pardo's cliffside residential complex was designed to give visitors a crescendo of views.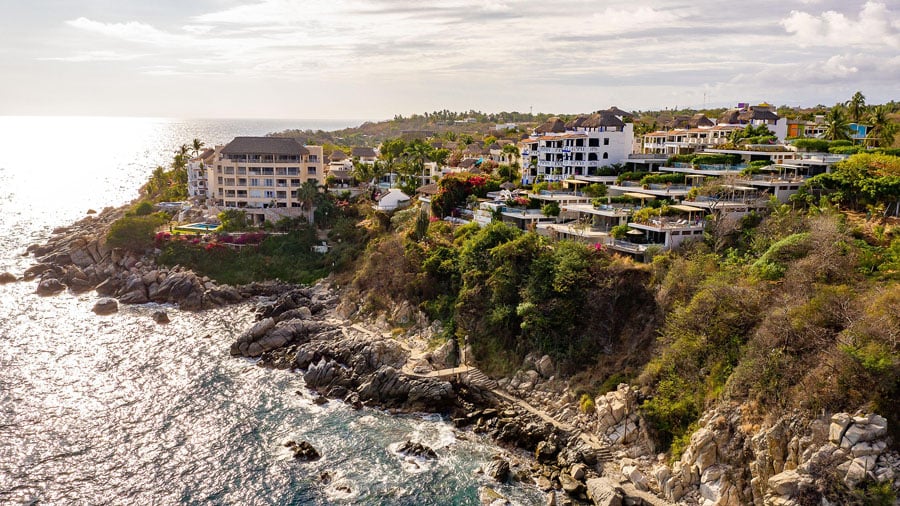 In natural areas where speculative development is high and restrictions on new construction are low, it can be architects that have the ability to ensure that new projects have a positive impact on the landscape. Such was the case with Villas La Escondida, an apartment complex in the burgeoning Mexican beach destination of Puerto Escondido, Oaxaca, designed by architect Francisco Pardo. Appearing almost to cascade down a cliff to the Pacific Ocean, the 27,000 square-foot building contains 16 units, each nestled into the natural slope of the topography.
"There's two main virtues to approaching this site by carpeting the terrain instead of embedding a vertical building into it," explains Pardo. "One is that mimicking the cliff is more respectful of Puerto Escondido's natural landscape. And the second is that, spatially, the units become more interesting because they're experienced as houses instead of apartments." That strategy also added a feeling of privacy to each home, which was heightened by an abundance of greenery lining the ocean-facing terraces. With few variations between them, each units' narrow, rectangular layout is simple: Bedrooms and bathrooms are located at the rear, while a combination kitchen-dining- and living room opens onto a terrace and pool area through folding wooden doors.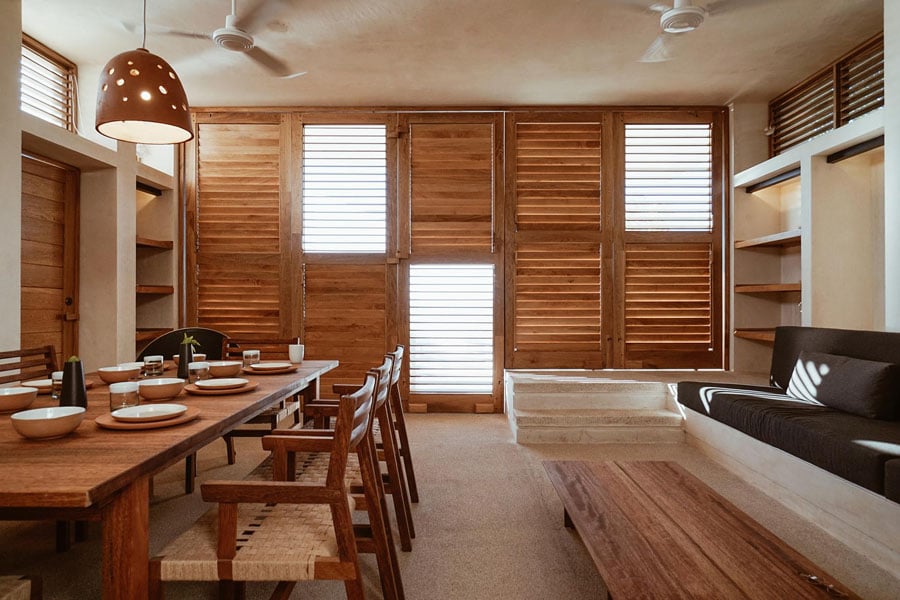 The materials employed were as straightforward as the design scheme. Reinforced concrete, cement block, and a limestone-based stucco make up the structure; finishes for interior and exterior details feature wood endemic to the location. "In first-world countries, sustainability in architecture is often discussed in terms of technology and innovative materials," says Pardo, "I believe it is a grave mistake to apply that mentality in developing countries, where funds for maintenance and operation are lacking."
---
More from Metropolis
---
But beyond this pragmatism lies another noble pursuit. Beauty in architecture, Pardo explains, has to do with both time and nature, and his intention for this project was that it take on a certain patina with age. He compares the process to a vine taking over a wall; a palm tree growing to cast a different shadow. "If the structure is later stained or otherwise transformed by the landscape," Pardo adds, "that's also part of the design."
Though each home was meant to feel secluded, the architect planned for elements that unify the design as a whole. This becomes apparent as you roam the verdant passageways leading to the properties. Upon arrival at the highest point of the site, the ocean is implied only by a saline breeze. Once visitors begin making their way down to their villas, an intention unfolds gradually as spaces shift between framing and obfuscating a sliver of the sea. It's only upon entering each home that the ocean view erupts.
Luxury in architecture is often tied to transparency—sleek structures, which reveal wider views instantly. But there's something to be said for building up anticipation in this way. "That was the idea, that this arrival be delayed by a sequence of spaces through a type of seduction," says Pardo. "Do you remember when you were a child, in the car heading towards the beach, waiting for that first peek of the water? I wanted to replicate that; the ocean always being the end goal."
You may also enjoy "MuseLAB Creates a Love Letter to Mumbai's Art Deco Heritage."
Would you like to comment on this article? Send your thoughts to: [email protected]