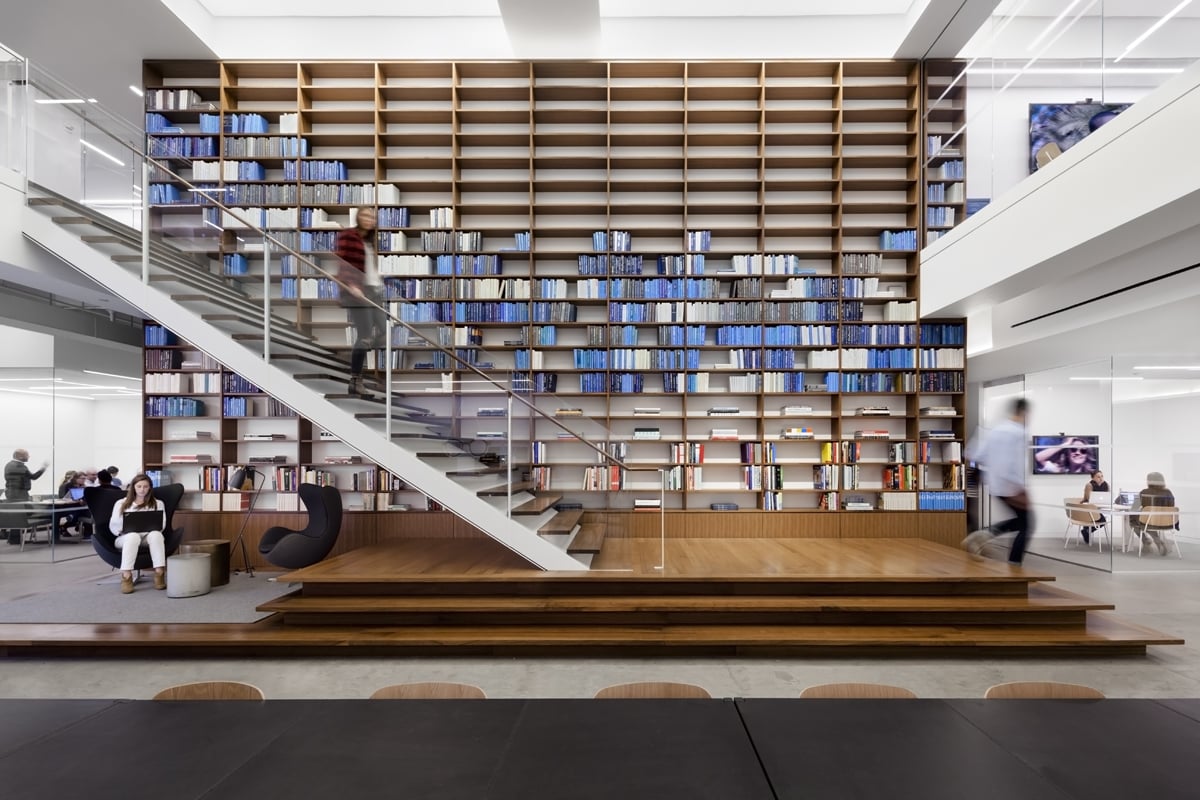 June 17, 2016
Warby Parker's New York Office Plays Up Midcentury Design Influence
Warby Parker's office perfectly reflects the eyewear company's ethos—sophisticated but energetic.
Appropriately for an eyewear company, Warby Parker identified libraries as one of the key references for its new workplace. Lynch Eisinger Design turned the motif into the central feature of the space—with a dramatic stairway that is a "vague nod toward a library ladder," Simon Eisinger says.
All photography courtesy ©Amy Barkow/Barkow Photo
---
What sort of office does a wildly successful e-commerce start-up want when it stops flying by the seat of its pants and finds an opportunity to settle down? It's a pressing question for eyewear brand Warby Parker. Founded in 2010, the company was an early adopter of the "try before you buy" online retail model now used by purveyors of everything from razor blades to mattresses. Customers received five pairs on loan to try on at home for free; once they'd chosen a style, both frames and lenses were included in the $95 flat fee. Launched to an unexpected surfeit of press coverage (GQ dubbed it the "Netflix of eyewear"), Warby Parker has grown incredibly quickly, now encompassing 30 brick-and-mortar locations nationwide on top of its e-commerce business, as well as forming partnerships with a variety of socially minded organizations, including a recent agreement with New York City to donate 20,000 pairs of glasses to public-school children.
Prior to occupying its new office, Warby Parker had, as one might imagine for a rapidly expanding company in space-starved New York, few options to truly customize a workplace for itself. "We were moving into spaces that were 75 to 90 percent built out," says cofounder Neil Blumenthal. "This was our first office that we were able to design literally from the ground up." Warby Parker turned to local firm Lynch Eisinger Design (LED) to create a space that would support the company's core values and brand, architecturally conveying a socially conscious business committed to transparency. In addition, the space would draw inspiration from literary sources—the company's name is a portmanteau of two characters from Jack Kerouac—and New York's urbanism. Other needs were program-specific: The new office required a functioning public showroom, for example, following a tradition reaching back to the company's early days in Philadelphia, when local customers would visit one of the founders' apartments to try on new pairs. More important, the space had to accommodate projected growth in a company whose departments spanned supply chain management to customer service.
---
More from Metropolis
---
Warby Parker wanted to move away from the open setup so commonly seen among its start-up ilk. As cofounder David Gilboa points out, "There's a misconception that everyone will be highly productive in a big room with no walls. We don't think that's the case." The challenge, then, was to meet individual departments' requirements while also ensuring "serendipitous collisions," as Gilboa puts it: promoting meetings between departments, a shared sense of communal space, and the sparking of chance new ideas. LED began by carefully examining the square footage per person required by each department, as well as desired adjacencies and physical details specific to each department's needs. Product developers, for instance, would need constant natural light and abundant whiteboard space, and had to be close to both the online-experience and design teams.
LED set about designing the two-floor, 53,000-square-foot Soho space, which contains both a public showroom and an office for 280 current employees. Finished last year, the office is well-lit and bustling, with walnut shelving, custom eyewear-themed wallpaper designed in-house, and accents in Warby Parker's signature palette of blue, white, and gray. Named after literary figures like Puck from A Midsummer Night's Dream and Oliver Twist's Dodger, glass conference rooms are often used to separate departments, providing a sense of auditory seclusion while maintaining visibility. Libraries are a recurring motif, with office circulation inspired by the linear passageways of library stacks, the main corridors offset with study-carrel-like nooks for more private meetings. Additionally, the office has an actual library for quiet work with a "secret" room for workers looking for utmost silence. The centerpiece is a double-height, atrium-style common area with a wide stairway and two-story bookshelves. Equipped with a projection screen and a variety of seating options, the multipurpose space holds both public and private gatherings, most notably an all-hands meeting of the office's staff held every Wednesday.
Aesthetically, it's a far more understated space than what most start-ups might have picked a few years ago. But that doesn't mean it's any less energetic. Designing so precisely for Warby Parker's intended functionality, LED discovered, has paid off in wellness benefits. Between the stairwell, which provides the principal means of travel between floors, and the overall programming of the office, which encourages workers to continually circulate between the varied workspaces and communal areas, the new location follows many of New York City's Active Design Guidelines. "We didn't have the guidelines explicitly in mind," LED partner Christian Lynch explains, "but if you design well you're addressing these concerns automatically."
The Warby Parker spirit is inspired by Jack Kerouac and the Beat generation, and this translates into plenty of midcentury design details, such as the light fixture that hangs above the reception desk.
 The brand's essence and history were seamlessly integrated into the minimal, accessible design—part of the office space is given over to a showroom in a reference to the days before Warby Parker had brick-and-mortar retail locations.
An Eames Aluminum group chair from Herman Miller—in Warby Parker's trademark blue—provides executive-level comfort for anyone who uses the meeting area tucked away behind the central library space.
 There are many areas throughout the office that can be used for formal and informal meetings, each one with varying levels of playfulness.