January 27, 2022
Mark Cavagnero Associates Slathers Sunscreen on a San Francisco Medical Building
The six-story building would not only be a workplace, but a treatment center that sees 60,000 patients a year—one of the first such facilities to conduct neurosciences research and outpatient care under one roof. Aiming to create a hopeful environment for patients and scientists alike, he developed a conceptual design that was all about light: a glass box with a central atrium.
Key to the concept was a delicate brise-soleil that shades the glass curtain wall and diffuses light. This aluminum screen allowed the architects to dial back the low-e coating on the glass, so it has greater transparency and less color distortion than the tinted glass found on countless office buildings. Cavagnero notes that this approach is a throwback to early Modernism, when buildings had to do more and HVAC systems did less to mitigate heat; he drew inspiration from bygone firms such as MMM Roberto and Olgyay and Olgyay. "Sadly, a lot of those screens were heavy-handed and obscured the view since they were in concrete. We wanted to create something with great openness and refinement that would express the precision science in the building," he says. According to the firm, the screen of 1-inch-thick fins, spaced seven inches apart, outperforms standard solar tinting; the combination of glass and screen was also cost-effective to construct.
By contrast, the interiors focus on the warmth of wood: Sycamore, chosen for its variegated color and visible grain, is used for wall and ceiling paneling throughout. Patients and scientists look out at the open space of UCSF's main quad, located directly west. A long balcony on the fifth floor provides a sweeping vantage of the park. Sharing that view is the top-floor events space, providing a compelling venue for the university to connect with industry partners and peer institutions.
---
More from Metropolis
---
Scientists began moving in early last year, and the feedback has been overwhelmingly positive, says Dr. Stephen Hauser, director of the UCSF Weill Institute for Neurosciences. "What the architects were able to achieve with the exterior screen is nothing short of spectacular," he says. "The building takes full advantage of available light throughout the day, and the environment inside is balanced, comfortable, and calm."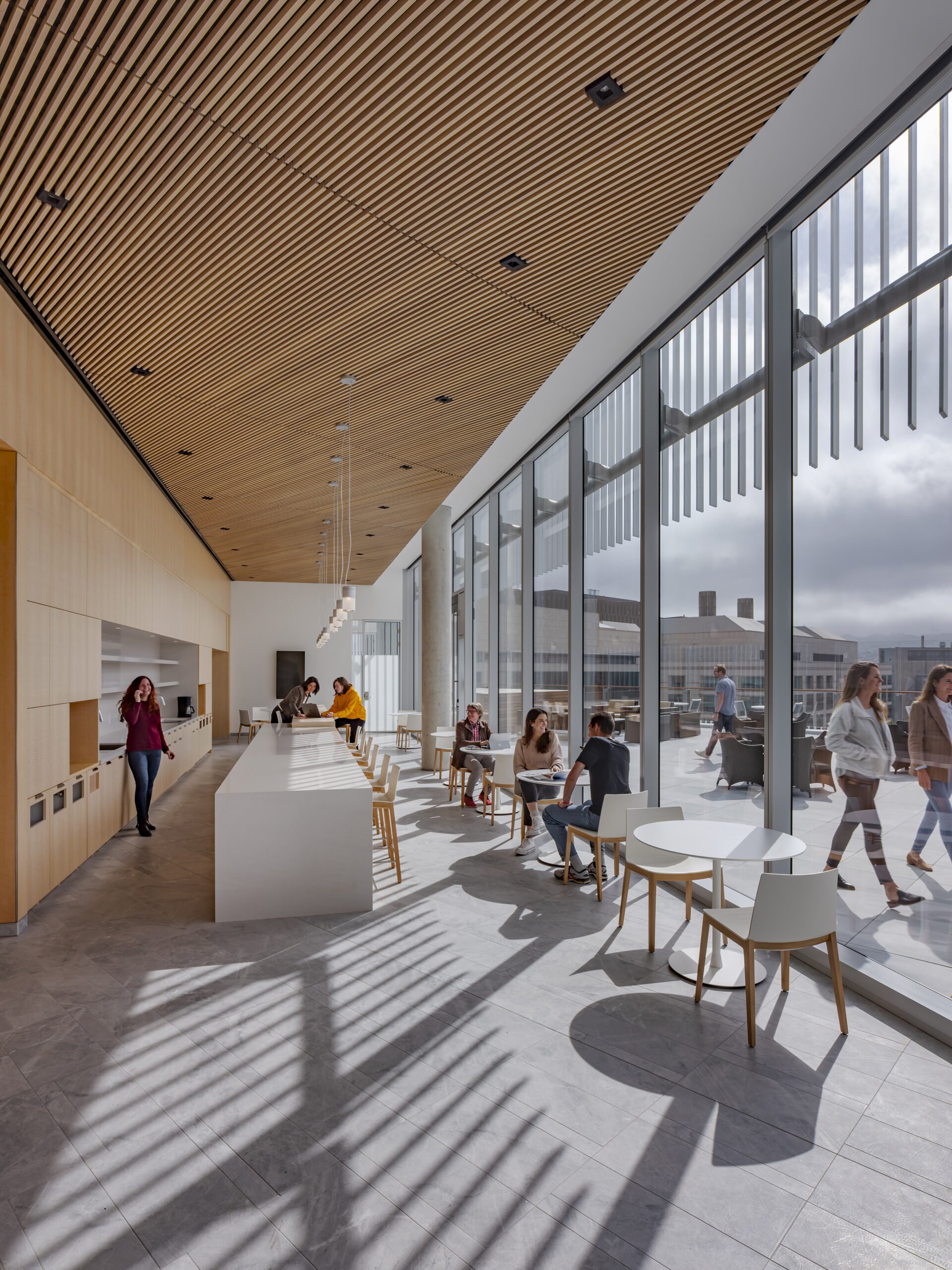 Would you like to comment on this article? Send your thoughts to: [email protected]