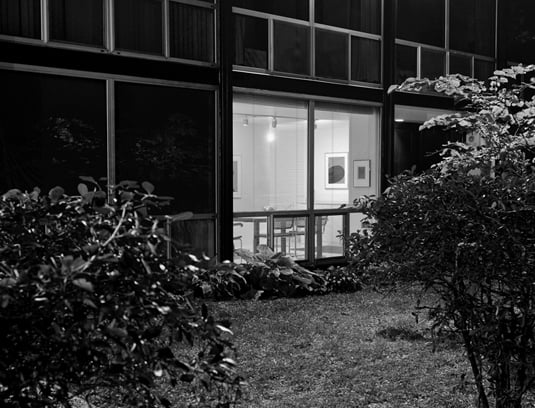 February 21, 2013
What It's Like Living in Mies van der Rohe's Lafayette Park
Long time resident relates what it is like living in Mies van der Rohe's masterpiece
Portrait of Neil McEachern, photo by Vasco Roma
"There are many, many really cool things about the house," said Neil McEachern, retired Detroit public school principal, who has lived in Lafayette Park for 20 years. He is describing life at Lafayette Park, and how the residents there have turned this modern blank slate housing into their much-loved homes.
Lafayette Park was built on land that once was a densely settled, working-class, African-American neighborhood called Black Bottom. Classified as a 'slum' by the city of Detroit in the 1940s, Black Bottom was razed and left vacant until the mid-1950s, when a citizens' group led by labor activist Walther Reuther succeeded in attracting Chicago developer Herbert Greenwald to the project. Greenwald brought in Mies van der Rohe to serve as architect, and Mies in turn brought his colleagues urban planner Ludwig Hilberseimer and landscape architect Alfred Caldwell on board.
---
More from Metropolis
---
Hilberseimer's plan for the area called for rerouting or blocking off some of the streets to create a superblock, on which would be built housing, a large park, an elementary school, playgrounds and space for retail. By the early 1960s many elements of this plan had been completed," notes the introduction to the recently released Metropolis Book, Thanks for the view, Mr. Mies: Lafayette Park Detroit, edited by Danielle Aubert, Lana Cavar, and Natasha Chandani. There are hundreds of stories that create the human texture of this special place.
Here, excerpted from the book, is the story of one long time resident, Neil Mceachern.
We have been trying to get a sense of how this neighborhood came about and what was here before. It's unusual to have an urban renewal project like this, where a large area of land in the middle of a city was cleared and an entirely new neighborhood was established.
I always like to recognize the people who came before us in this area of Detroit now known as Lafayette Park. Before 1701 it was the home of the Huron, Ottowa and Potawatomi Indians. Then, after the arrival of Cadillac, this land east of the fort was divided into ribbon farms — narrow strips that started at the river and continued far inland. [1] Many of the streets still retain the names of those early farm families: Rivard, Chene, St. Aubin, Joseph Campau and so on. Then, as the city expanded, the farms were broken up and the area became home to many German families. Many of the old German churches still line the Gratiot corridor — Trinity Lutheran, St. John's/St. Luke's, St. Joseph's, for example. Many of the side streets along Gratiot have German names because they were built out during this period. Then we get to post–World War II and the beginnings of what is Lafayette Park. Generally, "urban renewal" in this country meant tearing down big areas where poor people lived and building new housing. That's basically what happened here. Black Bottom was home to a large part of Detroit's black community at the time and also to the city's emerging Syrian community. It was a very poor area. Mostly it was rentals — little wood houses. It was torn down as part of a plan to keep middle-class people living in downtown Detroit.
Was this area always considered part of downtown Detroit?
By the time Lafayette Park was built it was on the edge of downtown. If you stand outside when there aren't any leaves on the trees you can see the big buildings of downtown. You can see the Renaissance Center from my living room. We're within walking distance of the Central Business District.
So was this on the west edge of Black Bottom?
I don't really know that Black Bottom had an actual defined boundary. Hastings Street was where the Chrysler Freeway is now, and that was the commercial street where the bars and restaurants and barbershops and stores were.
Top, a nighttime view of artwork hanging inside Neil McEachern's unit, photo by Vasco Roma; above, a wall with prints at his house, photo by Daniel Aubert
Wasn't that area called Paradise Valley? I've always been confused about the difference between Paradise Valley and Black Bottom.
Basically Hastings Street was Paradise Valley. It went out when the Chrysler Freeway was built, in the early 1970s. This was Black Bottom, a more or less residential area, and it was all leveled in the 1950s. When I give tours I try to give a feel for what it's like to be in Lafayette Park, and how the neighborhood, 55 years after its inception, is still doing what it set out to do. We're the only urban-renewal district in the country that is still doing what it set out to do. We still attract a diverse population, we still are well maintained. Urban renewal projects have generally gotten really bad names. Often, when we talk about integrated neighborhoods, what it means is the time from the first black family moving in to the last white family moving out. That didn't happen here. We've always been a neighborhood that's had black folks and white folks and Hispanic folks and Asian folks. It's always been a gay-friendly neighborhood. Lots of Jewish neighbors, Hindus, Muslims. Many of our now-elderly neighbors moved here when they were young and have simply aged in place. In the past five years we've seen a new influx of young couples with children. It's pretty much a middle- to upper-middle-class population in the townhouses. The Pavilion and the Towers provide some economic diversity. Lots of students and younger people rent there. The original idea was to attract a middle-class base of people to live downtown in Detroit, and we're still doing that. And the architecture is a part of it. You don't move here to live in a colonial revival house that you can find out in Shelby Township. You move here because this is unique. You can walk around and you can look and say, "Well, I like this" or "I don't like this," but there are all these little details that, when added together, create this wonderful sense of architecture. At the same time not everyone that's here is interested in Mies van der Rohe or midcentury modern architecture. Some are here because they don't ever want to cut the grass again, or they might go to a church that's right handy, or they work downtown. And it all works. One of the reasons it works is that it doesn't matter what I do inside my house with the furniture. The outside is maintained by the co-op. I can't think, "Well, it would be really cool to have a red-and-white-striped door" and paint my door with red and white stripes. The co-op controls that. So we have standards for the exteriors of the houses that in a neighborhood of single-family homes you don't have. Nobody has any question whatsoever about their own taste. Everybody's taste, to themselves, is perfect. It's your next-door neighbor's taste you want to be protected from.
Top, the reveal in the ceiling hides the blinds when they're pulled up; above, wooden panels were added to the railings after the houses were built to meet city code requirements photos by Daniel Aubert
Did you grow up in Detroit?
I grew up just north of Detroit, in Ferndale, but then I went to high school in Detroit. For 37 years I worked for the school system — I was a teacher for many years and then a principal for many years. I used to live in a big house in Boston-Edison. When I was in my mid-40s I thought that I did not want to maintain a big house anymore, and I always liked this neighborhood. One of the things that was very important to me when I moved was that I needed a place where I could hang my art collection. I wanted something that was very gallery-like, and this is exactly that. There are a couple of things that are unique to the Mies van der Rohe houses for the displaying of art. One would be my favorite, favorite view of the art — being out on the sidewalk and coming home at night and the dining room lights are on and seeing that Ellsworth Kelly print from 100 feet away, and getting closer to the house and seeing the Andy Warhol print from 25 feet away.
What got you started collecting prints?
I really liked Frank Stella and Ellsworth Kelly, and there was no way in the world I could afford a big painting, but I could afford a print. And that allowed me to have the feeling that I'm buying into the whole body of somebody's work.
Is this a Josef Albers print?
Yes, it's one of his Homage to the Square pieces. And this Warhol print is from his first show at Leo Castelli Gallery in the 1960s. It's a signed edition of 300 to celebrate his first show there. To me it captures the icy coolness of not just Andy Warhol but also that whole era.
Were you here when they had the Lafayette Park Art Fair?
That was before I moved in. But it was a major big deal art fair, and there's been talk recently of reestablishing it. It happened at a time when there were a great many very high-powered women living in Lafayette Park — when high-powered women didn't necessarily work. They had all this tremendous energy to devote to the Chrysler Elementary School and to planning the art fair. It went on for many years but I don't think it's going to come back.
How did you get into giving tours of Lafayette Park?
I fell into it, I guess. When I was a child I figured out that I wanted to be an architect. I was enormously into houses and floor plans of houses. Like some kids collect baseball cards, I collected floor plans. I graduated from high school and enrolled in architecture. And it took me one semester to figure out very clearly and without question that wanting to be an architect and having any talent whatsoever were two entirely separate tracks. So I switched into psychology and economics, and after graduating, into education. I had architecture as a hobby. I didn't have to worry about being good at it or earning any money, it just was fun. When I lived in Boston-Edison I gave tours of that neighborhood. Nothing formal, just to different preservation groups I might belong to. I also have developed a number of tours of New York. Probably one of my favorite tours to give is my Harlem tour. I just love doing it, taking people that I know, anyone that I can snag. All of that carried over here. Probably six or seven years ago at one of our picnics, [our neighbor] Constance Bodurow stood up and said, "We're approaching the 50th anniversary of the groundbreaking, we ought to do something!" LP50 was formed as a committee, and I started working with them. I wanted to have fun with it, and giving tours is what I've always done, so I said, "I'll give tours," and that started the more or less formal process of doing that.
An underground tunnel connects all the units in the building, photo by Daniel Aubert
Do people find out about your tours through word of mouth?
When it started we put a couple of announcements in the Monitor saying that we were having tours on Saturdays. We used this as a fund-raiser for LP50. I contacted places like the Historical Society. For a couple of years we did tours with them, splitting the proceeds. We did maybe a year or two with Preservation Wayne (they're now called Preservation Detroit) and one with the Art Deco Society. Now my name is sort of out there, so people will contact me. Also, if I'm walking down the street on a Sunday afternoon and I see people who are obviously tourists, I'm more than willing to take some time to talk to them. If they're willing to listen, I'm willing to talk.
What are some of the more memorable tours you've given?
Recently, there was a group of students from the School of the Art Institute of Chicago. They were the most interesting group of young people, so enthused. That was really a treat. Another time I was out jogging and there was a group of young people with our neighbor Christian Unverzagt. I said hi as I walked by and he made some mention that this was a group of students — they might have been high school students — that were interested in architecture. I asked him if he was showing the inside of any houses, and he said no. So I had all these young people come over to my house. There were maybe 30 of them. I'm fortunate to have neighbors who are willing to open their homes for our tours. Among them are Bob Miske, at 1300 Lafayette, whose 16th-floor apartment gives visitors a good overview of Lafayette Park. Townhouse and courthouse residents Liz and Robert Osborne, Mame Jackson, Ralph Burnett, Bob Hafel and others have shared their homes with our visitors, as have Ed and Cathy Baldwin from Chateaufort, across the park.
Well, can you give us your tour?
OK. I always like to point out that living in a glass house, it's very important to be able to look out, and that's what people generally think of as the wonderful thing, but I also like to look in. So if I'm giving a tour that's planned, I'll stop people on the sidewalk outside, and even if it's in the daytime and you can't really see in, I'll point out a sightline and talk about that. I'll tell you a little bit about the design of the house, because it's very particular. These are not big units. They're about 1,300 square feet, but they're very open. When you come in you're not in a small hallway. You come into this big area and it's all open. Even the staircase is open, so you don't have the feeling of being cramped. My dining room is only about 9 feet by 12 feet, but it's very roomy. Also, the windows all go up above the ceiling. If I were to pull the blinds up, as I do in the living room, they'd go up so you wouldn't even see them. It's called a "reveal." It's a very subtle thing that contributes to the feeling of spaciousness. The doorways go all the way up to the ceiling, too. These are not standard doorways. Even upstairs you'll see the closet doors go up to the ceiling. Let me show you what I did with my kitchen. I bought my house from Dr. Charles Wright, the founder of Detroit's Museum of African American History — I'm very proud to be living in the Charles H. Wright House. He had lived here for some 25 years. When I moved in this unit still had the original kitchen with the pull-down stoves. Most people, when they redo their kitchens, take out the pull-down stoves. They were an innovation in the 1950s — this was going to be a style of kitchen stove that would take over the world! And then by about 1962 I think they stopped making them because nobody was buying them except Lafayette Park. So what happened over the years was that as people would take out their stoves, each co-op would save them because the parts were no longer made. When something would go wrong and had to be fixed they would take the spare parts out of the salvaged stoves. It got very complicated. When I was redoing my kitchen I just had it all taken out. The nice thing about redoing a kitchen here is that since the kitchens are all the same you can go see 100 other kitchens that have a variety of designs in the same space. What I realized is that I like all white and I did not want to have upper cupboards on the east wall of the kitchen. That gives me a pretty much unbroken wall from the dining room and kitchen and through to the living room. I like the feeling that it's open. It also gave me more space to hang things, which was very important to me.
Are there strict codes as to how you can alter the space?
You can't do anything outside, and if you want to do something inside you have to get permission from the co-op. Everyone redoes their kitchens. Some people take down the wall separating the two smaller bedrooms and make one big room. You can do that if you want. Let's go upstairs. The staircase is just open. On my railings there are these wooden panels. Some people have them, some people don't, but there was, I think, a city code requirement that they be put in after the houses were built, because of the concern that somebody might slip through the railing and fall down. I left them in. In my townhouse I have two bedrooms in front and one in back. Next door she's got one in front and two in back. The reason for this is that each unit is only 17.5 feet wide, and you can't really have two bedrooms in a space that is 17.5 feet wide. By interlocking the units Mies was able to get three bedrooms into the space. When you're in here you either learn to live with people looking in or you keep your blinds closed. Generally, I keep my bedroom blinds closed most of the time. In the other front room I leave the blinds open. When people walk in front of the house they rarely look up. About 15 years ago the four co-ops each separately decided to put in new windows. Before that we had regular glass windows. Each co-op has its own board, which decides how they're going to do things. We work together somewhat, but we are all separate organizations. My co-op decided to put in new windows and frames. Our glass is tinted a bit, and it's a really a good feature because it keeps ultraviolet rays from coming in and fading the art, carpets and furniture.
Are the maintenance fees different among the four co-ops?
They're in the same ballpark, but they're all a little different. When we did our windows I'm going to guess the cost was something like $25,000 per unit. Rather than charging people for that we remortgaged the co-op so we could cover the cost of the new windows. In another co-op it might have been $10,000 per unit to put in the new glass. We think we made the best decision that we could make for our co-op, and they made the best decision for their co-op. Here is the big bedroom overlooking the Meadow. I use it as my den. It's particularly nice being here because it's as private as can be, even with the blinds open when the tree outside the window is in leaf. Even if I close the blinds there's a nice sightline through the door and through the windows of the other room to the trees at the front of the house. The trees give me as much privacy as I want. If I want more I close the blinds. So here's the bathroom. It's just the bathroom, nothing special. The only thing that is poor is the soundproofing. You can hear your neighbors. Let's go to the basement and I'll show you the tunnel. It's the only thing in my basement worth seeing. The tunnel is really convenient — the maintenance people take the trash out this way, and all the meters can be accessed. There are staircases outside on the side of the building. The cables are all down here and since it's a co-op, once a year the maintenance people come by to check the furnace and the air conditioning and make sure they're working. What people generally do instead of staying home from work is they just leave their tunnel door open. The maintenance people can go in one unit and then use the tunnel to go from unit to unit to check what they need to check, and they just lock the door when they leave.
Top, dappled sunlight shines through the leaves and branches of locust trees, photo by Daniel Aubert; above, the view out a townhouse window overlooking a parking lot — the cars are almost completely obscured, photo by Vasco Roma
What are some of the things you talk about when you do the outside part of the tour?
I talk about how different units have different views. Mine is of the Meadow, some are of the park, but then the folks in other units look down this sidewalk and can see all this activity. The various views are all interesting and they're all different. It's surprising how the view of the Meadow from my neighbor's house just three doors down is quite different from mine. The same is true for all of the rows of townhouses. Another significant thing about the outside is that the Chrysler School can be reached by sidewalk; you don't need to cross the street. Wherever you live around the park, you don't need to cross any streets to get to or from school. Features like that don't just happen by chance. They are planned that way. I also talk about the landscaping. Here you can see the canopy of locust trees, which let in this dappled light. Also, they're very sculptural. By that I mean maple trees tend to be very specific in their shape. They can be globular or pyramidal. If you lose a big limb on a maple tree, you're left with something sort of stupid. But with these, if you lose a big limb it doesn't matter because they're all contorted, and they're sculptural-looking. They don't shed big heavy leaves, they have these little tiny leaves, which of course stick to your feet and get dragged into your house. But anyway, they create a nice dappled light. Below them is the understory of crab apple trees and lilac bushes. When the neighborhood was landscaped by Caldwell, there were 16 varieties of lilac bushes in the neighborhood. We only have a shadow of that now because as the locust trees grew they provided more shade than sun-loving bushes and trees need. But we still have them. And we have the flowering trees. A large number of them have been replaced over the years as they've died off. The lowest story is the hawthorn bushes, and what they do is shield the parking lot from view. Also, the parking lots are 3 feet below grade, which is really significant. So you can be sitting in your dining room and look out and not see the cars; you see your front yard and the hawthorn bushes. One of the interesting things about the landscaping is that the trees are about 60 years old now, and at this point maybe they're going to start to die off. So there's discussions both inside each of the co-ops and then between all the co-ops about what we're going to do. One idea is to plant more of the locust trees, because that was the original design and they're so wonderful. But if something like a Dutch Elm disease ever came through and attacked the locust trees, we'd lose everything. So maybe we should plant a variety of trees. We tend to micromanage the landscaping discussions. But also, because we're here for the long-term, these types of discussions occur. It's not like where you own your own home and whatever you decide to do, you do. This is a co-op, so things are decided communally — nobody's going to make a bad decision on their own that's going to affect everybody.
This was really great, thank you for showing us around.
You're welcome. I like to conclude my tours by saying this: I have a great deal of pride in Lafayette Park, and that shows. I have pride in Detroit, and that shows, too. But there are many neighborhoods that you could go to, like Russell Woods or Boston-Edison, where you'd find people who are equally proud of their neighborhoods. There's a saying in the preservation movement that you come for the architecture but you stay for the neighbors. And that's in many ways very true. Nice people tend to attract other nice people, people of like-mind, who want to keep the neighborhood up. You have a sense of community in Detroit that I don't think you find in a lot of other places.
[1] Antoine Laumet de La Mothe, sieur de Cadillac, was an Acadian explorer who in 1701 founded Fort Pontchartrain du Détroit, which became the modern city of Detroit.