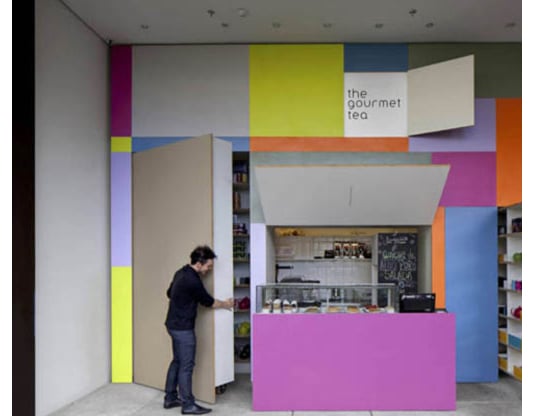 April 1, 2013
Why Ever-Changing Cities Need Elastic Environments
Urban developers are designing infrastructure that can adapt to meet an evolving set of needs
Multipurpose spaces and structures are being designed to meet shifting needs of city spaces through the day. To keep pace with the changing face of downtown areas as they transition from understated business and commerce centers by day into lively areas for social and cultural engagements by night, urban developers are designing infrastructure that can adapt to meet an evolving set of needs. One example of this Elastic Environments trend is The Gourmet Tea in São Paulo, Brazil. The shop is hidden behind a multi-colored wall, but unfolds onto the street from a compact cube. During opening times, the wall transforms into a fully equipped shop, complete with a counter that slides forward from beneath a hatch, shelves that are wheeled out from behind a panel, and a cupboard that emerges from inside a large door. The modular plywood box 'pops out' of a space to create a colorful, dynamic atmosphere that can be customized to suit a variety of retail needs. Contained entirely within a 2.5 x 4.5 x 6 meter shell, the pop-out store is a compact and clever use of space that easily converts from plan wall into a full-fledged store.
Gary Hack, a celebrated urban planner with experience directing large-scale revitalization projects like NYC's West Side Highway and Rockefeller Park at Battery City Park in lower Manhattan, and most recently, to a crowdsourced plan in Bogota, Colombia called MyIdealCity, believes that the future of urban planning is in elastic environments: "Urban space is too valuable to be limited to one use, for only part of the day. Creating a way for activities to come and go, open and fold up, over the day and night will be the way to energize our cities."
---
More from Metropolis
---
Some interesting examples of elastic environments are found elsewhere in South America – in the city of Bogota, Colombia. For example, the bullring at Plaza de Toros Santamaria has gathered fans not for the (now-banned) spectacle of bullfighting, but for a volleyball sporting events. Winka Dubbleldam, the celebrated architect and principal of Archi-Tectonics, who is also working on MyIdealCity, commented on the impact of elastic environments in a city like Bogota: "Local and international events will re-energize public parks, plaza's, and other downtown areas, while at the same time promoting local culture and local economies…this will help bring a city like Bogota on the international map while remaining close to its local culture, and stimulating it to develop."
Another good example of an elastic environment is at the Waku Waku Station by LaLaport Toyosu. Here, a mall information kiosk that doubles as a playground. Built as a modular system of building blocks, the station invites children to change the design as they play. The dual-purpose booth is intended to help improve the shopping experience for both parents and kids.
These elastic environments accommodate a range of use cases, transforming any environment into a multi-use destination that attracts a mix of demographics.
Q. What space in your city could be used for another purpose other than which it was created?
Submit your answer now at the MyIdealCity site – or tweet your suggestion using #MyIdealCity and #Maximizedspace
This article is part of the My Ideal City series inspiring conversation about the future of a city.