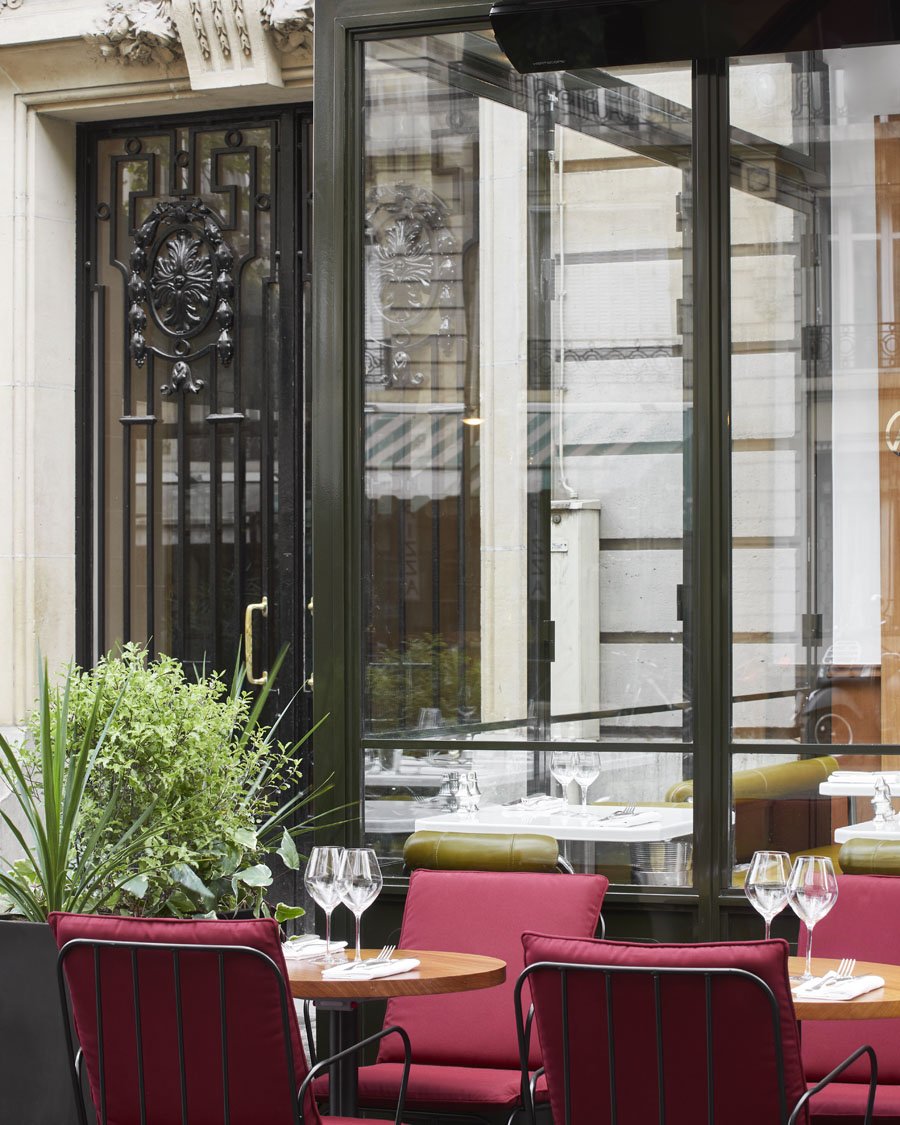 July 23, 2021
Wine Cellar History and Modern Brasserie Culture Meet at Abstinence Restaurant
Architectural studio Lizée-Hugot's inaugural restaurant project brings warm wood textures, supple leather upholstery, and polished steel accents to Paris's Left Bank.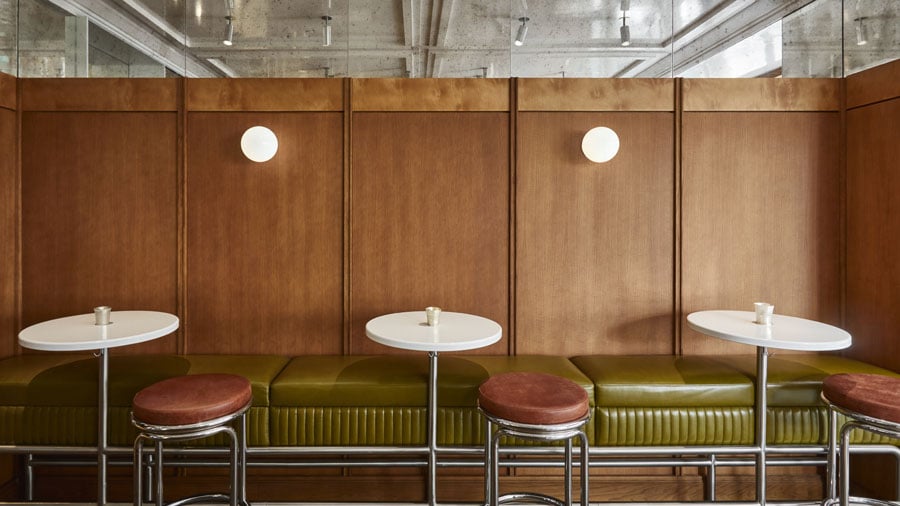 ---
Paris-based studio Lizée-Hugot's inaugural restaurant project Abstinence balances everyday comfort and refined luxury in a seamless mix of classic materials: wood, leather, marble, and stainless steel. Part modern brasserie, part nod to Parisian culture and history, the new restaurant design brings the best of both worlds to the Left Bank.
In 2021, architects Stéphanie Lizée and Raphael Hugot teamed up to form Studio Lizée-Hugot, fusing Hugot's drafting expertise and knack for balancing volumes with Lizée's eye for decorative contrast and custom furniture design. With Abstinence, located on Avenue de la Motte-Picquet near the Eiffel Tower and the École Militaire, the duo creates a compelling narrative connecting the space's history and environment, all with the light touch that's become a signature of both of their individual practices.
---
The interior decor conjures the depth and spirit of French wine cellars, contrasted with the modern simplicity of metropolitan diners, incorporating lacquered ceilings, oak parquet floors, and a subdued palette of muted jewel tones.
---
More from Metropolis
---
Named for the menu's emphasis on pure taste over superfluous frills, Abstinence offers an interpretation of classic brasserie design that feels both fresh and authentic to the rich history of its locale. The friendly space invites diners to relax against wood-paneled walls, made from oak and bird's eye maple, and lean across the massive, bevel-cut Sarrancolin marble bar, a monumental focal feature custom-designed by the architects.
---
The bar's unusual material is distinctly French, with polished earthy tones veined in a deep burgundy that links the space to the country's rich wine culture and history. (The Sarrancolin marble quarries were considered "royal quarries" and exploited extensively under the reign of Louis XIV.)
In addition to the space itself, Lizée-Hugot also designed all the furniture in the restaurant. Inspired by the work of Eileen Gray and Gae Aulenti, the tubular, polished stainless-steel chairs, bar stools, and booths are upholstered in rich, olive-green and cognac leather—modern details that balance the warmer, weightier elegance of the marble and woodwork. The unique, custom-designed furniture is accented with enameled, lava stone table tops, creating a cinematic, 1970s-chic vibe throughout the dining area and open kitchen. After months of abstaining from indoor restaurant dining, Parisians will find an intimate and sophisticated oasis at Abstinence.
You may also enjoy "Curioso's Residential and Hospitality Projects Take Root in Their Place"
Would you like to comment on this article? Send your thoughts to: [email protected]
---
Register here for Metropolis's Think Tank Thursdays and hear what leading firms across North America are thinking and working on today.