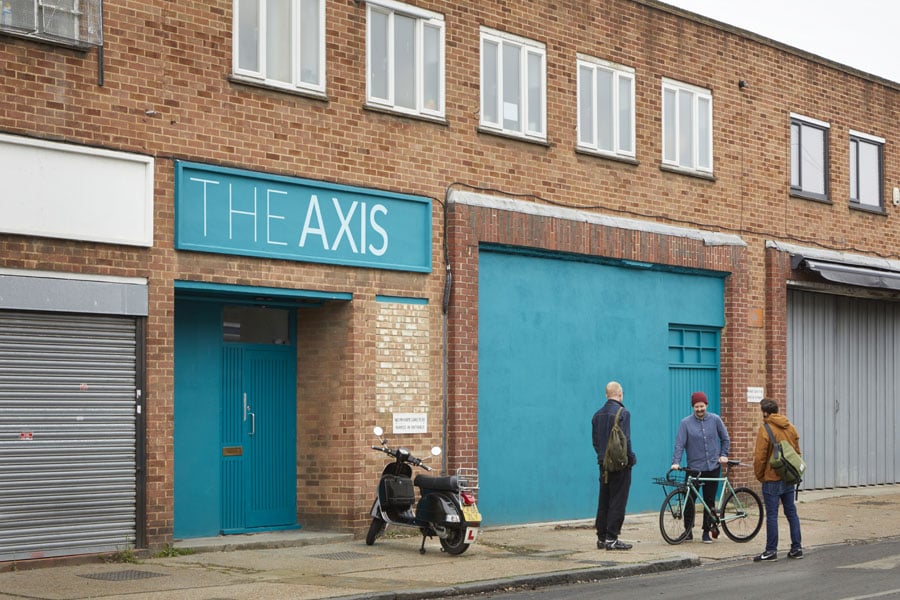 March 22, 2021
Workspaces in a London Music Studio Are Designed to Promote Mindful Isolation
UK firm Alma-nac minimized daylighting, a typical office-design perk, to build the ideal space for musicians' specialized, focused, production work.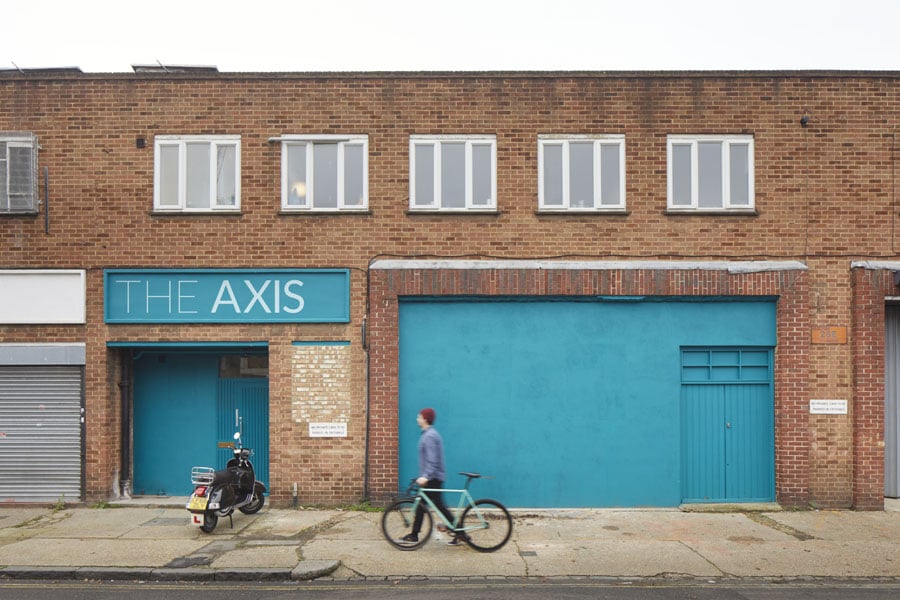 Access to natural light is commonly viewed as a benchmark of good workplace design. But for interiors at The Axis on Ormside, a new music production facility in the South Bermondsey neighborhood of London, the designer and client sought the opposite effect: no hint of outside light or sound. "When people are recording," explains Chris Bryant, director of British architecture practice alma-nac, "they don't want to know it's four o'clock in the morning." Creating an intense feeling of isolation is one of the strategies that Bryant's team used to guide their construction of an environment that's perfect for deep, focused work, where musicians can tune in, turn on, and drop out of worldly distractions.
Recently completed inside of a formerly light-industrial building, Axis required little in the way of structural interventions. Adapting the existing shell helped the design team achieve an acoustically sound fit-out in a quick timeframe, even in the middle of a pandemic. (The timeline, from the project's kick-off to its completion in November 2020, was a cool 12 months.)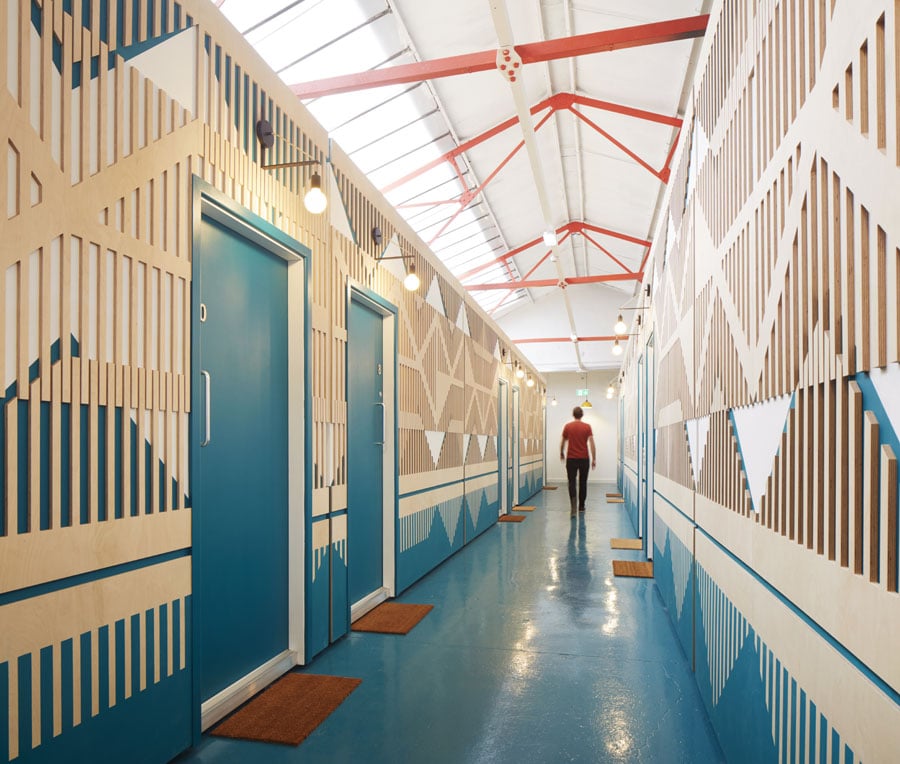 Within the existing structure, the architects inserted ten studios as standalone, windowless boxes arranged along a central corridor that runs the length of the building (front to back); and unlike the individual work areas flanking it, this hallway is open to the full two-story height of the space. The "street," as designers describe the long passageway, is illuminated by daylight filtering in through polycarbonate skylights on one side of the pitched roof. For an additional dose of sunlight on the building's only wall with windows—its front elevation—the architects built a mezzanine-height room with seating areas and a kitchen accessible by stairs near the entrance. Both of these public spaces provide a break from the sealed confines of the studios.
---
More from Metropolis
---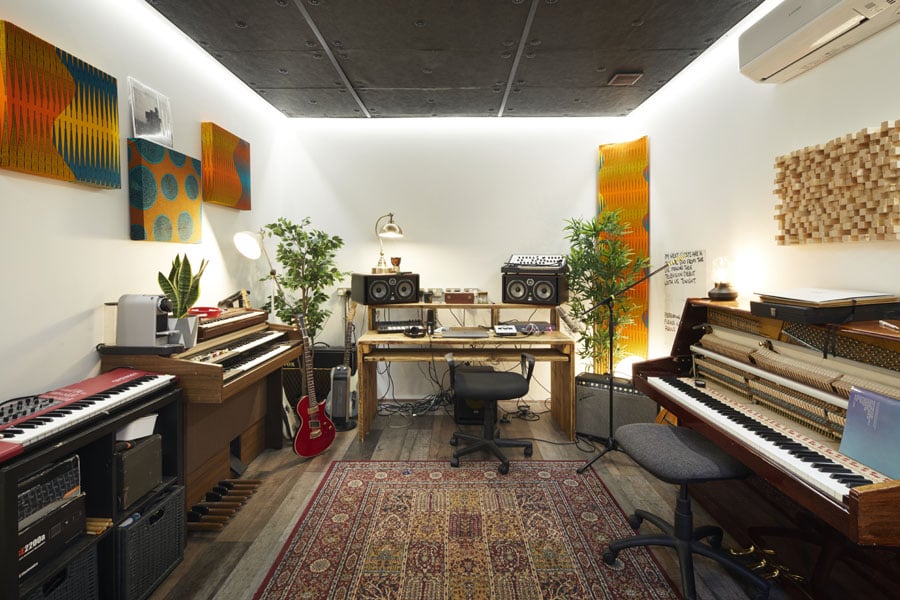 But it's the pod-like arrangement that makes this workplace highly functional, by not only blocking out street-level distractions, but also helping ensure acoustic privacy between tenants. Producers can opt for short- or long-term residencies, and the fact that "each room is essentially a small box inside a slightly bigger box, does a hell of a lot of the work," says Bryant, whose team worked closely with sound consultants Gillieron Scott Acoustic Design to ensure high-quality sound control in each room. The designers implemented special insulation for airborne sounds and rubber mats to absorb reverberations. HVAC systems, which studios control individually, also have attenuators to prevent acoustic interference.
But for all the attention to acoustic performance, style was not an afterthought. Corridor walls are covered in a dynamic, graphic installation inspired by the kinetic artist Carlos Cruz-Diez's Physichromie series. The custom wallcovering is composed of CNC-milled plywood that forms tessellated patterns, which appear to shift as visitors move through the passageway. Elements like this also help to brand the space with the same sense of destination that has helped make other types of coworking venues successful.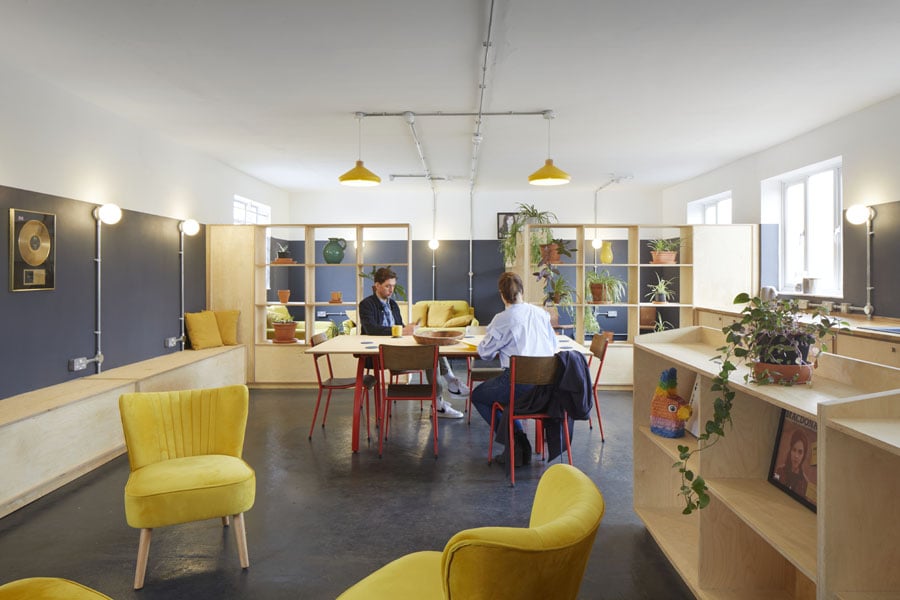 Alma-nac and the client were on the same page when it came to Axis on Ormside's waste-not approach to construction. "We tried to work as much with sheet sizes that you buy off the shelf," says Bryant, who adds that off-cuts were used in wall noggins. The decision to lean into an aesthetic inspired in part by Enzo Mari's DIY manifesto Autoprogettazione also provided an assist. Although the designers planned to use leftover wood to produce Mari-style furnishings for the green room, in the end, there wasn't enough extra material to pursue it. Instead, the designers opted for upcycled. "In a sense, it was a success of the project," says Bryant.