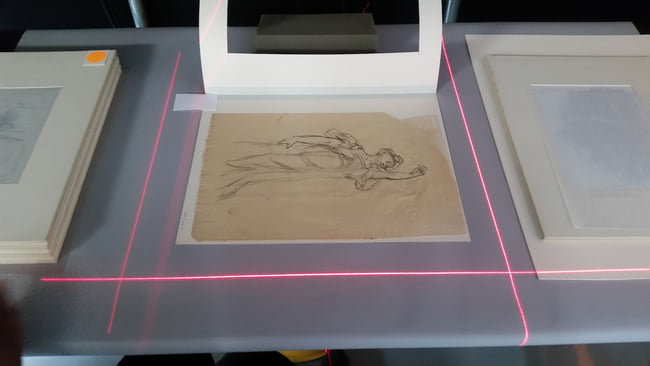 January 3, 2017
10 Digital Archives Worth Staying Inside For
Metropolis has rounded up some of our favorite digital archives, sure to keep you intrigued and engaged throughout the cold winter months.
Vitra Schaudepot on the Vitra Campus
Courtesy Laurian Ghinitoiu
From museum collections to digitized notebooks to material libraries, these archives are sure to please any curious mind. And you don't even need to leave your couch to access them.
Courtesy Cooper Hewitt/Smithsonian Institution
Cooper Hewitt The National Design Museum has been working tirelessly over the last few years in an effort to digitize their entire collection, a whooping 210,000 objects. Including 198,039 items thus far, this archive is both interactive and intuitive. You can search for objects by the typical categorizations, such as materials, stylistic periods or designer, but also by Pantone color, similar shapes, collaborations or who catalogued it. You can also create an account to save all your favorite objects, to start rounding up an archive of your own.
Courtesy the Metropolitan Museum of Art. Copyright 2016
Syracuse University Libraries—with collaborative efforts from many other institutions, such as the MET, Bauhaus Archiv, and more—have published the Marcel Breuer Archive, making available over 120,000 drawings, photographs, letters and other materials relating to the prolific 20th century designer. You can view drawings, correspondence and photographs relating to any one of the 379 projects, both speculative and completed, cataloged in this impressive collection.
Exhibition view of main hall
Courtesy Vitra Design Museum, Mark Niedermann
If you haven't made it out to Germany's premier furniture and lighting museum, worry not, this archive has got you covered. Incredibly simple and straightforward, this archive is for anyone interested in pursuing the history of furniture. The super clean site is user friendly and includes interesting & concise write ups about every piece.
Courtesy Victoria and Albert Museum, London
One of the world's oldest and most notable design museums is also in the process of digitizing its collection, which was started after the Great Exhibition of 1851. The digital archive boasts over a million catalog entries and over half a million photographed objects. The "Explore related Objects" tab is inclusive, allowing you to search by maker, technique, or objects nearby. If it's in the galleries, it's also displayed on a nifty map.
Tropical Gardening, 1923 watercolor and oil transfer drawing on paper, The Solomon R. Guggenheim Museum, New York.
Courtesy of Wikicommons
A revolutionary text considered integral to the modern movement and Bauhaus ideologies, Paul Klee's Writings on Design & Form are digitized thanks to the impressive efforts of Maurice and Martha Miller. They started Zentrum, located in Bern, Germany, which is devoted to collecting, exhibiting and expanding the research on Paul Klee. This archive puts you inside the mind (and process) of one of the greatest expressionist artists (and designers) of all time.
Courtesy of Van Alen Institute
An advocate for social change through design, The Van Alen Institute has been influential in architecture and urban space making for over 100 years. Through their involvement with design education, seminar talks, and competitions that call for innovative designs, the Institute has compiled multiple documents and competition entries that they are making available to all those who live outside NYC. You can find submissions like the one above (a finalist in the 1983 70th Lloyd Warren Fellowship, Paris Prize in Architecture: Steven Anthony McCall's a "World Bibliographic Center in Chicago") as well as over 3,000 high-resolution images.
Darling Quarter, ASPECT Studios
Courtesy Florian Groehn
While not advertised as an archive, the Architecture 2030 palette is certainly an invaluable collection of projects and resources centered around encouraging low-carbon design. Searchable by region, site conditions, building type or districts, the 2030 palette will provide any designer with plenty of environmentally-conscious ideas for their next project.
Not only is this collection of 250,000 objects, paintings and sculptures free, high res images are available for download! In fact, if you're feeling creative, Rijks Museum holds an international design competition each year for works inspired by a piece in the collection: check it out here.
Courtesy The Museum of Modern Art, New York. Photographer: Soichi Sunami
Over 3,000 MoMA exhibitions have been put online, with complete files of original catalog scans, links to the artists and designers' backgrounds, and photographs of the installation views. We recommend starting at the very beginning, with a show titled "Cézanne, Gauguin, Seurat, van Gogh", on view in 1929.
Courtesy NASA/JPL-Caltech
Hosted by University College London, this digital archive is an online version of one of the most inclusive material libraries in the world. They organize the materials alphabetically, but you can also browse their curiosity section—where they are organized by titles like smelly, transformative and memory (see: the eerie Aerogel, developed by NASA, pictured above). Also, you can make your own "selections" (like pinterest boards) for research (or fun) and share it with friends on twitter or facebook.
---
If these online collections, notebooks, and materials still don't keep you busy, here are a few more :
Happy browsing!